Michael Richmond: Bouchaine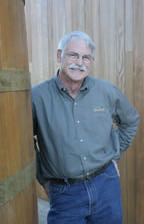 In the search for the next great producer of Pinot Noir, we often forget the established and experienced people in the business. Bouchaine is the oldest continually operated winery in Carneros. It was first planted to vines and orchards by the Carneros legend, Boon Fly, in the mid 1800s. A couple of owners followed, including Italian immigrant Johnny Garetto and the Beringer Brothers. In 1981 the winery was acquired by Burgundian enthusiasts Gerret and Tatiana Copeland. A massive renovation of Bouchaine was undertaken in 1995 and in 2002 Michael Richmond was hired as winemaker and general manager.
Michael Richmond (right) is a veteran of over 30 years in the winemaking business. He founded Acacia Winery in Carneros and later managed Carmenet Winery for Chalone. He is one of the co-founders of the Steamboat Pinot Noir Conference in Oregon. As an avid cyclist, you may pass him on your travels in Carneros.

2005 Bouchaine Napa Carneros Pinot Noir
13.5% alc., $20 (website retail for the 2006 vintage is $30). Dijon, Pommard clones and Swan selection. · Deep ruby color. Flat out terrific nose featuring black cherries, shrooms, dark chocolate, and smoke. A beautiful drink of Pinot. Darkly fruited and substantial, yet smooth, light and elegant. Very easy to like. I call this a "Just Right" wine since everything about it is harmonious. There isn't another Pinot Noir in this issue that can match the quality here at such a low price. For value seeking Pinot lovers who want something they can count on.
Bouchaine Vineyards is now offering their 2006 vintage of the above wine and the 2005 Bouchaine Estate Pinot Noir ($40) on the website at www.bouchaine.com. There is also decent retail distribution. The winery is open to visitors daily from 10:30-4. The address is 1075 Buchli Station Rd, Napa. The phone is 800-654-WINE.