Pinot Briefs —Newsletter 6.62

Winery Acquisitions by Leslie Rudd Rudd, along with business partner Pat Roney, owns interests in a number of specialty food stores in Northern California including Oakville Grocery and Dean & Deluca (now worldwide), a restaurant in Napa, and six wineries. He transformed Girard Winery into Rudd Winery, together with Roney purchased Windsor Vineyards in 2007, acquired Grove Street Winery in Healdsburg in 2008 and has now entered the Pinot race. Rudd and Roney bought Sonoma Coast Vineyards in Forestville and according to the Wine Spectator (June 27, 2008), will ramp up production from 4,000 to 20,000 cases. In addition, they have started a new label, Windsor Sonoma Winery, with planned future production of 50,000 cases of Pinot Noir and Chardonnay.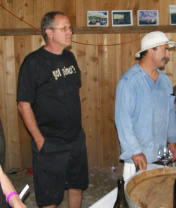 Hitching Post Promoting Merlot
Say What? Everyone remembers the famous derogatory line from the movie 'Sideways' that Miles uttered before entering the Hitching Post restaurant. It may come as a surprise, then, to discover the Hitching Post now releasing two Merlots, a 2004 Westerly Vineyard Merlot and a 2005 Alisos Vineyard Merlot. I asked Frank Ostini, co-proprietor of Hitching Post Winery along with winemaker Gray Harley, what gives? He told me he has enjoyed Merlot for years and it basically comes down to economics. Prime Pinot Noir grapes sell for $5,000 a ton, while prime Merlot grapes from the best sites only fetch around $2,000 a ton. That means, a superb Merlot can be crafted and released at a much lower price (a little over $20). Also, Merlot tends to be an excellent match for the grilled steaks and barbecue fare offered at the Hitching Post II Restaurant.
Story Behind Billionaire's Vinegar to be a Movie I recently reviewed the book Billionaire's Vinegar about sleuthing out fake old vintages of fine wine. Two Hollywood production companies are planning to make a film about billionaire William Koch's lawsuit directed at Hardy Rodenstock who allegedly sold Koch phony Thomas Jefferson wines.
Genetic Code of Pierce's Disease Bacterium Cracked According to Kevin McCallum, writing in The Press Democrat (June 19, 2008), Steven Lindow, a professor of plant biology at University California Berkeley, has found the genetic code of the bacterium that causes Pierce's disease. In addition, he has determined how to stop the bacteria's spread through a grapevine by isolating the molecule that allows bacteria to signal each another. Using this discovery, a bacterium can be tricked into thinking the vine is crowded with other bacteria and it reverts to a slow growth rate or shuts down completely. This finding may lead to a spray that can cure's Pierce's disease.

Organic Wine Journal The Organic Wine Journal is the leading online source of organic and biodynamic wine news worldwide. The website, www.organicwinejournal.com, has been re-launched with a new layout and expanded content.
Pinot Noir from France The French have finally agreed to allow their wineries to market their wines in New World style. To compete in the world wine market, the French have left tradition behind, and now allow mid-quality wine to be labeled by grape variety, for example rather than origin. They also will permit the use of oak alternatives (chips for example), added tannins and enzymes, and other nontraditional "New World" winemaking techniques. Sacré bleu!