J Pinot Noir Now Sparkles Too
J Vineyards & Winery was founded by Judy Jordan, daughter of Jordan Vineyards & Winery owner Tom Jordan, in 1986. Begun as a small méthode champenoise sparkling wine project at Tom Jordan's winery in the Alexander Valley, J quickly became a marquee producer of cool climate sparkling wine in California. J Vintage Brut, J Cuvée 20 Brut, Late-Disgorged Vintage Brut, and J Brut Rosé have been highly lauded and deservedly so. The yellow J logo on sparkling wine bottles is an instantly recognizable and respected brand label that personifies the winery's by-line, "the essence of style."
Judy Jordan, like the Prince, is a graduate from Stanford University. After receiving a degree in Earth Sciences/Geology, she worked in Geophysics at Western Geophysical Corporation in Denver, Colorado before returning to work at her family's business. Her father, Tom, encouraged her to seek a career in wine and inspired her entrepreneurial passion. Lew Platt, former CEO of Hewlett Packard and Chairman of Boeing Corporation, mentored Judy in the importance of building and maintaining a team aligned with the core values of elegance, integrity, respect and a sense of community. In 1996, she purchased the former Piper Sonoma winemaking facility in Healdsburg and opened a sumptuous tasting room in 1999, becoming one of the first in the winery business to offer a food and wine pairing experience to visitors.
Since its origins, J has fostered a respected tradition in sparkling wine, but the winery's Pinot Noirs have not been distinguished. As much as I personally enjoyed J sparkling wines, I looked the other way when asked about their Pinot Noirs. The Pinot Noirs, made since 1994, were simple, passable, supermarket Pinot Noirs that really did a disservice to the J name. However, when I met Judy Jordan recently and sampled her 2006 vintage J Pinot Noirs, it was clear that she was a committed and dynamic owner who had decided to fully devote the winery's resources to reviving the J Pinot Noir (and Chardonnay) program. With 274 acres of prime vineyard property throughout the Russian River Valley at her reach, Jordan clearly realizes the potential for J to produce world-class Pinot Noir and Chardonnay.
The turnaround at J began with the hiring of George Bursick, who spent 22 years as the founding Executive Winemaker for Ferrari-Carano. He is a well-respected winemaker who helped shape the modern era of the California wine industry.
As a close personal friend of Judy Jordan and a godfather to one of her children, he was a natural choice to lead the turnaround at J. George was raised in Sonoma County and developed his early winemaking skills at Beringer Winery. He subsequently obtained a Masters in Enology from University California Davis, with a focus on Wine Sensory Evaluation. His first solo winemaking job was at McDowell Valley Vineyards in Mendocino County. After nine years at McDowell, George joined Rhonda and Don Carano as Director of Winemaking and he remained there for 22 years. At Ferrari- Carano, George had extensive experience with Sangiovese, which he calls "Pinot Noir's twin," because both grapes respond favorably to similar winemaking techniques.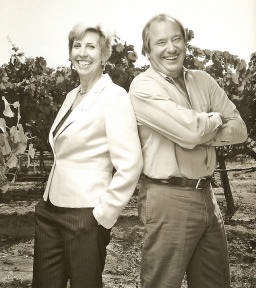 George joined J in May 2006 and his imprint was evident immediately. To make iconic wines, George believes that a winemaker must try approaches that his peers are not willing to do. His main focus throughout his career has been to create wines of supple mouth feel, or increased "wine body." "My understanding of the factors that contribute to wine texture, as well as developing techniques that have the ability to create it has defined my approach to winemaking." George has begun by instituting a number of innovative viticultural practices focused on site-specific blocks which are farmed individually and harvested separately. Using modern computer technology, a modeling profile of all of the soils of the estate vineyards has been obtained. This knowledge is critical for precision viticulture and not without significant complexity as there are 24 different soil types in the Russian River Valley, even more diversity than in Burgundy.
At the winery, individual blocks are kept separate (84 separate Pinot Noir lots, 9 different rootstocks, 15 different clones) to showcase each of the vineyard's characteristics. The different blocks are then exposed to a number of variables including use of indigenous as well as rare, exotic yeasts (some Burgundian strains dating to 1940) and malo-lactic strains, varieties of punch down regimes, slow and extended fermentations, unique French Burgundian cooper impression on different wine lots, as well as thoughtful battonage (Fr. - stirring the lees) during aging. Utilizing these myriad of variables and blending them, George feels he creates a more interesting wine than a wine made of only its singular components.
George uses one winemaking technique that is off the grid for most Pinot Noir winemakers. He has observed that in Burgundy the grapes achieve seed ripeness but not sugar ripeness, while in California there is sugar ripeness without corresponding seed ripeness. Therefore, he chooses to de-stem the fruit and remove the seeds from the winemaking process. In this way, the seed tannins, which are undesirable when unripe and alcohol soluble, are removed from the process. The result is wines that are low in tannin stylistically.
After a five to ten day cold maceration of the must, the Pinot Noirs undergo a two week fermentation and are then transferred to barrel. The French oak barrels are chosen for their tight-grain attributes so that the fruit expression is preserved. Malolactic fermentation is extended, proceeding over a 2 to 4 month period during which time no nutrients are added to speed up the process. The wines are aged in 30%-35% new French oak barrels for 12 months.
George is passionate about his new winemaking venture at J, but he remains an enjoyable and affable fellow of myriad interests. He has been playing music since he was ten years old and has mastered as many as five instruments. Professionally skilled as a drum player, he formed a band called Private Reserve. Started in 1992, Private Reserve is a mix of wine colleagues that currently includes Mike Martini, Ed Sbragia, Jess Knubis, Steve Buehl and John Hawkins. The band plays gigs at wine and winery related events and allows George to keep his love of music, and particularly rock and roll, alive.
Hollis Price remains the assistant winemaker at J Vineyards & Winery. She has been at J nearly a decade and oversees and directs all aspect of J's sparkling wine production. John Erbe is J's viticulturist. He has worked in the agri-business since 1979, managing vineyards at St. Supery, Laetitia Vineyard & Winery, and Guenoc Winery. He oversees J's over 274 acres in Sonoma County's Russian River Valley appellation. The vineyards include: Nicole's Vineyard (Pinot Noir and Pinot Meunier, Pinot Noir clones 2A, 113, 115, 42 acres), Robert Thomas Vineyard (Pinot Noir, clones 32, Rochioli/Wente, Knude 15, 115, 667, 777, 828, and 2A, 52 acres), Back Door Vineyard (Pinotage, clone 1), Canfield Vineyard (Pinot Noir and Chardonnay, 19 acres, Goldridge loam soil, scheduled planting spring 2009), Cooper Vineyard (Pinot Gris, clones 146, 152, 2.5 acres adjacent to winery), Covey Vineyard (Pinot Noir and Chardonnay, 16 acres, Goldridge loam soil, scheduled planting spring 2009), Nonny's Vineyard (Pinot Noir, clones 115, 667, 777, 828, Calera, Pommard), 70 acres planted in 2000), Westside Road Vineyard (Pinot Noir and Chardonnay, Pinot Noir clones Swan, Rochioli, Pommard, Calera, 2A, 115, 667, 777, 828, 44 acres, planted in late 2008), and River Road Vineyard (Chardonnay, clone 4, 20 acres).
The first fully executed vintage of varietal wines at J made by George Bursick were released in May, 2008. I recently attended a tasting of some of the newest 2006 releases at Sona Restaurant in Los Angeles where Judy Jordan and George Bursick proudly presented their wines.
Other wines not sampled but offered by J Vineyards & Winery in their lineup of current releases include 2006 Robert Thomas Vineyard Russian River Valley Pinot Noir (294 cases, $65), 2006 Nonny's Vineyard Russian River Valley Pinot Noir (378 cases, $70), 2006 Barrel 16 ( the top 16 barrels in the cellar from the estate vineyards, 395 cases, $70), 2007 Hoot Owl Creek Vineyard Alexander Valley Viognier (1,100 cases, $30), 2006 Russian River Valley Pinotage (467 cases, $38), J Cuvée 20 Brut NV Russian River Valley sparkling wine (18,000 cases, $32), Brut Rosé NV Russian River Valley sparkling wine (700 cases, $40), 1999 Vintage Brut Russian River Valley sparkling wine (1,760 cases, $50), 2000 Vintage Brut Russian River Valley sparkling wine (3,000 cases, $50), 1997 Vintage Brut Late-Disgorged Russian River Valley sparkling wine (I had this at Sona Restaurant and it was really, really good - probably the best sparkling wine I have ever had from California - 660 cases, $115), 1998 Vintage Brut Late-Disgorged Russian River Valley sparkling wine (600 cases, $115), J Ratafia desert wine ($42 - 375 ml), and J Pear Liquor ($40 - 375 ml - also sampled - wonderful flavors of butterscotch, pears, and baking spice, and a real treat).
J Vineyards & Winery Russian River Valley Pinot Noir is in widespread retail distribution. The singlevineyard bottlings are sold on the website, at the winery and to wine club members. The winery's Club J offers four tiers of participation and allows members access to limited release wines, regular shipments of still and sparkling wines and invitations to special winery events. The J Visitor Center, which opened in 1999 at 11447 Old Redwood Highway, offers several tasting experiences. J's Signature Bar offers still varietal wines from 11-5 daily. The Bubble Room is a reserve tasting salon that offers a selection of small plates prepared by chef Mark E. Caldwell paired to older vintages and small production wines that are only available at the winery ($55 per person). The Bubble Room is open Thursday through Tuesday from 11-4. Reservations strongly recommended (707-431-5430). An outdoor wine and food experience in the J Terrace offers J sparkling and still varietals paired with artisan cheeses and charcuterie ($35 per person, May-October, Thursday-Monday, 11-4, reservations not required). The ultimate luxury wine experience is the Essence Tasting which blends a seven-course wine and food pairing, vineyard tour, and wine education (Thursdays from 11-3, limited to eight guests, $200 per person, reservations in advance). Tours of J Vineyards and Winery are offered daily 11:00 AM and 2:30 PM by appointment. Explore the J website, www.jwine.com, to order wine and view the new winery blog, "J News You Can Use," www.jvineyards.blogspot.com.