Ferrari-Carano's New Pinot Noir Program
The Ferrari-Carano Vineyards and Winery in Healdsburg, California, was founded in 1981 by Donald and Rhonda Carano and was named after Don's grandmother, Amelia Ferrari. The Caranos are both second-generation Italian-Americans from Reno, Nevada, where they own the Eldorado Hotel/Casino. On a wine buying trip to California's Sonoma County, Don and Rhonda fell in love with the area and purchased an old farmhouse surrounded by 30 acres of wine grapes in the Alexander Valley (The pair still reside there when in Sonoma). They soon developed an interest in winemaking and began vinifying wine in their barn. Bottled under the "Carano Cellars" label, the first wines were given to friends. A serious commitment to Ferrai-Carano Vineyards and Winery began with the acquisition of 250 acres of prime Sonoma County vineyards in the Alexander and Dry Creek Valleys. George Bursick became their first winemaker (see J Vineyards and Winery story, page 1). A winery was constructed beginning in 1985, and the first wine bearing the Ferrari-Carano name (1985 Ferrari-Carano Alexander Valley Chardonnay) was released in 1987. Critical acclaim for Ferrari-Carano wines followed quickly and many wine lovers of my generation remember downing many fine bottles of Ferrari-Carano Fume Blanc and Chardonnay.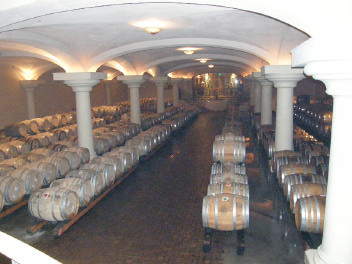 Through the years, Ferrari-Carano has dabbled in Pinot Noir, producing a Rhonda's Reserve Pinot Noir (Pinot is Rhonda's wine of choice). A serious Pinot Noir program was finally launched with the 2006 vintage. Essentially, a small Pinot Noir winery was started within the current white wine production facility in Healdsburg (the red wines of Ferrari-Carano are produced at the Mountain Winery Estate in Alexander Valley under the direction of Aaron Piotter). Pinot Noir vineyards were purchased in the Russian River Valley and in the Mendocino Ridge area (Anderson Valley AVA) high above Anderson Valley . The Mendocino Ridge property, Sky High Ranch Vineyard (previously called Hayward Ranch), is located at 1,600 feet, eight miles from the Pacific Ocean. Planted in 2003 to clones 667, 777, 828 and Pommard, yields here are miniscule (.58 tons/acre in 2006, .67 tons/acre in 2007). The name "Sky High" is ironic as the vineyard site used to be occupied by hippies who farmed another crop of some repute. Pinot Noir is also sourced from vineyards farmed by the Dutton Company in the Russian River Valley.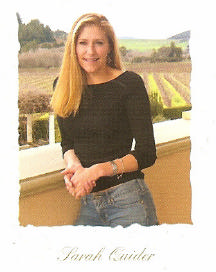 When George Bursick left Ferrari-Carano for J Vineyards and Winery, Sarah Quider was brought in to direct the white wine program and Pinot Noir production. Sarah told me she obtained a degree in Biology, but her first job at a marine research facility in Bodega Bay lasted only a short time because she was deterred by the smell of fish ("ugh," she says). The smell of wine was a whole lot more appealing and she obtained a harvest internship at Ferrari- Carano where she fell in love with the aromas and the excitement of winemaking. Sarah subsequently worked at Jordan Winery and pursued a degree at University California Davis, graduating in 2003. She became winemaker at Ferrari-Carano in 2006. Her able assistant is Christine Griffith.
I recently visited the beautiful Ferrari-Carano estate and tasted through both the two current 2006 Pinot Noir releases and the two 2007 Pinot Noirs from barrel with Sarah and Christine. It was clear that these women show a nice touch with Pinot Noir and it would appear the Pinot Noir program at Ferrari- Carano is in very capable hands. I previously reviewed the 2006 Ferrari-Carano Sky High Ranch Pinot Noir favorably (PinotFile, Volume 6, Issue 60)
The five acres of gardens at Ferrari-Carano are spectacular and worth a visit. The over 2000 species of trees (including a cork tree) and shrubs are marked with identification tags, and seasonal flower plantings make this one of the most beautiful winery settings in Sonoma County. The sculpture of Bordeaux, a wild boar, heralds the entrance to Villa Fiore (House of Flowers - the Ferrari-Carano tasting room and wine shop). The legend goes that Bordeaux was a nuisance in the Carano vineyards and was enticed with a corn cob before he met his demise. He know haunts the Carano's Alexander Valley home. Be sure and rub his nose for good luck.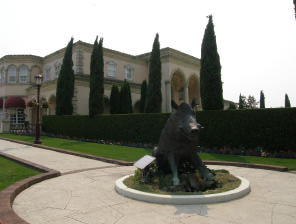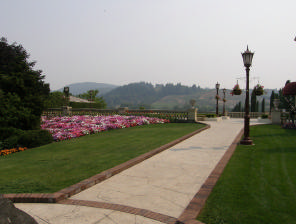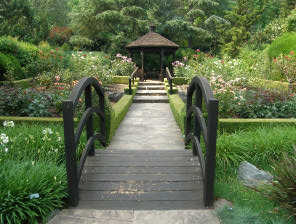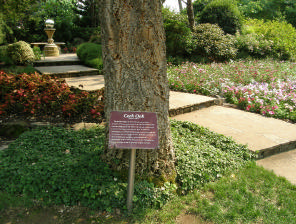 Ferrari-Carano wines are available in the Italian/Mediterranean-inspired Villa Fiore Tasting Room which is open daily from 10-5. Downstairs there is a tastefully decorated second tasting room, the Enoteca, where reserve and vineyard select wines are poured with comfortable couches and tables for relaxing. Winery tours are offered daily at 10:00 AM by appointment and four Private Tasting Programs are available also by appointment (contact the Hospitality Department at 707-433-6700). The wines are also sold on the website at www.ferrari-carano.com. Although this is a large commercial operation, visitors are welcomed and tended to with sincerity and warmth. I have never met the Caranos, but the staff shared so much personal information with me that I left feeling I knew them. There is obviously a healthy amount of respect among the staff for the Caranos and I left having acquired quite a bit of admiration for them and good memories of my entire experience.
In July, 2008, Ferrari-Carano purchased the venerable Lazy Creek Vineyards in the Anderson Valley of Mendocino County. The Philo winery will continue to operate as a separate facility.