Sebastiani & Sons: Pinot for the Millenials
As reported in recent issues of both Quarterly Review of Wines (Spring, 2008), and the Wine Enthusiast (May, 2008), Don Sebastiani & Sons is one of California's fastest growing négociant labels (sporting an increase in sales from two million to eight million cases annually in three years with Don Sebastiani at the helm as board chairman). The goal of Don Sebastiani & Sons is to position itself as a quality value producer, with marketing aimed at the younger (millennial) set of wine drinkers. This group of wine drinkers has a growing interest in wine drinking, and with 70 million members, this is a group to be recognized.
A négociant does not own any vineyards and has no winery, a model begun in France centuries ago, but just now becoming a hot trend in California. The title négociant has had a negative connotation for many, since finished wines from other wineries are purchased and sometimes blended to produce a finished product. It is, in fact, simply a way for dealing with the surplus of bulk wine and grapes in the marketplace. In many cases, the négociant is actively involved in vineyard management and winemaking decisions at the source. Winemaker Richard Bruno serves this function at Sebastiani & Sons.
Don Sebastiani & Sons (the sons are Donny and August) was formed in 2001 and is composed of two wine divisions: Three Loose Screws offers appellation and limited release wines such as Pepperwood Grove and Smoking Loon, Mia's Playground Pinot Noirs and Aquinas Pinot Noir. The Other Guys division releases small production labels including Plungerhead, Hey Mambo, and "moobuzz" Pinot Noir.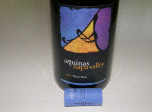 2006 Aquinas Napa Valley Pinot Noir
13.5% alc., 37,000 cases, $14 (have seen it as low as $10). Named after St. Thomas Aquinas, a revolutionary scholar in the 13th century. Closed with NuKork. · Nice perfume of strawberries and cassis. Ripe and racy strawberry and raspberry flavors with a subtle note of oak toast. Admirable finesse and a fuzzy mouth feel. My only nit is the wine finishes a little hot. (this will be submersed with food). A perfectly fine daily drinker. Unbelievable quality considering huge production and reasonable price.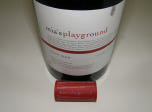 2006 Mia's Playground Sangiacomo Vineyards Sonoma Coast Pinot Noir
14.6% alc., 4,200 cases, $24. Named after Don's sister, Mia. Aged 16 months in French oak. Sealed with NuKork. · Very expressive berry and cherry fruit with a hint of herbs, roses, oak and bacon. Plenty of dark red fruit with interesting compliments of earth, tobacco and herbs. Nicely balanced with a smooth texture and a clean and lingering finish. A serious wine for the tariff and recommended. Tasted three different times with consistent results.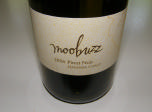 2006 moobuzz Sonoma Coast Pinot Noir
13.9% alc., 1,540 cases, $25. A topographical map of the Sonoma Coast is on the front label. Two bottles sampled. Sealed with Zork closure. · The first bottle had a dank cellar aroma and was unpleasant. Dirty cherry flavors with noticeable woody flavors. Soft in the mouth with decent acidity. The second bottle was better. The wine was reduced initially but improved in the glass. The nose evolved and offered black fruits and a hint of oak char. Very fruity and easy to drink. Just ok but would be a good companion for hamburgers.
Sebastiani & Sons wines are widely distributed. Check the websites, www.donandsons.com, and www.togwines.com. Fun wines, innovative closures, odd names. What's not to like if you are young and the least bit interested in wine?