Handley Cellars is a Model of Consistency
Milla Handley has been at it for over 25 years and the winery she directs as both proprietor and winemaker is now making wines of such impressive consistency that I never tire recommending them. For more than 10 years now, Handley Cellars has farmed sustainably in the Anderson Valley, using organic methods whenever feasible. The winery and surrounding estate vineyards are nestled in the "deep end" of the Anderson Valley in coastal Mendocino County. A wide range of varietal wines are produced, both red and white, including sparkling wine, and all are very sensibly priced.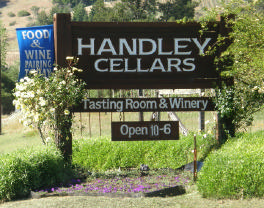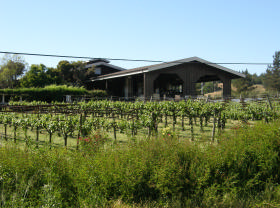 Handley Cellars is located at 3151 Hwy 128, in Philo. The attractive tasting room is open daily. The wines are sold on the website and distributed to fine retail stores. The phone is 800-733-3151 and the website is www.handleycellars.com. The Handley Cellars 2003 Brut Rosé earned top honors in the San Francisco Chronicle Wine Competition ($36). Two other Pinot Noirs from Handley Cellars have been previously reviewed in the PinotFile and are a step up in complexity and quality as well as price: 2004 Handley Cellars Reserve Pinot Noir ($52) and 2005 Handley Cellars RMS Vineyard Pinot Noir ($52, Wine Club member exclusive).