Hirsch Vineyard: Grand Cru on Sonoma Coast
David Hirsch was somewhat of a visionary who planted one of the first vineyards in the true Sonoma Coast in Cazadero (Mike Bohan was the first to plant in 1973). In 1978, Hirsch purchased 1,100 acres on a remote ridge 900 feet above the Pacific Ocean at the end of Bohan-Dillon Road. Beginning in 1980, David and Marie Hirsch established a vineyard of 48 acres on the ridge tops above the fog line a few miles from the Pacific Ocean. Planted to Pinot Noir and Chardonnay, it became world-renowned when Burt Williams (William Selyem), Ted Lemon (LIttorai), and Steve Kistler (Kistler) showed up one day in the early 1990s, chose their blocks, and proceeded to make startling good and age-worthy vineyard designate wines from the Hirsch Vineyard. The name, Hirsch Vineyard, quickly became synonymous with the true Sonoma Coast.
The vineyard is scattered over several ridge tops with varying exposure, altitude and soil type. With a variety of rootstocks and clones planted, there is considerable heterogeneity to the fruit, and Hirsch Vineyard Pinot Noirs from different producers are difficult to compare as they are derived from distinctly different terroirs (refer to aerial photo of Hirsch Vineyard below)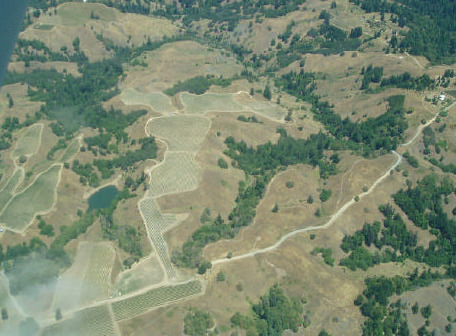 In 2002, the Hirsch's built a 15,000-case winery on the estate in an old lambing barn, and brought in winemaker Vanessa Wong (Peay Vineyards, formerly Peter Michael) to craft the first Hirsch Estate Pinot Noir (vintage 2002). She was subsequently replaced by Mark Doherty (formerly PlumpJack and Davis Bynum). There have been five vintages of Hirsch Estate Pinot Noir and in most vintages, many different blocks are blended to produce the Estate Pinot Noir. In 2005, the yields were so miniscule that outside fruit was sourced to make the wine.
I recently tasted through a few vintages, including the first, of Hirsch Estate Pinot Noir. Early on, the wines can be quite structured and tannic (see 2006 vintage Estate for exception), but with time in the bottle lovely expressive fruit comes to the front and the wines are a delight to drink.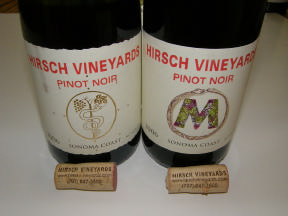 Hirsch Vineyards Pinot Noir and Chardonnay is sold primarily through a mailing list. Sign up on the website at www.hirschvineyards.com. The address is 45075 Bohan-Dillon Road in Cazadero. Tours and tastings are by appointment only (707-847-3600). If you decide to make the trip, allow a full day, and check the weather for Cazadero is an extremely wet site (80 inches of the wet stuff each year). Every true pinotphile should make the pilgrimage to Hirsch Vineyard at least once in their life.