The Long and Winding Pinot Road, Part XIV
My forty year love affair with Pinot Noir has been detailed in the previous thirteen chapters of the novella, "The Long and Winding Pinot Road," published in several issues of the PinotFile over the past several months. I now have even greater passion for Pinot Noir than in April, 2001, when I started the PinotFile newsletter to spread my enthusiasm. To read the story in its entirety, go to page 15.
With this issue, I am proud to present a new look to the PinotFile and the launch of my new Prince of Pinot website at www.princeofpinot.com. It is remarkable to think about the changes in the world of Pinot Noir over the last seven years since the PinotFile began. The internet has become a powerful medium for sending out to the world the compelling stories behind every good bottle of Pinot Noir. The movie 'Sideways' brought Pinot Noir into everyone's consciousness and the movie's most famous lines found a place in everyone's heart. The thin and insipid Pinot Noirs of Oregon and California's past became a distant memory. Steve Pitcher's remarks in The Wine News in May, 2002 ring out even more true today: "Of all the accomplishments in American winemaking and viticulture in the last quarter of the 20th century, none has been as impressive as the dramatic evolution of Pinot Noir from near-dismal failure to celebrated success poised at the threshold of greatness."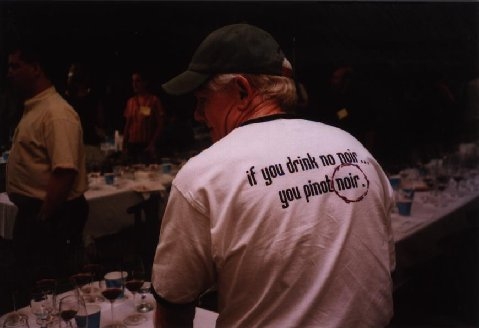 The PinotFile's original mission statement, "To keep readers apprised of news in the pinotphile world including latest releases, winery news, winemaker profiles, what to buy, and how to get your hands on it," continues to this day. For a number of reasons, it has become challenging to fulfill this mission. There are more producers of Pinot Noir and more quality Pinot Noir in the world than ever before. In just Volume 6 of the PinotFile, wine reviews appeared from over five hundred wineries. New producers in California and Oregon are cropping up almost weekly. Reflecting the huge demand for Pinot Noir, prices of Pinot Noir have significantly increased making it far more expensive now to be an independent wine critic (I buy over 85% of the wines I review). Extensive traveling is obligatory to bring the inside stories behind the wines to the reader. In addition, I attend every major Pinot Noir event in California and Oregon to keep on top of the Pinot buzz. Fortunately, the financial rewards of my previous career as an ophthalmologist have allowed me to pursue my wine writing in a completely independent manner. I accept no press junkets to wineries or regions, avoid all forms of advertising in the newsletter and on the website, pay for nearly all events and meals, and have no financial interest in any wine business, winery or distributor.
The PinotFile has always been offered free to subscribers. It has been a noble and thoroughly redeeming elevage, but frankly, to improve and expand the coverage of Pinot Noir in the PinotFile, it is necessary to begin charging a modest fee for the newsletter. There are many benefits to subscribing to the new PinotFile:
The

PinotFile

is the first wine newsletter exclusively devoted to one wine variety: Pinot Noir - and one group of wine lovers: pinotphiles.
Published biweekly (26 issues per year, usually over 20 pages per issue)
Packed with first hand colorful interviews of Pinot Noir winegrowers and winemakers of California and Oregon primarily, but including the Pinot Noir scene worldwide.
Periodic appellation and regional profiles of pinocentric wine regions including maps and photos.
Extensive tasting notes including winery verticals, regional horizontals, barrel samples, newest releases and older vintages. Each year, at least 1,500 Pinot Noirs are reviewed.
Tasting notes feature a stylistic and unpretentious impression of wines that allows the reader to match his palate to the wine. I am fully committed to no scores (see below).
Pinot Briefs: the latest news on Pinot Noir, wine events, wine tours, and significant wine stories.
Wine & Health: Updates and newest information on the relationship between wine and health including an annual review of the world's literature on this subject.
Wine book reviews.
Printable copy of the current and all past PinotFile newsletters dating back to 2003.
Bonus Online Content:
• PinotFile Live! Each issue of the PinotFile is highlighted in a 30 minute downloadable MP3 formatted podcast spiced with information not included in the PinotFile newsletter. Some podcasts feature noted wine personalities.

• Podcast interviews with winemakers, winegrowers and other Pinot personalities.

• Links to all videocasts and podcasts in which the Prince participates on Grape Radio

• Videos featuring Pinot people, many of which you have read about and heard about by reputation, but never seen "live."

• Pinot Winery Directory. Over 500 producers of Pinot Noir including background and descriptive information, vineyards, grape sources, owners, winemakers, viticulturists, tasting and tour arrangements, contact information, and MOST important, how can you buy the wine! The directory is a work in progress that will be growing as information from back issues are added and new producers profiled. I estimate that eventually there will be over 1,000 wineries profiled.

• Vineyard Information. The most prominent vineyards will be fully detailed eventually with information on history, acreage, year(s) planted, clones, soil type, aspect, appellation, owners, and client wineries.

• Travel Along the Pinot Trail. The Prince's favorite wineries to visit and wine country lodging and restaurant recommendations organized by region. Google maps will soon be added. This is invaluable information for your next wine country trip and specific regions can be printed out for handy reference on your trip. The Prince will also assist subscribers in planning wine region trips and arrange for private tours and tastings. p> • Calender of all Pinot Festivals and other events of note where Pinot Noir is poured.

• Links to all things Pinot.

• Extensive Search Feature. Readers can search for specific tasting notes according to newsletter, winery, appellation or vineyard. Each tasting note now includes the date that the wine was sampled. In addition, there is a full Google search on the site.

• Comments/Feedback. Readers can offer their commentary and corrections.

• RSS Feed. Stay tuned to all updates on the site including News Flashes and timely links.
The Prince of Pinot website is still a work in progress. It has taken me, my son Dane, and my two dedicated and patient website whizzes, Peter Rowell (www.techbuddy.us) and Wendy Coy (www.coydesign.com), over a year (about one vintage) to bring this innovative web site to fruition. Over the coming months, the site will undergo continued revision and evolution, much like a young Pinot Noir. Back issues will still be available to read and download, but all the information from back issues will not be in the searchable database until it is a gradually entered over the coming months.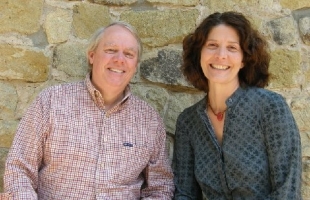 I will be introducing something new in the PinotFile in the tasting notes. I am firmly against wine scores, even though wineries, retailers and consumers grovel over them. Even noted wine critics Steve Tanzer and Allen Meadows have "admitted to misgivings about the 100-point system, but said they had no choice but to use it if they hoped to keep and augment their respective audiences" (Mike Steinberger, 'Everyone A Critic. The Future of Wine Writing,' The World of Fine Wine, 09/08). In the past, I have often chose to omit a review of a Pinot Noir if I could not recommend it. I will no longer do this as I believe it is just as important to emphasize wines of great merit as to point out wines that do not warrant recommendation. In addition, I am happy to introduce you to the PinotGeek, a mythical character of some repute who will preside over the best Pinot Noirs. Previously, many readers were able to "read between the lines," and discover those Pinot Noirs that really turned me on. Now it will be obvious as the PinotGeek will appear in tasting notes signifying wines that are truly exceptional and worthy of your full attention. As the French would say (who know something about Pinot Noir), C'est top! (It's the best!). The PinotGeek 's teeth are stained purple from dedicated tasting of Pinot Noir.

The new Prince of Pinot website at www.princeofpinot.com will launch on September 5, 2008. On that date you will be able to visit and explore the site and subscribe to the PinotFile. A yearly subscription (26 issues) is $120. The new website will remain open to all visitors for 30 days, after which it will be available exclusively to paid subscribers. The PinotFile newsletter will no longer be e-mailed to subscribers. A notice will be sent to all subscribers when a new issue is posted on the website. Full access of the current and past issues will be available to subscribers using a name and password and any issue of the PinotFile may be downloaded and printed. No print form of the newsletter is available except through the web site.
If you have any suggestions on how the web site can be improved, do not hesitate to contact the Prince through the Comments/Feedback section of the web site.
Much credit and heartfelt thanks go to those who have supplied me with the necessary expertise and support to write the PinotFile over the last seven years: Steve Muller who designed my first website and my logo, David Isaacs who managed my website with dedication and a smile, Rene Chazottes who encouraged me and taught me integrity, my wife Patti who somehow had the patience to put up with my wacky devotion to a grape, and my mother who always said I would become a doctor or a writer (bless her heart, she was wrong, I became both)