Sustaining on Pinot in Noiregon
The 22nd Annual International Pinot Noir Celebration (IPNC) was held on July 25-27, 2008 in McMinnville, Noiregon. The theme of this year's Celebration was "Sustainability Without Sacrifice." Oregon has led this country's wine regions in establishing a clear and uniform description of certifiable sustainability in viticulture. Everyone wants to be "green" these days and many wineries are claiming to be green, but the trendy title is often backed up by more poof than proof. What exactly is "sustainability" and how does it relate to organic viticulture and biodynamic viticulture?
Over 700 Pinot Geeks gathered on the campus of Linfield College, located in the heart of the Willamette Valley, eager to learn about sustainability, and dedicated to celebrating Pinot Noir in all of its diversity (translated: drink plenty of Pinot Noir). The keynote seminar of the IPNC was "Sustainability Without Sacrifice" hosted by distinguished wine expert and writer, Jasper Morris, MW, and noted wine writer and educator Andrea Robinson, MS. The featured speaker was legendary and preeminent winemaker Dominque Lafon of Domaine des Comtes Lafon. Joining Lafon on the panel were Ted Casteel, owner of Bethel Heights Vineyard in Oregon and founder of LIVE (more about this later), Michael Dhillon, proprietor and winemaker at Bindi Wines in Australia, Ted Lemon of Littorai Wines in California, Nigel Greening, owner of Felton Road in New Zealand, and Frédéric Lefarge of Domaine Michel Lafarge in Burgundy. Here is the complete recording of the "Sustainability Without Sacrifice"
seminar.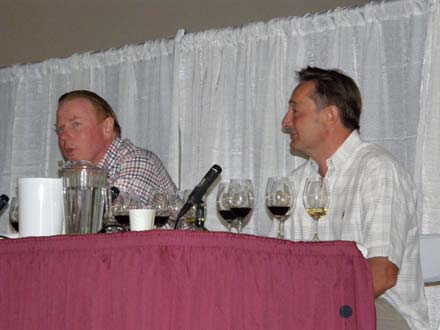 I was very impressed by Dominque Lafon who spoke with humility and clarity about his personal advocacy of organic and biodynamic farming in Burgundy. Guests were treated to a sampling of Lafon's wines and quickly understood how sustainability and supreme quality were inseparable. Dominique Lafon (right in photo, Jasper Morris on his left) committed fully to biodynamic farming in 1995 and his estate has become one of the few in the Cote d'Or (excluding the negotiants) that produces equally good Chardonnay and Pinot Noir. This year Dominique was celebrating his 50th birthday and his 25th vintage, and frankly, he didn't look a day over 35. He claims his favorite wine is Chambolle-Musigny Les Amoureuses, so there must be something to the relationship between love and youthfulness.
The joke making the rounds at the IPNC was that the event's "diet was not sustainable." The copious amounts of fresh Oregon food exquisitely prepared by the top chefs in the Northwest and served at alfresco lunches and dinners daily combined with plentiful Pinot Noir from around the world made for a gastronomic bacchanal that could be only sustained for a few days.
To begin a discussion of methods used to protect the health of the vineyard ecosystem, it is important to define a few terms of relevance. Consumers generally have little clue about the daunting jargon referencing "green" viticulture and winemaking and for the most part they do not need to delve into it to any serious degree. However, those looking for quality wine at the highest level may be interested in knowing about a winery's commitment to sustainability. Many winemakers believe with good reason that sustainable practices result in brighter, purer, more flavorful wines that provide a more distinct reflection of the characteristics of the land on which they are grown. I have attempted to summarize as clearly and succinctly as possible the terms sustainability, organic and biodynamic.
Sustainability: The first sustainable grape growing program to establish international guidelines originated in Switzerland in 1989. Sustainable viticulture refers to the ability of a vineyard to grow grapes while protecting the health of the environment. The basic key components of sustainable winegrowing include natural conservation, human education, water quality protection, erosion control, habitat restoration and conservation, cover crops, and safe use of soil amendments. There is no unified sustainability certification system in place in this country at present and there is no codification of sustainable farming. The United States Treasury wine label division has approved multiple "sustainable" statements but no cohesive system has been used to verify such claims.
In California, the California Sustainable Winegrowing Alliance (CAWG), established in 2001, is a collaboration between The Wine Institute and the California Association of Winegrape Growers that encourages growers and vintners to adopt sustainable practices. Another organization, the Central Coast Vineyard Team (CCVT), is a nonprofit organization formed to create protocols for sustainability certification. Twelve vineyards are participating in a pilot program in 2008. Paraiso Vineyards is among the participants planning to certify all of its 250 acres and likely will be the first in Monterey County to obtain certification. By 2009, those wines made from vineyards certified sustainable by CCVT will be able to use "Certified Sustainably Grown" on labels.
Oregon has led the sustainability movement in viticulture in the United States. Low Input Viticulture & Enology (LIVE) was established in 1999 to certify vineyards that follow international guidelines for strong environmental stewardship, social responsibility, and economic accountability. As Terry Casteel, longtime winegrower and proprietor of Bethel Heights Vineyards remarked during the sustainability seminar, many people came into Oregon in the early 1990s and were farming irresponsibly out of ignorance of sustainability. Casteel led the movement to establish LIVE. The LIVE grower must have a trained vineyard manager, LIVE continuing education and training, and proper record keeping on fertilization, pesticide application, pruning and soil management. Minimal and efficient pesticide application is required. Wines labeled LIVE have to be produced entirely with grapes from certified vineyards. Chaptalization and total sulfur dioxide is restricted. Reviewers visit vineyards annually unannounced to verify compliance. Currently 50% of Oregon vineyards are LIVE certified with momentum spreading to vineyards in Walla Walla, Washington, and elsewhere. The goal is to achieve complete sustainability within the Oregon wine industry. Salmon-Safe, a non-profit founded in 1995 dedicated to restoring agricultural and urban watersheds so salmon are allowed to spawn and thrive, is included in the LIVE certification.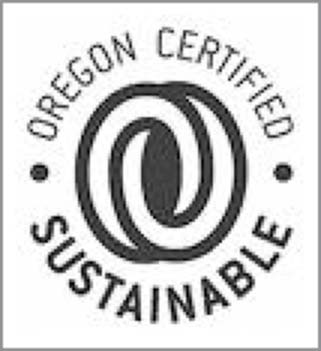 In early 2008, after the request by Governor Ted Kulongski of Oregon to reduce carbon emissions and the carbon footprint of Oregon companies, the Oregon Wine Board acted quickly to create a certification program and logo for vineyards and wineries identifying them as either sustainable, organic or biodynamic. The umbrella logo, "Oregon Certified Sustainable" (OCS) was proposed. Thirty wineries have signed on. Some resistance to OCS has been forthcoming from Oregon wineries already certified biodynamic who prefer to use that designation on their labels. Unfortunately, the maize of certifications will continue to confound the consumer for some time to come. For example, any wine certified by LIVE, Demeter, Oregon Tilth, Salmon-Safe or Food Alliance (still another certifying organization for farms, ranches and food handlers) will be able to carry the OCS label.
Organic Viticulture: This method of grape growing implies farming without synthetic fertilizers, pesticides, and other chemicals. Local organizations can certify organic compliance in the United States based on Federal Organic Standards regulated by the National Organic Standards Board (NOSB). In California, certifying agencies include California Certified Organic Farmers (CCOF) and Organic Certifiers Inc.. California growers producing organic wine grapes must also register with the California Department of Food and Agriculture (CDFA). In Oregon, the organic certifying agency for organic farmers, gardeners and consumers is Oregon Tilth, established in 1974. ECOCERT, founded in France in 1991, is a European organic certification organization that conducts inspections in over 80 countries. BioGro is New Zealand's leading organic certification agency, active since 1983.
According to Lisa Shara Hall writing in Wine Business Monthly (August, 2008), California has about 9,000 acres certified (80 producers) as organically farmed while in Oregon 50% to 60% of vineyards are farmed organically even if not certified.
There are three types of organic wine. For wine to be labeled "USDA certified organic," 95% of the contents of the wine must be organic and must contain no additives such as sulfites. To be labeled "100% certified organic," all contents must be organic and the wine must be completely free of sulfites. Since sulfites are necessary to prevent oxidation and bacterial spoilage of a wine, certified organic wines are perishable. The third type of organic wine is "wine made from organically grown grapes," referring to wines made with at least 70% organic ingredients, restricted additives, but added sulfites.
Biodynamic Viticulture: Termed biodynamie in France, this is a form of naturopathy that refers to managing the entire farm or vineyard as a self-contained holistic system and a living organism. Emphasis is given to soil fertility. Grapes must be grown and wines made without the use of synthetics and pesticides, with consideration given to the position of the planets and phases of the moon on the timing of planting, spraying and harvesting of the vines. Teas, composts and traditional recipes are used instead of synthetics. The biodynamic agricultural system was created by the Austrian philosopher, Dr. Rudoph Steiner, first detailed by him in a series of lectures in 1924. His publication was titled Agriculture (subtitled Spiritual Foundations for the Renewal of Agriculture). It is of interest that, according to Tim Patterson, writing in Wines & Vines (May, 2008), Steiner's publication "has little to say about vines and vineyards, and there are indications he wasn't all that fond of wine, since he wasn't all that fond of alcohol." Steiner is also known for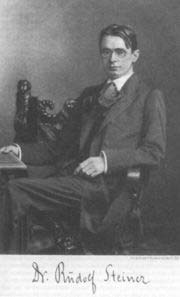 inventing the Waldorf educational system and the philosophy of anthroposophy. Biodynamics represents a belief system and a commitment beyond sustainability and organic farming.
The USA Demeter Association, located in Philomath, Oregon, is the only agency for Biodynamic® certification in the United States. It is an offshoot of the original Demeter Association founded in Europe in 1928 and now has 20 country-based organizations. Nationally, California has the most biodynamic vineyards including Bonny Doon Vineyard, Bonaterra Vineyards, Frey Vineyards, Benziger Family Winery and Quivera. Oregon has at least nine producers and/or vineyards certified by Demeter including Brick House Vineyard, Cooper Mountain Vineyards (one of the first wineries in Oregon to embrace organic farming and later biodynamic viticulture), Beaux Freres Vineyards & Winery, Resonance Vineyard, Francis Tannahill Winery, Bergström Wines, and Maysara Winery. Washington has one Demeter certified producer, Cayuse, in Walla Walla. Two classes of Demeter certified wines are recognized. "Wine made from biodynamic grapes" cannot have specific additives, must be sourced from a single vineyard, and must be made with 100% biodynamic grapes. "Certified biodynamic wine" has even more restrictions, disallowing acidification and chaptalization and the addition commercial yeast, enzymes, and tannin. Sulfur dioxide can be used within specified limitations. Demeter winemaking standards are posted on the website at www.demeter-usa.org.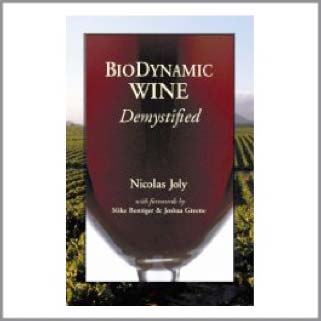 For more reading on the subject, consult Nicolas Joly's new book, Biodynamic Wine, Demystified. Joly, proprietor of Coulée de Serrant Vineyard in France, is the world's most influential educator on biodynamic winegrowing. His first book on biodynamics, Wine from Sky to Earth, was published in 1999. Also, there is a new book published on "green" winemaking in Oregon titled Oregon "Eco-Friendly" Wine: Leading the World in "Green" Wine, written by Clive S. Michelsen (see page 45). The book also includes a complete Oregon winery directory. Both Jory's and Michelsen's books are available from www.WineAppreciation.com.
From personal experience, I have found that there are many Pinot Noir vineyards in Oregon and California that are farmed consistent with sustainable and organic methods, but have not sought certification because of the process involved and/or the need to leave the door open if certain pesticides are chemicals are necessary to farm the vineyard successfully. Many winegrowers practice many of the basic tenants of biodynamics as well, stopping short of some of the more obtuse recommended practices that some refer to as "vineyard voodoo." If you want to start a controversial conversation among wine enthusiasts and wine cognoscenti, bring up the word biodynamics.
Taking all the above information under consideration, what exactly is a "green" wine? At present there is no clear definition. The Green Wine Seminar will be held December 1-2, 2008 in Santa Rosa, California (www.winesymposium.com) to discuss this very subject. I tend to side with Cliff Ohmart, research/IPM director at the Lodi-Woodbridge Winegrape commission, who defines a "green" wine as one made from grapes that have been grown using either sustainable, organic or biodynamic farming methods. As he notes in Wines & Vines (September, 2008), "They are all environmentally sound ways to farm. The choice of which to practice will depend on what your goals are."
At the Sustainability Without Sacrifice seminar, we sampled an impressive lineup of wines from the guest panelists, all of whom are firmly committed to sustainable winegrowing.
Dominque Lafon's legendary estate in Meursault is Domaine des Comtes Lafon. Lafon is one of Burgundy's most progressive and forward-thinking personalities. As noted earlier in this article, he has been instrumental in implementing major viticultural changes in Burgundy, favoring organic and biodynamic farming.
The Desirée portion of the Volnay Santenots Vineyard was heavily virused and pulled out in 2005. Biodynamic farming was begun in 2006. This portion of the Volnay Santenots Vineyard is not 1er Cru. 2000 was a great Chardonnay vintage and this wine shows it. · Plenty of acidity and still quite fresh and young. Great purity and minerality with a crisp finish.
Lafon shares the 50 acres of Volnay Santenots with several other growers. The 10-acre du Mileu is the best part of the vineyard. A special parcel of vines more than 45 years old, Lafon consistently harvests them at some of the lowest yields in Burgundy. The vineyard typically gives intense color. All the Santenots wines are 100% de-stemmed, fermented in large tanks over a three week period and aged in one-third new French oak. Final alcohols are in the 12.6% to 13.5% range. Production is small, and much of the wine is pre-committed to top restaurants in France.
Ted Lemon studied enology at the Université de Bourgogne and apprenticed at several famous estates in Burgundy including Domaine Dujac, De Villaine, Roumier, Parent, and Bruno Clair. He was the first American ever hired as a winemaker and vineyard manager of a Burgundian estate, Domaine Guy Roulot in Meursault. Ted 's years in France left him a firm advocate of terroir. He has been a leader in the implementation of sustainable farming practices in his own vineyards and region and many winegrowers seek out his guidance. All of his owned or managed vineyards have been farmed either organically or biodynamically since 1998, although Ted has not sought certification. He is now consulting on a project with Burn Cottage Vineyard in Central Otago, a neighbor of Felton Road.
2006 Littorai The Haven Vineyard Sonoma Coast Pinot Noir
The Haven Vineyard is three miles from the Pacific Ocean just south of Jenner. Aged in 50% new French oak. · The aromatics feature some reduction with dark fruits enhanced by exotic woods and a touch of char. A healthy core of black raspberry and blackberry fruit with charming highlights of anise and chocolate. Young, rich and still quite tannic, the memorable finish goes on and on. I would sit on this one for a few years.
Nigel Greening bought Felton Road in 2000, and initiated organic and biodynamic farming in 2002. Felton Road's grapes are entirely grown in their own Elms Bannockburn vineyard. Nigel is quite a character and reports that among his main ambitions in life are to break the world record for number of Rotary Clubs addressed in a single week and to beat his son Hamish (age 6) at chess,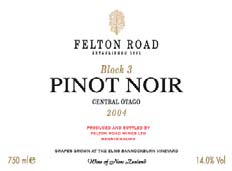 2006 Felton Road Block 3 Central Otago Pinot Noir
The vineyard at Felton Road is certified organic and biodynamic. Owner Nigel Greening, an excellent speaker, noted that biodynamics "is not as wacky as it sounds." At Felton Road, there are 75 acres planted with 250 acres unplanted. Block 3 is a subsection of the vineyard - the so-called "sweet-spot" of the vineyard. 30% whole cluster. · This is a a great wine that makes you sit up and take notice. Copious, but well framed, dark red fruit nicely complimented by savory Asian spices with an aromatic and tangy finish leaving a refreshing impression. Very classy juice.
Ted Casteel is the co-founder, co-owner, and vineyard manager of Bethel Heights Vineyard and has been growing grapes in Oregon now for 30 years. He developed the original 50-acre Bethel Heights estate vineyard in the late 1970s and the original own-rooted vines still provide most of the fruit for Bethel Heights wines. Ted has championed biological diversity and ecological balance on the whole farm, minimizing the use of "off-farm" in puts such as fungicides, synthetic fertilizers, herbicides, and diesel. His impetus led to the founding of LIVE sustainable certification in Oregon in 1997.
2006 Bethel Heights Flat Block Reserve Willamette Valley Pinot Noir
Flat Block is a 30-year-old part of the estate vineyard, own-rooted, and planted to the Pommard clone. It shows the feminine side of Pinot Noir. 50% new, medium toast French oak. · Confected cherry aromas lead to nicely spiced red fruits, particularly strawberry, ending with generous acidity. Deliciously fruity and easy to drink.
The Lafarge's have been vignerons in Volnay since the 18th century and started bottling in the early 1900s, a rarity for a small estate in Burgundy. They have had loyal customers for generations, selling their own wine in barrels to Parisian restaurants as far back as the 1850s. Michel Lafarge, now in his seventies, and his son Frédéric are probably the most famous father-and-son team working in Burgundy today. They have about 25 acres of mature vines in the village of Volnay. The domaine is committed to biodynamics.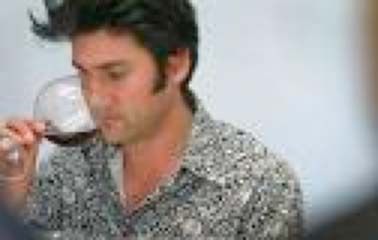 Michael Dhillon developed his winemaking skills on the job so to speak, becoming a traveling cellar rat at a young age. Dhillon helped his father Bill plant the original family vineyard in 1988. The Bindi vineyards are located minutes from Melbourne at an elevation of 1,600 feet. A total of 16 acres are under vine with 100 acres of associated grasslands. The focus is on farming methods that promote diversity and balance, including the increased use of biodynamic practices.