Twenty-Second Annual International Pinot Noir Celebration
The granddaddy of Pinot Noir Festivals continues to annually attract pinotphiles from around the world to the tiny campus of Linfield College in McMinnville, Oregon. This year, Pinot Noir producers hailed from Oregon, California, Canada, France, New Zealand, Australia (including Tasmania), and Austria. Since 1987, the IPNC has hosted a total of 252 foreign wineries. Chefs travel from all parts of the United States, France, Canada, Japan and New Zealand to cook for IPNC participants. Forty-six guest chefs prepared the meals this year at the Celebration.
Traditionally, the Opening Ceremonies feature an introduction of the featured winemakers. This year the Master of Ceremonies, Andrea Robinson, welcomed 63 Pinot Noir producers. Pictured clockwise are David Millman, Managing Director of Domaine Drouhin Oregon,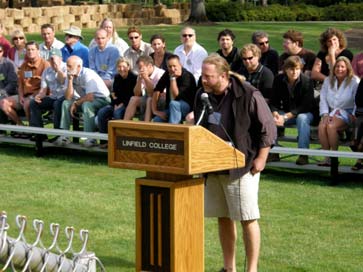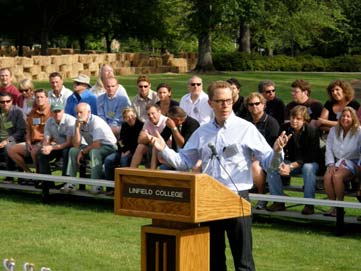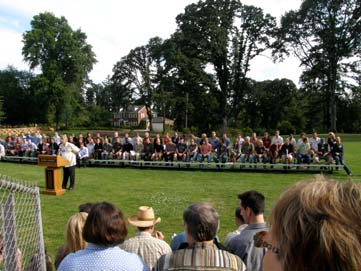 Dan and Nancy Chapel of Cardwell Hill Cellars in Philomath, Oregon, Adam Campbell, winemaker at Elk Cove Vineyards, and the entire group being addressed by Laurent Montalieu of Solena Cellars. Usually the Opening Ceremonies are held in front a a 250-year-old oak tree (below in 2007) which was an enduring symbol of Linfield College and a frequent image on college stationary and calendars. The oak had predated the founding of Linfield College, now celebrating its Sesquicentennial (1858-2008). Named the Old Oak, the 80-foot tree came crashing down on January 8, 2008, a victim of carpenter worm infestation.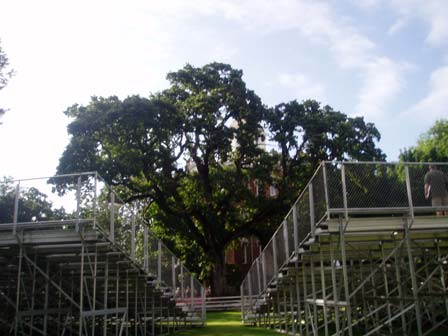 After the Opening Ceremonies, attendees scattered by bus throughout the Willamette Valley to learn about sustainable viticulture at several of Oregon's most notable wineries and enjoy an alfresco lunch. My group took a fifteen minute ride to Amity Vineyards in the Eola-Amity Hills appellation. Established in 1976, Amity is one of Willamette Valley's first wineries. When Myron Redford founded Amity Vineyards, there were only about twelve other wineries in the state of Oregon. The 15-acre estate vineyard is perched on a hillside with panoramic views of the Willamette Valley.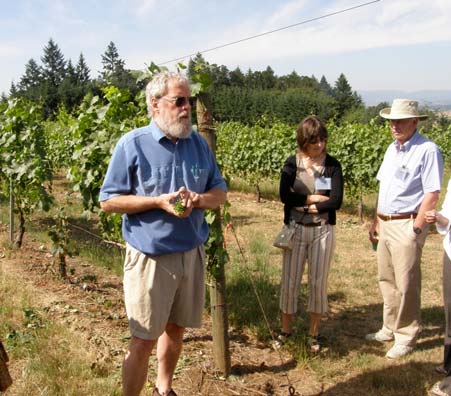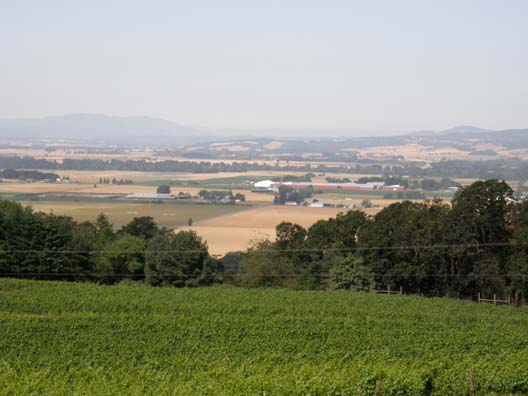 Owner and winemaker Myron Redford (pictured) is a respected veteran Oregon vintner who oversees the 8,000 case production of Pinot Noir, Pinot Blanc and Riesling at Amity Vineyards. Early in his career, Redford was an advocate of little or no new oak in vinifying Pinot Noir and his Pinot Noirs were austere with plenty of acidity. Although he strived for elegance in the mold of his idol, Roumier, and achieved that in a number of his wines, the Pinot Noirs lacked the fruitiness that consumers tody often prefer. Most recently, his Pinot Noirs are more in step with other producers in Oregon, showing more ripeness and body. Redford's white wines have always been excellent and noted for their purity and vibrancy.
Our Oregon Wine Country lunch hosted by Myron Redford and Vikkie Wetle of Amity Vineyards was prepared by two young kitchen talents, Eric Ferguson and Carmen Peirano of Nick's Italian Cafè in McMinnville. Nick Peirano started the eponymous restaurant in 1977, and his daughter and fiancee have bred new life into this venerable wine country restaurant. Two notable Pinot Noirs were served at lunch. The 2007 vintage of Amity Vineyards Eco-Wine Pinot Noir (13.7% alc., $27) was a pleasant, light and fruity Pinot Noir. The 2006 vintage of this wine, which is organic and has no detectable sulfites, won a Gold Medal at the Oregon State Fair. I was very impressed by the Sunnyside Vineyard Pinot Noir served with the main course (grilled rack of lamb and summer vegetable ragout).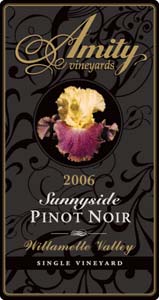 2006 Amity Vineyards Sunnyside Vineyard Willamette Valley Pinot Noir
14.5% alc., 203 cases, $40.The Sunnyside Vineyard was planted in 1970 and is LIVE certified. The owners are Tom and Lucy Wisniewski. Fruit from this vineyard been a part of the reserve Pinot Noir at Amity in the past. Aged 10 months in oak. · Beautifully weighted and composed with generous flavors of fresh berries including cranberry, and cherries. Floral and fruity in the nose and silky in the mouth. Impeccable balance, and a perfect companion to grilled lamb.
Amity Vineyards is located at 18150 Amity Vineyards Rd at the southern edge of Yamhill County. The wines are sold on the website at www.amityvineyards.com. Amity Vineyards is one of the few wineries with a tasting room open daily year round. 503-835-2362.
IPNC is a heaven for gourmands as well as pinotphiles. Noted chefs work in teams using local artisan and sustainable foods to prepare superb luncheons and dinners. The Alfresco Lunch on Saturday was quite innovative with pork being the centerpiece for all courses. The menu is duplicated below. It was fairly warm that day and if you look closely at the crowd in the photo on the next page, you will see the clever hats that were fashioned from the cloth napkins to protect a number of bald heads.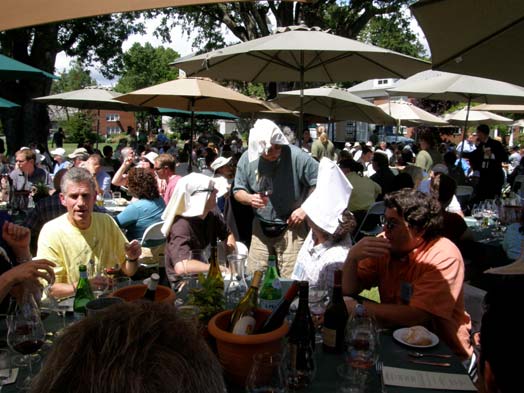 A much-loved tradition at IPNC us the Northwest Salmon Bake held in the Oak Grove at Linfield College. Wild Chinook salmon is prepared on alder stakes over a huge fire pit. For meat eaters there was a Provencal stew of Cattail Creek lamb shoulder and mesquite grilled Carlton Farms pork loin. This is an all-you-can-eat and allyou- can-drink affair in which every attendee brings one to several prized bottles of Pinot Noir to share. Once you have sampled everything at your own table, you are free to scavenge with your glass hunting for gems that often are generously offered by other tables. The pictures below capture the atmosphere of the event.