Memorable Winery Visits
No trip to Oregon is complete without some visits with old friends and new acquaintances. I managed to squeeze in several memorable wine tasting soirees with several of my friends tagging along. Shea Wine Cellars, Anam Cara Cellars, Laura Volkman, and Ponzi Vineyards were all extremely cordial and left me with many wonderful Pinot memories.
Shea Wine Cellars
Shea Vineyard now consists of 200 hillside acres, of which 140 acres are planted to Pinot Noir and 5 acres to Chardonnay. The vineyard faces south at an elevation of 320 to 625 feet and is divided into two hills, named East Hill and West Hill separated by a valley containing native plants and trees. The original vines of Pommard and Wädenswil clones were planted on their own roots. Inevitably, phylloxera afflicted the vineyard and planned replanting progressed over the ensuing years, reaching completion in 2005. The newer plantings include the Dijon clones 114, 115, 777 and 828. The vineyard has never been irrigated except for new plantings during the first year.
Grapes from this impeccably maintained site are highly sought after by many of Oregon's top wineries including: Andres's Vat, Antica Terra, Beaux Freres, Bergstrom, Broadley, Elk Cove, Francis Tannahill, J.K. Carrier, Ken Wright Cellars, Panther Creek Cellars, Penner-Ash, Raptor Ridge, Revana, Stevenson- Barrie, Scott Paul Wines, St. Innocent and Torii Mor. In the past, grapes were sent to Manfred Krankl at Sine Qua Non in California (last vintage 2003), but now grapes destined for California go to Loring Wine Co., Pali Wine Co., Auteur and Roessler.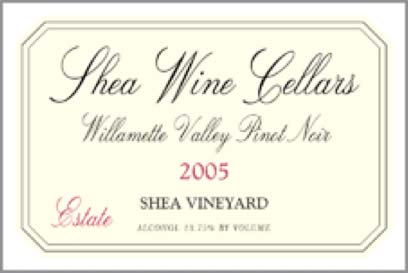 Since 1996, Dick has had his own label, Shea Wine Cellars. 25% of the vineyard production is held back for Dick's own label. The rest of the vineyard output is sold by the acre, usually cropping 2-2.5 tons per acre. There have been several winemakers for Shea Wine Cellars. Experienced tasters have talked about a certain "Shea-ness" that seems to be expressed in the wines from this vineyard. A consistent floral aroma and a dark red fruit character with spice seems unusually clear and unique to this vineyard.
The Shea Wine Cellars Pinot Noirs are designated as Estate (a blend of several blocks), block or clone designates which vary from year to year, and a special reserve wine labeled "Homer." Dick Shea is a baseball fan, but bears no relation to Shea Stadium in New York. Dick's spouse and business partner, Diedre Shea. often compares Dick to Homer Simpson, so the name "Homer" has dual meaning. The Homer cuvee is from the best barrels and is the most voluptuous of the lineup, needing several years to reach its prime drinking window. When I visited Dick and Diedre and their new winemaker, Drew Voit, at their winery at Shea Vineyard, we all sat down and tasted through a vertical of Shea Wine Cellars Homer. Dick, himself, had never done this, so it was a special treat for him as well as for me. The Homer release is a blend of the best barrels in the Shea cellar and is intended to have good longevity. The wine is aged in 75%-80% new oak. 250-300 cases are produced each year using primarily clones 115, 777 and 2A and occasionally Pommard. Photo below (left to right, Prince, Drew, Dick, and Diedre).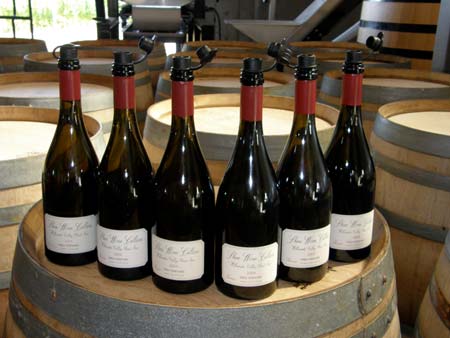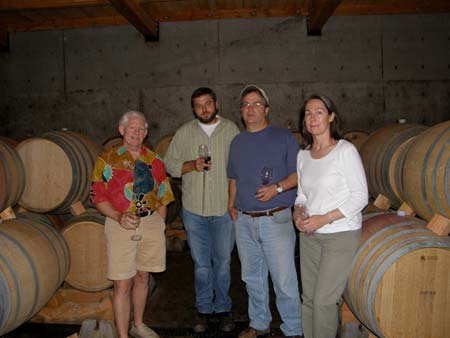 All the wines had intense color with 2005 being the darkest. Dick believes that the leaf pulling he employs in his vineyard toughens and thickens the skins leading to less mildew and more color and flavor. There is significant vintage variability which is further influenced by winemaker differences. These are big fruit-driven Pinot Noirs but not jammy or overwrought.
Before departing, winemaker Drew Voit offered some barrel samples of the 2007 vintage, the first to be vinified in the new winery (photo below). The 2007 Estate was blessed with tremendous raspberry and cherry fruit. The 2007 East Hill was darker and more brooding with reticent fruit and big tannins making it hard to approach.
Shea Wine Cellars Pinot Noir and Chardonnay are sold primarily through a mailing list. The website is www.sheawinecellars.com. The winery is not open to the public at this time.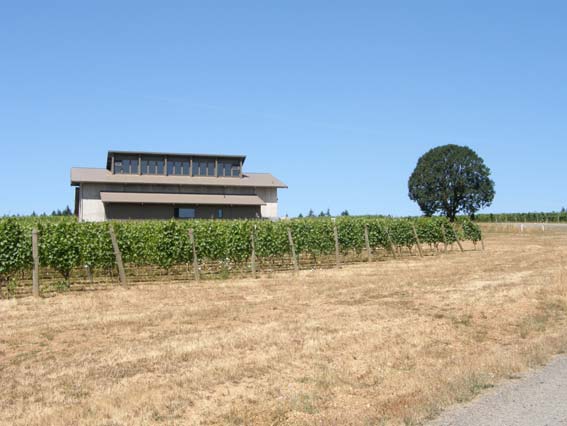 Anam Cara Cellars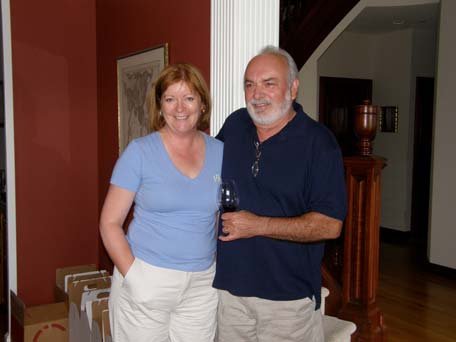 Nick and Sheila Nicholas farm a 30-acre vineyard planted in 2000 and 2001 located on the south east slopes of the Chehalem Mountains, just north of the town of Newberg. Lying between 450 and 650 feet in elevation, the vineyard's well drained soils are primarily Jory series. Five blocks of Pinot Noir are planted to Pommard, 114, 115, 667 and 777 clones. Originally the property was an overgrown walnut, plum and hazelnut orchard with a neglected Christmas tree forest and included a quaint farmhouse dating from 1902 and several wooden outhouses. The couple have completely renovated the property and have built a spacious home overlooking the vineyard. Farming is sustainable, with emphasis on organic and biodynamic practices, with the goal to become LIVE certified in the future. The grapes from the estate vineyard have been highly sought after by Tony Soter (Soter Vineyards), Brooks Wines, and Daedelus Cellars whose winemaker, Aron Hess, also makes the wines for Anam Cara Cellars.
I couldn't take my eyes off of the winery dog, "Digger," who is in charge of gopher control in the vineyard and never stopped searching for gophers the whole time I walked the beautiful vineyard which was sporting plump clusters of Pinot Noir.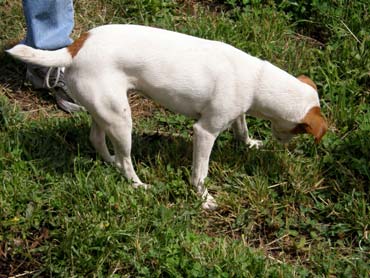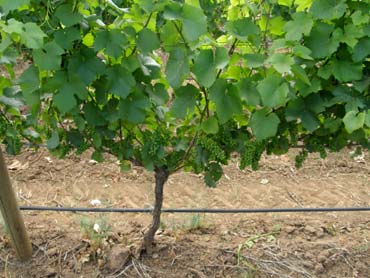 The words Anam Cara are Celtic for "friend of my soul" and symbolize the journey the Nicholas's have taken to make their wine and the relationship they have with the vineyard. The label depicts the vineyard symbolizing the owners' relationship with their land, and with each new friend who shares their wine.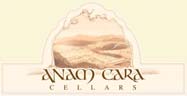 I was impressed by the 2005 lineup of Pinot Noirs (see Volume 6, Issue 36). I briefly tasted the 2006 Anam Cara Cellars Reserve. It is following in the footsteps of the excellent 2005 version with hi-toned black cherry fruit, beautifully spiced and oaked, with a long, sweet finish.
Anam Cara wines can be acquired by phone, 503-537-9150, or through the website at www.anamcaracellars.com. Limited Edition Wine Club members receive twice yearly mailings of six bottles of limited production Anam Cara Cellars estate wines including Pinot Noir, Riesling, and Gewürztraminer (a small amount of the latter two white varieties are also grown on the estate vineyard). Anam Cara is open by appointment at the Chehalem Mountain vineyard. Nick and Sheila are always interested in walking their vineyard with guests and opening a bottle or two if supplies permit. They also host a Labor Day Open House in their vineyard. This past year they brought guests into the middle of the vineyard where the four blocks of Pinot Noir converge and encouraged them to sample the grapes from four clones, then shared unblended barrel samples from the same blocks, and finally offered samples of finished wines. The 2006 Estate and Reserve Pinot Noirs will be released on Thanksgiving weekend as well as a limited release of their special bottlings, Heather and Mark, though the Mark is a well-endowed wine that might be held back until next March.
Laura Volkman Vineyards
This is a new, small, family owned, boutique producer located in Newberg, Oregon. I have been impressed with the Pinot Noirs and Chardonnay. Well, maybe that is putting it lightly, for the 2006 Rachel Estate and 2006 Jacob Estate are among the best Pinot Noirs I have drank all year and both will be in my All-American list for 2008. I have bought and drank several bottles of the two Pinot Noirs and tested others blindly on the wines to confirm my wild enthusiasm. The wines have consistently shined.
Laura makes all the winegrowing decisions herself, performs practically all the physical work in the vineyard, and for the most part, won't let anyone else touch the vines. In the winery, she is so intense in everything she does, her very tolerant husband (bless him!), chidingly says, "She takes every bottle personally." She likens her passion and dedication to an author writing a great book who can completely lock into the job at hand. "I have blinders on from April until the end of crush," she says.
Of all the many grape varieties, Pinot Noir is the most temperamental, a fickle prodigy if you will, and the one that can be brought to perform brilliantly only through meticulous parenting in the vineyard and in the winery. This explains why some of the world's greatest Pinot Noirs come from very small producers who can personally nurse the frivolous grape every step of the way. Laura Volkman personifies this ideal and her wines show the results.
The Laura Volkman Vineyard is located about a half mile from August Cellars (a cooperative facility in which several winemakers lease space) in Newberg. Together with her husband, she bought a small farm several years ago, cleared the land and planted vines. Her first releases were from the 2004 vintage. The labels are quite striking and display artwork depicting Laura in her vineyard (by watercolor artist Terry Peasley).
I just had to meet Laura and so I did right after IPNC. Her small and charming tasting room is shown below along with her two children Rachel and Jacob, after whom her wines are named. I re-tasted the 2006 Rachel and Jacob Estate Pinot Noirs and they were stellar as were the 2007 versions of the same wines. The wines strike a beautiful balance between flashy flavor and character and elegant pinotosity.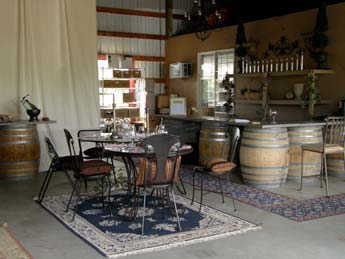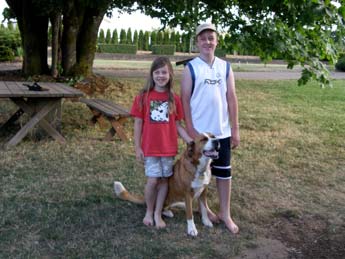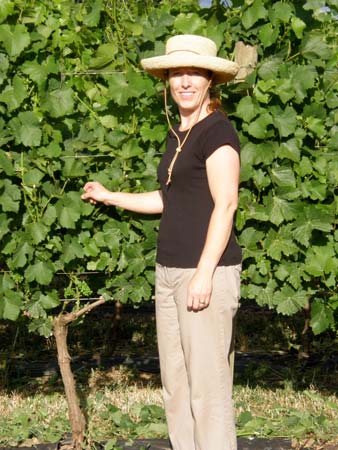 I was curious how she does it, so I asked her to give me her winemaking regimen. No secrets here, just an artisan's gut feeling at every step along the way. This is what she told me. "I like to dial in the yields in the vineyard in September, based on the amount of heat units we receive during the season - very important for wine quality. For example, I have been dropping more fruit the past 3 weeks (early and mid September) to optimize color and flavor development and frequently tasting berries for maturity. As for winemaking, taste and smell are my primary tools. With Pinot, the de-stemming process is very gentle and mostly whole berry. I cold soak for 5 to 7 days, depending on the levels of ripeness, to extract color and tannins using a gentle punch down process two times a day and tasting my way through the process. I planted five Pinot Noir clones in my vineyard and I ferment each one separately using yeasts to match the clone's aromas and flavors intrinsic to my soils and site. Yeasts are important in enhancing phenolic compounds and using a variety of yeasts contributes to the complexity of the wines. These yeasts are cool fermenters ranging from 77-85° F. The ferments usually take between 7 and 10 days to go dry. Once complete, I allow the must to soak for another 5 to 7 days, depending on how the wine tastes, before pressing off to barrel. As for pressing, I go directly to barrel on the lees using gentle gravity flow. The free run juice is aged in new French oak barrels and makes up about half of my production. The skins are gently pressed into one and two year-old barrels. I inoculate every barrel with M-L bacteria to kick off secondary fermentation which generally takes 2 to 3 months. After MLF is complete, I keep the barrels topped and the wine rests until it is time to blend and bottle. Blending is part of the "art" of winemaking - a fun but stressful period when everything needs to come together with aroma and flavor! While I am fastidious with juice and wine analyses, you can see my winemaking is as much about smell and taste as it is about science. Ultimately, the vineyard is really the key. Harvest is based more on palate than numbers. The adrenaline rush is overwhelming - the chance to work with a new vintage is like falling in love every year."
Laura Volkman Vineyards winery address is 13000 N.E. Quarry Road, just off Highway 99W in Newberg (August West Cellars). Tasting is by appointment. The wines are sold through a mailing list or by contacting Laura at 503-806-4047. A limited number of specially etched magnums are available each vintage.
Ponzi Vineyards
Luisa Ponzi met our small group at the construction site of the new "green" Ponzi Winery that sits on a 42-acre parcel between Beaverton and Newberg, perched on Chehalem Mountain. The new winery is aptly named "Collina del Sogno," which translates from Italian to "Place of Dreams." The patriarch of Ponzi Vineyards, Dick Ponzi, has been dreaming of this winery for thirty years. The 30,000-square-foot winery is a four-level gravity flow and sustainable facility. Construction is primarily concrete and metal with wood accents. The concrete portion of the building employs fly ash, a waste product from coal-fired power plants. Solar panels provide energy and excess electrical power will be sold or credited back to the electrical company. The building is 80 percent buried in the ground to aid in insulation and with the reflective metal roof, there will be no need for air conditioning. Most of the lighting is provided by strategically placed windows at the top of the building. Rain water will be collected and stored for irrigation and fire suppression. The winery is scheduled for completion in time for the 2008 harvest.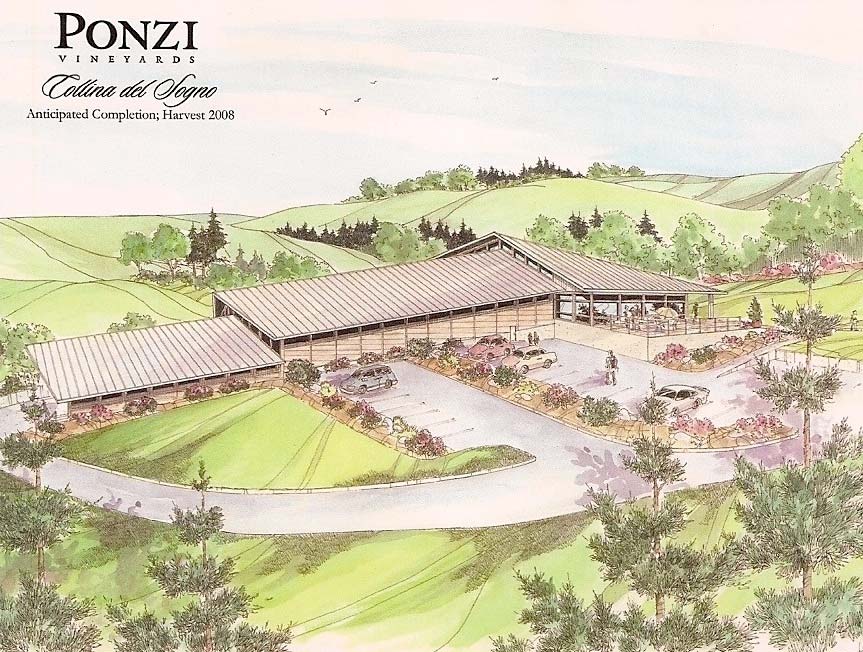 Ponzi Vineyards has been at the vanguard of sustainable viticulture in Oregon, obtaining LIVE certification in 2000 for the existing winery and all the vineyards. Ponzi now farms 120 estate acres in the Chehalem Mountains and along with purchased grapes, produces 50,000 cases of multiple varieties (Pinot Noir, Chardonnay, Pinot Gris, Pinot Blanc, Rosato, Dolcetto, Riesling, Arneis, and a desert wine, Vino Gelato) annually.
As we sat outside the old Ponzi Winery and tasting room (which will remain open) under mature shade trees, Luisa Ponzi reminisced about the early days of Ponzi Vineyards. Dick and his wife Nancy were hippies who moved from Los Gatos, California and arrived in Oregon in the 1960s with three kids in tow and a dream of producing world class Pinot Noir. Following trips to Burgundy and an extensive search for a suitable location, they bought a 20-acre farm southwest of Portland in Beaverton, Oregon.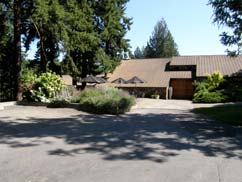 The first 11-acre vineyard was planted in 1970 and a small house and garage was built. The garage became the first winery and was gradually expanded in a somewhat haphazard fashion over the years with the original house becoming a hospitality center (the old winery is pictured right). The first commercial release of Ponzi Pinot Noir was from the 1974 vintage and released to the public in 1976. Producing limited quantities of high-quality, handcrafted wine, Ponzi Vineyards soon established a reputation for world-class excellence.
Dick and Nancy Ponzi were instrumental in getting state permission to allow wineries and adjoining tasting rooms to be constructed on agricultural land in Oregon. Together, they helped found the Oregon Winegrowers Association and the Oregon Wine Advisory Board (currently known as the Oregon Wine Board). In 1984 they established Bridgeport Brewing Company, Oregon's first craft brewery, and in 1998 established a regional wine bar and bistro in downtown Dundee. Nancy Ponzi co-founded the International Pinot Noir Celebration, Oregon Pinot Camp (for retailers), and The Salud Barrel Auction that benefits health care for seasonal workers.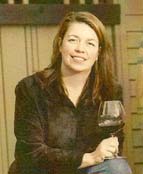 All the children worked in the vineyards growing up as Dick and Nancy Ponzi developed their business. Today the grown children are in charge of the day-to-day management of Ponzi Vineyards. Like her husband, Eric Hamacher, who is a noted winemaker, Luisa had intentions of becoming a doctor and was majoring in biology when she realized medicine was not her calling. She switched to enology, studied in Burgundy, and returned to take over the winemaking reigns from her father in 1993. The same year the other two Ponzi children assumed full-time roles at the winery (Maria Ponzi Fogelstrom as the Sales and Marketing Director and Michel Ponzi as the Operations Manager).
As I sat and conversed with Luisa for a couple of hours, interrupted only once by a call about her children (she has four), I was impressed how grounded she was. There wasn't much winemaking jargon and gibberish or promotion of her wines. It was refreshing to sit and sip, talking and joking about the concerns and life experiences we all have, the kind of conversation that is so conducive to an outdoor setting over a good glass of wine. The wines that were sampled are reviewed below. They are distributed nationally by Wilson Daniels Ltd..
Ponzi Vineyard wines are available on the website at www.ponziwines.com. Reduced futures prices are offered to those on the mailing list. The Abetina Vineyard Pinot Noir ($100), made in only the finest vintages, is one of Oregon's greatest wines. The wines are available for sampling at the original winery located at 14665 SW Winery Lane in Beaverton (open daily) and at the Ponzi Wine Bar in Dundee on Highway 99W (also open daily). 503-628-1227.