Noiregon Pinot Briefs —Newsletter 7.2
Wine Country Thanskgiving This three-day weekend features tastings at more than 120 Willamette Valley wineries with artisan foods, live music, and local artists. The 26th annual Wine Country Thanksgiving runs from November 28-30, 2008, from 11:00 AM to 5:00 PM each day. This annual event is traditionally held the weekend after Thanksgiving. Many small, family owned wineries are only open to the public Thanksgiving and Memorial Day weekends allowing for opportunities to meet the winemakers and sample the newest releases. Visit www.willamettewines.com or call 503-646-2985 to request a touring map and guide or obtain your free copy throughout Oregon at visitor associations, hotels, wine stores and travel centers. A similar open house weekend is held in the spring, Memorial Weekend in Wine Country, May 23-25, 2009.
Salud! Oregon's Pinot Noir Auction Now in its 17th year, Oregon's Pinot Noir Auction has raised over six million dollars for the Tuality Healthcare Foundation to support efforts to bring healthcare to seasonal vineyard workers and their families. This year's event will be on November 7 & 8, 2008. At the Big Board Case Auction, guests can bid on Oregon Pinot Noirs created especially for Salud!. The black-tie Dinner and Auction includes a live and silent auction of rare wines, special dinners with winemakers, and unique wine trips. For information and to join the mailing list, visit www.saludauction.org.
McMinnville Wineries For a relatively small town of 30,000 people, McMinnville has an inordinate number of wineries - 19 at last count. They include Anthony Dell Cellars, Black Cap Wines of Oregon, Coeur de Terre Vineyard, Coleman Vineyard, Evergreen Vineyards, the Eyrie Vineyards, La Bête Wines, Maysara Winery, NW Wine Co., at NW wine Bar (over 20 custom crush labels including Soléna Cellars, ArborBrook Vineyards, Folin Cellars and Piluso Vineyard & Winery), Panther Creek Cellars, R. Stuart & Co., Ransom Wine Co., Sol et Soleil Cellars, Stevenson-BArrie, Stone Wolf Vineyards, Westrey Wine Co., WineWorks Oregon (custom crush labels including Bernard-Machado, Carlton Hill Wine Co., Robinson Reserve, Walnut City Wineworks, and Z'IVO Wines), Yamhill Valley Vineyards, and Youngberg Hill Vineyard & Inn. McMinnville was first established in 1843 when William T. Newby arrived in Oregon by wagon train from McMinnville, Tennessee.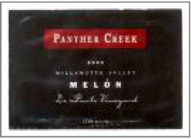 Melon Makes a Tiny Foothold in Oregon Melon de Bourgogne, labeled Muscadet in Europe, is an offspring of Pinot Noir, a result of the cross between Pinot Blanc (with which it is often confused) and Gouias Blanc. Most of France's Muscadet comes from the area around the city of Nantes on the Loire River in proximity to the Atlantic Ocean. Muscadet is a classic match for shellfish and is known for its bright lemon crispness. Several Oregon producers are playing with the varietal including Biggio Hamina Cellars, DePonte Cellars, Chateau Lorane, Elemental Cellars, and Panther Creek Cellars.

Domaine Serene's Monogram Most Expensive Pinot Noir Monogram is a special limited bottling of Pinot Noir from Domaine Serene's cellars that represents a few special barrels from select vintages that have the character, concentration and age ability to stand out. The 2005 Monogram has just been released with a winery price of $225 per bottle, the highest release price for a domestic Pinot Noir that I can recall. The 2003 vintage (there was no 2004 vintage) sold out in just over a week. Only 200 six-bottle cases are produced. Members of the mailing list were offered the wine initially and the wine may be sold out as I write this. The wine even has its own website at www.monogramwine.com. Contact Amber Sagnotti at 866-864-6555.
Oregon Wine Press This monthly newspaper will keep you informed on the happenings in Oregon's wine regions. Features include profiles of new and established wineries and winemakers, general wine news, foods and restaurants of Oregon with recipes, and an extensive calender of wine related events throughout Oregon. A yearly subscription is $20, postage included. Mail your order to Oregon Wine Press at PO Box 727, McMinnville, OR 97128.