Merry Edwards: Pinot Noir Royalty
As she harvests her 33rd vintage as a winemaker, Merry (Meredith) Edwards has become deservedly widely known as the "Queen of Pinot." Throughout her career, which began at Mount Eden in 1974, she has made some benchmark California Chardonnays, Merlots and Sauvignon Blancs. But her passion is Pinot Noir, her heart is in the Russian River Valley, and her legacy will say she was the first woman to make a really credible Pinot Noir in California.
Edwards grew up in Southern California and went north to University of California Berkeley to study physiology. Her interests shifted to food science and enology and she transferred to University of California Davis to complete her education. Her first job was as the winemaker at Mt Eden in the Santa Cruz Mountains in 1974. This was a winery made famous by Martin "Rusty" Ray who first planted Pinot Noir at the top of Mount Eden in the early 1940s. Edwards produced now legendary Pinot Noirs from 1974-1976. Her pioneering work in clonal selection while at Mt Eden led to the now widely planted UCD 37 certified clone of Pinot Noir. Her work at Mount Eden was remarkable for the time, because there were few winemaking jobs offered to women and only a handful of notable Pinot Noirs were being produced in Northern California. It was a time for discovery. Joe Swan released his first Pinot Noir in 1973, Davis Bynum bottled his Rochioli Pinot Noir in 1972 from vines Joe Rochioli planted in 1968, Bob Pellegrini planted the Olivet Lane Vineyard in 1972, and Tom Dehlinger, Forrest Tancer at Iron Horse, and Marimar Torres were starting their own Pinot Noir programs in the Russian River Valley.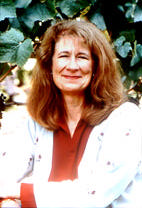 In 1977, Edwards left Mt Eden and moved on to Matanzas Creek, which she led to the top echelon of California wineries. Briefly she had her own project, Merry Vintners (now DeLoach Vineyards), and was a principal and winemaker at Domaine Laurier, both of which turned out to be financially unfeasible. She also made wine for Liparita, Fritz, and Lambert Bridge. She crafted Pinot Noir for Olivet Lane Vineyard (Pellegrini Family Vineyards) for a time and continues to source grapes from this heritage vineyard. In 1996, she finally found stable footing and a vineyard of her own when she purchased a 24-acre fruit orchard in the southern part of the Russian River Valley and formed a partnership with her husband, Ken Coopersmith and others, under the Meredith Vineyard Estate name. She planted this property in the Sonoma Coast appellation in 1997 with a field selection of Swan and her own UCD 37 along with three clones from Burgundy.
Her first vintage from Meredith Estate Vineyard was 2000. In 1999, Edwards purchased the 9.5 acre Coopersmith Vineyard in the Russian River Valley. In addition to the Meredith and Coopersmith vineyards, she now sources Pinot Noir from Olivet Lane Vineyard, Klopp Ranch Vineyard and Tobias Glen Vineyard, all located in the Russian River Valley. Her Sauvignon Blanc, made in the popular style she developed many years previous at Matanzas Creek, comes from two Russian River Valley vineyards.
Edwards releases seven Pinot Noirs and one Sauvignon Blanc under the Merry Edwards Wines moniker. The Russian River Valley and Sonoma Coast appellation bottlings and the Oliver Lane Pinot Noirs are Spring releases, and the four other vineyard-designate Pinot Noirs are released in the Fall. Production in 2006 is expected to be 15,000 cases. Most of the Merry Edwards wines are sold to an eager mailing list and a lengthy list of restaurants. The name Merry Edwards is among the most popular restaurant labels and has a similar caché as Sonoma-Cutrer and Cakebread on restaurant wine lists.
The Fall 2006 release wines were listed in the PinotFile, Volume 5, Issue 48. Currently, tasting is available by appointment at the business office in Windsor, but ground has been broken on a new winery to be constructed on the Coopersmith Vineyard property, expected to be completed for the harvest in 2007 (below).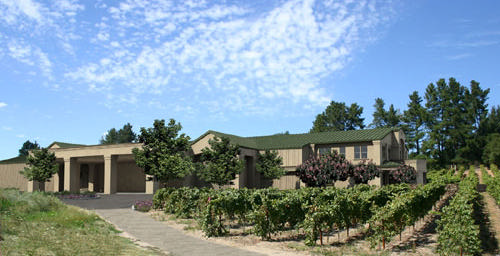 Edward's winemaking emphasizes careful vineyard management, punch downs in 6.5 ft x 6 ft fermenters, and generous use of new oak barrels. Her style has been described as "sporting lavish dark fruits, powerfully concentrated, jammy, and brimming with sweet oak." All of her Pinot Noirs retain a distinct sense of place, a feature that stems from her pioneering work on clonal diversity and importance of site (terroir).
I first met Edwards in 2002 at a wine dinner in Orange County, California, at Mr Stox Restaurant . At that time, I was privileged to taste some of her early Merry Edwards Pinot Noirs: including the 1999 Merry Edwards Klopp Ranch Pinot Noir and 1999 Merry Edwards Windsor Gardens Pinot Noir (Windsor Gardens unfortunately has been subsequently bulldozed for home development). Both were outstanding with the Windsor more feminine and my favorite. I also sampled the 2000 Merry Edwards Russian River Pinot Noir, the 2000 Merry Edwards Meredith Estate Pinot Noir (from fourth-leaf vines and a little light but promising), and the 2000 Merry Edwards Olivet Lane Pinot Noir ( my notes say "wonderful" and that pretty much sums up this vineyard source). I was impressed with her passion for Pinot Noir. She has become a spokesperson for Pinot Noir in general and the Russian River Valley in particular. Since that wine dinner, I have been enamored with several of her Pinot Noir releases (especially the Olivet Lane), but I have found some wines too ripe, oaky and tannic on release. I wish now I had aged a few bottles to see how the spirit of these wines develop over time.
I recently tasted through the Spring lineup of Merry Edwards wines and my impressions are on the following page. The wines are sold through a mailing list at www.merryedwards.com.