Le Cadeau Vineyard
Just when you least expect it, something comes along that knocks your socks off and reaffirms your belief and trust in the small artisan producer of Pinot Noir. While in Oregon for the IPNC this past summer, I heard a little buzz about Le Cadeau Vineyard. I tucked it away in the back of my mind until I recently came across a bottle at a local wine store (Hi Time Cellars in Costa Mesa, California). I bought a bottle based on my recollection and was I surprised!
Le Cadeau Vineyard is situated on the southern edge of Parrett Mountain, near Newburg, Oregon. Newberg is just north of Dundee on Highway 99W and the home of another favorite Pinot Noir of mine, Privé Vineyard. The Le Cadeau Pinot Noir vineyard is 10-acres in size and situated at 610-725 feet. The owners, Tom and Deb Mortimer, are from Minneapolis, Minnnesota. They are devoted pinotphiles who searched and searched until they found this steep, rocky and undeveloped land that needed some love and attention. The vineyard was planted to a mix of rootstocks and clones (several Dijon clones, Pommard, and Mariafeld from Switzerland) in 1999 and 2002. Planting here has been challenging and expensive. The owners joke about naming their property, "Black Hole Vineyard."
The initial releases from 2002 and 2003 have attracted many fans. The wines were vinified by Isabelle Dutartre, a French winemaker who assisted Veronique Drouhin at Domaine Drouhin for five vintages. Dutartre was trained in classical Burgundian enology and viticulture in Beaune, France, and has also worked extensively at Maison Joseph Drouhin. She is one of France's leading experts on wine barrels and is a consultant for a famous French oak barrel producer. She currently resides in France, but travels frequently to Oregon to oversee winemaking at two family-owned wineries, DePonte Cellars and Lachini Vineyards. Dutartre left Le Cadeau after the 2003 vintage, but she may remain in a consultant capacity. In 2004 and 2005, there were three bottlings from Le Cadeau Vineyard made by three different winemakers: Sam Francis and Cheryl Tannahill (Francis Tannahill), Josh Bergstrom (Bergstrom), and Harry Peterson-Nedry (Chehalem). Production is tiny so far, with 630 cases in 2003, 480 cases in 2004 and 750 cases in 2005.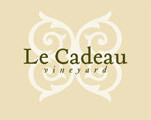 2003 Le Cadeau Vineyard Oregon Pinot Noir
14.6% alc., 630 cases, $40. · This Pinot Noir is rich and vivid and reflective of the warm vintage in Oregon. A full and opulent nose of dark cherries, espresso, and oak really draws you in. There is a hint of alcohol which is not intrusive. The flavors echo the aromatics, with added raspberries and chocolate for good measure. There is detectable minerality at work here also. The mouth feel is plush and silky, the tannins finegrained. Oak treatment is very judicious. The finish features mouth coating chocolate-covered cherries and stone fruits that linger until the next sip. As the wine warms in the glass over time, the alcohol peeks out, so best to drink this one cool. This Pinot will appeal to those who prefer a fat and opulent style of Pinot Noir that is interesting to drink on its own or can match up with a big hunk of grilled beef.
This is a young vineyard of great promise and with several winemakers at work, will offer a unique interest to those who look to winemaking style for added variety from a single vineyard (similar to the Shea Vineyard). Wine may be ordered on the website at www.lecadeauvineyard.com. There is also some retail distribution (www.hitimewine.net, www.avalonwine.com).