New Zealand: Finicky Pinot Noir Thriving in Middle Earth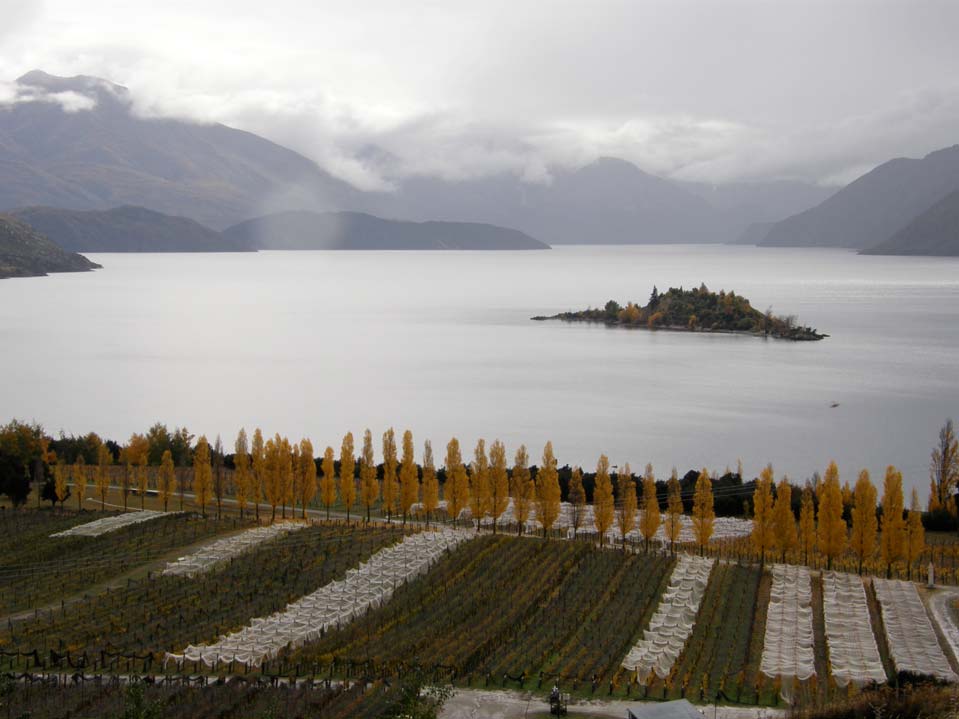 Sauvignon Blanc first fueled the worldwide interest in New Zealand wines, but it is Pinot Noir that is attracting the most attention now. New Zealand is only about the size of Oregon but between 2000 and 2007, Pinot Noir acreage increased 400% and planted acreage of Pinot Noir in 2007 in New Zealand (11,103 acres) has now surpassed Oregon (9,858 acres). The figures for Central Otago have been even more eye-popping with vineyard plantings increasing 800% from 500 acres in 1997 to more than 4,000 acres today, most of it Pinot Noir. Pinot Noir has recently overtaken Chardonnay as the second most planted variety behind Sauvignon Blanc and now accounts for 18% of New Zealand's wine output (Sauvignon Blanc leads at 42%). Pinot Noir's relative, Pinot Gris, has only been in New Zealand about 10 years, but has enjoyed a noticeable increase in popularity as well. Plantings have doubled since 2005 and the total planted acreage now surpasses that of Riesling. The number of Pinot Gris labels has increased 65% since 2005. Rosés are also fashionable in New Zealand, with nearly 100 different offerings, many crafted with Pinot Noir grapes. Sparkling wine production has decreased as vineyards become committed to still Pinot Noir wines.
There were 543 members of the New Zealand Winegrowers association in 2007 and varying estimates put the total number of wineries at about 600 currently, up from 262 in 1997. In just ten years, the number of wineries in Central Otago has zoomed from 14 to 89.
According to a recent report released by Drinks International, New Zealand experienced a record-breaking 16% rise in wine exports in 2007-2008, amounting to NZ $766 million. Exports are the lifeline of the New Zealand wine industry. The country produces 15-16 million cases of wine per year, exporting about 10 million cases. The population of 4 million people has an estimated 720,000 wine drinkers and only 35,000 hard-core premium wine drinkers. The numbers clearly reveal that New Zealand must look outside the country for its wine market. The United States will become the number one export market for New Zealand wines within a few years, surpassing the UK and Australia. Decanter (8/21/08) reported that export sales are projected to increase to NZ $1 billion by 2010. AC Nielsen estimated in 2007 that annual US sales of New Zealand wine was growing by more than 45%, much of this fueled by America's thirst for Pinot Noir.
The first vines in New Zealand were planted in 1819. A few years later, James Busby, a British immigrant brought cuttings from France and Spain to New Zealand. According to a recent report in Wine Country Cuisine NZ, he possibly brought Chardonnay from Clos de Vougeot Vineyard and probably Pinot Noir as well. By the early 1900s, Pinot Meunier was New Zealand's main variety, accounting for two-thirds of the country's plantings. There are reports of Pinot Noir cuttings being imported into New Zealand in about 1962, but the modern era of Pinot Noir viticulture began in the mid 1970s. Rolfe and Lois Mills of Rippon Vineyard on the banks of Lake Wanaka in the South Island (see photo on page 1) planted experimental Vitus vinifera in 1975 despite the consensus of the time that wine grapes could not be grown successfully this far south (at the time this was the most Southern vineyard in the world). After years of experiments, the couple planted Rippon's vineyard in 1982, making it the first commercial block of vines in Central Otago since Gold Rush days.
Other New Zealand wine pioneers included Tim and Judy Finn (Neudorf Vineyards in Nelson, South Island, planted in 1978), Neil McCallum (Dry River in Martinborough, North Island, planted in 1979), Clive Paton (Ati Rangi in Martinborough, North Island, planted in 1980), and Alan Brady (Gibbston Valley, Central Otago, South Island, planted in 1981).
Geographically, New Zealand has both a North Island and South Island as shown on the New Zealand Winegrowers map on the next page. Wine grapes are grown throughout both Islands (growing latitudes are 36-45 degrees) except on the cold west coast and pocketed frigid areas. All the major grape growing regions have a maritime climate except Central Otago which is the only inland viticulture area blessed with a continental weather pattern. There are ten wine regions, only half of which have major plantings of Pinot Noir. The Wairarapa on the southeastern tip of the North Island and its multiple subregions including well-known Martinborough, is suitably cool for Pinot Noir. 40% of the planted acreage in Wairarapa is Pinot Noir. Nelson is located in the north-central part of the South Island and 25% of the vineyards are planted to Pinot Noir. Marlborough, in the Northeast corner of the South Island, has the largest and most recognizable wineries (Cloudy Bay, for example) and the largest plantings of Pinot Noir. Sauvignon Blanc is the King here, accounting for over 50% of production from this region. There are many inexpensive Pinot Noirs being produced in Marlborough. Canterbury lies along the South coast of the South Island from just south of Marlborough to south west of Christchurch. Waipara is a subregion in the northern part of Canterbury known for Pinot Noir. Central Otago is the most southerly wine region in the South Island. This is Lords of the Rings country known for its spectacular scenery. 60% of the vineyards are planted to Pinot Noir.
The names of the wine regions reflect both English and the native Maori languages. The Polynesian navigator, Kupe, is historically reputed to be the first man to sight New Zealand in approximately 95 AD. He returned home after his discovery with news of his findings and in about 1350 AD, seven migratory canoes sailed from Hawaii to New Zealand. The native Maoris found an abundance of natural resources and flourished here.
Surprisingly, 85% of New Zealand wineries are foreign-owned. Amisfield, in Central Otago, is owned by San Franciscan Tom Torsher, former CEO of Levi Strauss & Company. Grant Taylor, the owner and winemaker of Valli Vineyards and winemaker for Gibbston Valley Wines in Central Otago, hails from the United States where he helped establish Pine Ridge in the Napa Valley and Archery Summit in Oregon. Patrick Stow, another Napan, crafts Pinot Noirs at his Rimu Grove Winery in Nelson. British wine lover Nigel Greening bought Felton Road in 2000. The list goes on and on. Many notable American Pinot Noir winemakers work in New Zealand. Because New Zealand is located in the southern hemisphere, the growing season begins when North America's season ends. Ted Lemon of Littorai and Guy Davis of Davis Family Wines are two names that travel yearly to New Zealand to consult and manage ongoing projects.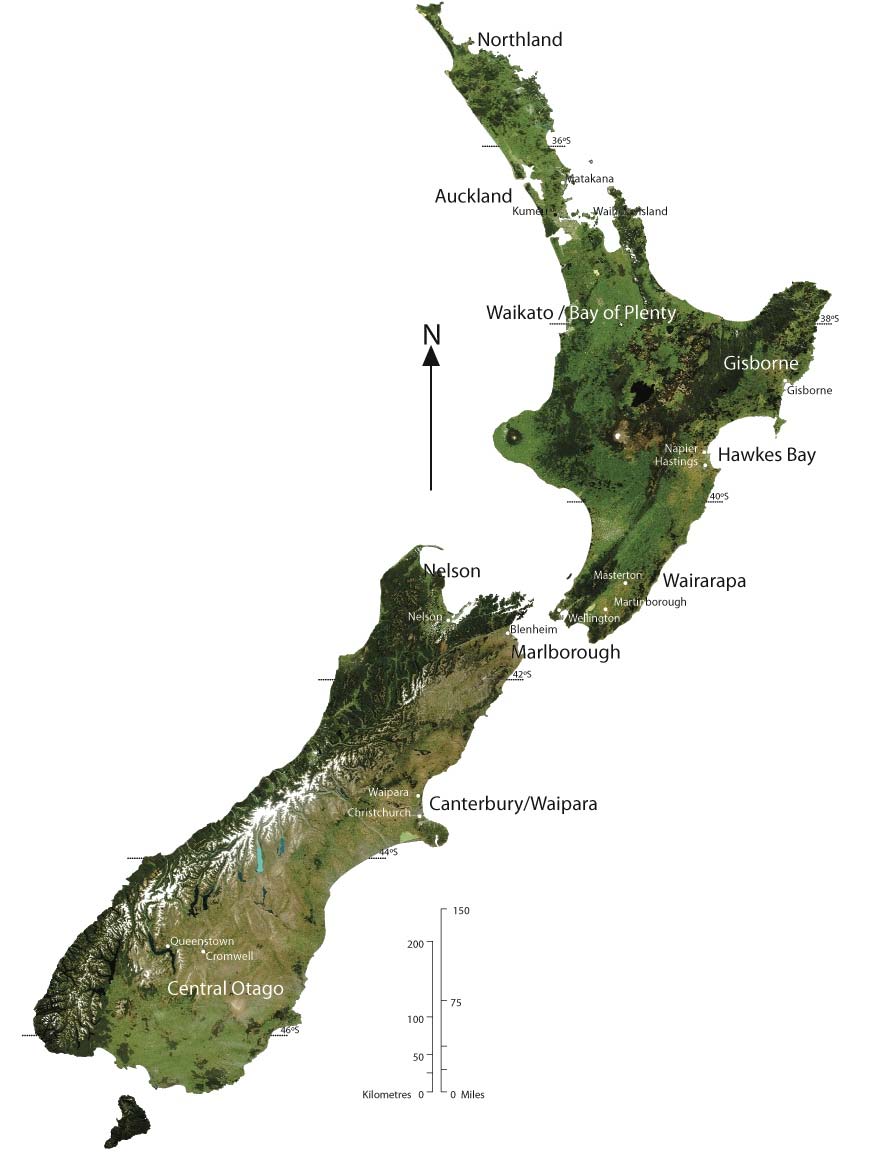 In the 1980s, Pinot Noir vines in New Zealand were primarily Pommard 5 and AM10/5 and AM2/10. Dijon clones were released by the New Zealand government in the 1990s and subsequently have been widely planted. There are suitcase clones in the ground as well. Phylloxera has surfaced in New Zealand but is not a significant problem yet. Spread is very slow and there is constant replanting and new planting of Pinot Noir vines. New Zealand vineyards have long been farmed organically and sustainably. The viticulture scheme here has always encouraged non-irrigated vines and the avoidance of insecticides. A code of sustainable practices, Sustainable Winegrowing New Zealand, was developed in 2002. Soils are primarily alluvial throughout the country, with some pockets of limestone.
The New Zealanders pioneered the use of screw cap closures and since 2001 practically every winery uses them exclusively. Some of the wines shipped to the United States still are sealed with cork to avoid the cheap image that screw capped wines still have among wine enthusiasts here. Recently there has been considerable experimentation with Diam agglomerate cork and now about a third of wineries are using it on at least some bottlings.
The style of New Zealand Pinot Noir is still evolving for the wine industry is still in its infancy and the vines are still relatively young. Attempts to define a distinctive style are challenging for there are vast differences in microclimates, viticulture and winemaking throughout the two islands. Vintage differences play a significant role in New Zealand as well. Like in California, there are stylistic extremes varying from elegant, restrained and classic Pinot Noirs, to more heavily extracted and generously oaked fruit bombs. Some wine critics characterize them as more Burgundian, others claim they reflect New World flashiness. Bennett Traub, writing in gangofpour.com, claims the wines fall in the middle: "They fit stylistically between the riper, more opulent style of Pinot Noir of top wines from Sonoma, Mendocino and Oregon, and classic, terroir-focused wines from Burgundy." Generally the Pinot Noirs are fruit-driven with good color and a strong acid backbone. Criticism has centered most often on the lack of mid-palate material (thought to be secondary to young vines), the absence of complexity, the frequent abrupt finishes, and in some cases too much alcohol, extract or oak. Age ability seems to parallel typical California Pinot Noirs, with most wines very approachable upon release and peaking at three to five years.
My impression, and this has been confirmed by research performed in New Zealand, is that there is a distinct difference between the heralded Pinot Noirs from Martinborough and Central Otago, arguably the best two regions for Pinot Noir in New Zealand. Henry Hariyono writes, "The style of Pinot Noir made in Central Otago is much in demand among younger wine drinkers in the United States today. With their rich, dark fruit aromas and flavors, intriguing floral and mineral nuances, and ripe, harmonious acidity - not to mention their often considerable heft (typically 14% alcohol) - they pose a threat to the more established Pinot Noirs of Martinborough, which while often more complex, earthy and Burgundian, can come off as drier and leaner in comparison with the fruit bombs from Central Otago." Former sommelier Andy Tan prefers Martinborough Pinot Noir. He writes, "Martinborough is clearly my cup of tea. Always distinctly possessing more dark cherrysoaked liquor, more earthiness and structure. Central Otago wines, on the other hand, often lack complexity and are monotonously similar from one winery to another."
Last April, in the waning days of harvest, I spent two weeks in New Zealand as part of my lengthy trip down under which also included Australia's Mornington Peninsula (a subsequent report will be forthcoming). I spent time in both Martinborough and Central Otago and my tasting mirrored the comments above. The Pinot Noirs from Martinborough are powerful and structured wines with sturdy tannins, earthiness, sometimes a subtle gaminess, minerality, and age ability. The Pinot Noirs from Central Otago, in contrast, displayed more vibrant fruit and flamboyance with some of the best wines offering delicacy and subtlety. The problem in Central Otago is that the wines are inconsistent with only a handful of stellar producers.
One of my readers, Sonal Maharaj, sent me the results of recent research he participated in at the University of Auckland. During the 2007 vintage, small lots of Pinot Noir were made from grapes harvested from Central Otago, Marlborough and Martinborough. From each region, three vineyards of 10/5 clonal material, own rooted and 10 to 15 years of age, were selected. The grapes were harvested at 24 degrees Brix. Minimalist and standardized research-scale winemaking techniques were used. The wines were analyzed for total acidity, alcohol content, color density, tannin levels and levels of monomeric polyphenols such as resveratrol. The results showed good consistency between triplicates which supported confidence that the minimal intervention winemaking procedures had represented the grapes accurately. The results showed that the wines from Martinborough had more color and tannin and lower total acidity than those from Marlborough and Central Otago. These findings would tend to confirm the tasting impressions of myself and others described above. The results (yet unpublished) are summarized in the graphs below.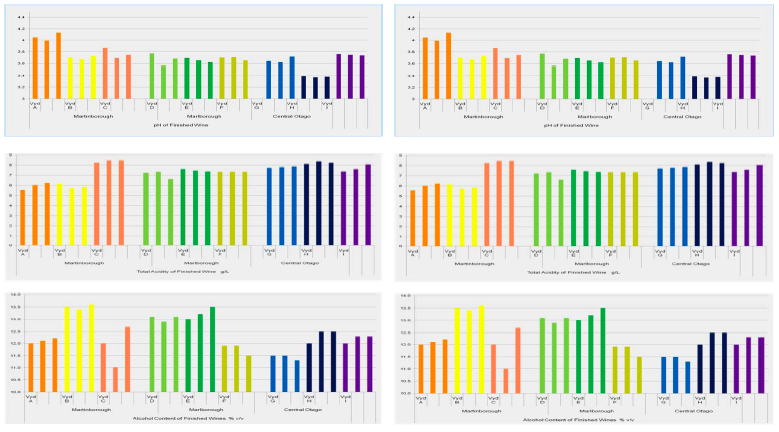 In the following pages, I will highlight two special wineries from Martinborough (Dry River and Escarpment) and Central Otago (Felton Road and Rippon). In addition, I have presented extensive tasting notes on Pinot Noirs from primarily Martinborough and Central Otago that I sampled upon returning home from my travels. These were mainly newly released Pinot Noirs that are in the retail marketplace in the United States. (For reviews of older vintages, consult PinotFile archives, Volume 5, issue 32.) Unfortunately, a number of the best wines from New Zealand cannot be found in America. Smaller wineries find it difficult to establish distribution in enough areas here to justify the expenses of exportation. Many of the boutique producers sell their entire production in New Zealand or countries where their demand is established. I have listed below several retail sources which regularly stock a decent selection of Pinot Noirs from New Zealand. You can also contact the distributors included in the reviews to locate a source. Private shipping of wine from New Zealand is prohibitively expensive.
The Jug Shop, San Francisco, California: www.jugshop.com

Southern Hemisphere Wine Cellar, Huntington Beach, California: www.southernwines.com

Wine Exchange, Orange, California: www.winex.com

Hi Time Wine Cellars, Costa Mesa, California: www.hitimewine.com

Piccadilly Beverage Shops, Champaign, Illinois: www.pbspicks.com

Wine search engines: www.wineaccess.com, www.vinquire.com, www.wine-searcher.com, and www.winezap.com.
If you are lucky enough to live in California or Oregon or in a state where you can have Pinot Noir from these two states shipped to you, you are blessed with a plethora of great wines. Except for the special wines from a handful of producers who are profiled in the following pages and imported to the United States, New Zealand Pinot Noirs do not offer a more celestial drinking experience than our domestic wines. Prices for the better New Zealand wines are comparable to California Pinot Noirs. Our lower priced domestic Pinot Noirs are generally superior value plays as well. New Zealand Sauvignon Blanc is a unique product that is superior to almost all but the best examples in the States. New Zealand Pinot Noirs, however, do not offer that distinction and I believe they will remain a niche market, appealing to wine enthusiasts with varied and international interests.
Before presenting the featured wineries and wines, a summary of vintages in New Zealand is relevant.
New Zealand Vintages 1998-2008
New Zealand has had a ten year span of fairly consistent vintages in quality, with considerable variability in volume. The biggest threat during the growing season comes from both spring and autumn frosts. The reported success of any vintage always has a number of proponents as well as detractors so generalizations are not gospel. The following vintage summary was culled from numerous wine publications and websites.
1998 Very good vintage.
1999 Very good vintage.
2000 Very good, especially in Martinborough and Nelson.
2001 Outstanding, especially in Marlborough, Canterbury and Central Otago. A small vintage due to frosts.
2002 Outstanding vintage especially in all regions of New Zealand.
2003 Total crop tonnage down by 50% due to spring frosts, but outstanding in Martinborough, Canterbury and Nelson, less so in Central Otago.
2004 Large crop but poor vintage generally, especially Central Otago.
2005 A breakout year with a huge crop and very good wines.
2006 Unusual growing season featuring very warm weather persisting through harvest. Some wineries had to pick before optimum grape ripeness due to rising sugar levels and raisin changes. In some cases the wines are highly concentrated with healthy tannins, herb and green notes. Best in Central Otago.
2007 Severe frost reduced yields of many vineyards but the wines are outstanding, classic with style and grace. The crop was devastated in Martinborough in particular, with yields down 80%.
2008 Heavy rain in Marlborough, but an ideal season in Martinborough and Central Otago.
In New Zealand birds are a widespread nuisance at harvest and most vineyards I visited were netted and armed as this vineyard demonstrated in Martinborough.