Dry River: Martinborough's Cult Wine
Dry River was the name of one of the oldest Wairapa sheep stations in New Zealand, dating to 1877. Dry River was later named Dyerville, and it was near here in 1979 that Neil and Dawn McCallum planted a vineyard. This area subsequently became known as the Martinborough Terrace, located just across the Huangarua River from Te Muna. In 2002, the winery and 30 acres of vineyards was sold for the astonishing price of $7 million to New York business man Julian Robertson and California winegrower Reg Oliver who owns El Molino Winery in St. Helena, California. The new owners have infused cash into the operation for expansion and updated equipment. Neil McCallum remains the chief winemaker.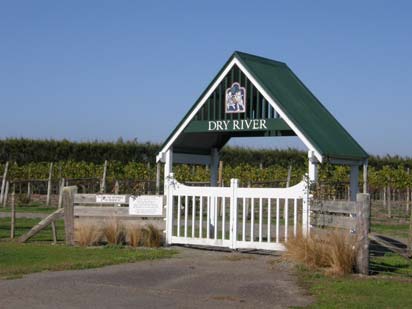 Three features of vineyard management at Dry River contribute to the style here. No irrigation is employed, despite the low rainfall, causing roots to forge very deep for nutrients, stressing the vines and producing small berries with concentrated flavors. Second, leaf stripping is done very early in the season to expose the grapes to the sun and promote phenolic ripeness. Third, crop thinning is done at veraison to severely limit yields. McCallum, whose has a doctorate in chemistry and has pursued research in grape and wine chemistry for many years, comments on the resulting style of his wines: "My suspicion is that New Zealand and cool maritime climates could have a large impact on the world perception of what Pinot Noir is capable of, although it will take some time before the new styles are completely accepted because Burgundy has been center stage for so long. Our own terroir can yield a predominance of plump, exuberant fruit flavors - to a fault in some instances, but they can also be rich and complex varietal statements. Add concentration and longevity to this and great wines are possible." McCallum is a committed "terroirist" whose writings under the "Jottings" heading on the Dry River website support his philosophy. When you have some leisure time, visit the Dry River website at www.dryriver.co.nz, open a good bottle of Pinot, and savor these excellent essays.
McCallum's wines have achieved cult status in New Zealand, although he never submits the wines for judging. The wines are quickly sold to an eager mailing list, with many more hopefuls on the waiting list. There is no tasting room but an annual prerelease tasting is offered to mailing list customers. The range of wines is remarkable and includes besides Pinot Noir, Chardonnay, Gewürztraminer, Pinot Gris, Riesling, Sauvignon Blanc, Viognier, and Syrah. The wines are known for their longevity. A tasting that McCallum staged with Bob Campbell MW in 2004 and reported in The World of Fine Wine (Issue 19, 2008) revealed that older vintages dating back to 1989 were still youthful and the 1991 vintage Pinot Noir was "By no means at the end of its life." Campbell described the wines as showing "high levels of flavor intensity and ripeness, impressive longevity, and lower-than-average alcohol levels." McCallum uses little oak (20%) and the Pinot Noirs have high levels of fruit tannins. The wines begin to open up in 3-4 years.

2004 Dry River Martinborough Pinot Noir
13.0% alc., $70, numbered bottles, cork closure. McCallum reported that in 2004 only a few frosts were met with (helicopter protection was used only three times) and there was no damage to the flowers. The growing season was wet but conditions were consistently warm producing solid cropping levels and boosting phenolic ripeness. A more forward wine than the expected to be long-lived 2003 vintage. · A darkly colored wine with a heady nose of black cherries and plums with a smoky oak accent. Fig, prune, black cherry and plum flavors on the doorstep of overripeness but never crossing the threshold. The complexity is astonishing with exotic spices and a number of flavors I have never encountered with Pinot Noir. An epiphanic wine that was the best Pinot Noir I tasted among all the wines from New Zealand reviewed in this issue.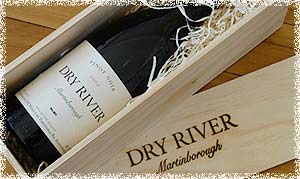 2003 Dry River Martinborough Pinot Noir
13.0% alc., $70, numbered bottles, cork closure. The 2003 vintage at Dry River was very dry and yields were small. The fruit for this wine was harvested at 1.2 tons per acre. · The color is a strikingly dark violet. A deep and rich nose features ripe cherries, raspberries, vanilla and smoke. The mouth feel is very big and plush with generous amounts of sweet fruit. The finish is clean and lengthy and echoes licorice, dark stone fruits, and pleasing oak. The wine has an impressive backbone of acidity and tannins. A Pinot Noir with very powerful charisma. (Reviewed October 13, 2006)
Dry River wines are imported in tiny quantities by RO Imports, St. Helena, CA who sell direct to consumers (www.rowines.com). Check www.wine-searcher.com for retail sources on the internet.