Escarpment Vineyard: Distinctive Terroir, Magical Wines
The Escarpment winery and vineyards are sited above a steep cliff carved by the Huarangarua River over thousands of years. The vineyards are overlooked by the Aorangi Ranges. As legend would tell, Maori navigator Kupe abandoned three canoes there after discovering the land now known as New Zealand. The upturned canoe shapes are clearly visible on the skyline high above the winery.
Resting on 60 acres of alluvial gravel in the expansive Te Muna Valley hear Martinborough this is really a magical place. Te Muna translates from the Maori language as 'special place or 'secret'. The ancient alluvial soils which are over 75,000 years old are a nurturing matrix for grapevine roots. The soil and the well balanced climate combine to ripen the grapes very slowly. About 70% of the vineyards were planted to Pinot Noir in 1999 to 2001. Close planting is the norm.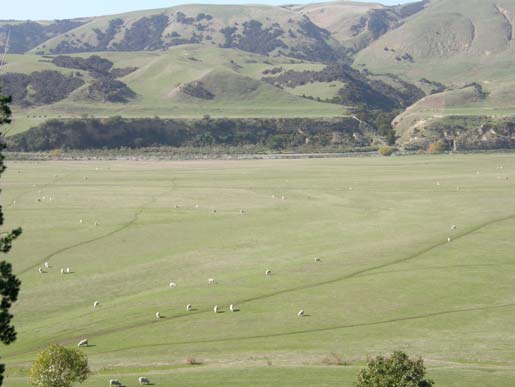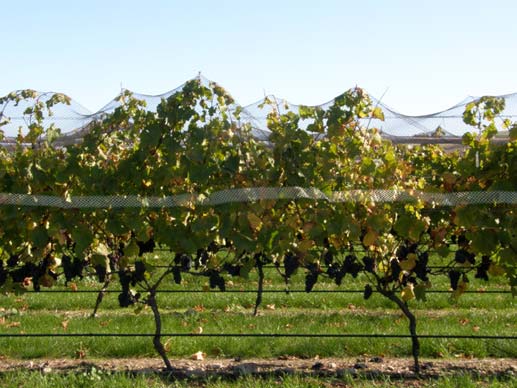 Established in 1999, Escarpment Vineyard Martinborough Limited is a joint venture between Larry and Sue McKenna of Martinborough, and Robert and Mem Kirby of Australia ( who also own Yabby Lake in the Mornington Peninsula of Australia and most notably, Village Roadshow Productions). The company's vineyards provide 70 percent of Escarpment's grape supply. Besides Pinot Noir, Pinot Gris, Pinot Blanc, Chardonnay and Riesling are planted.
The winery buildings are modest and inauspicious, standing watch on the renowned Martinborough River Terraces and overlooking the river itself (see view from the winery above). The barrel room is tucked underground and enjoys cool and humid conditions below its grassy roof.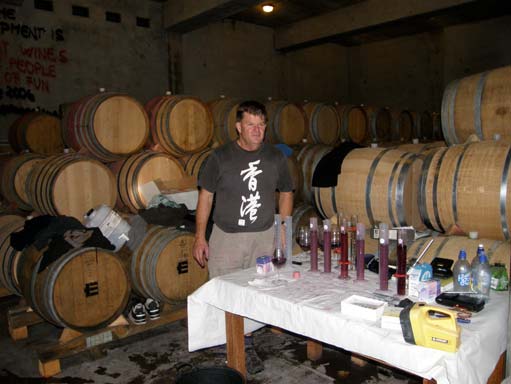 The driving force behind Escarpment is Larry McKenna. Larry grew up near South Australia's famous Vale and graduated from Adelaide's prestigious Roseworthy College. He has been a pioneer winemaker in the wine region of Martinborough since 1986 when he became the winemaker at Martinborough Vineyards. Larry has a deep passion for Pinot Noir. James Halliday anointed Larry "The Prince of Pinot," not realizing that the title was already taken. Larry's philosophy is summarized as follows: "I want to set new directions (especially for Pinot Noir) creating wines of complexity, texture and structure. Our wines are different, full of surprise and perhaps even unconventional. We are proud of our flagship Escarpment Pinot Noir now, but our wines can only get better with aging vines."
There are three lines of wines produced at Escarpment. The Edge is aimed at younger drinkers and those who prefer buying wine by the glass. These blended wines (currently Pinot Noir and Pinot Gris) are made from various vineyards or districts in New Zealand and are not currently available in the States. The Escarpment wines are premium district blends exclusively from Martinborough. These wines include classic varieties such as Pinot Noir, Chardonnay, Pinot Gris, Riesling, Pinot Blanc and Viognier. The Single Vineyard Wines are the supreme expression of Larry McKenna's winemaking skills. They are a limited range of red and white single vineyard wines christened "Martinborough Insight Series." Beginning with the 2006 vintage, three new sites in Martinborough have been added to the estate Kupe Vineyard on Te Muna Road. These wines allow for individual vineyard expression from distinctive sites utilizing some of the oldest vines in the district. In addition to the Kupe estate vineyard, there are bottlings from Moana Vineyard (clones UCD 5,6 and 13 planted on Gill Cleland's Vineyard in 1989), Te Rehua (several clones grown on the Barton Vineyard from vines over 20 years old), and Voyager (grown on the McCreanor Vineyard, one of the oldest vineyards in the district - clone 10/5 on its own roots).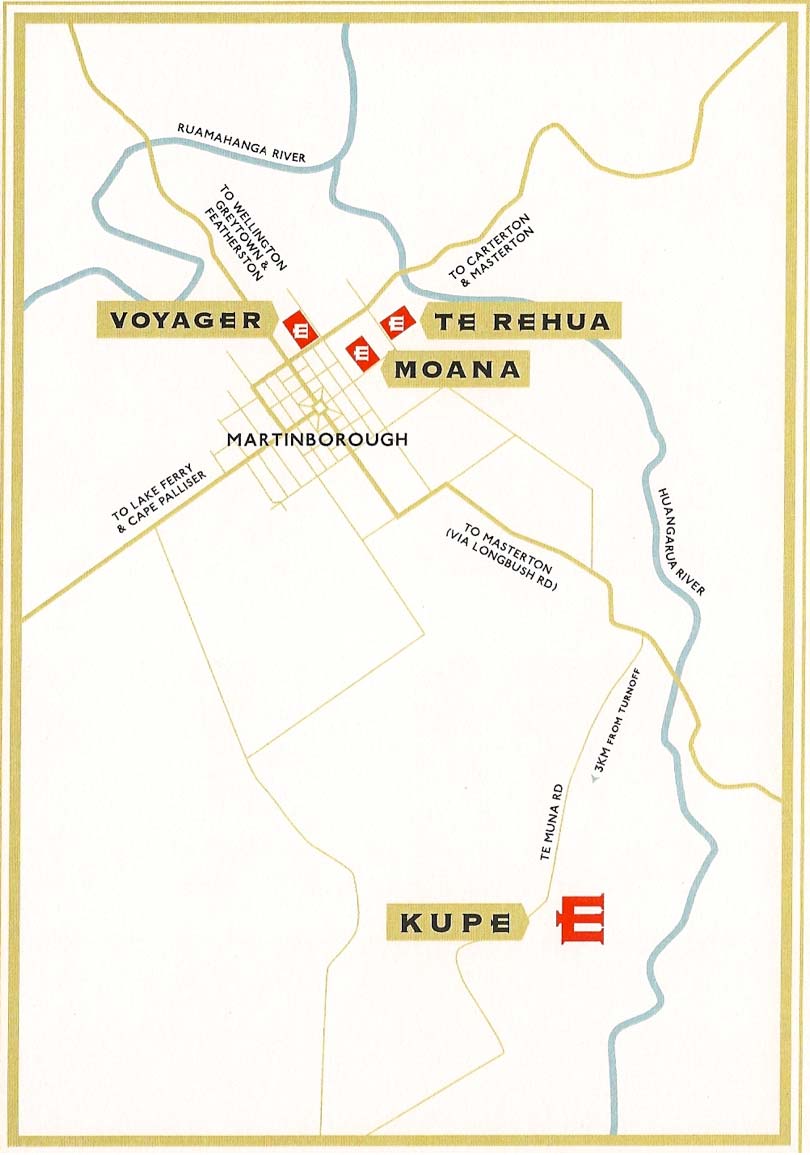 Larry graciously invited me taste through several of the Escarpment wines including the inaugural 2006 single vineyard Pinot Noirs. He was candid with me, noting that his wines were not bashful, rather wines with their chest stuck out, strutting lush fruit and rich flavors. I was impressed by the harmony of the wines which were deeply colored and not nearly as extracted as many popular California Pinot Noirs. He told me that the single vineyard Pinot Noirs were picked at about 24 degrees Brix. My brief impressions of the wines follows.
Escarpment wines are imported to the United States by Empson USA, Inc., Alexandria, VA (www.empsonusa.com). The Escarpment and Kupe Pinot Noirs are most available and represent quintessential examples of Martinborough Pinot Noir. Visit the website at www.escarpment.co.nz.