Rippon Vineyard & Winery: Wines To Match the Scenery
The history of Rippon has been alluded to in this issue and goes back to the 1970s when Rolfe and Lois Mills began to experiment with Vitis vinifera plantings in Central Otago. This was a challenge, since the only vineyards in New Zealand at the time were on the North Island near Auckland, Hawke's Bay and Gisborne. There was no local source of equipment and Rolfe had to make do with what was available. Standard-sized tractors, for example, needed to be narrowed to fit inside the rows of planted vines. Rolfe was a true visionary and Kiwis speak of him in revered tones as the father of Central Otago viticulture. In 1982 he developed the first commercial planting of Vitis vinifera along the shores of Lake Wanaka. Rippon is part of what once was a large high-country farm, Wanaka Station, which was bought in 1912 by Sir Percy Sargood, the great-greatgrandfather of the current Mills generation. Emma Rippon was Percy's grandmother, after whom the vineyard was named.
The vineyard at Rippon was quite successful because its location in close proximity to the Great Divide range of mountains and Lake Wanaka (a large thermal mass) results in a slightly more temperate microclimate relative to the rest of Central Otago. The threat of frost is markedly reduced due to the influence of the stunning lake. The metamorphic, schist-based soils rich in foliated mica and quartzite on the property are ideal for grapevines.
By the early 1990s. Rippon Pinot Noir was winning worldwide recognition and in 1992 was awarded the trophy for New Zealand's best red wine. Rolfe became the founding President of the Central Otago Winegrower's Associated. Rippon's success spawned a number of other successful wineries in the region, including Felton Road, Mt. Difficulty and Olssens, all of which were much better funded than Rippon and attracted bright and well-trained winemakers and winegrowers. Gradually Rippon fell behind, the wines languished and Rolfe passed away in 2000. It was young Nick Mills, Rolfe and Lois's son, who came to the rescue and has guided Rippon back to the upper echelons of the New Zealand wine industry.
I spent some time talking with Nick and found him to be an impressive young man of fortitude and conviction, much of it developed on the snowy slopes of his beautiful country. Nick became a champion snow skier and was the best in New Zealand at one time. Unfortunately, he blew out a knee just months before the 1984 Olympics. Disappointed and disillusioned, he traveled to France where he had fond childhood memories of trips spent with his father who was learning about viticulture firsthand. On these trips, Nick had picked up French so when he returned he was able to converse. He says he didn't know a sole and was lucky to get a job as a cellar rat at Domaine Jean-Jacques Confuron in Burgundy. He ended up staying in France from 1998 to 2002, studying at the CFPPA de Beaune and working in some of France's most celebrated estates including Maison Nicolas Potel, Domaine de la Vougeraie, Domaine de la Romanee-Conti and Domaine Albert Mann. He never really considered returning to New Zealand, and infact, he was thinking about going to Oregon when he received a phone call from his mother in 2002 asking him to come back and assume management of Rippon. He hesitated for a few months and then, "duh," he realized that he really belonged at Rippon and saw the need and challenge to guide Rippon back to its former glory.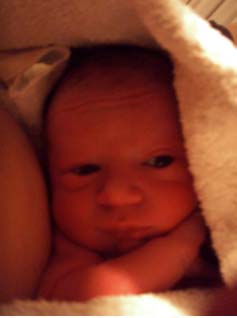 Today, Rippon continues as a family run operation with Nick Mills directing the estate as winemaker and viticulturalist , Jo Mills (Nick's wife and a recent mother) manages marketing and exportation, David Mills (Nick's older brother) takes care of the property's machinery and headlands, and Charlie Mills (Nick's younger sister) acts as vineyard manager. The latest addition to the family business is Toby Ford Sargood Mills (also known as Ziggy), who signed on en primeur on September 14, 2008 (right).
Rippon's vines are among the oldest in the region with most plantings dating to 1985-1991. 80% of the vineyard is planted on its own roots and is not irrigated. Pinot Noir comprises 40% of the plantings and the clones are Pommard, 10/2, 10/5 and Lincoln. The vines at Rippon have always been farmed organically, but upon Nick's return the entire property was converted to biodynamie. No soluble fertilizers, herbicides, fungicides or pesticides are used. The property produces and spreads around 52 cubic yards of compost every year. The photo below shows Nick proudly showing us his compost pile. Nick is passionate about biodynamics and is committed to putting as little into the property as possible and in return taking as little out as possible. The family has worked the land at Rippon for four generations and the family's aim is to keep the land alive in order for it to be vital for another four generations or more.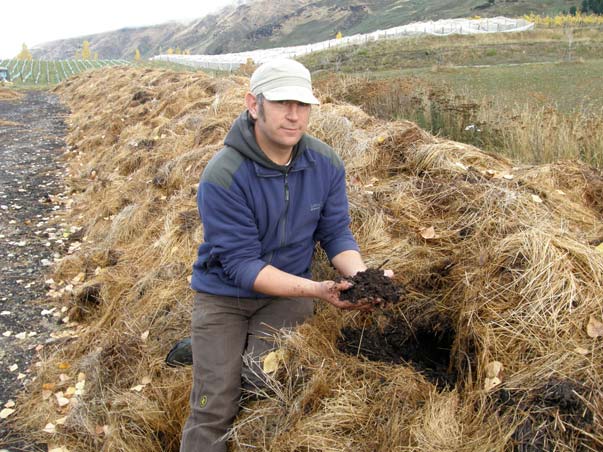 All Rippon wines (Pinot Noir, Chardonnay, Gewürztraminer, Muller Thurgau, Osteiner,Riesling, Sauvignon Blanc, Gamay and a small amount of Shiraz and Merlot ) are from the 30-acre estate vineyard. The different clones, vine ages and micro-sites within the vineyard are picked and fermented separately. 10-12% whole clusters are used. Natural yeasts drive fermentation which starts about the 8th-10th day of cuvaison reaching dryness in 13-18 days. Most ferments are given extra time on skins post-fermentation making total time of skin contact 17-23 days. The Pinot Noir spends two winters (16-18 months depending on the vintage) in 25% new French oak barrels and is bottled without fining or filtering. Rippon Riesling and Pinot Noir are cellared in bottle for one year before being released to the market (the current vintage on the market is 2005).
I visited on an overcast day but the photo below (and the one shown earlier) give you an idea of why this is the most photographed vineyard in the world and often appears on new Zealand wine promotional literature.
Of course, every winery has to have a dog and Rippon is no exception. Pipi (The Ratbag) followed us around as we toured the vineyards. He was camera shy.
The structures on the Rippon property are very unpretentious. The winery is located inside an old goat shed. Nick has plans to build a gravity flow winery on a vacant hillside in the middle of the vineyards. The tasting room (pictured below) is tiny.
Rippon wines are imported to the United States by Penny and Andy Loving of Station Imports, Colorado Springs, CO. 719-651-9898. The website is www.rippon.co.nz.