Felton Road: Critically Acclaimed Worldwide
Travel to the end of Felton Road in Bannockburn, Central Otago, and you come upon a very modest and unpretentious building housing a winery and tasting room. Once inside, however, you will find a lineup of wines of uncommon polish and sophistication. It is here that brilliant winemaker Blair Walters plies his trade, committed to the notion that any wine worth making is worth making fanatically. The accolades have been forthcoming worldwide since the first releases in 1997. Robert Parker, Jr., proclaimed, "Felton Road's Pinot Noirs are breakthrough efforts in New Zealand and compete with the finest wines being made in California, Oregon and Burgundy's Cote D'Or. Matthew Jukes of Expertwine.com said, "I can confirm that this is the single most impressive estate in New Zealand. Each and every wine is fantastic."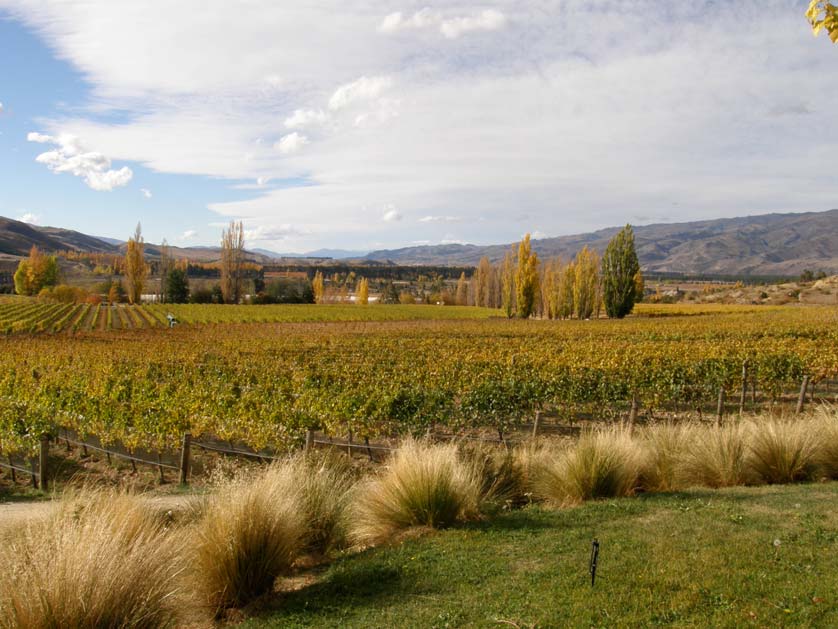 The wines (Pinot Noir, Chardonnay, Riesling) are produced exclusively from the estate's 80 acres of vineyards over three sites. The Elms Vineyard (photo above of Block 3 viewed from the tasting room deck and map below) consists of 36 acres, and was planted in two phases. Blocks 1-9 date to 1992-1994 and Blocks 10-13 were planted in 2001. There are varying vine densities, clones, rootstocks and cover crops. Research by Stewart Elms in 1991 identified the North facing slopes at the end of Felton Road as being ideal for growing premium grapes. All vineyard sections share the same exposure, aridity and elevation but have varying soils. Block 3, for instance, is composed entirely of deep fine sandy loams, the preferred soil for Pinot Noir in Central Otago, of moderate fertility with good water-holding capacity. The Lochar block has shallow fine sandy loam with schist gravel coming all the way to the surface and is best suited for Chardonnay and Riesling. This can be seen on the map to follow as Block 6, planted to Chardonnay. Block 1 is the steepest north-facing slope with heavier soils, best for Riesling.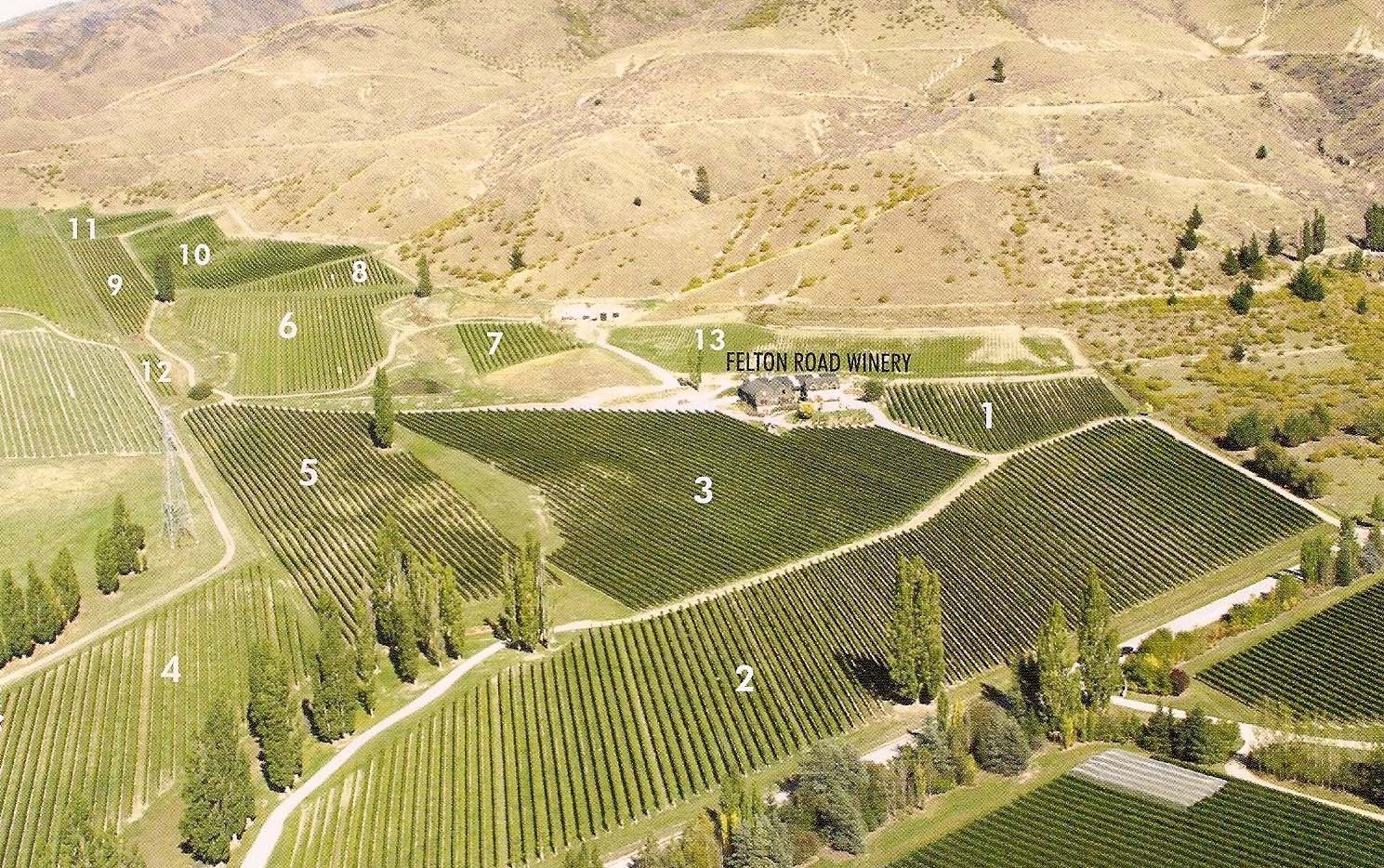 The 25-acre Calvert Vineyard was planted from 1999 to 2001 with a range of Pinot Noir clones and rootstocks. It is located a short distance east of Elms Vineyard. The vineyard is leased and fully managed by Felton Road.
The 19-acre Cornish Point Vineyard is named after the Cornish gold miners who lived there in the late 19th century. It is uniquely surrounded by water from the Clutha and Kawarau rivers minimizing frost pressure. Soils are moderately deep fine sandy loams with schist. The vineyard is planted in 18 different clone and rootstock combinations.
All vineyards are cultivated biodynamically by Felton Road's viticulturalist, Gareth King, and his team. Felton Road wines became fully biodynamic beginning with the 2006 vintage and official certification is in progress. Nigel Greening, a British native and wine enthusiast who lives primarily in Europe, bought Felton Road in 2000. He can be heard speaking about Felton Road's commitment to sustainability and biodynamic farming at this year's International Pinot Noir Festival. Listen to it now
.
Felton Road's winemaker, Blair Walter, told me a humorous story. When he was in enology school, he was the youngest student in the class and was teamed to work with the oldest member in the class, Stewart Elms. Elms struggled in class and depended on Walter to help him through the class. Several years later, Elms asked Walter, who had worked at nearby Rippon, to be his winemaker at Felton Road. Subsequently, Walter traveled to Oregon, examining winery designs throughout the Willamette Valley, and returned to supervise construction of the current modern Felton Road winery.
Walter's winemaking emphasizes a traditional approach, preferring wild yeasts to cultured ones and minimal intervention at all stages of winemaking. The white wines are all hand harvested, whole bunch pressed, with barrel fermented wines being stirred weekly for complexity. Pinot Noirs are fermented outdoors in small fermenters with traditional punch downs and pigeage before aging in barrels from top Burgundian coopers. Barrel aging extends from 11 to 18 months, with the vineyard-designate wines from Calvert Vineyard and Cornish Point Vineyard and those from the older vines in Block 3 and 5 receiving the longest time in barrel. The Felton Road Pinot Noir is a blend of the three different vineyards so it is a mix of vine age and vineyard origin. Block 3 is primarily clone AM 10/5 (or Wädenswil as the Oregonians call the clone). Block 5 is most planted to clone UCD Pommard 5.
Felton Road wines are imported to the United States by Wilson Daniels, St. Helena, CA (www.wilsondaniels.com) and are readily available in the States. These wines, in particular since 2002, have become benchmarks for Middle Earth Pinot Noir and are priced ridiculously cheap considering the quality. When I visited Felton Road, I tasted through the entire lineup of 2006 releases. The dry Riesling and oaked Chardonnay were very appealing whites. The five Pinot Noirs (Central Otago, Block 3, Block 5, Calvert, Cornish Point) were all stellar and highly recommended. Visit the informative website at www.feltonroad.com. (Blair Walter in his habitat below).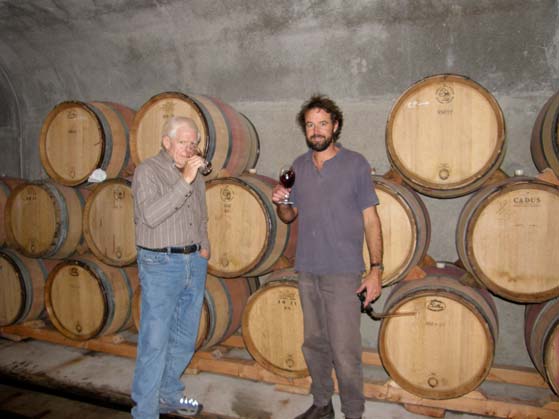 If you travel to Central Otago, consider timing your visit with the Central Otago Pinot Noir Celebration, held three out of four years (alternating with Pinot Noir New Zealand) on the last weekend in January in Queenstown. Next year's event will be on January 30-31. For information on New Zealand's two major Pinot Noir events, visit www.pinotcelebration.co.nz. and www.pinotnoir2007.co.nz/Pinot-Noir-2010.
The place to stay in Queenstown is the luxurious Pencarrow B&B. The scenery from every room is breathtaking, the breakfasts feature multiple courses and are both gargantuan and gourmet in style, and the American-born hosts, Bill & Kari Moers are warm, gracious and dedicated to your comfort. I absolutely hated to leave. Central Otago wineries are within an hour's drive. Visit the website at www.pencarrow.net.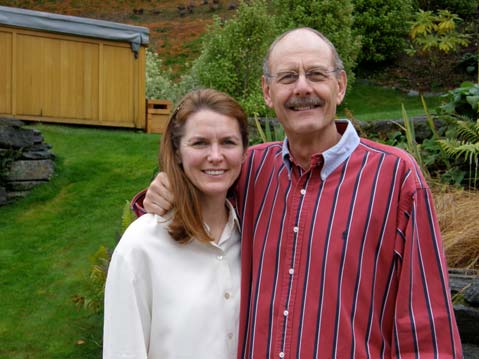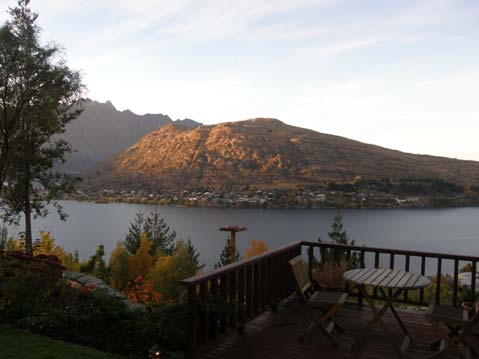 For more information on Central Otago wines, visit the following websites: www.centralotago.net.nz, www.otagowine.com, www.lakewanaka.co.nz, www.queenstown.co.nz, www.cowa.org.nz and www.centralotagopinot.co.nz.