Chehalem Mountains
Appellation Approval: 2006
History: Chehalem (Sha-HAY-lum) is from a Native American word Chahelim that was the name of a band of Native Americans who lived in this area. The name translates as "gentle place" or "place of flowers." Dick Erath planted the first grape vineyards here in 1968 on a 49-acre property he bought in Yamhill County and named it Chehalem Mountain Vineyards. David Adelsheim, Dick Ponzi and others followed in the 1970s. The Chehalem Mountains Winegrowers is the appellation's winery, vineyard and commercial association.
Geography: Chehalem Mountains is located 19 miles southwest of Portland and 45 miles east of the Pacific Ocean. It is a single uplifted landmass with spurs, mountains and ridges. There are three sub-regions within the appellation including Parrot Mountain to the southwest, the northern and southern flanks in the middle and Ribbon Ridge at the southwestern tip. Ribbon Ridge is a separate appellation located entirely within the Chehalem Mountains appellation.
Size: 20 miles long and 5 miles wide, totaling 68,265 acres. The highest mountains in the Willamette Valley are found here, with the tallest being Bald Peak at 1,633 feet above sea level. The appellation extends from 200 to 1,200 feet contour lines.
Vineyards: 1,600 acres, over 120 growers and wineries.
Wineries: 31
Soils: The Chehalem Mountains contain all three of the soil types found in the Willamette Valley. The northwestern flank is composed primarily of Laurelwood soil (loess), which is silty, nearly ashy, rock flour deposited on the mountains from powerful winds from the surrounding landscape during the last Ice Age, 0.5 to 1.5 million years ago. This soil is fine-grained and light brown in color. It is deposited primarily on top of basaltic (Jory) soil. On the southern flank and the southeastern tip known as Parrett Mountain, the geology is distinctly different. Here the primarily Jory soil was formed by lava flows from northeast Oregon known as the Columbia River Basalts 5 to 15 million years ago. The Missoula Floods later brought loam, gravel, rock and boulders to the area from Montana and Washington 10,000 to 15,000 years ago. The shallow topsoil overlies large polished stones and fractured basalt. In the western reaches of the Chehalem Mountains, in the Ribbon Ridge appellation, the soils are derived from ancient sea floor sediments that were uplifted and are yellow to ochre in color. Here the sedimentary soil is silty clay loam over siltstone and sandstone.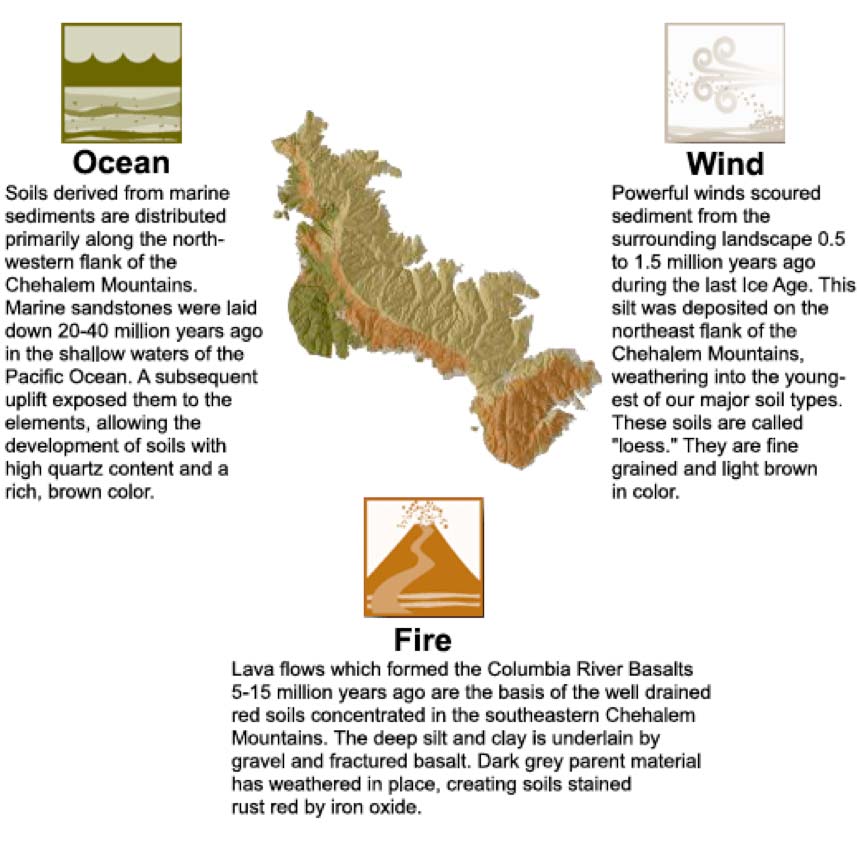 Climate: The Chehalem Mountains has significant annual precipitation. As the highest mountains in the Willamette Valley, the Chehalems create a large obstacle for west-to-east moving storms. When the moist air rises over the Chehalem Mountains, water vapor in the cooling air condenses and falls to earth as terraininduced rain. Annual rainfall ranges from 37 inches in the lower elevations to almost 60 inches at the highest elevation at Bald Peak. Temperatures vary more within the Chehalem Mountains than in any other region within the Willamette Valley.
Flavor Profile of Pinot Noirs: This will vary depending on the sub-region of the appellation. In the northern reaches, plum, black pepper; in the southern flank prettier, more red fruited, roasted meat and nuts; in Parrot Mountain more minerality and bright red fruits; in Ribbon Ridge, bright red cherry that can be pushed to darker flavors with oak and extraction, roasted fruit.
Prominent Producers in the Chehalem Mountains appellation: Adelsheim Vineyard, Allore Vineyards, Anam Cara Cellars, ArborBrook Vineyards, Artisanal, August Cellars, Barking Frog, Beran Vineyards, Bergström Wines, Blakeslee Vineyard Estate, Carabella Vineyard, Chehalem, Cooper Mountain Vineyards, Et Fille Wines, Freja Cellars, J. Albin Winery, J.K. Carriere, Lachini Vineyards, Laura Volkman Vineyard, Lawton Winery, Natalie's Estate Winery, Owen Roe, Ponzi Vineyards, Privé Vineyard, Raptor Ridge Winery, Rex Hill Vineyards, Wild Air Cellars.
Appellation Website: www.chehalemmountains.org.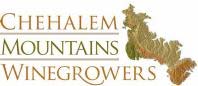 Chehalem Mountains Tasting
Shortly after the ¡Salud! Auction on November 11, 2008, I met with Sheila Nicholas, co-proprietor of Anam Cara Cellars, Dave Paige (photo left), winemaker at Adelsheim Vineyard, and Scott Schull, proprietor and winemaker at Raptor Ridge Winery to sample representative Pinot Noirs from the Chehalem Mountains appellation. This was quite an impressive lineup of Pinot Noirs and I thoroughly enjoyed the indulgence. The showy hedonism of the 2006 vintage in Oregon was in evidence. My tasting notes follow.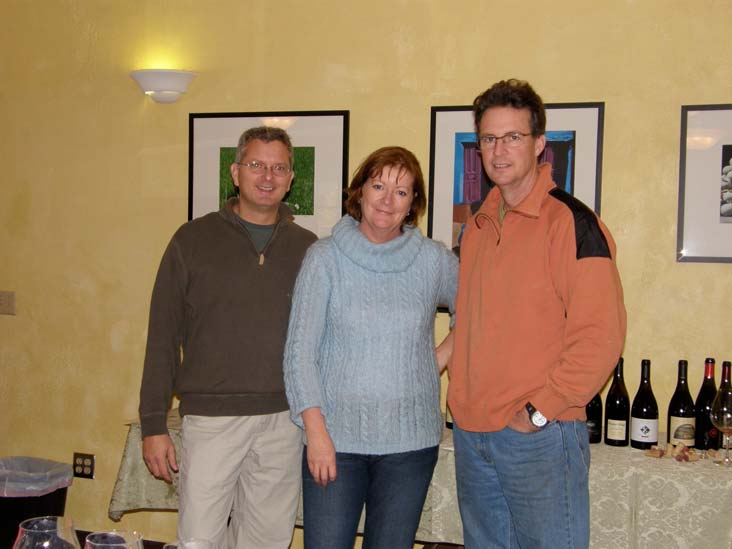 Parrett Mountain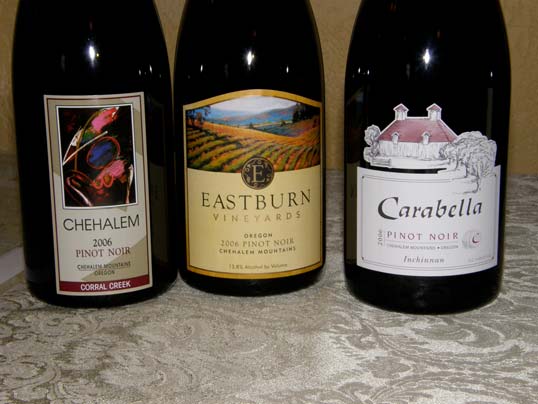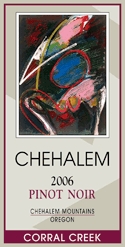 2006 Chehalem Corral Creek Vineyard Chehalem Mountains Pinot Noir
15.3% alc., 299 cases, $44. Corral Creek Vineyards surround the winery and were planted in 1983 by John and Diane Howieson, founders of Veritas Winery, from whom the vineyard was acquired in 1995. This 28- acre vineyard is predominantly planted to Pinot Noir. Soils are Laurelwood. Visible from Highway 99W, Corral Creek is a much photographed vineyard. Aged 11 months in 39% new French oak barrels. · Aromas of rose petals, red fruits, oak and loam lead to medium-weighted flavors of black cherries which are delicately spiced, oaked and tart. Nicely balanced and somewhat elegant with decent cherry aromas that offer some persistence on the finish.
2006 Eastburn Vineyards Chehalem Mountains Pinot Noir
13.8% alc., 450 cases, $38. The first vintage under this label. The 15-acre Eastburn vineyard is planted exclusively to Pinot Noir on an outcrop of red, volcanic Jory soil (rarely found outside of Dundee Hills). There are five acres each of Dijon clones 114, 115 and 777. Planted in 2001 and farmed to LIVE practices. · Well-endowed black raspberry and blackberry jam aromas and flavors with earthy accents. Attractive silkiness on the palate with well-integrated oak.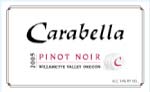 2006 Carabella Vineyard Inchinnan Mountains Willamette Valley Pinot Noir
14.9% alc., 250 cases, $54. Carabella Vineyard is a 49-acre site on the southeastern side of Parrett Mountain. Winemaker Mike Hallock makes wines exclusively from Carabella Vineyard fruit. Soils are gravelly volcanic. This wine is crafted from clones 113, 115 and Wädenswil. · Some interesting minerality runs through this wine. Luscious black cherry flavor, nicely spiced, with exotic wood accents. A delicious wine with a silky and sensual presence that dances on the palate.
Chehalem Mountain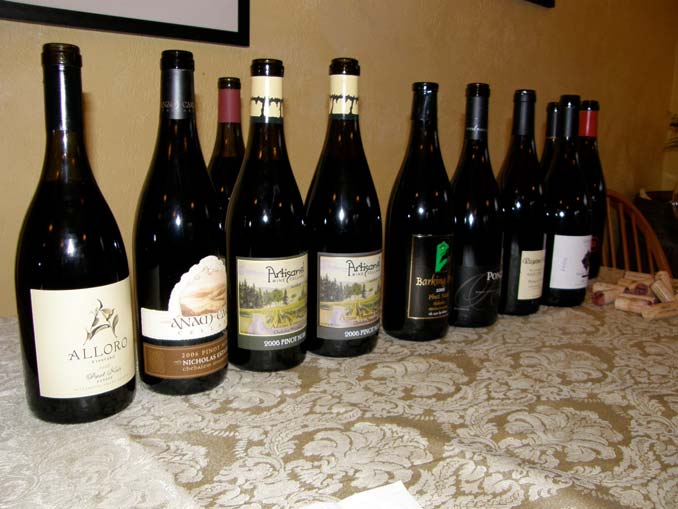 Ribbon Ridge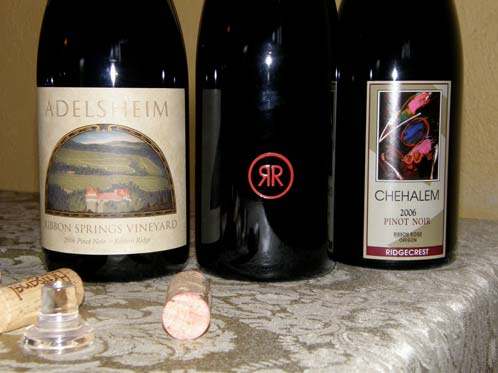 Also Tasted: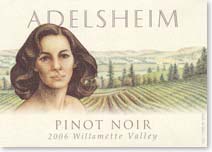 2006 Adelsheim Willamette Valley Pinot Noir
13.5% alc., 15,521 cases, $31. The flagship Pinot Noir from Adelsheim sourced from seven estate vineyards in the Chehalem Mountains and nine vineyards in other parts of the Willamette Valley. Both Jory and Willakenzie soil types are represented. 24% new French oak was used. · Cherries, spice and roasted nuts are quite flavorful in this wine which is light on its feet. Silky textured with refined acidity and a hint of earthiness on the finish. A perfectly fine entry wine.