Devils Gulch Vineyard
This article is the first of several to follow in upcoming issues focusing on a notable Pinot Noir vineyard in California and Oregon.
Marin County in northern California is wedged between Sonoma County to the north and the San Pablo Bay to the south. The appellation's climate is similar to the Sonoma Coast and has a long history of grape growing. In pre-prohibition times there were extensive plantings in the region and Mission San Rafael Archängel had 100 acres of vineyards in the 1850s, a relatively large acreage for northern California at the time. By the 1890s, San Franciscans often traveled to the Escalle Winery in Larkspur that was established by Frenchman Jean Escalle. Escalle produced over 9,000 cases of wine annually from his 23-acre hillside vineyard and delivered it just like a milk route by a cart and horse named Pedro. Long time Marin resident Helen Wilson recalled, "Escalle was a wonderful place. The French and Italians came here in droves to enjoy themselves on weekends. They brought their children and ate lunch. You could hear them singing all over town!"
During Prohibition, the area turned to cattle ranching, dairy farming and various agricultural pursuits. After completion of the Golden Gate Bridge, the more southerly portion of the county developed into a highly coveted residential community. Today Marin County is the most expensive real estate in the country with a median home price over $1 million. The number of dairy farms has dwindled from several hundred to only forty today and much of the land is owned by wealthy ranchers who made small fortunes in diverse fields such as real estate development (Tom Stubbs), publishing (McElvoy family) and films (George Lucas). At present, available property is scarce and what is for sell is in large parcels, much too expensive for grape growers to exploit. Serious winegrowers have resorted to leasing plots of land on the large ranches.
Marin has sparked interest for Pinot Noir fanciers. The climate is influenced by two bodies of water: the Pacific Ocean along Marin's western coast and the San Francisco Bay and its northern extension known as San Pablo Bay along the southern and eastern border. The extremely mild and lengthy growing season is conducive to Pinot Noir. The area is warmer than either Napa or Sonoma in the winter so bud break is early. Rain in the spring is common, however, so yields are low. The risk of rain and fungus at the end of the long growing season can also severely reduce yields. The soils are generally decomposed sandstone that provides superb drainage and high mineral content. In western Marin County, when nature cooperates, the resultant Pinot Noir grapes can be magical with plentiful acidity, low alcohol and very small berries yielding wild and concentrated flavors.
Currently there just under 200 total acres of vineyards in Marin County with about 137 acres planted to Pinot Noir, 20 acres of Chardonnay, 10 acres of Cabernet Sauvignon, 4 acres of Riesling and ¼ acre of Gewürztraminer. This amount is minuscule in comparison to Sonoma County which has over 60,000 acres of vineyards, but there is excitement building for this region. Pinot Noir aficionados are always searching for that unique terroir which will give them a different taste and a memorable kick and Marin County is a region that can deliver that experience. The map on the following page shows the location of Marin County depicted as an unlabeled gold-yellow area just south of Sonoma. The appellation is unlabeled presumably because the region receives little notoriety. As President Bush said recently at his final press conference in his frequent mixed metaphor fashion, "They misunderestimate me."
The heart and sole of Marin County viticulture lives in the jeans and cowboy hat of one man - Mark Pasternak. A majority of the vineyards in Marin County were either planted by Mark or are currently managed by him. Mark grew up in Southern California but always dreamed of escaping the city and becoming a farmer. In 1971, at the age of 19, he bought the 65-acre heart of the 873-acre ranch known then as Devils Gulch Ranch. Subsequently, Congress included the ranch within the boundaries set for the expanded Golden Gate Recreation Area in 1980 and bought all but Mark's 65 acres. The ranch was used as a grade B dairy (producing cream that was sold and skim milk that was fed to hogs) until sometime in the 1940s. From then on until Mark's acquisition of the property in 1971, it was vacant, used only for grazing cattle.
The barn on the property was originally built in 1866 and has been remodeled by Mark twice. Because the ranch was off the grid, a windmill was used for electricity until 1980, when he planted the vineyard and connected to Pacific Gas & Electric to pump water for irrigating. In 2005, he replaced the old windmill with a much larger one that feeds into Pacific Gas & Electric using net-metering just as solar panels do.
Around 1978 Mark was dating a young woman who worked at a new restaurant owned by friends. Until that time, he had virtually drank no alcohol but exposure to the restaurant gave him an appreciation for fine wine.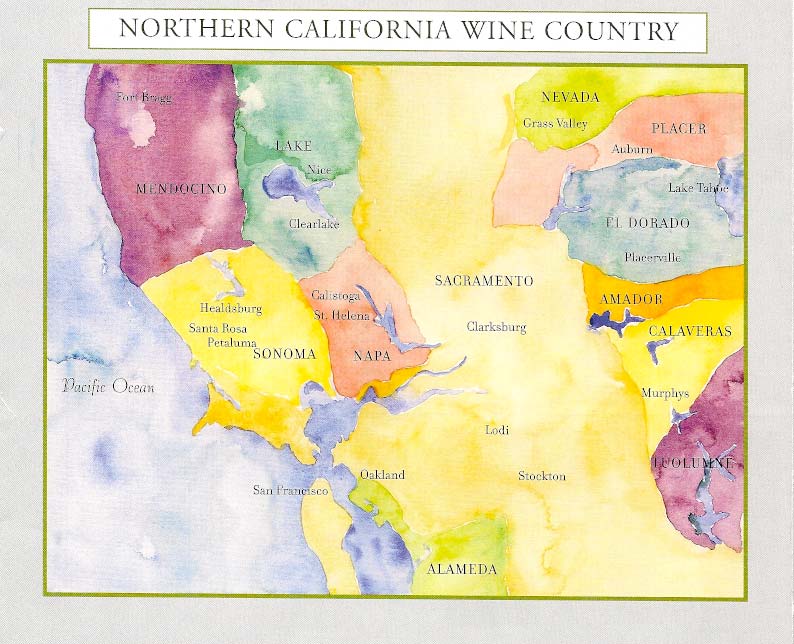 Mark was working as a carpenter and music store manager but wanted to find a legal (sic) crop to produced a source of income from the ranch. He attended a few classes in viticulture given by Rich Thomas at Santa Rosa Junior College and spurred on by his interest, enrolled in the school's two year viticulture program. Rich Thomas was a firm believer that you could grow grapevines just about everywhere. Mark lured Rich to Devils Gulch Ranch to take a look at the property and Rich felt it was a suitable site for a vineyard although he warned Mark that it was unlikely that still wine grapes would ripen so close to the coast (7 miles as the crow flies). Mark planted 3 acres of Pinot Noir (Martini clone 15 on AXR rootstock) and 4 acres of Chardonnay (clone 4 on AXR rootstock) in 1980 with the intention of selling the grapes to someone wanting to make sparkling wine. Michael Michaud, the winemaker at Chalone, was instrumental in the decision to plant, as Mark's girlfriend at the time (and now his wife) knew him from her time at University California Davis. Mark traveled to Chalone a number of times to work harvest and party, all the while learning more about viticulture from Michael and his vineyard manager. Devils Gulch Ranch Vineyard is pictured below.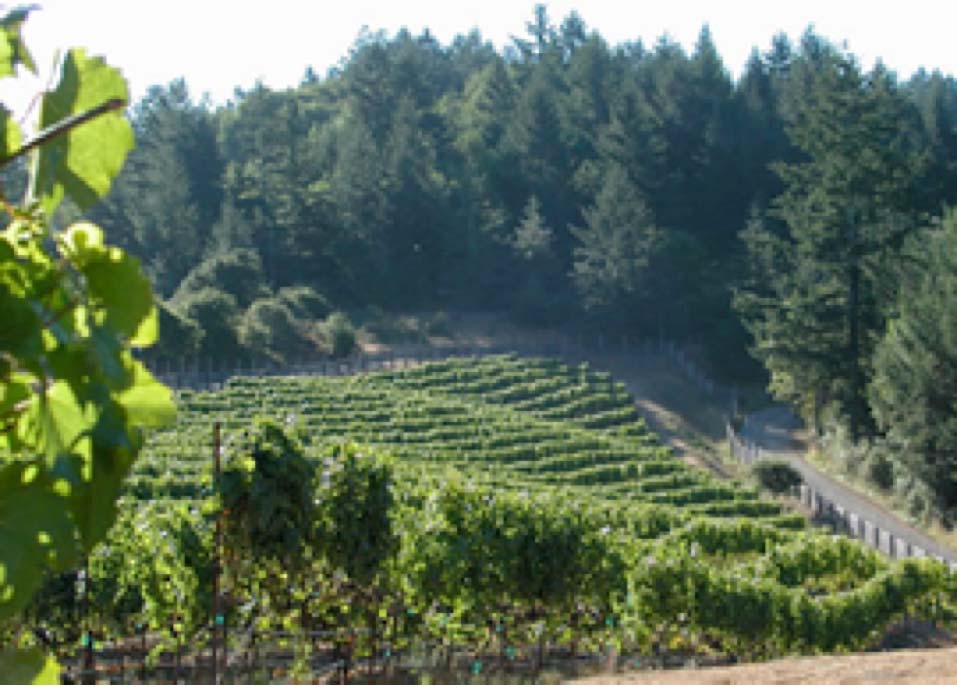 Once the vineyard began producing, Mark hooked up with Terry and Francis Leighton at Kalin Cellars who were located in Marin County. They were planning to craft a "Tete de Cuvée Blanche" late-disgorged sparkling wine and needed grapes from a very cool site. Mark jokes that the Leightons were serious about disgorging late as the 1989 vintage, and perhaps some of the 1987 and 1988 vintages as well, are still on the lees! The sparkling wines made by Kalin Cellars have become cult favorites. In 1999, when Serene Sutcliffe MW was asked, "If you had to choose a New World sparkling wine, whose would it be?" She answered, "The wines from Roederer Estate in California's Anderson Valley and the sparkler made by Terry Leighton at Kalin Cellars, also in California." Mark also sold grapes to Schramsberg.
Kalin Cellars was a very small producer and in 1990 the crop at Devils Gulch Ranch was too large for them to buy it all. Mark canvassed all the people who were making high-end Pinot Noir at the time including Acacia, Chalone, Etude, Williams Selyem and Gary Farrell. He also spoke to Dan Goldfield, the winemaker at the struggling La Crema Winery in the Russian River Valley. Mark offered to give any takers one-half to one ton of his Pinot Noir (he had 3 extra tons) at no charge to try it out. The only taker was Dan, who took one ton, insisted on paying for it and has been buying Devils Gulch fruit ever since. Michael Michaud at Chalone was kind enough to make wine for Mark out of the remaining fruit from the 1990 vintage.
La Crema was acquired by Jess Jackson and under the winemaking leadership of Dan Goldfield, the winery became a success. This was in part due to Dan's insistence on sourcing cool vineyard sites that in his opinion produced the highest quality Pinot Noir and Chardonnay. Dan moved on to Hartford Court Winery in the mid 1990s and he wanted to produce a Devils Gulch Vineyard single-vineyard Pinot Noir there. The Marin County name had such little cache that the owners discouraged the idea and the wine was put into a reserve bottling. By the 1997 vintage, Dan was able to get his way and Hartford Court released a "Marin County" Pinot Noir for about five years composed entirely of Devils Gulch Ranch grapes. These stellar wines put to rest any doubts about the potential of Marin County grapes to produce high quality Pinot Noir. Since that time, Mark has received frequent inquires from the wineries that weren't interested back in 1990, as well as several others.
In 1998 Mark bought 10 acres adjacent his original vineyard from a neighbor and was able to plant 11 more acres. The new plantings were entirely Pinot Noir consisting of Dijon 114, 115, 667 and 777 on two different rootstocks, namely 3309 and 420A. Two terraced blocks of the new vineyard have slopes that exceed 60% in some areas. The altitude is approximately 700 feet. The terraces face south, while the rest of the vineyard straddles the ridge top. The original plantings were 6 x 10 spacing and the 1998 plantings were 5 x 8 spacing. The original vineyard was cordon pruned to start, then changed to cane pruning on a quadrilateral modified Scott Henry system. The 1998 planting is all VSP trained. The vineyard needs to be bird netted or the birds exact a tremendous toll. The entire vineyard is drip irrigated, using a two hose system to insure that vines in poorer soils (knolls) get adequate water and the vines in better soil (swale) are not over irrigated.
Mark produces his own compost from the rabbits, pigs and sheep that he raises. He was one of the first in California to graze his sheep in the vineyard during the winter, a trend that is more commonplace now. He also has used his chickens to reduce the cover crop. Although he is an advocate of organic farming, he has found it necessary to use Roundup sparingly for weed control due to the steepness of Devils Gulch Ranch. The rest of the foliate spray program is done using organic materials.
When the 1998 planting started to produce, Dan Goldfield could not use all the fruit, so Mark contact Sean Thackrey, a renowned local winemaker working out of the small town of Bolinas in Marin County. Since that time all the fruit from Devils Gulch Ranch is split fifty-fifty between Dan and Sean. The Devils Gulch Ranch Pinot Noirs had developed quite a devoted cult following and over time may eventually surpass the reputation of Marin's beloved Grateful Dead.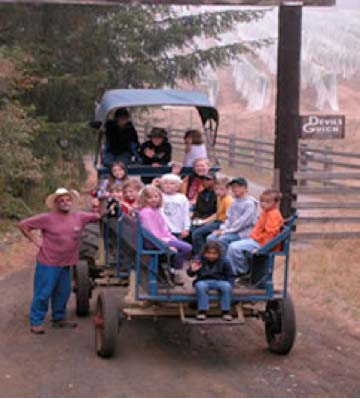 Besides growing grapes, Mark has a diversified ranch and raises rabbits, poultry, lamb, pork and farms produce for retail sale and high-end restaurants. I have been fortunate enough to be invited to dinner at Mark's ranch when all the food (rabbit, venison, goat, lamb, salmon, asparagus, berries for pie) and wine came from the Devils Gulch Ranch. Mark also breeds performance quarter horses. His spouse, Myriam, is a large animal veterinarian and together they have more than 60 years of combined agricultural experience. Agriculturally oriented skills workshops, after school programs and winter and summer camps for kids ages 6 to 17 are offered. The camps allow city-raised youngsters to explore nature, toil in the gardens, work with animals, learn skills from the past and get plenty dirty. Even adult camps are offered. Visit the website, www.devilsgulchranch.com, for more information about the educational programs offered.
Pictured below are the "Three Marin Musketeers": Mark Pasternak (left), Jonathan Pey of Pey-Marin Vineyards (center) and Stewart Johnson (Kendric Vineyards).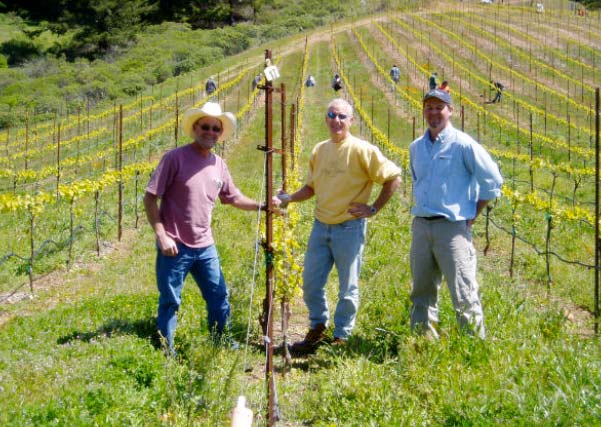 I recently tasted mini-verticals of Dutton-Goldfield and Sean Thackrery Andromeda Devils Gulch Pinot Noirs. It was fascinating to taste two winemakers' interpretation of the same vineyard. These wines and others I have had in the past have convinced me that this is a unique vineyard site. Dan Goldfield, who has the most experience with Marin County Pinot Noir feels that the wines tend to have a wild character like an olallieberry, rather than the blackberry found in the Russian River Valley. There was no Devils Gulch Ranch Pinot Noir produced in 2005 due to a very tiny crop.
Dutton-Goldfield
After working closely together as grape grower and winemaker since 1990, Steve Dutton and Dan Goldfield merged their talents to create Dutton-Goldfield Winery in 1998. The winery's Pinot Noirs, Chardonnays, Zinfandels and Syrahs have received considerable acclaim.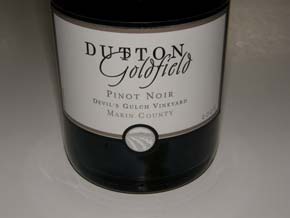 2002 Dutton-Goldfield Devils Gulch Ranch Vineyard Marin County Pinot Noir
13.5% alc., 431cases. · Dark violet color. Extremely attractive nose of crushed berries, confected strawberries, herbs, leather and good barnyard. Exotic wild berry flavors with an appealing earthy overtone, ample acidity, supple tannins and a pleasing, dry finish. This wine delivers the goods like a young wine. Impeccable balance portends a long life ahead and this wine might outlive Dan!

2006 Dutton-Goldfield Devils Gulch Ranch Vineyard Marin County Pinot Noir
13.4% alc., $55 (Magnums are $115). · More red-toned than the 2002 vintage. Bright red berry and red cherry aromas with a touch of herbs and vanilla. Strawberry, cherry and cassis flavors with a nice tang, ripe tannins, and a persistent dry finish with uplifting acidity. A sexy wine with plenty of silkiness and finesse, yet enough structure to age well.
Dutton-Goldfield wines are sold through a mailing list and online at www.duttongoldfield.com. A tasting room is shared with Balleto Vineyards and is located at 5700 Occidental Road in Santa Rosa. 707-823-3887.
Sean Thackrery
Sean Thackrery is a talented yet eccentric and quirky winemaker who crafts his distinctive wines at his home in the town of Bolinas. Dressed in bib overalls, he strikes you as a farmer, but when you speak with him, he impresses you as a scholar. If you visit his website, you will find a beautifully composed review of the history of the making and understanding of wine. It is derived from his over 600 volumes of old and ancient texts on wine that form his personal library. He uses these texts as inspiration for his winemaking. Unfortunately, if you want to learn about his wines, you have to look beyond the website! His reputation has been built on blended red wines using Rhone and other varietals. His first Devils Gulch Ranch Pinot Noir was in 2002. His wines are not mainstream and are challenging to adequately describe. The photo below shows Sean at a Marin County Pinot Noir event.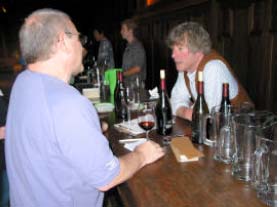 2002 Sean Thackrery Andromeda Devils Gulch Ranch Vineyard Marin County Pinot Noir
15.1% alc., $50-$90 on secondary market. · Pleasing aromas of dark cherry syrup, black raspberries, chocolate, herbs and wet oak. Fully ripened fruit flavors including earth-dusted raspberries and raisins with a touch of aged dark oak in the background. Silky smooth in texture with a good acid cut at the end. This wine has aged gracefully.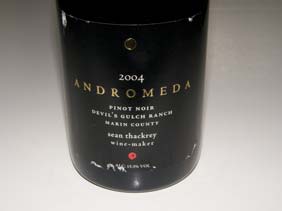 2004 Sean Thackrery Andromeda Devils Gulch Ranch Vineyard Marin County Pinot Noir
15.3% alc., $80 on secondary market. · Similar to the 2002 vintage, but less fruity and fresher. Aromas of fermenting berries, herbs, sassafras and exotic wood. Rich, sweet black raspberry fruit that is well-collared with soft tannins and a long follow-through on a dry finish. The alcohol is nicely integrated.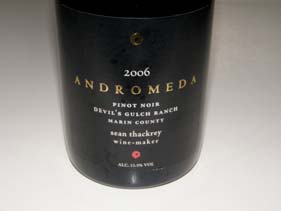 2006 Sean Thackrery Andromeda Devils Gulch Ranch Vineyard Marin County Pinot Noir
13.5% alc., 50. · Quite a departure from the 2002 and 2004 vintages. Much lighter and redder in color. Subdued redder Pinot fruits on a light frame with moderate tannins that need to be shed. Savory herbs add interest.
Sean Thackrery wines are sold primarily through a mailing list with limited retail and foreign distribution. The website is www.wine-maker.net.