Book Review: WINE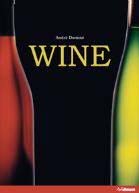 WINE is the work of André Dominé along with seventeen other writers and two photographers. This completely revised edition was published in hardcover by h.f.ullmann in 2008 ($49.95). WINE is a magnificent and comprehensive reference volume of considerable heft that includes 926 pages of text, color illustrations and photographs and detailed maps of every major wine producing region in the world.
André Dominé is one of the first journalists to write about the wines of southern France and is an accomplished and experienced wine authority. He is to be commended for the scope of work displayed in this volume. The book's price is a pittance considering the time and expertise required to organize and produce this book. For the price of a good bottle of Pinot Noir, you can have all the world's wine regions instantly at your fingertips.
The book is divided into three parts. Part One is titled History of Enjoying Wine and includes information on the smell and taste of wine, the aging and serving of wine with a review of glasses and corkscrews and a discussion of the types of wines. In Part Two, In the Vineyard & Winery, there are chapters devoted to grape varieties, soil, pruning, pests and diseases, the winemaking process and bottles and barrels. Part Three, Wines of the World, has individual chapters devoted to each of the world's wine regions. A Glossary, Vintage Summary (years 1997 to 2007), extensive Index by subject, place, people, producers and estates, and a Bibliography complete the book.
This is an extremely comprehensive volume of work on wine but in an attempt to be all-encompassing, much of the book's information is covered superficially. For example, only 36 pages are devoted to the wines of North America. Nevertheless, the book remains an invaluable reference volume. For example, one can find a listing of the 51 Grand Crus in Alsace, the appellations of Burgundy, Italian P.O.C.G. designations, Spanish wine law and quality pyramid, and such obscure information as the grape varieties of Portugal. No wine producing area of the world has been overlooked. For example, Luxembourg, England & Wales, Cypress, India, Turkey and Israel are included. Select notable producers from each country are profiled with color labels displayed for each producer.
Many a reference book lacks enough appropriate maps for my taste, but WINE includes informative and detailed color maps of every country. Each map clearly delineates the location of the wine growing regions within each country.
Because this volume is equal in weight to two bottles of Pinot Noir, it is not easily transportable and will find its rightful resting place in the home library along with other reference books on wine. There are multiple reference books on wine in the marketplace, some of which are written by accomplished wine writers and wine critics. This book surpasses many of them with its staggering scope of information and comprehensiveness.