Newer New Zealand Arrivals
Periodically I like to sample some of the New Zealand Pinot Noirs that reach the western shores here in the United States, Although 55% of New Zealand's wine production is exported and Pinot Noir exports are growing at a 56% clip, only a smattering appear in fine wine retail stores here.
Geographically, New Zealand has both a North Island and South Island. In all, there are ten major wine regions. On the North Island are Northland, Auckland/Waiheke Island, Waikalo/Bay of Plenty, Gisborne, Hawkes Bay and Martinborough. Only Martinborough at the southern tip of the South Island is suitably cool for Pinot Noir. On the South Island are Marlborough, Nelson, Waipara/Canterbury and Central Otago, all of which have climates ideal for Pinot Noir. A map of New Zealand is on page 11.
Some of New Zealand's oldest plantings are in Martinborough. Most of the wineries are boutiquescale growers. The Pinot Noirs often show a more Côte de Nuits character with notable earthiness, firm structure, and dark cherry flavors.
Marlborough is the largest winegrowing region in New Zealand. It is known for the Sauvignon Blanc that thrives in the sunny climate here, but half of the Pinot Noir in New Zealand is grown in Marlborough. The original vineyards here were clustered in the Wairau Valley, but new growth is expanding into the hillsides of many neighboring valleys like Waihopai, Omaka, Brancott and Awatere.
Nelson is a province and town of the same name, located at the northern tip of the South Island two hours from Marlborough. Most of the wineries here are family owned.
Waipara is the one area in New Zealand that has chalky loam soil with limestone. Sheltered from the sea by low lying hills, the combination of soils and microclimate have created a region of great promise for Pinot Noir.
Central Otago is the planet's most southerly wine region. It is the fastest growing wine region in New Zealand. In 1995, there were 114 acres of vines here, and by 2006, 2,845 acres were planted, 70% to Pinot Noir. The climate in Central Otago is more continental than any other wine growing region in New Zealand for it is distanced from the ocean. Mountains are a prominent feature with snow in the winter, but plenty of sun in the summer and autumn. The growing season is not long, but the absence of a wet maritime influence allows tannins to ripen and acidity is retained without sugars becoming excessive. About half of the Pinot Noir here is made by the wineries or made by co-ops, the other half is put into Central Otago blends. Rolfe and Lois Mills of Rippon Vineyard by Lake Wanaka in Central Otago were the first to plant experimental vitis vinifera in New Zealand in the 1970s. In 1982, after years of research, they planted the Rippon vineyard , Central Otago's first commercial block of vines. Later, in 1991, Felton Road became the first major vineyard and winery in Central Otago. Today there are a long list of Pinot Noir producers scattered over five sub regions of Central Otago (Gibbston, Cromwell, Bannockburn, Wanaka and Alexandra). Many critics feel Central Otago is the chosen spot for New Zealand Pinot Noir.
The style of New Zealand Pinot Noir is still evolving as it is relatively young wine industry. A whole range of wines are produced, from elegant, feminine and classic Pinot Noirs, to more earthy, mineraldriven styles, to heavily-oaked, fruit bombs. Recurring criticism has been that the wines are overextracted, unbalanced and lack complexity. Sommelier Rene Chazottes notes, "The Pinot Noirs possess plenty of fruit but not sheer power. They are layered and sinewy and are fruit-driven with a strong acid backbone." Henry Hariyono writes, "The style of Pinot Noir made in Central Otago is much in demand among younger wine drinkers in the United States today. With their rich, dark fruit aromas and flavors, intriguing floral and mineral nuances and ripe, harmonious acidity - not to mention their often considerable heft (typically 14% alcohol) - they pose a threat to the more established Pinots of Martinborough, which while often more complex, earthy and Burgundian, can come off as drier and leaner in comparison with the fruit bombs of Central Otago."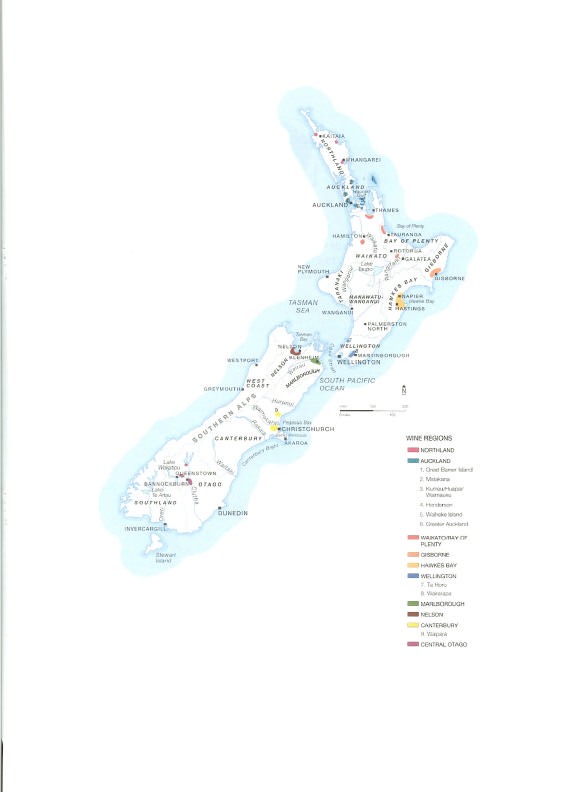 New Zealand vineyards have long been farmed with organic and sustainable methods. The viticulture scheme has always encouraged non-irrigation of vineyards and avoidance of insecticides. The New Zealanders have pioneered the use of screwcaps for their wines and most wineries now use screwcaps exclusively.
The most recent vintage, 2006, was of high quality. Overall grape tonnage was up 11% due to an 18% increase in producing vineyard area since 2004. The Pinot Noir harvest was increased by 50% compared to 2005. There was good warm summer and autumn weather. 2005 was a more difficult vintage with cool weather during flowering limiting yields and autumn frosts. 2007 produced a record harvest up 11% over 2006 sparked by excellent late summer and autumn weather.
Unfortunately, many of the best New Zealand Pinot Noirs cannot be found in America. Many of the small, special boutique wineries sell their entire production in New Zealand or in countries where demand is established. For smaller wineries, it is difficult to organize distribution in enough areas here in the States to justify the expenses of export. Prices for New Zealand Pinot Noir are comparable to their counterparts in California and Oregon. In general, Central Otago Pinot Noir demands the highest prices.
Martinborough
2005 Ata Rangi Martinborough Pinot Noir
13.5% alc., $37, screw cap. Imported by Epic Wines, Aptos, CA. · Darkly colored with pleasing cherry, spearmint and herbal aromas. Bitter woody, vegetal and medicinal flavors mar the enjoyment. Disappointing for the money. Website: www.atarangi.co.nz.
Marlborough
2005 Villa Maria Estate Reserve Marlborough Pinot Noir
13.5% alc., $36, screw cap. Imported by Vineyard Brands Inc., Birmingham, AL. This wine is a blend of the best clones from several vineyards in the Marlborough region. It is aged 9 months in 40% new French oak. · Richest, darkest fruit of all the wines sampled. Deep and bright black cherry perfume that is quite appealing. A riper style packed with sappy plum and blackberry fruits and a charred oak overlie that enhances the generous flavors. Tannins are like felt and the whole package is nicely balanced.
2005 Vidal Wines Estate Marlborough Pinot Noir
14% alc., $17, screw cap. Imported by New Zealand Pure, Issaquah, WA. Founded in 1905, Vidal is one of Hawkes Bay's oldest boutique wineries. Grapes are sourced from the Awatere and Wairau river valleys. · Simple black cherry and subtle spice aromas and flavors with barely detectable tannins. Straightforward with commendable balance. Well worth the asking price. Website:www.vidal.co.nz.
Central Otago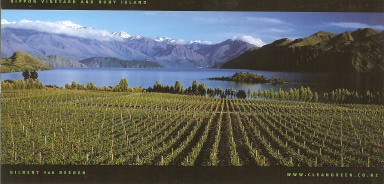 2006 Valli Bannockburn Vineyard Central Otago Pinot Noir
13% alc., $40, screw cap. Imported by RO Imports LLC, Napa, CA. Giueseppe Valli emigrated from an Italian winemaking background to New Zealand in the 1870s. Five generations later, great-grandsons Grant Taylor and Tim Valli continue the tradition. · This wine has an exotic perfume of mahogany, crayon, cardamom, chile and red cherries. Red fruit and herbal flavors are simple and clean, the texture is soft and there is a welcome acid kick at the end. Website: www.valli.co.nz.
2006 Wild Rock Cupids Arrow Central Otago Pinot Noir
$16, screw cap. Imported by Korbrand Corp., New York, NY. · A decent Pinot with an interesting nose of red cherry, fresh-mowed hay, and a little barnyard. A grassiness also runs through the strawberry and raspberry flavors. Light and soft in the mouth, the wine finishes with mildly drying tannins.
Note: Two older New Zealand Pinot Noirs were tasted. The 2002 Olssens Jackson Barry Central Otago Pinot Noir was closed with a cork and was oxidized. The 2002 Rockburn Central Otago Pinot Noir was also closed with a cork and was corked.