Papa Pinot's Legacy Pervades 2009 IPNC
"David Lett defined the term "visionary," sailing against a strong current as he fulfilled the promise of Oregon wine. He planted grapes where others deemed it impossible, understanding that the very finest wines are often grown where it is most perilous, and he thrived on that challenge. His personality set the tone for the character of the Oregon wine industry, and his stunning wines rewarded his fearlessness, focus and independence. For those who prefer their opinions strong and their wines elegant, David was your man. What an inspiration."
Ted Farthing, Oregon Wine Board Executive Director
Oregon Wine Press, January 2009
Each July for the past twenty-four years, McMinnville, Oregon, has become Beaune in the USA. 700 Pinot geeks from all over the country and from every corner of the world descend on this inauspicious town to celebrate the fickle darling of wine cognoscenti and revel in their indulgence. The International Pinot Noir Celebration (IPNC) is held on the intimate and bucolic campus of Linfield College, but there is no homework or written tests, and no dreadful lectures at 8:00 in the morning, just an abundance of great Pinot Noir paired with the delicious bounty of Oregon prepared by the Pacific Northwest's most talented chefs, and plenty of joie de vivre.
This year's IPNC, held on July 24-26, 2009, marked the twenty-third event, dating back to 1987, when a group of grape farmers and winemakers assembled to figure out a way to promote Oregon wine. One of the important contributors to that group was David Russell Lett, a seminal figure in the history of Oregon wine. David was but one of several Oregon wine pioneers who emigrated to Oregon from elsewhere, but he is remembered as the first to successfully plant and vinify Pinot Noir and Pinot Gris in the Willamette Valley of Oregon. He was steadfast in his determination to create light, supple and ephemeral wines that aged, and nearly every Oregonian has drank an Eyrie wine at some point in their lives that was an epiphany. He was so revered that in his later years he become affectionately known as "Papa Pinot." Lett passed away in October 2008 at the age of 69, but his memory was pervasive at this year's IPNC, and every meal was launched with an emotional toast to this beloved man.
Lett was the son of am insurance agent and had grown up in Utah. His grandfather was a doctor, and Lett, being the first male progeny in the family, was urged to obtain a medical degree. Instead, he found himself in the Napa Valley in 1962 following an interview for professional school in the San Francisco Bay area. He quickly became enthralled with winegrowing, and to his parent's dismay, decided to pursue a degree in viticulture and enology at University California Davis. The 1960s were a time when the thrust of the California wine industry was Cabernet Sauvignon and Chardonnay, but Lett was consumed by Pinot Noir. At Davis, Lett's Professor, Harold Berg, told him that there were very few climates suitable for Pinot Noir in the United States, but Lett was not easily deterred. He considered New Zealand and even Portugal, but kept coming back to Oregon, thinking it was the closest climate to Burgundy.
Lett's schoolmate at Davis was Charles Coury who had a degree from University California Los Angeles in climatology and understood growing seasons. After graduating from Davis, Coury spent a year at the Alsace Wine Research Station in France which had a climate very similar to Oregon's. When he returned, Coury was convinced that Pinot Noir would ripen in Oregon, and he headed north to Oregon in 1965, the same year that Lett, who preceded him by a few months, emigrated to Oregon.
Charles Coury
According to Kerry McDaniel Doenisch in Vineyard Memoirs, Oregon Wine Pioneer Recollections of Living, Grape-Growing and Winemaking in the 1970s, Charles Coury came to Oregon with his father and purchased 45 acres with an abandoned vineyard on Rueter Hill near Forest Grove in 1965. Together with his wife Shirley and sister-in-law, Betts Coury, they operated a winery, vineyard and nursery until 1978. The Courys planted 25 acres of Pinot Noir, Chardonnay, Gewürztraminer and Riesling and produced wines from each of these varieties. The Coury Winery was eventually sold and became Laurel Ridge Winery. Currently, the site is the David Hill Vineyard & Winery.
Betts Coury said about Charles Coury, "He was ahead of his time. He had all the right ideas about how to start a winery in Oregon - and proved it could be done." Coury was quoted as telling Betts, "The reason I moved to Oregon in 1965 was to prove that excellent Burgundian and Alsatian wine grapes could be grown there. California certainly wasn't producing any decent Pinot Noir. For that matter, no one at the time in any part of the United States could really produce a decent Pinot.......but I could, so I did."
Coury proclaimed he was the second person to make a decent wine in Oregon, the first being Richard Sommers of Hillcrest Winery in Roseburg (Rogue Valley), who planted Pinot Noir and other varieties between 1957 and 1961. Coury said, "Sommers is the original pioneer, not me. I was the second. Before Lett, before Fuller, before Erath. I graduated way ahead of those guys. Heck, they all read my thesis at Davis on cold-climate growing and argued with me about whether it could be done successfully in Oregon." Coury said he had long debates with fellow students Lett and Fuller and, "I guess my opinions must have been persuasive, because a few years later they all showed up in Oregon." Betts claimed, "Lett was converted to the idea of growing grapes in Oregon when he went to visit Coury in Alsace." According to Jason Lett, David Lett disputed Coury's claims and was firmly convinced that in 1966 he was the first to plant Pinot Noir in the Willamette Valley although accurate records make it difficult to verify this. It is well documented that David Lett was the first to plant Pinot Gris in Oregon.
Coury brought back root stock from Alsace and Burgundy and shipped cuttings to the agricultural quarantine port in San Francisco. One of the Pinot Noir selections (it is impossible to verify its exact origins) became known as the Coury clone now designated Pommard UCD 4. (More on the history of Oregon Pinot Noir clones on page 7).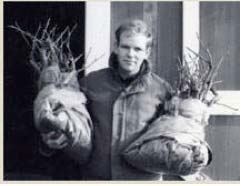 Lett gathered up 3,000 vine cuttings including the Wädenswil clone of Pinot Noir (UCD 1A/2A) from University California Davis, loaded them into the bed of his uncle's horse trailer, and headed to Oregon at the tender age of 25 years. He rooted the vines in a field near Corvallis while he searched the Northern Willamette Valley for a suitable site for his vineyard. Coury and Lett were roommates in Corvallis while each worked for separate nurseries in the area. Lett was the first to plant Pinot Noir and Pinot Gris there. Lett bought 20 acres in the Dundee Hills for $450 an acre and in 1966, spent his honeymoon with his new spouse Diana planting the first five acres of vines of Pinot Noir, Chardonnay, Pinot Gris, Riesling, Gewürztraminer, Muscat Ottonel and Pinot Meunier. It has been rumored that Lett planted some suitcase clones from the Domaine de la Romanée-Conti (possibly sourced from Coury) along side the Wädenswil clones of Pinot Noir, but David Lett's son, Jason, discounts the accuracy of this rumor. Although the climate was similar to Burgundy, the plantings were not. Instead of limestone soil, the vineyard was composed of volcanic clay loam soil (now known as Jory soil). The vines were widely spaced (6' x 10') and trained high according to the California mold of the time. The Letts named their vineyard Eyrie ("eye-ree"), after a hawk nest nearby.
Lett produced his first Pinot Noir in 1970, but because of its light color, he labeled it "Oregon Spring Wine," and sold it for $2.65 a bottle. In 1979, Robert Drouhin of the famed Domaine Drouhin in Burgundy, set up a blind tasting of French burgundies versus American Pinot Noirs. At this now famous tasting hosted by the French food and wine magazine Gault-Mileu and held in Paris, a 1959 Domaine Drouhin Chambolle-Musigny came in first, but David Lett's 1975 Eyrie Vineyards South Block Reserve Pinot Noir took second ahead of 1961 Domaine Drouhin Chambertin-Clos de Béze. The Eyrie wine was made solely from the Wädenswil clone UCD 1A. This was a seminal event for winegrowing in Oregon and persuaded Robert Drouhin to establish his own vineyard and winery in the Dundee Hills in 1987.
According to John Winthrop Haeger (Pacific Pinot Noir), there is a total of 6.5 acres of Pinot Noir in Lett's original vineyard of 20 acres. The vines are 70% own-rooted UCD 1A (from the same mother vines as UCD 2A) and Pommard 5, and 30% own-rooted UCD 18. A second vineyard, Stonehedge is adjacent and planted in 1979 and 1980. There are 2 acres of UCD 1A/2A and Pommard 5 Pinot Noir out of a total of 15 acres. Two other vineyards were planted in the late 1980s, Rolling Green Farm and Three Sisters, both UCD 2A and Pommard 5 (total of 9.1 acres between the two vineyards).
Lett fashioned his Old World style wines in a former turkey processing plant in McMinnville. The winery was inauspicious but Lett never believed in pretentiousness and he frowned on tasting rooms. His wines were often light in color and body, unappealing in their youth, yet were remarkably age-worthy. Lett never wavered from his vision of how wine should be fashioned and never tried to please everyone. He was a firm advocate of preserving the delicacy and nuances of Pinot Noir. He weathered many challenging vintages in Oregon, in some years relying on purchased grapes when his estate vineyard faltered. It is unknown to many that during the 1970s, Lett needed more grapes as his vines matured and the popularity of Eyrie wines increased, so he purchased Cabernet Sauvignon, Merlot and Sauvignon Blanc grapes from Washington. Reportedly, his Cabernets were impressive, although he professed to dislike the grape.
Before David Lett passed away, he handed the winemaking reigns at Eyrie to his son, Jason, who took over with the 2005 vintage. Jason spent time at Maison Joseph Drouhin in Burgundy and has a degree in plant ecology from University of New Mexico. He is committed to continuing the Eyrie style (he fashions a more "New World" gutsy Pinot Noir under his Black Cap label).
A historic tasting of every reserve Pinot Noir made at Eyrie was held the day before the 2008 IPNC and this was an official retirement party for Lett. The details of this tasting were posted by Michael Alberty of the Story Teller Wine Company in Portland (http://www.storytellerwine.com/wine/wp-content/plugins/st_newsletter/ stnl_iframe.php?newsletter=107). Some of the Pinot Noirs from the 1970s were remarkably preserved.
The day before this year's IPNC (July 23, 2009), I was fortunate to be invited to a retrospective tasting of every vintage of The Eyrie Vineyards Chardonnay from the first vintage in 1970 to the current 2007 release. This event was hosted by Jason Lett and Emily Stoller Smith and held at The Eyrie Vineyards winery in McMinnville. This was the most remarkable Chardonnay tasting I had ever attended and the general tone of those in attendance, which included Jancis Robinson, was one of heightened admiration for the wines. The first Eyrie Reserve Chardonnay was released in 1987 so many vintages after this were Reserve bottlings. In some vintages, such as 1982, 1983 and 1984, fruit was purchased to supplement the Eyrie fruit.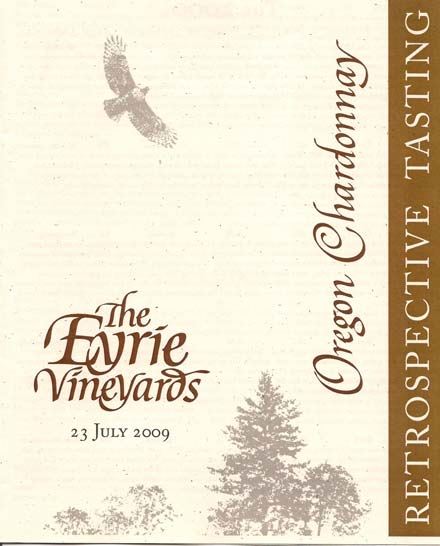 Before the retrospective tasting event, Jason Lett tasted through 1,841 bottles of Eyrie Chardonnay, one vintage at a time, to find pristine bottles which were then blended and put into new bottles under neutral gas. He found a 3-5% incidence of cork taint (some older vintages had more), and an average 30% rate of oxidation (a few vintages had a significant amount with 1986, for example, showing a 56% oxidation rate, and 2000 an 80% oxidation rate). The problems with corkage and oxidation led Jason to bottle all Eyrie Chardonnay under Diam closure beginning with the 2008 vintage.
The Chardonnay vines at Eyrie are known as the Draper selection. In late 1964, David Lett sought out cuttings from Joe Torres, the long time vineyard manager for the Draper Ranch in St. Helena. In the process of managing the Ranch, Torres had selected certain blocks and vines which were his favorites. Some of the fruit from these selected vines went to Souverain Cellars on Howell Mountain where Lee Stewart made some legendary Chardonnays from these grapes. Jerry Draper, Lee Stewart and Fred McCrea (Stony Hill) all planted their vineyards on the hillsides of Napa Valley in 1943. The original source for much of their Chardonnay cuttings came from Louis Martini's Stanley Ranch in Carneros, which was planted with a diversity of European vines in the mid-1930s. The cuttings Lett took from the Draper Ranch and Torres' selection became the basic vines of The Eyrie Vineyards. Lett made two Chardonnays entirely with clone 108 - 1978 and 1980, but subsequent wines were predominantly Draper clone.
In 1967, University California Davis isolated a clone of Chardonnay known as 108 and decided it was the best Chardonnay clone for California conditions. High yields and low acid were foremost in this decision. Almost every vineyard planted to Chardonnay in California since 1967 was planted to clone 108. As wine became more popular, clone 108 spread to other states, but regrettably, the wines were often alike and somewhat boring. The Draper Chardonnay selection includes a diversity of clones and the resultant wines made with this selection at Eyrie produced wines that were more elegant and more subtle in expression.
The Eyrie Chardonnay winemaking regimen is as follows. The grapes are de-stemmed, crushed and pressed gently. The juice is settled overnight to separate it from the heavy solids which can lead to off flavors in the final wine. The juice is then transferred to seasoned French oak barrels where it is inoculated with a variety of pure yeast strains. Cellar temperatures are naturally low in Oregon in October when the grapes are harvested so no temperature control is required. The wines ferment at their own pace and go through a complete, spontaneous (not induced) malolactic fermentation (MLF) through the winter and spring (since 1977). The barrels are topped frequently and the wine rests undisturbed sur-lie until time for bottling eleven months after crush. The wine is not fined for protein stability nor is it tartrate stabilized (until 2004). The wine is moderately filtered and then bottled. Total annual production varied from 99 (1970) to 1,249 (1986) cases.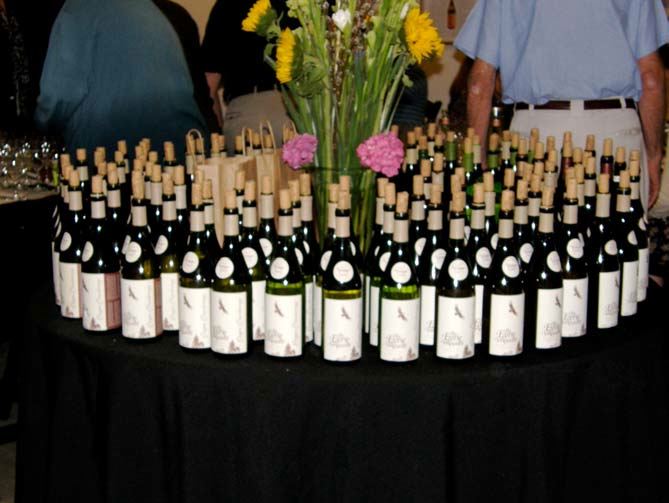 I will spare you my tasting notes on all 38 Eyrie Chardonnays tasted, but a few general comments may be of value. Nearly all the wines were remarkably fresh, with vivid acidity and retention of a light yellow color. The wines exhibited restraint with subtle, layered and lean yellow fruit flavors, minerality, and vanilla wafer notes. For the most part, the wines had excellent fruit and acid balance and would match well with and enhance food.
2000s: Jason Lett made the 2005 (the 2005 Black Cap Chardonnay was tasted as the Eyrie Chardonnay did not meet expectations), 2006 and 2007 vintages. Decade Brix range was 21º-22.8º, acidity range was 3.36-3.62. Dominant aromas were lemon, tropical fruits, white stone fruits, roasted nuts, and flowers. Notable flavors included lemon zest, pineapple, tropical fruits, pear and brioche with bright acidity on most wines. My favorites in order were the 2002 Reserve, 2001 Reserve and 2000 Reserve. The group favorites were the 2002 Reserve followed by the 2004 Estate.
1990s: Decade Brix range was 19.2º-22.4º, acidity range was 3.38-3.70. Dominant aromas were lemon, melon, nuts, baking spice, petrol and veggies. Notable flavors included green apple, pear, seasoned wood, cooked banana, lemon tart, seasoned wood and brioche. My favorites in order were the 1992 Reserve and 1996 Reserve. The group favorites were the 1990 Reserve followed by 1995 Reserve.
1980s: In 1982, 1983, and 1984, fruit was sourced to supplement the Eyrie fruit. Decade Brix range was 18.4º-22.5º, acidity range was 3.57-2.70. Dominant aromas were lemon, pear, apple, toast. Notable flavors included roasted nuts, lemon, cooked apples, toast. My favorites in order were the 1989 Reserve, 1983 Estate, and 1982 Estate. The group favorites were the 1989 Reserve followed by 1980 Estate.
1970s: This was the hardest flight to choose a favorite. Most of the wines were surprisingly fresh. The fruit had faded, but the wines retained reasonable balance and charm. The 1970 was amazing. Lett began MLF in 1977. He believed the wines made without MLF would age longer but the ones made with MLF were softer and easier to drink. Decade Brix range was 20.0º-23.5º, acidity range was 3.43-3.77. Dominant aromas included marzipan, nutty, toast, citrus and floral. Notable flavors included lemon, green apple, pear, roasted nuts and root beer. My favorites in order were the 1974 Estate, 1976 Estate and 1979 Estate. The group favorites were the 1976 Estate followed by the 1979 Estate. Note photo below of bottle of 1970 Chardonnay (center) taken by Jean Yates, owner of Avalon Wine in Corvallis, Oregon.
There are limited quantities of older vintages of The Eyrie Vineyards Library Chardonnays for sale. Prices vary depending on the vintage and rarity. A complete vertical of every vintage of Chardonnay produced at The Eyrie Vineyards is available for $7,500 (may be sold at the time of this publication). All profits from the sale of the wines will be donated to Lupe Hernandez, spouse of Eyrie's longtime employee and cellar master, Julio, who is suffering kidney failure and is awaiting a kidney transplant. This surgical procedure entails an extraordinary expense and funding this life-saving operation is a monumental task as you can imagine. Visit the Eyrie Vineyards website at www.eyrievineyards.com for a price list and order form.
The Eyrie Vineyards tasting room is open Wednesday through Sunday from 12:00 to 5:00 at 935 NE 10th Avenue in McMinnville. For more information, contact Emily Stoller Smith at 503-472-6315.
"I'm beginning to feel there is a real interest in what Oregon is doing. I'd hate to be a California winery now, unless I'd been established a long time. The consumer's preference is changing to the kind of wine we produce in Oregon - it's just great! They are all making the same kind of wine down there (California). They are boring - especially chardonnay. California chardonnay to me is just a variation of a theme - you taste one and you've tasted them all, pretty much."
David Lett
Oregon Wine Review, Volume 3, Issue 2, June-August 1985