Olivet Lane Pinot Noir: Best Ever in 2007
Olivet Lane Vineyard is one of California's most cherished heritage Pinot Noir plantings. Owner Bob Pellegrini, who has been involved with wine in one way or another his entire life, reflects on the early 1970s and his decision to plant a vineyard on West Olivet Lane in the Russian River Valley, and says, "I was just naive enough at the time to think it would work, but if I knew then what I know today, I would never have done it." Ignorance can sometimes turn out to be bliss and today Pinot Noir lovers are the grateful beneficiaries of Bob's fortitudinous decision.
The Pellegrinis are Sonoma County wine patriarchs who started the Pellegrini Wine Company after the repeal of Prohibition in 1933, and began shipping grapes from Sonoma County and making wines for San Francisco's best restaurants. The family later became wholesale distributors of imported and domestic wines. In 1973, Vincent Pellegrini approached Paul Mononi about buying his 65-acre prune, apple and olive orchard on a spur off of Olivet Road named West Olivet Lane. The land was in an area of the Russian River Valley now known as Laguna Ridges. Paul Mononi had grown up on the property his father acquired in 1955. He sold the property to Vincent and agreed to plant a vineyard for him. Vincent's son, Bob, was fresh out of school, had just returned from a tour of Burgundy and was intrigued by the idea of planting Pinot Noir on the newly acquired land. At the recommendation of Dr. A.N. Kasimatis of University California Davis, both Pinot Noir and Chardonnay were planted beginning in 1975. Economic considerations came into play in the decision to plant both Chardonnay and Pinot Noir as Chardonnay was much more in demand than Pinot Noir at the time, with Pinot Noir only bringing $325 a ton.
Pinot Noir clones were difficult to source in 1975. Paul recalls, "Clones were not of any importance, you had to beg for vines, and you had no positive assurance that you were receiving Pinot Noir clones." The Olivet Lane Vineyard was planted to what is now called the Martini clone (UCD 13 and 15), sourced from field selections grown at the Stanly Ranch Vineyard in Carneros farmed by Louis M. Martini and Harold Olmo.
The Olivet Lane Vineyard was one of the first Pinot Noir plantings in the Russian River Valley, preceded a few years by only a handful of others including the Bacigalupi Vineyard (on Westside Road in the Middle Reach in 1964), Rochioli Vineyard (East Block planted in 1968, also on Westside Road), and Joseph Swan's vineyard (first planted in 1969 in the Laguna Ridges and now named the Trenton Estate Vineyard). The Olivet Lane Vineyard was uniquely planted to both Pinot Noir and Chardonnay.
The 34-year-old vineyard is essentially a monoblock of Martini clone planted on AXR rootstock with wide vine spacing that was in favor during the 1970s. Because of the AXR rootstock, the Olivet Lane Vineyard is susceptible to phylloxera and some blocks have shown phylloxera-induced decline by reduced yields. Portions of the vineyard are being incrementally replanted using the Martini clone budwood from the remaining original vines to retain the vineyard's unique character. Currently, the vineyard is planted to two-thirds Chardonnay and one-third Pinot Noir. The photos below were shot at the Olivet Lane Vineyard just before the 2009 harvest.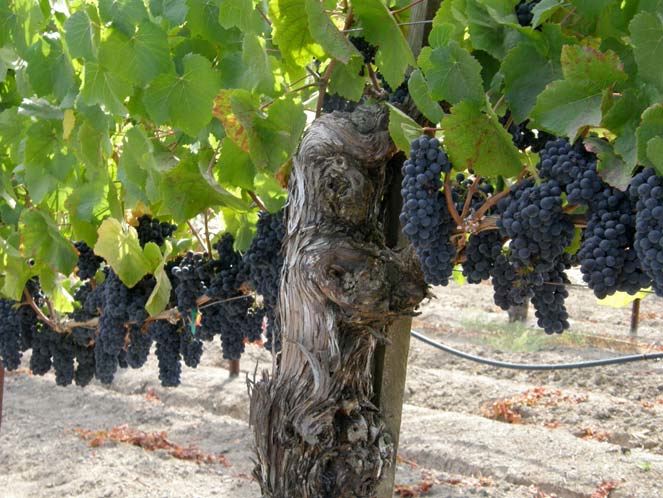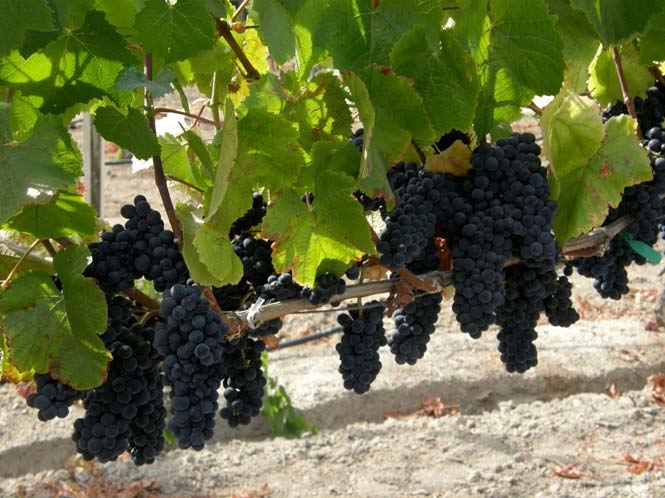 Winemaker Kevin Hamel talks about the distinctive terroir of the vineyard that is reflected in the wines. The Olivet Lane Vineyard is unique for its red fruit, fragrance and subtle spice and floral notes. The grapes have a near perfect balance at harvest, developing desirable flavors at 24.0º to 24.5º Brix with spot-on acidity. As a result, the wines from this vineyard are never blockbuster wines, and need only a judicious touch of oak to compliment the delicate flavors of the grapes.
Trials have been ongoing over the last few vintages comparing indigenous yeast and inoculated yeast fermentations for both the vineyard's Chardonnay and Pinot Noir. The lots undergoing indigenous fermentation have consistently shown more complexity and interest. Beginning in 2006, a reserve Olivet Lane Estate Pinot Noir was produced, largely composed of native fermented lots which have undergone additional barrel aging. The 2007 regular Olivet Lane Estate Pinot Noir is about 25% native fermented and the 2007 Olivet Lane Estate Reserve Cuvée is 75% native fermented. Beginning with the 2008 vintage, fermentations will be almost exclusively native.
The Pellegrinis began producing an Olivet Lane Pinot Noir in the 1980s. Over the years, grapes were sold to Brogan Cellars, Gary Farrell, Kosta Browne, Merry Edwards, Williams Selyem and WesMar wineries. Today, Merry Edwards is the only producer receiving significant amounts of fruit, the rest being retained for the Olivet Lane Estate Pinot Noir annual production of 2,500 to 3,000 cases.
The Olivet Lane Vineyard wines are sold primarily through the tasting room, retail wine stores and restaurants. The wines are also available online at www.pellegrinisonoma.com. A Tuscan-styled winery and tasting room were built on the Olivet Lane Vineyard property in 2001 at 4055 West Olivet Road in Santa Rosa. The tasting room is often open, but phone ahead (800-891-0244).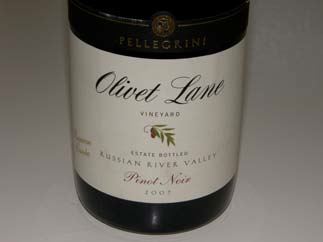 2007 Olivet Lane Vineyard Estate Reserve Cuvée Russian River Valley Pinot Noir
14.1% alc., 168 cases, to be released in 2010. Packaged in a heavier, taller bottle which makes a statement. More new oak aging than the regular Estate bottling. · This is a more decadent version of the estate wine. The fruit intensity is ramped up on the nose offering a melange of dark red cherries and berries with a hint of spice and a subtle floral scent. Delicious red plum and black cherry flavors expand in the mouth, showing a mild firmness, density and chewiness, yet still retaining a silky sensuality. A very polished wine that is beautifully crafted and approachable now although patience will bring even more rewards. Definitely worth the reserve designation and the best Olivet Lane Vineyard Estate bottling to date. Score: 92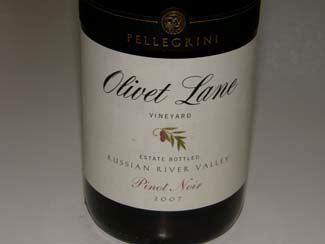 2007 Olivet Lane Vineyard Pellegrini Family Vineyards Russian River Valley Estate Pinot Noir
14.1% alc., pH 3.48, 2,600 cases, $35, now released. Aged 16 months in 33% new French oak, mainly Francois Freres and Rousseau. · Moderately deep reddish-purple robe. Intoxicating nose right out of the bottle showing off bright Bing cherry, a hint of strawberry jam on toast and the faintest oak. The enticing medium-bodied core of red fruits are touched with citric peel and sweet oak. The wine flows like silk over the palate, offering vim and vigor from the refreshing acidity. Soft tannins make for easy current drinkability, but this can age. Score: 90