Benovia Winery: Hidden Gem
Heading west on bumpy Piner Ranch Road in Santa Rosa, a driver must remain alert not to miss a turn off on Hartman Road, a single paved lane that travels through acres of vineyards. There is no indication that you are eventually going to dead end at Benovia Winery. Upon arrival, however, a new entrance signifies the recent emergence of Benovia Winery and you will be quickly enamored with the excellence of the wines. With only two vintages in release, Benovia is still a secret to many avid pinoaficionados.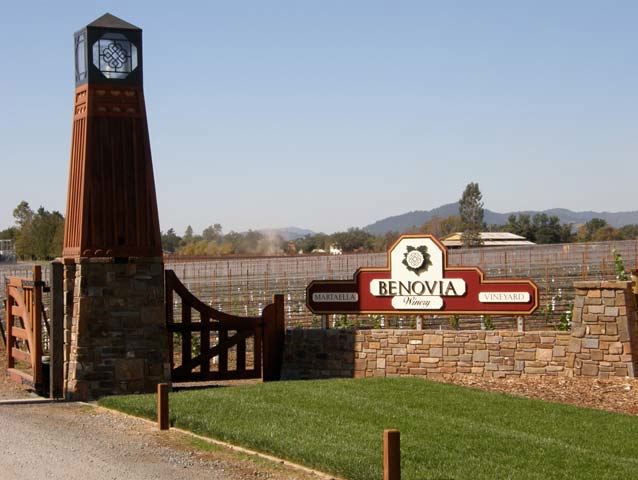 Benovia Winery is a well-funded venture spearheaded by a group of businesspersons headed by Joe Anderson, whose Arizona company, Schaller Anderson, Inc., is a successful third-party administrator for health insurance. Joe has a passion for fine wine and has committed significant resources to producing extraordinary wines. The winery manager is Bob Mosby, PhD, a psychologist and business consultant who formerly lived in Phoenix, Arizona. Bob is a long time wine enthusiast who first worked crush at Williams Selyem in 1989 and in later years at Brogan Cellars. The veteran winemaker is Michael Sullivan, a graduate of California State University of Fresno who previously gained a reputation for refined Pinot Noirs at the Hartford Family Winery in Forestville (Photo below shows Michael, the Benovia forklift butt, weighing incoming grapes at this year's harvest). The vineyards are managed by well-known viticulturist Daniel Roberts, PhD ("Dr. Dirt"), who is overseeing renovation of existing estate vineyard properties including the Martaella Vineyard adjacent the winery, and directing all new planting projects.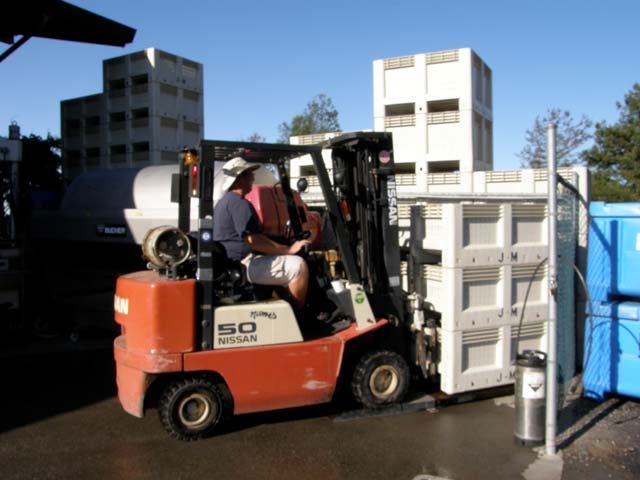 Benovia Winery is the owner of the Cohn Vineyard from which it produces a vineyard-designate Pinot Noir. The Cohn Vineyard was planted in 1975 to Martini 13 and Pommard clones and was in neglect when acquired in 2005. Extensive work has resurrected this heritage vineyard. Another vineyard-designate Pinot Noir is sourced from the Savoy Vineyard in Anderson Valley. The winery's Sonoma Coast blend is sourced from estate vineyards and family growers in the Russian River Valley and Sonoma Coast. The Bella Luna bottling represents a composite of all the sub-regions of the Russian River Valley (Green Valley, Middle Reach and Laguna de Santa Rosa). An estate property near Freestone is currently undergoing development.
In addition to Pinot Noir, Benovia Winery produces superb Chardonnay. Accounting for 25% of the winery's production, Benovia Chardonnays are sourced from cold, coastal sites in the Russian River Valley and Sonoma Coast. A Zinfandel from the Cohn Vineyard completes the portfolio. The wines are sold through a mailing list at www.benoviawinery.com. Tours and tasting are available by appointment (707-526-4441). Inquire about small quantities of remaining 2007 vintage wines. A fall winery Open house will be held at the winery on November 7 from 11:00 AM to 3:00 PM, and an Open House at the Phoenix, Arizona home of Joe Anderson and Mary Dewane will be held November 15.