Marsannay: Burg's Bargain Bin
I am a collector and regular drinker of red Burgundy but I review the wines infrequently. Premier Cru and Grand Cru wines are just too precious to simply open and taste so I drink them only in the context of a fine meal or with special friends. In addition, there are a number of reviewers more adept than I with a highly respected voice about Burgundy such as Allen Meadows of the Burghound.
In the last decade, and particularly since 2005, the price of fine Burgundy has skyrocketed. This trend has been fueled by a number of factors including the interest among deep-pocketed collectors in Burgundy (there are almost 400 billionaires in the United States), the extremely limited quantities of the top wines, the weak American dollar, and the names such as DRC, Dujac, Leroy and Rousseau taking on a luxury goods mantra. Red Burgundy has become the Cartier of the wine world and consumers have equated quality with desirability rather than the opposite. New York Wine importer, Neal Rosenthal, laments the current market for Burgundy. "The real tragedy of Burgundy was that a few prima donna domaines, most famously Romanee-Conti, had become so outlandishly expensive that the prices had become skewed. There was great irony there because in the past Burgundies were the best value wines on the market. They had more character, more integrity, and more flesh. There were $20 Burgs that iced everything else at the same price. They were the most underrated cheap wines on planet earth."
Burgundy is a vinous minefield with many wines simply not that great relative to price. The interested wine drinker must devote serious study to Burgundy, learning about vintages, producers, villages, and vineyards. The challenge then becomes locating the wine you want at a price you want to pay. The often-repeated joke applies here: "Fine Burgundy is wonderful if you can get someone else to pay for it." How can the ordinary wine drinker find pleasure in the daunting world of red Burgundy?
One approach is to look for the minor bottlings of the top wineries. Another tack is to seek out the best growers in the lesser known, less prestigious villages such as Marsannay-la-Côte. Marsannay crowns the Côte de Nuits, sitting above Gevrey Chambertain and just above Fixin, just south of Dijon. It has become known as the "Gateway to Burgundy." Marsannay constantly struggles against urbanization from the populace in Dijon. Signs proclaiming, "Trop c'est Trop!" meaning, "Too Much is Too Much!" can be seen dotting the village.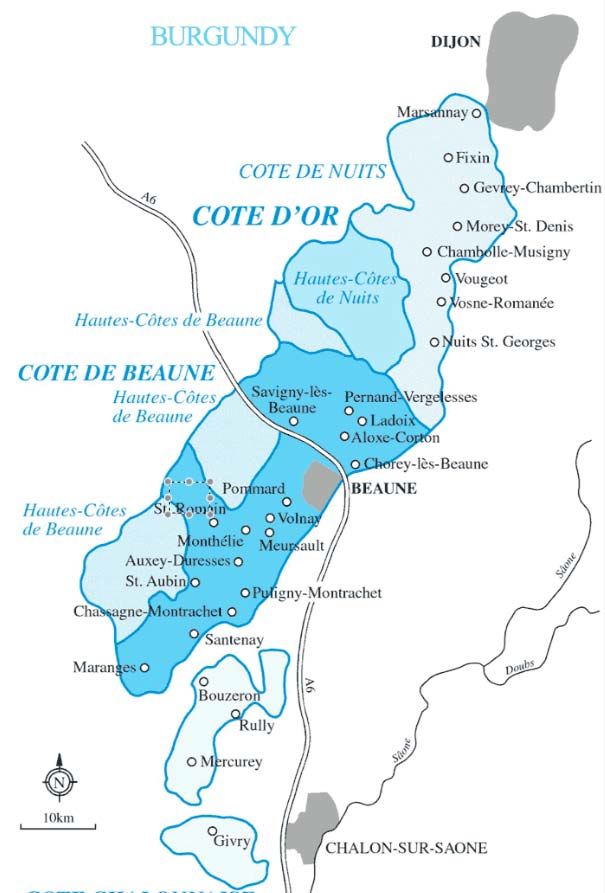 Once designated as Bourgogne, Marsannay was elevated in 1987 to its current village appellation contrôlée (AC) classification. It has struggled to escape its tawdry image dating to the first part of the nineteenth century when it supplied oceans of cheap Gamay Noir and rosé to the residents of nearby Dijon. Marsannay has 480 acres of vineyards, no premier crus, with several notable lieux-dits (named vineyards or climats) such as Les Champs-Perdix, Les Champs-Salomon, Le Clos de Jeu, Le Clos-du-Roi, Les Longeroies, Saint-Jacques, and Les Vaudenelles. There is a high percentage of old vines and many young, dedicated winegrowers, resulting in many quality value-priced wines. The terroir is not as highly regarded as say Gevrey Chambertain, but if you find a wine from a top grower in a good vintage, the result can be immensely satisfying.
The commune is entitled to produce Marsannay rouge, Marsannay blanc, which usually made in a lean, Chablis style, and Marsannay rosé from Pinot Noir. Although northern in location, Marsannay is a mediumbodied sinewy wine. It is not as gutsy as it's neighbor Fixin and does not display the finesse of Gevrey Chambertain. The wines are made for early enjoyment, although they can perform beautifully for at least five years after release.
Bruno Clair is the most well-known Marsannay producer, but Domaine Sylvain Pataille, established in 2001, has brought glitter to the village. Pataille was a vineyard consultant for Roumier and Groffier before settling in his hometown. He is fanatical about meticulous farming, committed to biodynamic farming and even planted one of his vineyards from seed instead of cuttings or clones. Unfortunately, the one bottle of 2005 Sylvian Pataille Marsannay Clos du Roy I purchased was badly corked and I could not review it.
I recently sampled a number of Marsannay wines from the outstanding 2005 and respectable 2006 and 2007 vintages. The wines of Bruno Clair clearly stood above the crowd. The lineup of wines was solid, although not exceptional, but delivered the Burgundy experience at an affordable price. The 2005 vintage wines were clearly superior. In some cases, the Marsannay wines offered more interest and personality that many California Pinot Noirs in the same $20 to $25 price range. However, some wines had foreboding tannins and acidity which needed food to mitigate. The wines do not provide the mid-palate fruit intensity and persistence on the finish of higher cru Burgundy wines. All things considered, the wines deserve a look if you are seeking Burgundy at a sensible price. The name, Marsannay, is easy to pronounce, the wines are widely available, and the tariff is easy to swallow. Prices range from $15 to $58 (for Denis Mortet Marsannay Les Longeroies).
Other producers of Marsannay worth seeking out include Domaine Roty, Fougeray de Beauclair, Domaine Phillipe Charlopin-Parizot, Denis Mortet, and Charles Audoin.