Pinot Briefs —Newsletter 8.11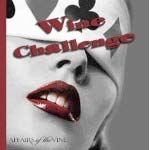 Challenge Me at Pinot Summit I was one of the judges for the 8th Annual Pinot Noir Summit. Pit your palate against mine and let me know what you think. On February 27, 2010, the Pinot Noir Summit returns to the Bay Area. You be the judge. Blind taste and review 40 top-rated Pinot Noirs from around the globe and compare your results with the judging panel which considered the final 40 wines as the best out of more than 250 entered. Enjoy Pinot Noir workshops, meet and taste top Pinot Noir winegrowers, winery owners and winemakers. Find out at the Shootout Ceremony which wines finished at the top. Only 250 tickets available. 12:00 PM to 8:30 PM, Osher Marin Jewish Community Center, 200 N. San Pedro Road, San Rafael, CA 94903. Attend the entire Summit for $100 including blind judging, workshops and reception (visit http://affairsofthevine.com/store/item.asp?itemid=122 for the judges discount offer), or the evening reception and awards ceremony for $60 (visit http://affairsofthevine.com/store/item.asp?itemid=123 for the judges discount offer).
Haiti Fundraiser Mark Pasternak, winegrower, rancher, artisan food supplier to restaurants, and owner of Devil's Gulch Ranch in Marin County, was in Haiti with his family when the recent earthquake struck. They stayed to help out for a couple of weeks. Mark is actively raising funds to assist the unfortunate in Haiti. A special dinner was already held at Cavallo Point that raised over $15,000, with Schramsberg, Kendric Vineyards, Stubbs Vineyards and Dutton-Goldfield donating the wines. More dinner fundraisers are planned including an event at Flour and Water in San Francisco February 21 (http://flourandwater.com/haiti-benefit-dinner/). Other tentative dates are March 15 or 16 at La Folie in San Francisco and March 7 at Perbacco in San Francisco. Mark plans to auction a dinner for 12 at Devil's Gulch Ranch cooked by the chef from each restaurant that will include older vintages of rare Marin County wines pulled out of the collective cellars of Mark and his winemaker friends. Every penny raised goes 100% directly to Haiti with no administrative fees. The Devil's Gulch website (www.devilsgulchranch.com) has further information and photos and videos taken by Mark's family in Haiti. Mark is a true humanitarian and I urge you to support his fund raising efforts.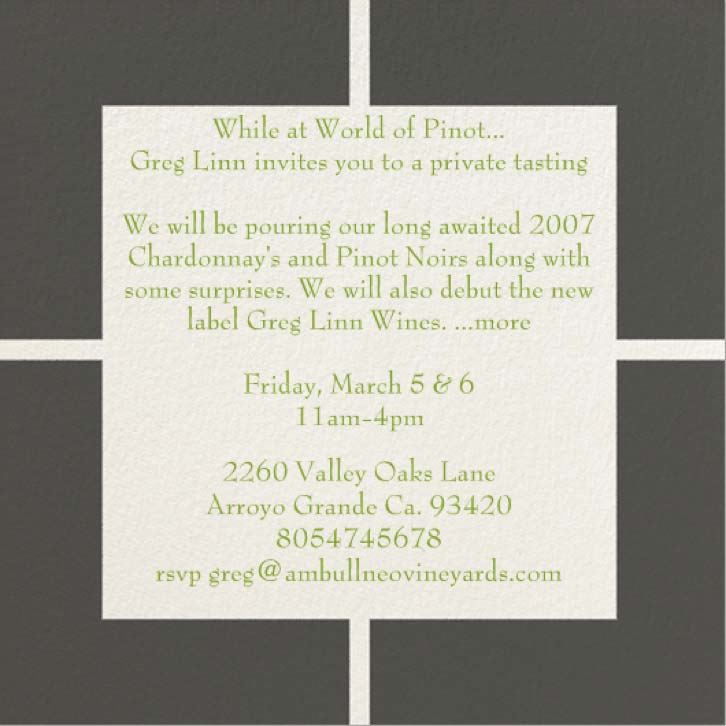 Greg Linn of Ambullneo Announces Private Tasting and Debut of Greg Linn Wines Directions from the South: 101 North exit Los Berros/Thompson Rd and turn left. Go 3.0 to 3.5 miles to El Campo Rd and turn left. Go 1.5 miles to stop sign at Halcyon Rd and turn left. Make first left on Aloma Way, then first left again to arrive at 2260 Valley Oaks Lane. Directions from the North: 101 south exit at El Camp Rd - it's an unconventional exit that turns off 101 like a normal street with no ramp. As a reference, look for Grand Ave, then start looking for El Campo. Turn right only, and in about 1 mile arrive at a stop sign at Los Berros and turn left, then first right back on to El Campo, then follow directions as above. No charge. Greg's website is www.ambullneovineyards.com.
BACtrack® Intoduces BACtrack SingleShot™ A single-use disposable breath alcohol tester that is over 99% accurate. Easily fits into a pocket or purse and provides rapid results. A 10-pack is $34.99. This is a small price to pay for peace of mind when concerned about a very expensive DUI. By the way, you can't trick a breathalyzer test by eating strong foods like onions, coffee grounds or breath mints. Mouth wash can slightly mask the smell of alcohol on your breath, but it won't lower a breathalyzer reading. Also, mouthwash contains a small amount of alcohol and could potentially increase the reading. Placing pennies or a battery in your mouth is ineffective as well. The only way to decrease a BAC reading is to play it safe and don't drink and drive. For more information and to order visit www.breathalyzer.com.
Around the World in 80 Sips™ Bottlenotes (www.bottlenotes.com) is hosting a special wine tasting at Crushpad, San Francisco's unique "urban winery" on Thursday, February 25, from 6:00 to 8:00 PM. Tickets are $60 in advance. Wineries include PAX Wine Cellars, Picket Fence Vineyards, Rodney Strong, Scholium Project, Stryker Sonoma, Waipara Springs and more.
Grand Coeur/Big Heart Decanter In time for Valentine's Day but useful any time is this heart shaped decanter from Etienne Meneau sculptures, makers of limited-edition wine decanters. Only 8 numbered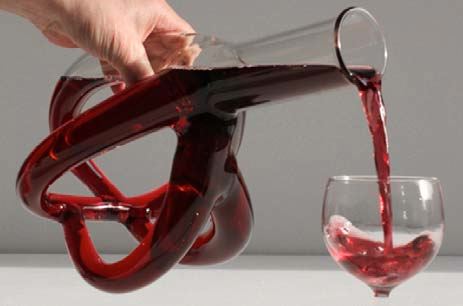 decanters produced (2,500 euros plus shipping). Visit http://grandcoeurbigheart.blogspot.com. Find other unique decanter designs at www.riedel.com ("Eve" decanter), www.clowines.com ("Morte" decanter produced in Oregon with a skull in bottom), and www.unicahome.com ("Sfera" decanter by Italian company Ichendorf).
Winesandtimes.com Plan your winery tour, find winery events, winery hours with interactive Google maps to get directions to over 3,200 vineyards and wineries.
Do It Yourself Tasting Notes Generator Wine retailers are quoting anyone who has a positive opinion of a wine. Forget that it takes plenty of skill backed by knowledge to write useful tasting notes. Any wine blogger can become a self-professed expert by using various programs such as the Silly Tasting Notes Generator at www.gmon.com.
Winehotelscollection.com A worldwide directory of unique wine hotels and resorts including golf courses surrounded by vineyards. The focus is on destinations in South America and Europe.
California has 2nd-largest Grape Crop Ever in 2009 The harvest was bigger than anticipated in California leading to the second-largest crop in California history. Wineries crushed 3.7 million tons of grapes in 2009 according to the annual report by the California Department of Food and Agriculture and the United States Department of Agriculture, close to the record 2005 harvest. Chardonnay and Pinot Gris had the largest percentage crop increase compared with 2008. The expectation is that the generous harvest will lead to more wine availability and lower prices for all types of California wine. This is not good news for premium and ultra-premium Pinot Noir producers who are already struggling with sales.
Current Winery and Label Numbers According to Wine Business Monthly (February 2010), there are 6,014 wine brands in the United States, an increase of 498 brands during 2009. E.&J. Gallo Winery, the largest producer in the United States with an estimated sales volume of 78 million cases, markets 60 brands. There are now 6,223 wineries in the United States with California leading the pack with 3,047 (bonded and virtual), Washington second with 564, and Oregon third with 453.
Variety or Varietal? The words variety and varietal are often misused and interchanged with impunity. Each word, however, has a clear meaning. A grape variety is a noun, such as Pinot Noir. A grape varietal is an adjective that would be used, for example, to say a wine is varietally correct. Confusingly, varietal is also proper when referring to a wine made from a single variety. When talking about plantings in a vineyard, the word variety should be used, as in, "Pinot Noir is the variety most planted in that vineyard." When discussing the different wines produced by a winery, they should be referred to as different varietals, as in, "That winery produces an impressive lineup of varietal wines."
Bogus Pinot Noir If you drank some Red Bicyclette brand of Pinot Noir and didn't think it was varietally correct, you were right. Executives from two wineries and five cooperatives in the Languedoc, as well as the negociant Ducasse and conglomerate Sieur d'Arques, have been charged by the French government of selling millions of euros worth of fake vin de Pays d'Oc Pinot Noir to E.&J Gallo Winery for its Red Bicyclette brand. The accused have admitted doctoring the Pinot Noir with significant amounts of cheaper Merlot and Syrah. Read more at www.decanter.com/news/294567.html. I have always felt this was common practice in Pinot Noirs from the Languedoc based on the flavor profiles of a number of these wines.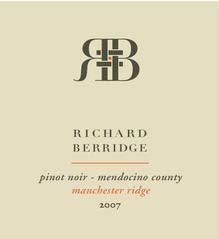 Berridge Wine Company Inaugural Releases Richard Berridge ultra-premium 2007 Pinot Noirs have been released along with a launch of the winery's new website (www.berridgewines.com). 9 cases of the van der Kamp Sonoma Mountain Pinot Noir ($100) and 24 cases of the Manchester Ridge Pinot Noir ($100) remain. These wines were first poured to the public at last year's World of Pinot Noir and generated some buzz. The wines are crafted by noted vineyardist and winemaker Virginia Lambrix. Owner Richard Berridge also produces Pinot Noir in Central Otago under the Drystone label.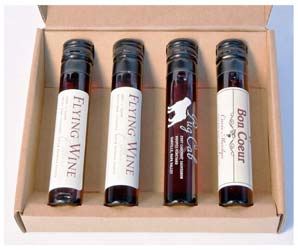 WineSide's Trial-sized Tubes San-Francisco-based Brixr recently launched a set of tasting packs specifically for sampling. Brixr offers a Pinot Noir Tasting Pack including samples of three wines from the Santa Lucia Highlands and one from the Sonoma Coast. Along with the four samples, recipients of the pack get a coupon for two full-sized bottles of their favorite sampled wines, shipped directly to their door at no charge. The idea is to try before you buy. The idea was hatched at Crushpad for their own customers with many other wineries expressing interest. Visit www.brixr.com.
Sales of Privately Owned Wineries Continue In early 2009, Kosta Browne sold a controlling interest to investment firm Vincraft, and later in 2009, Napa-based Cliff Lede purchased Breggo Cellars in Anderson Valley. Copain co-founders Kevin McQuown and Wells Guthrie have added a new investment partner at their winery and separate custom-crush facility in Santa Rosa, California. Guthrie has sold his interest in the crush company but will stay on at Copain as winemaker. More than 30 producers, including Eric Kent and Donum, use the Copain Custom Crush facility. Guthrie hopes to recapitalize the winery through the sale and purchase new vineyards. Copain currently owns a 20-acre vineyard in Anderson Valley, but buys the majority of its grapes from regions throughout the state.
Pinot Noir Shows Up in Central Oregon Doug Maragas is somewhat of a maverick winegrower who established Maragas Winery in 1999 in the high desert of Central Oregon between Madras and Richmond. According to Wines & Vines (January 12, 2010), Maragas began planting grapes on a 40-acre property in 2006. He has planted a few acres to many different varieties and clones including Pinot Noir. None of these varieties have been tested in this area before. Stay tuned.