Anderson Noir Valley Pinot Festival: After the Smoke Clears
Mendocino County's Anderson Valley achieved validation as a premium grape-growing region in the early 1980s when Roederer Estate established extensive plantings and made stellar sparkling wines. In more recent years, the region has placed an emphasis on cultivating Pinot Noir clones appropriate for still wine. Coupled with the widespread adoption of modern winemaking and viticulture practices, Anderson Valley producers are now crafting highly regarded, world class Pinot Noirs. Many align the region's style closely with Oregon's Willamette Valley, leading to the offhanded title given to Anderson Valley of "Baja Oregon."
The 2007 class of Anderson Valley Pinot Noirs can hold their own with any appellation in California, but the 2008 vintage presented a significant setback. The small number of wineries and the anti development attitude that pervades the Anderson Valley has caused a lag in recognition, but the 2008 vintage was a cruel slap in the face that further threatened the region's reputation.
As reported by Thomas Ulrich in Wines & Vines (January 1, 2009), there were more than 800 lightning-caused fires in Mendocino County beginning the first day of summer in 2008. The timing could not have been worse, for this catastrophe was shortly after veraison, making the grape vines particularly susceptible to smoke taint. Compounding the smoke taint problem, winter frosts between February and April followed by spring and summer heat waves stressed the vines and limited yields. Drought challenged those vineyards that normally require irrigation and early rains threatened harvest as well.
Anderson Valley is classified as a Region I viticulture area in the lower or more northerly part of the valley, and Region II in the upper valley around Boonville. As a very cool winegrowing region, Anderson Valley is susceptible to spring frosts but the two weeks of daily frosts in April 2008 hit especially hard. Many veteran winegrowers said that it was the worst series of frost since the early 1970s. Pinot Noir, which is an early budding variety, is especially vulnerable to frost. Some vineyards in the Anderson Valley lost 80 percent or more of bud growth. The searing heat wave that followed in May further stressed the Pinot Noir vines which prefer gradual changes in temperature. Both frost and extreme heat kill the flowers on the young shoots that must be pollinated to develop into grapes.
As if the challenges of dealing with frost and heat were not enough, the wildfires compounded the vintage nightmares. The Australians have done the most research about the effect if smoke in vineyards, and several facts have emerge from their findings which were confirmed by the experience of vintners during the 2008 vintage in Anderson Valley. Grapevines absorb volatile phenolic compounds such as guaiacol and 4-methylguaiacol through the leaves, store the compounds in the stems and leaves, and transport the compounds to the skin of grapes (there are no smoke compounds contained within the pulp of the grape). The vulnerability of grapevines to smoke taint is highest in the period from seven days after veraison to harvest. Repeat exposure to smoke during the growing season has a cumulative effect. Smoke taint in wine creates aromas and flavors that are described as gamy, spicy, smoky, smoked meat, burnt, charred, ash, dirty, cigar box, charcoal, bacon, truffle, coffee, barbecue, campfire, medicinal, woody and burnt rubber. Increased ethanol concentrations have been observed as well. Fermentation and aging of wine can increase the concentration of smoke taint compounds in wine and longer macerations increase smoke taint. Small amounts of smoke taint are tolerable (toasted barrels often add a subtle smoke aroma and flavor to Pinot Noir), and are similar to the effects of oak aging, and present no threat to health. There appears to be no carryover effect on the grapes from vines exposed to heavy smoke from the previous year, boding well for the 2009 vintage, but growth and yields of vines decreases in the year following heavy exposure to smoke. Pinot Noir is more susceptible to smoke taint than Chardonnay or Syrah. Fining and filtration may reduce smoke taint, but taint compounds persist and the process of fining and filtration may strip wine of desirable aromatic and flavor characters. The biggest concern of winemakers is that wines may seem fine when bottled, but can develop more noticeable smoke taint features as the wine ages.
I attended the recent Anderson Valley Pinot Noir Festival with some trepidation, knowing that the 2008 vintage wines were significantly affected by smoke taint. This year marked the 13th Annual Festival, held on a comfortably sunny weekend, May 14-16, 2010. The event began informally 17 years ago with winery open houses, but was formalized into a festival in 1997. The Anderson Valley Pinot Noir Festival has increased in popularity in conjunction with the meteoric rise in quality of Anderson Valley Pinot Noir. This year's celebration was sold out with over 650 people in attendance and 40 wineries pouring their wines. This event is sponsored by the Anderson Valley Winegrowers Association and is one of my favorite annual Pinot Noir festivals. I am easily seduced by the casual country fair atmosphere, the delectable local artisan foods, the warmth and passion of the local winegrowers and winemakers, the enthusiastic organizers, and the superb Anderson Valley Pinot Noirs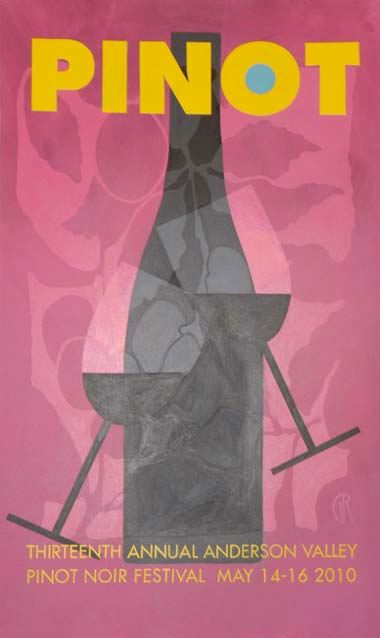 From an economic standpoint, the 2008 vintage was a disaster for Anderson Valley wineries. Over half of the grapes grown in the valley are Pinot Noir and this finicky grape was particularly affected by the calamities of the vintage. Anderson Valley wineries had three choices in 2008 in dealing with grapes exposed to wildfire smoke. Some chose to release no Pinot Noirs or to declassify the wine and sell it off in bulk. Producers such as Copain (bottled no 2008 Anderson Valley Pinot Noirs), Londer (declassified 80% of production), and Littorai followed this tack (Ted Lemon chose to incorporate his Anderson Valley grapes in a rosé and in a Les Larmes cuvée that was vinified in a simple fashion to provide early drinkability and priced significantly less than the usual Littorai bottlings). Others employed various smoke taint reduction techniques such as carbon or resin filtration and reverse osmosis both of which tend to reduce the smoke taint but can strip the wine of its character. There is no current technology that can completely remove smoke taint. Producers who chose this tack included Breggo and Elke. Still others, such as Anthill Farms and LIOCO, who combined their vineyards into an Anderson Valley bottling, and Black Kite, simply crafted the wine in the usual manner, attempting to minimize skin contact, and acknowledging that the smoke influence was part of the vintage terroir. Phillips Hill flaunted this tack with its "Ring of Fire" bottling which boldly celebrated the smokiness of the Pinot Noir.
Over the course of the event, I tasted over fifteen 2008 Anderson Valley Pinot Noirs from various producers and found them all unsatisfactory either due to smoke taint (untreated wines) or lacking in character ("stripped" is the commonly used term) due to various smoke reduction treatments. My recommendation would be to cautiously approach the 2008 Anderson Valley Pinot Noirs and taste before you buy. The wines may appeal to those of you who find a smoky quality to your liking. Some producers have reduced prices to make the 2008 wines more enticing. Several have yet to be released. Remember, many of the 2007 Pinot Noirs are still in the marketplace and are marvelous, and the 2009 vintage had an uncomplicated growing season resulting in a stellar vintage. The winemaking is quite accomplished now in the Anderson Valley but it is the soils and climate, the terroir if you will, that is so impressive here. As Dirk van der Niepoort said recently, "While 'good' wines are 50% terroir and 50% winemaking, 'great' wines owe far more to terroir."
Today, there are at least 25 wineries and more than 60 vineyards in the Anderson Valley. Some of the vineyard names have become household words to pinotphiles: Cerise, Demuth, Donnelly Creek, Ferrington, Hacienda Secoya, Hein Family, Klindt, Morning Dew Ranch, Savoy, Toulouse and Wiley. The major wineries include Claudia Springs Winery, Elke Vineyards, Goldeneye Winery, Handley Cellars, Husch Vineyards, Lazy Creek Vineyards, Londer Vineyards, Roederer Estate, Black Kite Cellars, Brutocao Cellars, Esterlina Vineyards, Foursight Wines, Greenwood Ridge Vineyards, Harmonique, Jim Ball Vineyards, Navarro Vineyards, Philo Ridge Vineyards, Raye's Hill Vineyards & Winery, Scharffenberger Cellars, Standish Wine Co., Toulouse Vineyards, and Zina Hyde Cunningham. Baxter Winery, Drew Wines and Phillips Hill Estates are located above the valley floor in Elk but considered part of the Anderson Valley winery lineup (refer to map below). Over 30 major California Pinot Noir producers outside the Anderson Valley access grapes from the Anderson Valley and nearby Mendocino Ridge AVA including Anthill Farms, Arista Winery, Adrian Fog, Barnett, Benovia, Brogan Cellars, Cakebread Cellars, Chronicle Wines, Copain Wines, Couloir Wines, Dain Wines, Expression 39, Ferrai-Carano Vineyards & Winery, Fulcrum Wines, Gryphon Wines, Hartford Family Wines, Harrington, Ici/ La-Bas, La Crema Winery, LIOCO, Littorai, MacPhail Family Wines, Radio-Coteau, Rhys, Roessler Cellars, Russian River Valley Wines, Saintsbury, Skewis, Tandem, Twomey, Waits-Mast Family Cellars, Whitcraft, Wiliams-Selyem and Woodenhead. Most Anderson Valley vineyards are less than 10 acres in size, with three large growers, Roederer Estate, Goldeneye, and Navarro, controlling most of the total acreage.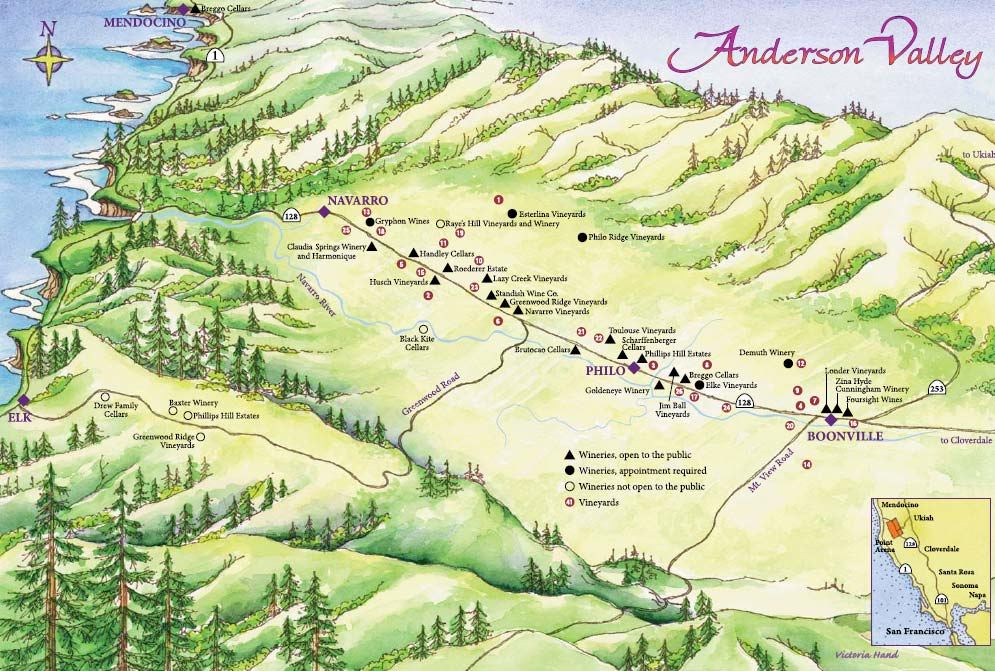 Before the Grand Tasting held on the grounds of the Goldeneye Estate, a private tasting was held for members of the press at the newly opened winery adjacent Gowan Creek Vineyard. I tasted all 33 wines submitted by the wineries, several of which were from the 2006 and 2007 vintages which I have reviewed previously. For contact or wine purchase information for each of the wineries, visit the Winery Directory on my website at www.princeofpinot.com or the Anderson Valley Winegrowers website at www.avwines.com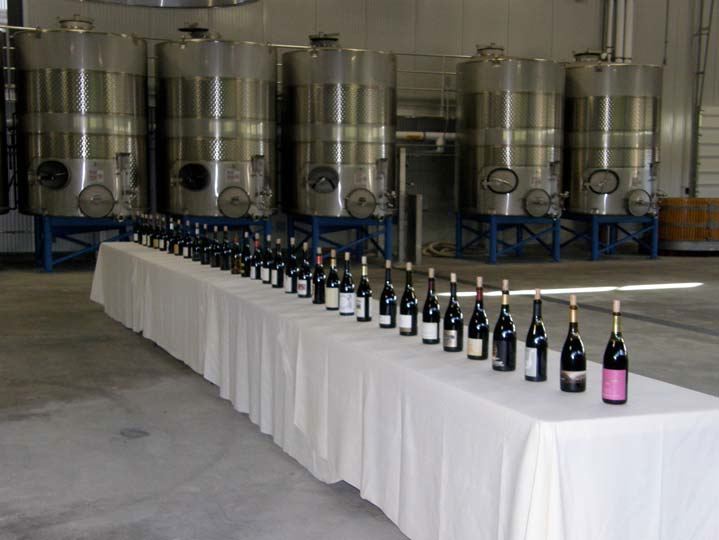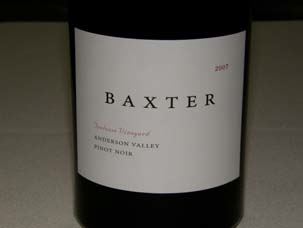 2007 Baxter Winery Toulouse Vineyard Anderson Valley Pinot Noir
14.2% alc., pH 3.67, 250 cases, $45. Released in the fall of 2009. This vineyard is located near Philo and was planted in 1998. Clones 115, 667 and 2A. Aged in neutral oak. · Moderately light reddish-purple color in the glass. Nicely outfitted nose featuring scents or red fruits including strawberries and cherries, rose petals and a hint of spice. Tasty core of delicately spiced redder fruits with a touch of underlying wet leaves and underbrush. Light in weight with bright acidity that lifts the vibrancy of the fruit. Very good.
2008 Black Kite Stony Terrace Block Anderson Valley Pinot Noir
14.8% alc., pH 3.60, 148 cases, $52. Released in the spring of 2010. Aged 11 months in oak. Winemaker Jeff Gaffner. · Moderately deep reddish-purple color in the glass. Aromas of black cherries, smoke and ash. Very pretty black raspberry and cherry fruit overshadowed by ash. Discreetly rich with fine grain tannins and a hint of heat on the finish. Some may find this wine to their liking if they prefer heavily toasted oak. Decent but hard to tout at this price.
Note: I tasted the two other Pinot Noir releases from Black Kite at the Festival Grand Tasting, 'Kite's Rest' and 'Redwood Edge Block' (there was no Rivers Turn Block bottling in 2008 because this part of the vineyard was lost to frost in 2008) and re-tasted the Kite's Rest and Stony Terrace Block at home in my usual fashion. In each case, the wines were found to have a prominent and unpleasant ash character. These wines are for purists looking for wines reflecting the challenges of the vintage. Black Kite produced outstanding Pinot Noirs in the 2006 and 2007 vintages, and the 2009 vintage is reputably spectacular, so pinotphiles should not be dissuaded by the smoke tainted 2008 vintage in pursuing future vintages. Winemaker Jeff Gaffney told me that the Black Kite wines in 2008 may have acquired their character more as the result of the frost impacting the grapes than the smoke affects on the grapes.

Note: I tasted the 2008 Mary Elke Donnelly Creek Vineyard Anderson Valley Pinot Noir ($26) casually at the event. Mary told me the wine was treated with reverse osmosis to remove smoke taint. The process seemed quite successful for this wine was very pleasant with an easy drinking dose of cherry and cranberry flavors. Not an epiphany, but a well-priced daily drinker.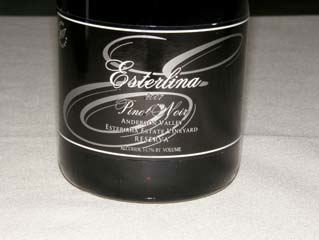 2007 Esterlina Vineyards Estate Anderson Valley Pinot Noir
14.2% alc., pH 3.56, 611 cases, $45. Released in spring 2009. Aged 15 months in 40% new French oak barrels. · This beauty keeps opening and opening in the glass revealing a nuanced perfume of ripe strawberries, black raspberries, spice box and the faintest oak. Very tasty berry jam core veering to the red spectrum that drifts away on the finish with a whisper of persistent pheromone-inspired perfume. This wine could launch a very intimate evening among amorous adults.
2007 Expression 39 Annahala Vineyard Anderson Valley Pinot Noir
14.3% alc., 400 cases, $48. Released in the fall 2009. This vineyard is located halfway between the towns of Boonville and Philo. Aged in 33% new French oak barrels. · Moderate reddish-purple color in the glass. Appealing aromas of black cherries, plums and Moroccan spices. Ripely flavored plums and black currents with a hint of raisin and anise. Mediumbodied with supple tannins and a dry finish. Good.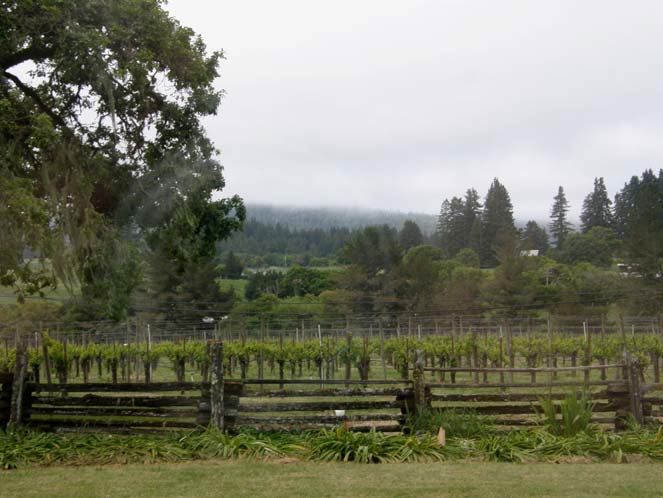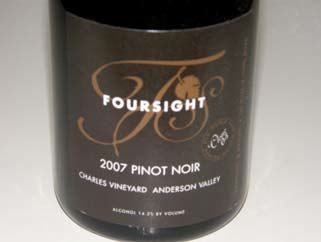 2007 Foursight Wines Clone 5 Charles Vineyard Anderson Valley Pinot Noir
14.2% alc., 97 cases, $49. Aged in 50% new French oak. Unfined and unfiltered. · Moderate reddish-purple robe. Really great perfume of fresh cherry pie and baking spices which intensifies with swirling. Juicy core of plentiful cherry and raspberry fruit and a smoothly textured platform. The finish is outrageously persistent. The whole package and plenty of swagga to boot.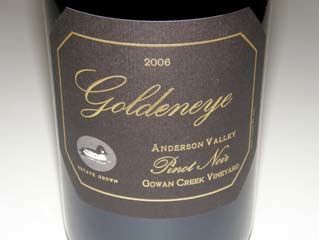 2007 Goldeneye Winery Gowan Creek Vineyard Anderson Valley Pinot Noir
14.5% alc., pH 3.66, 990, $55. Released March 2010. Planted to 8 clones of Pinot Noir tailored to specific sites and soils in the vineyard which is located on Highway 128 in the heart of the Anderson Valley. Aged 16 months in 97% new and 3% second vintage French oak barrels. · Deeply colored in the glass. Restrained aromas of dark cherries, berries and toasted oak lead to a plethora of fresh berry fruit offered in a hedonistic style that saturates the palate. A very tasty sipping wine that leaves a lasting impression of fruit on the lengthy finish. The high percentage of new oak is nicely integrated. Goldeneye Pinot Noirs are intended to make a statement and this one definitely accomplishes the goal. Very good.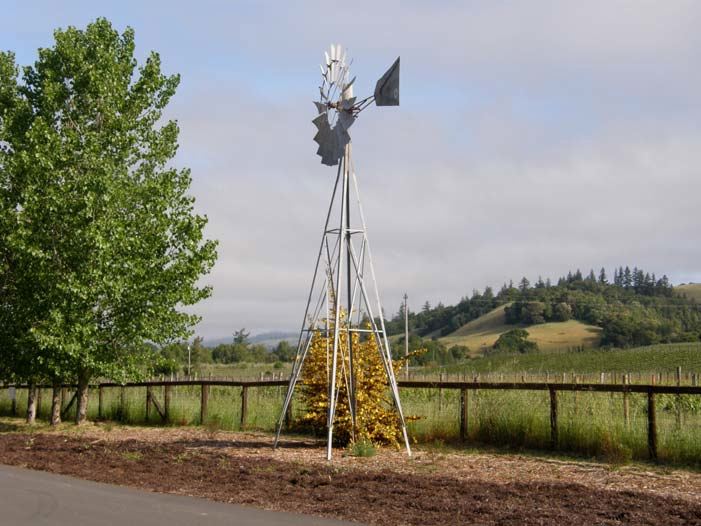 Note: At home, I tasted two other Husch Pinot Noirs from the 2007 vintage which are reviewed below.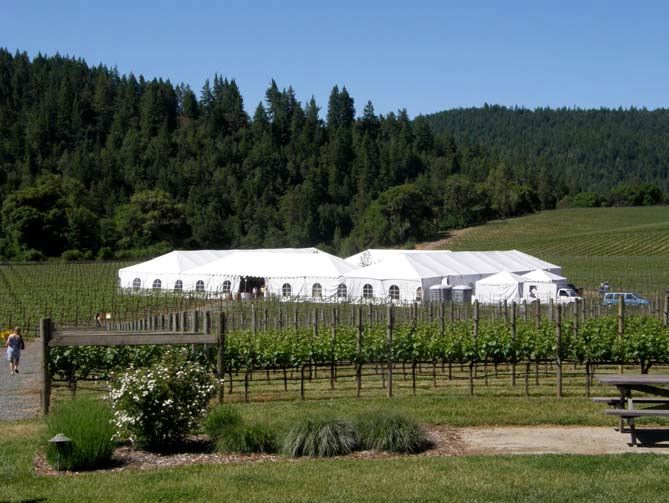 2008 Phillips Hill Estates Ring of Fire Anderson Valley Pinot Noir
14.2% alc., 150 cases, $38. Released in the spring of 2010. Sourced from Corby and Toulouse vineyards. Clones 115, 667, 777, 2A and Pommard. Aged 11 months in 40% new French oak barrels. Egg white fined and unfiltered. · Light in color and fruit intensity with a smoky personality. Notes of cherries, forest floor and cigar ash. A barely serviceable wine. Unsatisfactory.
Note: I also tasted the 2008 Phillips Hill Estates Beeson Tree Vineyard Anderson Valley Pinot Noir at the event, and this wine was noticeably infused with a smoke and ash character.
There have been a number of tasting room openings in the Anderson Valley in the last two years. The following tasting rooms are now open (check website for hours): Breggo Cellars, Brutocoa Cellars, Claudia Springs Winery & Harmonique, Demuth Winery, Foursight Wines, Goldeneye Winery, Greenwood Ridge Vineyards, Handley Cellars, Husch Vineyards, Jim Ball Vineyards, Lazy Creek Vineyards, Londer Vineyards, Navarro Vineyards, Phillips Hill Estates, Roederer Estate, Scharffenberger Cellars, Standish Wine Co., Toulouse Vineyards and Zina Hyde Cunningham. All the tasting rooms are dotted along Highway 128 and within a 20 minute drive of each other. Elke Vineyards, Esterlina Vineyards, Philo Ridge Vineyards, and Raye's Hill Vineyards & Winery are open by appointment. If you plan to visit, check my Travel Directory at www.princeofpinot.com for lodging recommendations.