Pinot Briefs —Newsletter 8.16
Santa Barbara Futures The Wine House in Los Angeles has partnered with The Winehound to take over pre-arrival futures sales of Santa Barbara County wines (previously run by Doug Margerum). A large tasting was held in both Los Angeles and Santa Barbara recently so this information is a little stale. The online sale of small production lots, allocated selections and winery only cuvées from 54 wineries ends June 11, 2010. Join the offering list for next year by calling the Wine House at 310-479-3731 or e-mailing wine@winehouse.com.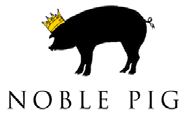 Noble Pig A very cool food blog run by Noble Pig Vineyard & Wines in McMinnville, Oregon. The blog has a good dose of humor ("Gluttony is my sin of choice."), food photography that will make you drool, useful information about wine (latest post is on cooking with alcohol), and a plenitude of very good ideas for entertaining. Check it out at www.noblepig.com.
IPNC Northwest Salmon Bake at White House Picnic Long time guest chef and board member of Oregon's International Pinot Noir Celebration (IPNC), Jason Stoller Smith, was invited to recreate the Pacific Northwest Salmon Bake on the White House lawn on June 6. The Northwest Salmon Bake is a long-standing tradition of the IPNC, based on a Native American practice of roasting wild salmon on alder stakes over a large fire pit. The IPNC Salmon Bake will take place on Saturday, July 24, 2010, as a part of the 24th Annual IPNC in McMinnville, Oregon. A limited number of tickets are sold for the IPNC Salmon Bake only, but the dinner is included in the Full Weekend Tickets. Visit www.ipnc.org for information and tickets.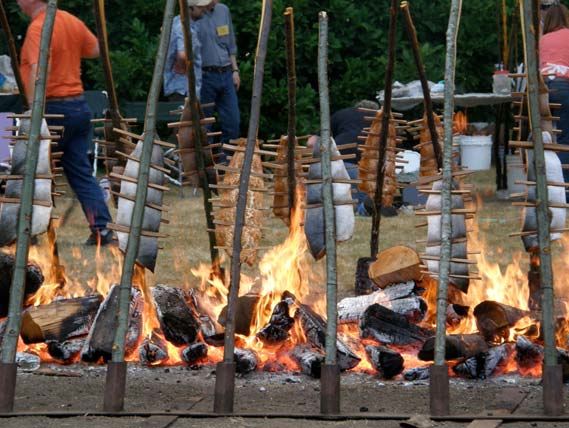 English/Spanish Dictionary for Wine Industry Josefina Adriance, M.A., has published an English/ Spanish dictionary aimed at employees of the wine industry. The wine business has a vocabulary all its own and those who need to translate between Spanish and English may find it challenging to find the right word for "malolactic fermentation," or "punching the cap." Adriance is a native Spanish teacher who lives in the Napa Valley. She is the author of Spanish for the Wine Industry, a textbook she uses in business classes she teaches. The new dictionary provides more than 6,000 words including translations for glassy-winged sharpshooter (chicharrita de alas cristalinas), pump over (remontar), and sulfur dioxide (bioxido de azufre). The English/Spanish Dictionary for the Wine Industry is available for $18 through Adriance's Napa-based company, Spanish for Business, P.O. Box 502, Napa, CA 94559. Phone 707-257-1809, visit www.SpanishforWine.com, or e-mail Spanish4Business@aol.com.
China to Import Oregon Wine According to the Portland Business Journal (May 24, 2010), Oregon officials have signed an agreement with the Hong Kong Commerce and Economic Development Bureau to promote Oregon wine sales in China. Washington also signed the agreement. Hong Kong stopped import taxes on wine in 2008 and has arrangements in place with mainland China to import wine there.
QR Technology Now Appearing on Wine Labels QR (quick response) technology label-based two dimensional bar codes can be captured with a mobile phone and take the consumer directly to the winery's website. This tool has been in widespread use in Asia since the mid 1990s on music products. The codes provide a way to connect the offline and online worlds and give wineries the opportunity to offer consumers the latest information about their wines and winery without having to update back labels. The code can also be linked to other content such as tasting notes and videos. New Zealand's new label, Insight, from Marlborough, uses the technology. Portuguese wineries have also adopted the QR bar codes. Several articles have been published on this technology including www.seriousaboutwine.co.za.
Amisfield Pinot Noir The 2008 vintage of Amisfield Central Otago Pinot Noir won a Gold Medal at the International Wine Challenge at the London International Wine Fair, and received the highest points (93) ever awarded a Central Otago Pinot Noir by the Wine Spectator. Visit www.amisfield.co.nz.
Healdsburg This Summer Hotel Healdsburg is offering Summer Packages that include guided vineyard walking tours in the Dry Creek Valley, kayaking or canoeing down the Russian River, sip and cycle bicycle touring, and rides through the vineyards, mountains and valleys by Vespa on a guided tour. The hotel's restaurant, Dry Creek Kitchen, hosts the Sonoma County Wine Pioneers Series on Saturday afternoons where different winemakers host interactive seminars and tastings. Featured winemakers include Eric Sussman of Radio-Coteau, James Hall of Patz & Hall Winery, Fred Scherrer of Scherrer Winery, George Bursick of J Vineyards & Winery, and Bob Iantosca of Gloria Ferrer. The nearby Relish Culinary School offers hands on and demonstration classes highlighting the best of summer ingredients. The 11th Annual Healdsburg Jazz Festival is June 4-13, 2010. Visit www.hotelhealdsburg.com.
iPhone Apps for Wine Tasting TastingRoom Finder was developed by World of Wine Events. The guide allows wine visitors to find tasting rooms, obtain directions to each tasting room, and use direct dial phone numbers for information. Available at the App Store for $4.99. My Wine Trail Guide offers accurate GPS location of more than 3,700 tasting rooms in the United States with comprehensive tasting room information. Available at the App Store for $2.99.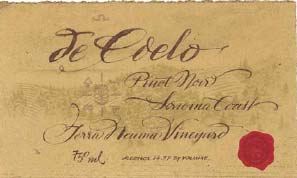 Benziger Family Winery Promotion Winemaker Rodrigo Soto has been promoted to Vice President of Winemaking including management of the certified organic and biodynamic Signaterra and de Coelo labels. I recently spent an afternoon with Soto, who has been at Benziger since 2006, as we walked the winery's Sonoma Coast vineyard and tasted a number of the latest wines. Look for my report in an upcoming issue.
Wally's Central Coast Wine & Food Celebration For Pinot lovers who live in Southern California, this event is a highlight of the summer season. Taste nearly 150 of the Central Coast's finest wines and savor signature dishes from renowned Los Angeles restaurants including Comme Ca, Lucques, A.O.C., Spago Beverly Hills, CUT, Osteria & Pizzeria Mozza, The Hungry Cat, and Jar as well as Central Coast favorites The Hitching Post, The Ballard Inn Restaurant and Brothers' Restaurant at Mattei's Tavern. A silent auction includes special winemaker-led tours, tastings, lunches and dinners. Live music by the Gary Burk Blues Band. All profits go to The Michael Bonaccorsi Scholarship Fund at the University of California at Davis Department of Enology. Over $300,000 has been raised to date for this Fund, most of it from this event now in its seventh year. For tickets, visit www.wallywine.com or phone 310-475-0606.
Perfect Pairings for Pinot You May Not Have Thought Of California Pinot Noir and Doritos. Rosé Champagne with wasabi peanuts. California Pinot Noir paired with grilled halibut with tomato butter. A Blanc de Noirs Champagne and a good burger, especially one with applewood-smoked bacon, carmelized onions, and sauteed mushrooms (think Carl's portabello mushroom burger).
Pinot Noir: Fashion or Fad An article written by Misha Wilkinson on New Zealand Pinot Noir is getting quite a bit of buzz on the internet. Wilkinson owns Misha's Vineyard Wines in Central Otago. She reports that Pinot Noir is now the second most exported variety in New Zealand (5.4% of total export volume compared to 82% for Sauvignon Blanc). At the recent Pinot Noir 2010 event in Wellington, speakers lamented the fact that it will take a "huge effort" to familiarize Americans with New Zealand Pinot Noir. New Zealand's best market appears to be the UK because the British press already loves New Zealand Pinot Noir. Read the whole article at http://www.mishasvineyard.com/pinot-noir-fashion-or-fad/.