More Sips of Noiregon Pinot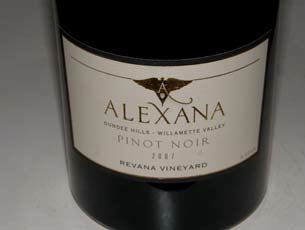 2007 Alexana Revana Vineyard Dundee Hills Willamette Valley Pinot Noir
13.5% alc., $38. The inaugural estate Pinot Noir. Six clones including 113, 115, 667, 777, Pommard and Wädenswil. The winemaker is Lynn Penner-Ash. The proprietor is Dr. Madaiah Revana who named this wine as a tribute to his daughter Alexandra. · Moderate garnet color in the glass. Lovely and seductive nose which hints at gardenias upon opening, evolving to reveal aromas of strawberry tart, baking spices and red cherries. Soft and elegant on the palate with gossamer tannins, offering the delicious essence of fresh red berry fruits with herbs, toasty oak, and spices under tow. A feminine expression of Pinot Noir that holds considerable charm.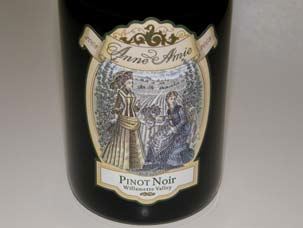 2008 Anne Amie Willamette Valley Pinot Noir
13.5% alc., $35, screw cap. Release date is Novermber 2010. Sourced from 10 vineyards including 22% estate fruit. Willakenzie, Laurelwood and Jory soils. Clones Pommard 4, Dijon 114, 115, 667, 777 and 828. Aged 10 months in 26% new, 20% 1 year and 54% neutral French oak barrels. · Moderate reddish-purple hue in the glass. Fresh aromas of dark red berries and a hint of clove. Tasty potpourri of cherries, strawberries and raspberries with a tangy citrus note adding a spring to the pleasing finish. Relatively straightforward but drinks really well. An outstanding Willamette Valley blend. Very good.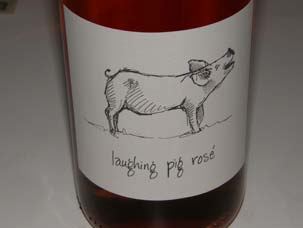 2009 Big Table Farm Laughing Pig Willamette Valley Pinot Noir Rosé
14.1% alc., 100 cases, $22. Sourced from Cattrall Vineyard which is the oldest certified organic vineyard in Oregon. Barrel fermented to dryness, complete MLF and aged sur lies until the day before bottling. Attractive tall Alsatian bottle. · Light rose color. Pleasing aromas of cherries, strawberries, prickly pear and rose garden. Moderately rich flavors of red cherries and strawberries with an underpinning of minerality and a tangerine peel note on the bright finish. This is a friendly wine that will please any rosé fan. Very good.
The following five wines represent my first experience with Coeur de Terre Vineyard wines. Established in 1998 by Scott and Lisa Neal, the vineyard is located in the Coast Range foothills of the McMinnville appellation west of the town of McMinnville, Oregon. Coeur de Terre, which is French for "Heart of the Earth," was inspired by a large heart-shaped rock found during the establishment of the estate vineyard. The 50 acre property includes a winery and 17 acres planted primarily to Pinot Noir in soils of both sedimentary and volcanic origins. The owners planted the vineyard themselves and it has been farmed using organic and sustainable methods since its inception. Over 80,000 vines were hand grafted at the estate's nursery and been the parent material for nearly all the vineyard. Planting of the vineyard was conducted from 1999 to 2007 with multiple Pinot Noir clones including Dijon 115, 667 and 777, Pommard, Wädenswil, and field blend selections. Coeur de Terre produces Pinot Noir (an Oregon Pinot Noir, Estate Pinot Noir and four block designated Pinot Noirs), Pinot Gris, Riesling and Rosé. Pinot Noir winemaking is traditional using small open top fermentors, employing a cold soak when appropriate, using manual punch downs, and using both indigenous and cultured yeast strains. The wines are racked directly to barrel with free run kept separate from press fractions. Aging is carried out for 10 to 18 months in French oak barrels. A gravity flow system is employed in the winery. The Coeur de Terre Pinot Noirs are impressive in that one can taste McMinnville terroir in these wines. I did not taste the 2008 block designated Pinot Noirs as they have not been included with the other 2010 spring releases. For more information, visit www.cdtvineyard.com. The winery is open by appointment (503-472-3976, extension 2).
Vino-Seal
This glass and polymer wine bottle closure is made by Alcoa and known in Europe as Vino- Lok. It consists of an attractive looking decanter glass stopper with a flexible and inert o-ring around its base to provide a sterile seal. The glass stopper is held in place by a tin capsule and neck sleeve (the Vino-Lok uses an aluminum cover cap). Oxygen transmission is said to be similar to a tin-lined screw cap. A big advantage of this type of closure is that the risk of cork taint is zero. The closure is also recyclable. The main disadvantage is the added cost over cork and the necessity for special bottling equipment to insert it.
The glass closure has become popular in Germany, Austria and Italy, and in Europe over 350 wineries currently use it. In 2006, Napa Valley's Whitehall Lane was the first winery to seal its bottles of select premium wines with the Vino-Seal closure. Calera is currently the biggest United States customer of Vino-Seal glass closures which are used on the Calera Central Coast Pinot Noir and Mt. Harlan Cuvée Pinot Noir.
I love the aesthetic of this closure. Vino-Seal is safe to use, easy to open with a twist, and can be used to quickly reseal a bottle over and over. Wine can be aged standing up as well.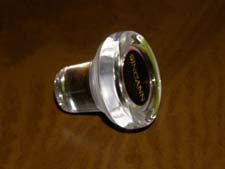 The following wines represent my first experience with Tyee Wine Cellars, located in Corvallis, Oregon on the Buchanan Family Century Farm founded over 120 years ago. Tyee is an early northwest word meaning "chief" and "best." The oldest vines at Tyee Wine Cellars were planted in the Estate Vineyard in 1974, with additional plantings throughout the 1980s. These vines, which include Pinot Noir are self-rooted and make up more than half of the 10-acre Estate Vineyard. In 2000, 1 acre of Dijon 115, 1 acre of Dijon 777 and 1 acre of Pommard clones were planted on phylloxera-resistant rootstock. The winemaker and vineyard manager is Merrilee Buchanan Benson, who grew up at Tyee Wine Cellars on the Buchanan Family Century Farm. She became winemaker starting with the 2006 vintage. For tasting room hours, visit
www.tyeewine.com
.