Olivet Lane Vineyard
"A great vineyard firmly locates one in time and place. It is possible to step out of the car and stroll through the vines, noticing the spacing of the vines, the composition of the soil, and how the morning fog lingers or the late day sun provides a final burst of warmth. If you're lucky and harvest is near, you can pluck a grape or two, sneaking a taste of what the vintage will be like. The grapes are delicious, full of flavor and memories of vintages past, of bottles shared and enjoyed. The specific aromas and flavors, faded with time, revive with each ripe, lush grape. Suddenly, as you look across the rows of vines, you realize that all those wonderful wines began in the exact place where you stand."

Michael Bonadies, Sip by Sip
Bob Pellegrini nostalgically reflects on the early 1970s, and his and his father Vincent's decision to plant a vineyard on Olivet Road in the Russian River Valley, and says, "I was just naive enough at the time to think it would work, but if I knew then what I know today, I would never have done it." Ignorance can turn out to be bliss and today wine lovers are the grateful beneficiaries of the Pellegrinis' fortuitous decision. Today the Pellegrini family farms one of the Russian River Valley's most cherished heritage plantings, the Olive Lane Vineyard.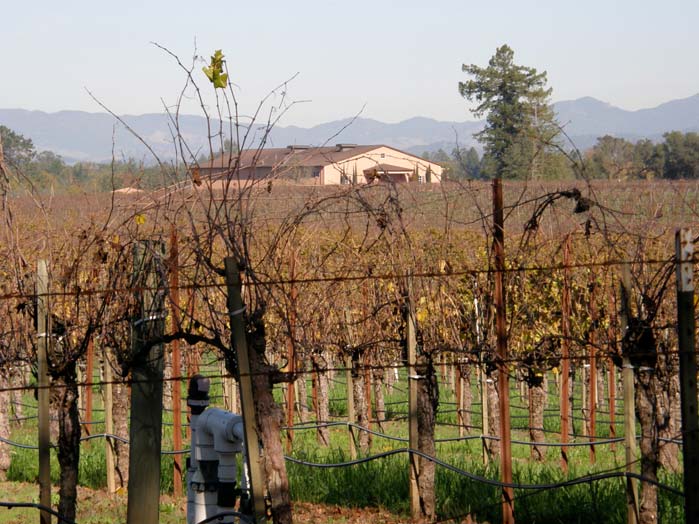 Olivet Road is a 3-mile country stretch located in the heart of the Russian River Valley between River Road and Guerneville Road in Santa Rosa. The sloping bench land here is part of the Santa Rosa Plain. The Russian River Winegrowers Association has described three sub-appellations of the Russian River Valley: the Middle Reach (not precisely defined but includes the vineyards on a seven-mile stretch of Westside Road from just west of Healdsburg to the Wohler Bridge), the Santa Rosa Plain and Laguna Ridges, and Green Valley. The Santa Rosa Plain is a cool region, sandwiched between the warmer Middle Reach and downright chilly Green Valley. The Santa Rosa Plain's combination of soil and climate is particularly suitable for cool climate varieties such as Pinot Noir and Chardonnay. The area features a region I climate with frequent intrusion of fog primarily through the Petaluma Gap, warm sunny afternoons, and well-drained Yoshiki loam and clay soils.
The Olivet Lane Vineyard was one of the first Pinot Noir estates in the Russian River Valley, preceded a few years by only a handful of others including the Bacigalupi Vineyard (planted on Westside Road in the Middle Reach in 1964), Rochioli Vineyard (East Block planted in 1968 on Westside Road in the Middle Reach) and Joseph Swan's vineyard (first planted in 1969 in the Laguna Ridges and now named the Trenton Estate Vineyard). The Olivet Lane Vineyard was also uniquely planted to both Pinot Noir and Chardonnay.
Missing image name.
[[image right 150x0 03]]
Olivet Lane Vineyard owes its heritage to the Pellegrini family, Sonoma County wine patriarchs who have been involved with wine in one way or another since the early 1900s, when brother Nello and Gino Pellegrini immigrated to New York City from their native Tuscany. They soon traveled to California and began shipping grapes for home winemaking from Sonoma County to destinations throughout the United States. They also supplied the many Italian San Franciscans who made wine in their basements both before and during Prohibition. After the repeal of Prohibition in 1933, the Pellegrini family started the Pellegrini Wine Company, shipping grapes from Sonoma County and making wines for San Francisco's best restaurants. Later, the family became wholesale distributors of both imported and domestic wines.
In 1973, Nello's son, Vincent, approached Paul Mononi about buying his 65-acre prune, apple and olive orchard on a spur off of Olivet Road named West Olivet Lane. Paul Mononi had grown up on the property his father had acquired in 1955. The fruit trees were originally patterned after Luther Burbank's design according to the climate and soil. As a youngster, Paul farmed a small plot of Zinfandel grapes on the family's land and recalls selling the grapes in 1954 for $1 a box. Paul took over management of the fruit at the tender age of 21 after his father's death but the challenges of farming the fruit orchard proved overwhelming and Paul was amendable to selling the property.
Paul sold the property to Vincent and in turn agreed to plant a vineyard. Vincent's son, Bob, was fresh out of school, had just returned from a tour of Burgundy and along with Vincent, was intrigued by the idea of planting Pinot Noir on the newly acquired land. At the recommendation of Dr. A.N. Kasimatis of University California Davis, both Pinot Noir and Chardonnay were planted. Economic considerations came into play in the decision to plant both varieties as well, as Chardonnay was much more in demand than Pinot Noir which was only bringing $325 a ton at the time.
Planting started in 1975, a time when Pinot Noir vines were difficult to source. As Paul recalls, "Clones were not of any importance, you had to beg for vines, and you had no positive assurance that you were receiving Pinot Noir clones." The vineyard was planted to what is now called the Martini clone. According to John Haeger (North American Pinot Noir), the Martini clones (UCD 13, 15, 66) were derived from the Carneros Stanly ranch plantings of Louis M. Martini and Harold Olmo. Reputedly, the budwood for these vines came from a block of vines situated in the front of the old Inglenook Winery on Highway 29 in Rutherford which date back to the 1930s or earlier. Some may have come from a University of California Berkeley experimental vineyard as well. During the 1970s, 1980s and into the 1990s, many vineyards were planted in California using field selections from Carneros vineyards as well as specific UCD 13, 15 and 66 clones. Clones 13 and 15 were the most widely planted during the 1970s and most likely found a home at Olivet Lane Vineyard as well.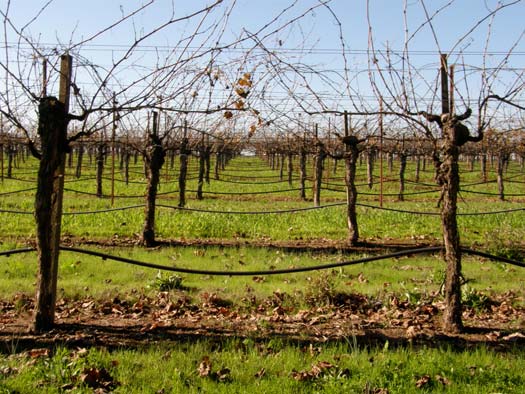 The 33 year-old vineyard is essentially a monoblock of Martini clone planted on AXR rootstock with wide vine spacing that was in favor in the 1970s (see photo below). The soil is relatively consistent throughout the vineyard. Because of the AXR rootstock, the Olivet Lane Vineyard is living on borrowed time and already some blocks have shown decline as indicated by reduced yields. Until recently, weak vines were replaced vine-by- vine using budwood from the vineyard. Soon, a few larger 2 to 3 acre portions will be incrementally replanted using the Martini clone budwood from the vineyard to retain the vineyard's unique character. Currently the vineyard is planted to two-thirds Chardonnay and one-third Pinot Noir.
Olivet Lane Estate and Pellegrini Family Vineyards winemaker Kevin Hamel talked to me about the distinctiveness of the Olivet Lane Vineyard. He said that Pellegrini Family Winery also makes Pinot Noir for neighbors who are adjacent the Olivet Lane Vineyard. These vineyards are planted to Dijon and Pommard clones on resistant rootstock in the same soil as Olivet Lane but the Pinot Noir produced from them is distinctly different from the Olivet Lane Estate Pinot Noir. Where the Olivet Lane Vineyard Pinot Noir is unique for its red fruit, fragrance and subtle spice and floral notes, the neighbor's Pinot Noir is broader with more brown aromatics and spice. There is clearly something special about the combination of soil, rootstock and clone at Olivet Lane Vineyard.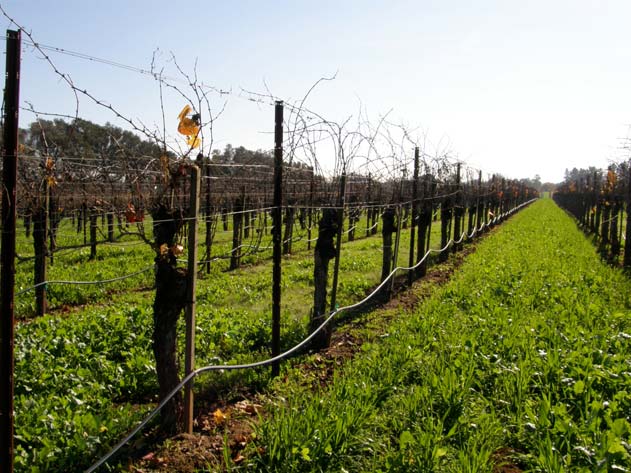 Kevin finds that the grapes from Olivet Lane Vineyard have a near perfect balance at harvest, developing desirable flavors at 24.0º to 24.5º Brix with spot-on acidity. As a result, the wines from this vineyard are never "brawny blockbuster wines," and need only the most judicious use of oak to compliment the grapes' delicate flavors. He lauds the outstanding chemistry of the grapes, calling them, "Extremely easy to work with."
Recently trials have been ongoing comparing natural yeast with inoculated yeast fermentations for both the vineyard's Chardonnay and Pinot Noir. The lots undergoing indigenous fermentation show more complexity and interest. At a recent Pinot Forum, (a technical tasting for sommeliers held during the summer in Sonoma County), attendees who critically compared both the native and inoculated yeast fermented Olivet Lane Vineyard wines, largely preferred the native fermented wines. Four to five barrels of a reserve Olivet Lane Estate Pinot Noir will be produced from the 2006 vintage for the first time, largely or completely composed of native fermented lots which have undergone additional barrel aging. When I visited recently, I was able to sample both the native and proprietary yeast fermented 2007 Pinot Noirs from barrel and the native fermented wine was clearly more nuanced and interesting. All future vintages of Olivet Lane Estate Pinot Noir may be produced with indigenous fermentation when possible.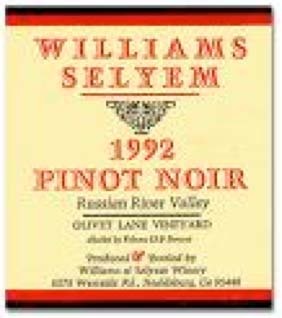 The Pellegrinis started releasing an Olivet Lane Estate Chardonnay in the late 1970s and an Olivet Lane Pinot Noir in the 1980s. Merry Edwards (who at one time made the wines at Olivet Lane) and Williams Selyem were two of the most notable producers buying fruit from the Olivet Lane Vineyard. Beginning in 1988, Williams Selyem received half of the grapes from the vineyard and their stellar vineyard-designate bottlings brought considerable notoriety to Olivet Lane Vineyard. Vertical shoot positioning and a leaf pulling program were begun after the 1989 harvest, both instituted to provide more concentrated color and flavors in the resultant wines. The 1991 and 1992 Williams Selyem Olivet Lane Vineyard Pinot Noirs were highly lauded by the Wine Spectator, Robert Parker (he called the 1991 Olivet Lane Vineyard Pinot Noir a "reference wine"), and the Underground Wine Journal. The last vintage for Williams Selyem Olivet Lane Estate coincided with the sale of the winery in 1997.
Merry Edwards released her first Olivet Lane Vineyard Pinot Noir in 1999 from the 1997 vintage and continues to release an annual vineyard-designate Pinot Noir from the vineyard. Through the years, other customers for Olivet Lane grapes have included WesMar (2000 to 2005), Gary Farrell, Brogan Cellars (2000), Kosta Browne, and most recently Paul Hobbs. Today, most of the fruit is retained for the Olivet Lane Estate Pinot Noir and production is 2,500 to 3,000 cases annually.
Vincent Pellegrini died in 1989 and Bob, Richard and Jeanne Pellegrini have assumed leadership of Pellegrini Family Vineyards since then. Bob leads the vineyard, winemaking, sales and distribution efforts. He is also an excellent cook and has been married to his wife Susan for over 29 years. He has three children, Laura, Alexia and Vincent. Kevin Hamel holds a degree in Fermentation Science from University California Davis. He was the head winemaker at Preston Family Vineyards before joining Pellegrini Family Vineyards in 2005. The photo below includes Bob (center), Kevin (right) and cellar master Daniel Fitzgerald. Listen to my interview with Bob Pellegrini and Kevin Hamel here: "Interview with Bob Pellegrini and Kevin Hamel"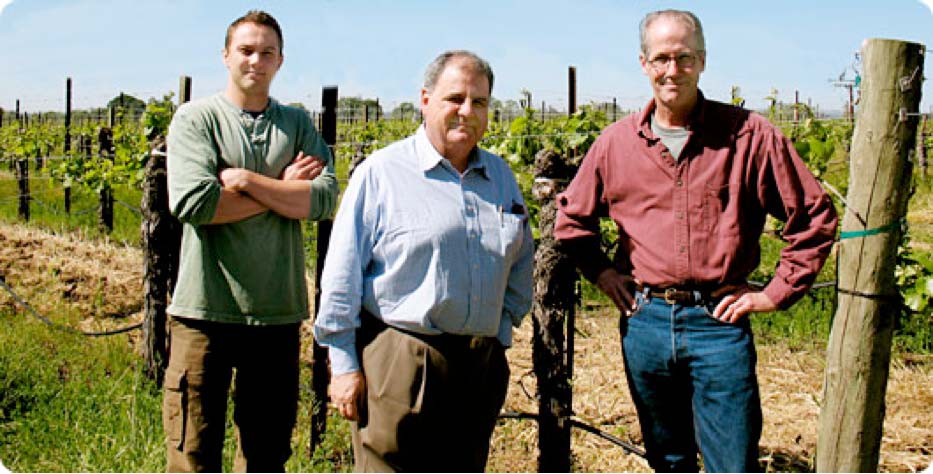 A Tuscan-styled winery was built on the estate in 2001 which includes a tasting room that is open daily by appointment. The address is 4055 West Olivet Road in Santa Rosa. Olivet Lane Estate wines are available on the website at www.pellegrinisonoma.com. The phone is 800-891-0244. Besides the Olivet Lane label, Pellegrini Family Vineyards releases multiple varieties under the Pellegrini and Cloverdale Ranch labels.