Briceland: A Pleasing Surprise from Humboldt County
I recently attended a casual blind tasting of various Pinot Noirs and two wines from Briceland Vineyards made an impression on me. I later formally tasted the wines and confirmed my attraction.
Bricelands Vineyards is located in the tiny town of Briceland in southern Humboldt County north of Mendocino County in Northern California. It is not one of the regions that first comes to mind when you think about California Pinot Noir, having considerable more notoriety for a well-known and illegal mood-altering substance. Many maps of California depicting the major winegrowing regions do not include Humboldt County. That said, I have had some very credible Humboldt County Pinot Noirs from Elk Prarie Vineyards and Woodenhead. Several years ago I wrote about Whitethorn Winery which was located in southern Humboldt County and was launched with the assistance of Joe Collins of Briceland Vineyards. Winemaker Tasha McCorkle McKee had a cult following for the Pinot Noir she made, but her sources were Hirsch Vineyard and Hyde Vineyard, both far removed from Humboldt County (her last wines were from the 2002 vintage, although I have read reports that she has resumed her winemaking career).
Humboldt County wine country is about a four hour drive on Highway 101 north of San Francisco. Quietly, the region has developed a thriving wine industry with close to thirty wineries (many indicated by red numbered circles on the map below). At least ten of the wineries produce Pinot Noir. Briceland Vineyards is shown on the map as red dot #3, just 6 miles west of Redway on Bricelands Shelter Cove Road.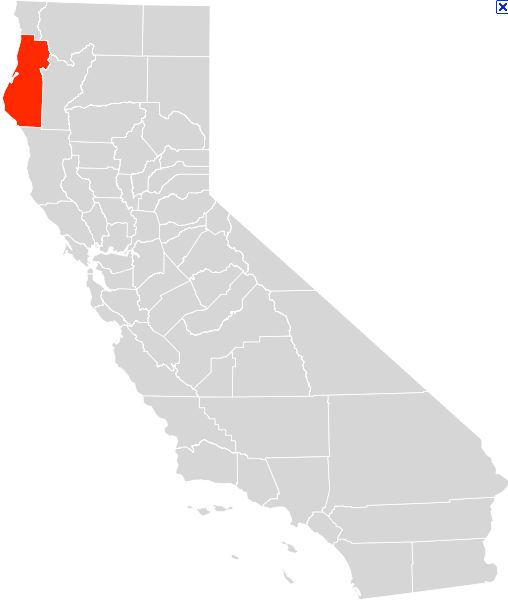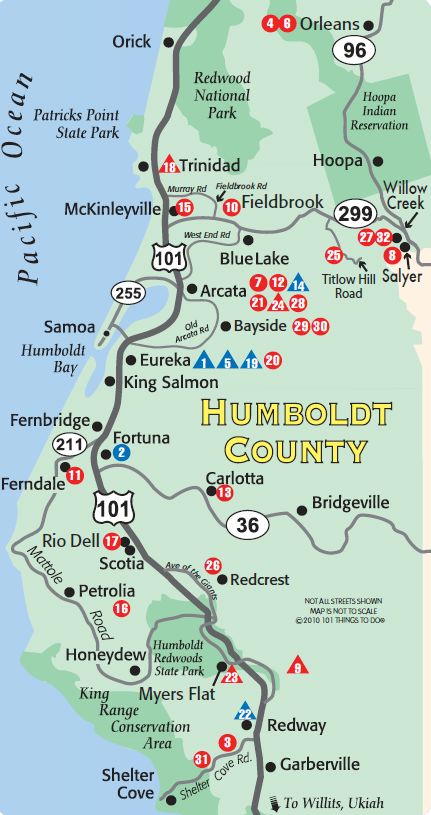 Briceland Vineyards was founded in 1985 and today, winemaker Joe Collins and his lifelong partner Maggie Carey, operate this modest, 1,500 case winery. Collins, who trained at University of California at Davis and has over thirty-five years of winemaking and winegrowing experience, is committed to producing wines from the cool coastal regions of Humboldt County and neighboring Mendocino and nearby Lake counties. He has a fine palate as indicated by becoming crowned individual Grand Champion at the California Wine Tasting Championships in Anderson Valley in 1990 and 1991.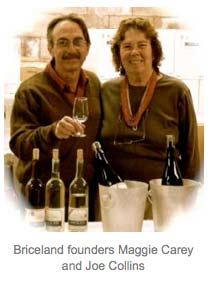 Collins pioneered grape growing in southern Humboldt County when he planted an experimental vineyard in the region in the 1970s. He was to be involved in the planning, establishment and management of practically all the early vineyards in the area. Pinot Noir, Chardonnay and Sauvignon Blanc are most suited to the region. The best sites are south or southwestern facing slopes near 1,500 feet above sea level surrounded by towering redwoods. These locations offer a lower incidence of frost at springtime, a mild temperate climate and rocky soils with ideal drainage.
Most of the red wine production at Briceland Vineyards is Pinot Noir, sourced from neighbors who farm tiny hillside vineyards in the Redway and Myers Flat areas. Pinot Noir is made in small 2 to 3 ton lots, fermented in small bins, and punched down by hand. Aging is carried out for one to two years in French oak barrels. The white wine lineup includes Sauvignon Blanc, Chardonnay and méthode champenoise sparkling wine, all grown in southern Humboldt County. Arneis, a rare Italian varietal, is also produced from grapes grown in Mendocino County. Collins' stepson, Andrew Morris, is the apprentice winemaker.
In 2010, Briceland Vineyards won Best Winery, Best of Show, and Best Wine from Humboldt Grapes awards at the Humboldt County Fair as well as medals at the Orange County and California State fairs.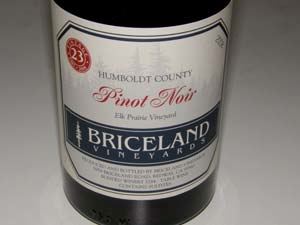 2008 Bricelands Vineyards Elk Prarie Vineyard Humboldt County Pinot Noir
Table wine, 125 cases, $27. 23rd vintage. The vineyard is situated on a ridge that separates the Main Fork and South fork of the Eel River which provides a cooling influence. · Moderate reddish-purple color in the glass. The nose is highly perfumed, bright and fruity, featuring well-spiced cherry aromas. Silky and seamless on the palate, with juicy flavors of cherries, raspberries, cranberries and a touch of loamy earth, finishing with aromatic purity and soft, sandy tannins. A wine that aims to please with its teasing pinotosity. Very good (+).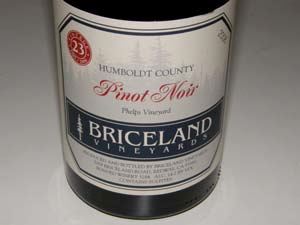 2008 Bricelands Vineyards Phelps Vineyard Humboldt County Pinot Noir
14.2% alc., 50 cases, $27. Phelps Vineyard is located on Elk Ridge and is farmed by Pam and Todd Phelps. Aged 1 year in French oak barrels. Unfined and unfiltered. · Moderate reddish-purple hue in the glass. Aromatically a bit shy initially, but builds in intensity over time in the glass becoming rather flamboyant and displaying scents of ripe, savory dark red fruits. Delicious, even striking, display of dark red stone fruits that fan out on the palate with subtle notes of Asian spice and plum sauce. Elegant and silky textured with remarkable persistence on the pleasing finish. A steamy seductress.
Briceland Vineyards wines are not sold directly online, but you can contact Andrew Morris for wine purchases as well as a private tour and tasting (707-923-2429 or andrew@bricelandvineyards.com). The wines are available through retail outlets and restaurants in Humboldt County, and can be tasted and purchased at Persimmons Tasting Room in Redway. Open houses are held Thanksgiving and Memorial Day weekends. A Wine Club offers significant discounts.