Ponzi Vineyards: 40 Years
One of a handful of distinguished Oregon winemaking pioneers, Richard Ponzi was an unlikely candidate. He was an engineer who designed amusement park rides after moving to California in 1962 with his spouse Nancy shortly after their wedding. When Richard Ponzi was a youngster, his immigrant Italian father had made wine at home in Michigan with grapes shipped in from California. Upon arriving in California, he began to make wine at his home in Los Gatos as part of the family tradition and became intrigued with Pinot Noir. Knowing that Oregon had a climate similar to that of Burgundy, he packed up the family and moved to Portland while he began a search for an appropriate vineyard site to produce Pinot Noir.
The Ponzis bought a 20-acre farm southwest of Beaverton, a suburb of Portland, planning to make wine for the local market in Portland. As part of the hippie generation, they were committed to living off the land. Vineyard planting began in 1970 and the first wines were released commercially in 1974. By the 1990s, Ponzi was crafting world-class Pinot Noir and the reputation of Ponzi Vineyards soared. The Ponzi Reserve Pinot Noirs of the early 1990s were a revelation to the wine world. My Oregon wine epiphany was a 1992 Ponzi Reserve Pinot Noir made from a single vineyard that was 18 years old at the time.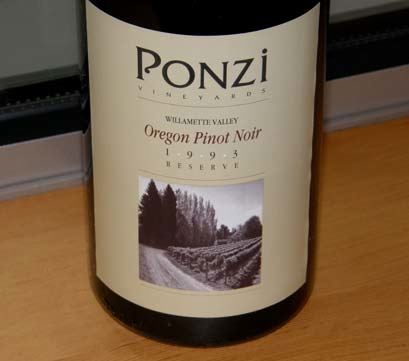 Ponzi's first small winery had no master plan and periodically a new addition would be added in a seemingly haphazard manner. To look at the original winery today, it seems remarkable that nearly 30,000 cases of wine were produced there at one time. Ponzi dreamed of a large, modern winery of his own design and this came to fruition in 2008 with the completion of Collina del Sogno, or "Hillside of Dreams," a 30,000-square-foot green facility in the Chehalem Mountains between Beaverton and Newberg, built on four tiers with a gravity-fed production system capable of producing 50,000 cases of wine annually.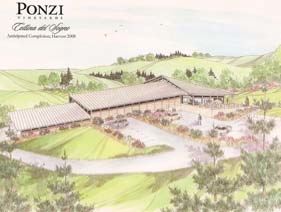 The Ponzis have always been innovators. They were instrumental in obtaining state permission to allow wineries and adjoining tasting rooms to be constructed on agricultural land in Oregon. Together they helped found the Oregon Winegrowers Association and the Oregon Wine Advisory Board (currently known as the Oregon Wine Board). In 1984, they established Bridgeport Brewing Company, Oregon's first craft brewery, and in 1998 established a highly successful regional wine bar and bistro in downtown Dundee. Nancy Ponzi was one of the key founders of the International Pinot Noir Celebration, the Oregon Pinot Camp, and the ¡Salud! Oregon Wine Auction which provides health care for Oregon's seasonal vineyard workers. Ponzi Vineyards has been at the vanguard of sustainable viticulture in Oregon, one of the first to obtain LIVE certification in 2000 for the existing winery and all the vineyards.
Richard and Nancy are now retired from the day-to-day management of Ponzi Vineyards, having passed on the responsibility to their three children, Winemaker Luisa, Sales and Marketing Director Maria and Operations Manager Michel. On August 21, 2010, the Ponzi family hosted a 40th Anniversary Gala at Collina del Sogno. The royalty of Oregon winemakers were in attendance including speakers David Adelsheim, Dick Erath, Myron Redford and Susan Sokol Blosser.
Ponzi Vineyards now farms 120 estate acres in the Chehalem Mountains. All vineyards, with the exception of the original Estate Vineyard, are situated on the North slope of the appellation. Combined with purchased grapes, production amounts to 50,000 cases of multiple varietals including Pinot Noir, Pinot Gris, Pinot Blanc, Chardonnay, Riesling, and true to the Ponzi's Italian roots, Rosato, Dolcetto, Arneis and Vino Gelato.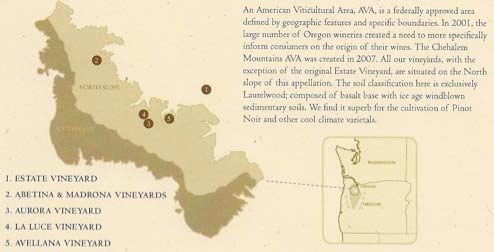 Luisa Ponzi grew up working in the family's vineyards. She had intentions of becoming a doctor and was majoring in biology in college when she realized that medicine was not her calling. She switched to enology, studied in Burgundy, and took over the winemaking reigns from her father in 1993. She has had an impressive run of superb wines through the years while juggling her winemaking career with motherhood (she has four children with spouse and noted winemaker Eric Hamacher).
Ponzi Vineyards wines are sold through the winery's online store, at the tasting room still located at the original winery site at 14665 SW Winery Lane in Beaverton (the new winery is not open to the public), and through national retail channels distributed by Willson Daniels Ltd. Visit the website at www.ponziwines.com.
I recently tasted through the 2008 lineup of Ponzi Vineyards Pinot Noirs along with a couple of older wines. Luisa has a touch with Pinot Noir and the wines were superb. Luisa called the 2008 vintage in Oregon "magical." Like many other premium Pinot Noirs from the 2008 vintage, cellaring is advised for optimum enjoyment. The hallmarks of Ponzi Vineyards Pinot Noir are balance and consistency.