Rhys Vineyards: Three Vintage Tasting
Rhys Vineyards has caused quite a buzz among the pinoiriste community for its innovative viticulture and terroir-driven wines from the Santa Cruz Mountains. Rhys farms five estate vineyards scattered through the Skyline subregion of the Santa Cruz Mountains, all within a 25-minute drive of each other, and a single estate vineyard in Anderson Valley. It is said that Pinot Noir thrives on the edge and these vineyards represent special challenges to successful winegrowing. The cost of developing the vineyards has been substantial and it has taken several years to learn the vagaries of each vineyard site, and the appropriate mix of Pinot Noir selections and clones best suited to each microclimate.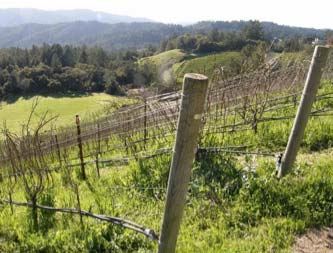 The model at Rhys is clearly Burgundian and more specifically, the Domaines of DRC and Dujac. Several of the vineyards are planted to close spacing using a variety of Dijon and California heritage clones, duplicating the clonal diversity approach in Burgundy. Significant whole cluster fermentation is the rule, making these wines less appealing on release, much like their Burgundy brethren. Meticulous farming allows grapes to be picked early yet possess phenolic ripeness, so that alcohols are under 14.0% and sometimes astonishingly low (under 13.0%). There is no compromise in vinification that would lead to early consumer-friendly drink-ability.
A new underground winery was completed in time for the 2010 harvest. Grapes enter the cave entrance and the finished wines exit through another opening in the cave. This is a showpiece winery in the Santa Cruz Mountains, bringing much-needed prestige and notoriety to this often unheralded region.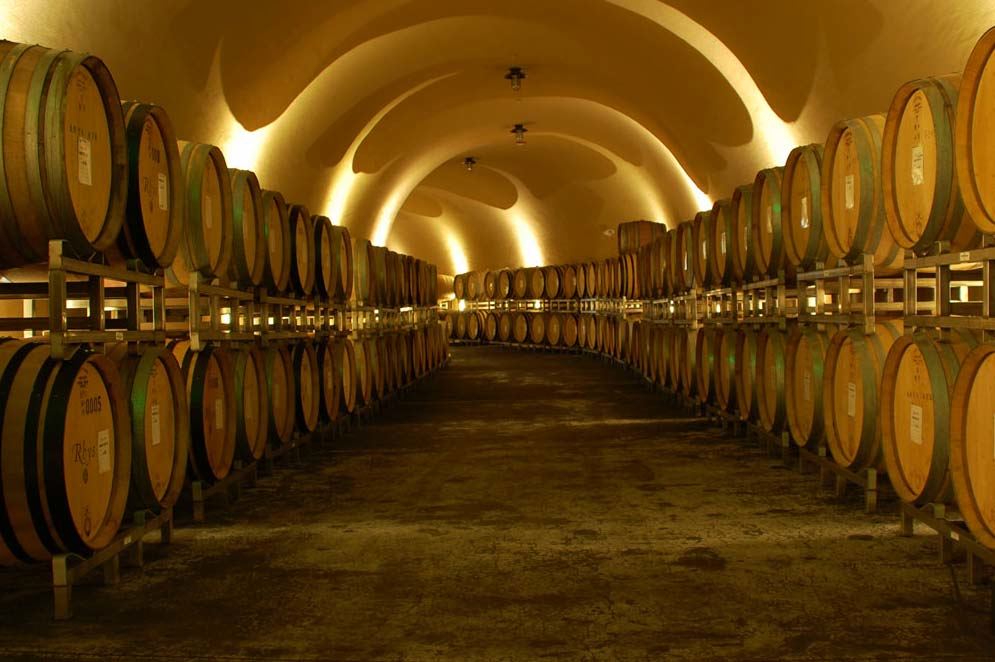 Proprietor Kevin Harvey conferred the name Rhys Vineyards on his project, using a family name which is the Welsh spelling of Reese. He planted his Home Vineyard in 1995 and four additional vineyards (Family Farm, Alpine Road, Horseshoe Ranch and Skyline) between 2001 and 2005. The Family Farm Vineyard and Home Vineyard are located about 200 feet below the demarcation of the official Santa Cruz Mountains AVA, so they are not strictly in the AVA, and the wines from these two vineyards are labeled San Mateo County. Despite this incongruity, the wines from these two vineyards are Santa Cruz Mountains in character. A sixth vineyard, named Bearwallow, is a 20-acre site in the cool, "deep" end of the Anderson Valley, with 7 acres of established Pinot Noir vines. Additional planting is scheduled along with refurbishment of the existing vineyard. The first vintage from this vineyard was 2008. The first Santa Cruz Mountains estate wines were released in 2004.
Winemaker Jeff Brinkman (below) is bright and talented, having majored in biochemistry in college and learned winemaking on the job, beginning as a cellar rat in 1996. Javier Tapia Meza is the viticulturist. Farming is strictly organic with biodynamic influences.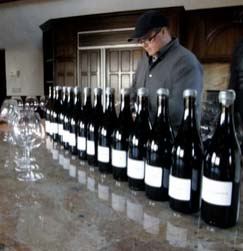 The winemaking regimen for the estate Pinot Noirs is as follows. The grapes undergo a 10 to 14 day cold soak under reductive conditions. The cooling jackets are then shut off and natural fermentation ensues. The cap is punched down three times a day by foot treading, a method chosen for its gentleness. Fermentation lasts about 3 weeks. The ferment is pressed off with a basket press and the juice gravity fed into barrel. MLF is allowed to continue on its own. Blending takes place either before or after the next harvest after the wine spends approximately 14 months in barrel. All barrels are sourced from Francois Frères and are crafted from 4-year air-dried staves to insure there is no barrel variability. The percentage of new oak varies from 25% to 75% depending on a number of factors. The estate wines are all unfined and unfiltered.
I recently tasted through both Alesia (Rhys Vineyards wines from declassified or purchased grapes) and Rhys Vineyards wines from the 2006, 2007, and 2008 vintages. Not every wine produced was sampled as many have only come into full production recently and were either offered in minuscule amounts or not available at all to me. I have tasted all three vintages at the winery and my notes are in previous issues of the PinotFile (www.princeofpinot.com/article/795/, www.princeofpinot.com/article/633/).
Rhys Vineyards wines are highly allocated and available only through the winery's mailing list. More wine should become available as the vineyards mature and replanting brings vines on line. The winery is not currently open for tasting or tours. Visit the informative website at www.rhysvineyards.com.