Mahoney Vineyards: Modern Wines with a History
Francis Mahoney can claim over 36 years of experience growing and producing wines in the Carneros region. He established Carneros Creek Winery in 1972 with his wife Kathleen and partner Balfour Gibson. With the goal of making Burgundian-styled wines, the trio built a winery in 1973, the first new winemaking facility in Carneros since the repeal of Prohibition. The photo below shows Francis Mahoney at the Legends of Pinot Noir Seminar during the 2009 Pinot Days in San Francisco.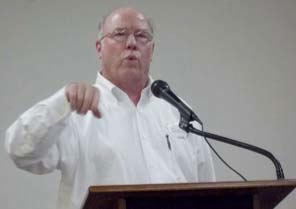 Mahoney was unique among Pinot Noir pioneers of the 1970s in that he realized besides climate and soil, clones were an important factor in creating great Pinot Noir in California. From 1975 to 1985, Mahoney and Curtis Alley, a professor at the University of California at Davis and a viticulture specialist, conducted experiments on a small 1.5-acre plot planted to various clones near the Carneros Creek Winery. The Carneros Creek Winery Clonal Trial was meant to compare clones from the University of California at Davis (so-called "clean-stock") with clones not sourced from the clean-stock program. Valuable data was collected on clonal performance and many other vineyards were planted with budwood from this trial. No single clone was considered best. Mahoney remarked, "We liked different clones like we like different children. They had their own personalities and a little bit of this with a little bit of that makes a more interesting wine. We concluded that we would not just plant one clone in a vineyard." Phase 2 and Phase 3 of the study followed.
Mahoney was instrumental in founding the Carneros Quality Alliance (now the Carneros Wine Alliance), an organization of winegrowers and wineries in Carneros. During the 1980s and 1990s, Mahoney planted the Mahoney Ranch Vineyard surrounding his home, and Las Brisas Vineyard on Ramal Road. In 1998, he sold his majority share in Carneros Creek Winery to investment banker Bill Hambrecht. The winery subsequently passed through several hands and is now owned by Briarcliff Wine Group, LLC. Mahoney founded Mahoney Vineyards and today shares the Carneros Creek Winery facility with Briarcliff. Mahoney hired Ken Foster, a former winemaker at David Bruce Winery in the Santa Cruz Mountains, to head the winemaking program at Mahoney Vineyards. Since his hiring, the winery has made significant strides in quality, as the reviews of the wines below testify. Mahoney has always emphasized wines of elegance, balance and true varietal character, reflecting their Carneros heritage.
Mahoney now owns 162 acres of vineyards in Carneros, 149 acres of which are planted to multiple selections of Pinot Noir. Mahoney supplies fruit to Carneros Creek Winery and several other producers as well as Mahoney Vineyards. Mahoney Vineyards currently releases four Pinot Noirs: a Carneros appellation blend, and vineyard designates from Las Brisas Vineyard, Mahoney Ranch Vineyard and Haire Ranch Vineyard.
The Mahoney Vineyard wines are available for tasting at the Oxbow Tasting Room at 708 1st St. in Napa and may be purchased from the winery's website store at www.mahoneyvineyards.com. The winery produces a wide range of varietals, but is best known for Pinot Noir. A very affordable early drinking second label, Fleur de California, is very popular and widely distributed.