Pinot Briefs —Newsletter 8.30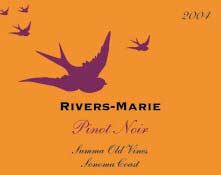 Rivers-Marie Update I caught up recently with winemaker Thomas Rivers Brown at Outpost Winery in Angwin. We tasted the lineup of 2009 Rivers-Marie Pinot Noirs together one week before their release. Rivers-Marie is the hottest label in California Pinot Noir currently. The day the wines were offered, all but the Sonoma Coast bottling were sold out within a few hours. The 2009 wines are superb so this was understandable, although I don't believe anyone had tasted or reviewed the wines. Quantities were low in 2009. Thomas bought the Summa Vineyard previously owned by the Zeller family who will still farm this beautiful site on Taylor Lane in the Sonoma Coast. The old vines in this treasured vineyard were planted in 1978 to a clone that the Zellers refuse to disclose. In 1998, interplanting and additional plantings were added on resistant rootstock. For Brown, the 2009 vintage was the best since 2005 for his style of Pinot Noir, although the 2009 Summa Vineyard Young Vines Pinot Noir lacked character and all of it was added to the Sonoma Coast bottling. Some new vineyard sources are becoming available (Lancel Creek Vineyard and UV Vineyard, both farmed by Ulises Valdez, Silver Eagle Vineyard and all the planted Thieriot Vineyard Chardonnay) so a little more wine will become available in 2010 (1,800 cases). I will give my formal review of the 2009 Rivers-Marie Pinot Noirs in a future issue. Suffice it say, with the Summa Vineyard Young Vines added to the Sonoma Coast bottling, this becomes a steal at $25. The Occidental Ridge and Summa Vineyard Old Vines Pinot Noirs have amazing concentration and persistence yet the fruit is beautifully balanced with lively acidity. Visit www.riversmarie.com.
Arista Winery Update I spent some time with Mark McWilliams touring the new 10 acres of estate vineyards which sit off Westside Road adjacent the Williams Selyem Litton Estate (now Williams Selyem Estate) Vineyard and the Baker Ridge Vineyard owned by Thomas George Estates. The estate vineyards consist of four distinct plantings on different soils: Harper's Rest (2 acres), Two Birds (4 acres), Bee Tree (1+ acre) and Seven Stories (1+ acre). Rather than use nursery clonal stock, the vineyards are being planted with cuttings from famous Sonoma County vineyards such as neighboring Flax Vineyard and Baker Ridge Vineyard. Seven selections have been established in a mother vineyard on the property (pictured below). A site has been chosen for a new winery (the wines are currently vinified at Moshin Vineyards down the road), but construction has been put on short term hold. If you are interested in a focused tasting of Arista wines and a tour of the estate vineyards, contact me and I will arrange your VIP visit with Mark.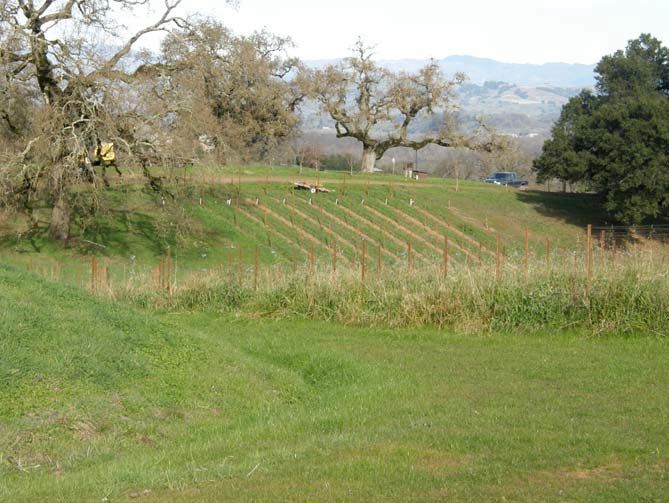 Pinot Noir Themed Clothing Visit www.cafepress.com for a large selection of wine and Pinot Noir themed clothing for men, women, kids, infants and dogs. Some of my favorites include: "I Don't Like Keeping Things Bottled Up!", "Will Work For Pinot Noir," and "Money Can't Buy Love, But It Can Buy Pinot Noir."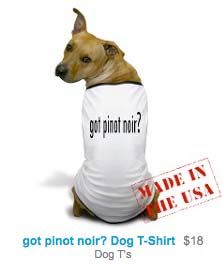 Kistler Vineyards Evolves A recent article in The New York Times by Eric Asimov spotlighted Kistler Vineyards and in particular, the new winemaking direction espoused by Steve Kistler and his assistant Jason Kesner. Asimov noted, "The Kistler style has changed in the last few years. Following the evolving tastes of Steve Kistler, rather than the pressure of economic necessity, Kistler has stepped back, striving for finesse and energy rather than power." I believe this is good news for Kistler Pinot Noir drinkers especially those who enjoy their wines with food. I have always been critical of the "old" Kistler Pinot Noir style of high extraction, ripeness, and generous oak. Besides stylistic winemaking modifications, Kistler has also committed the Pinot Noir program to primarily west Sonoma County and true Sonoma Coast vineyard sites.
Wine Writer Survey According to a report by Tom Wark in Wine Business Monthly, summarizing a survey taken of wine writers (I believe I participated online), there are now more than 800 wine blogs on the Internet, but traditional print media and newsletters still have more influence with consumers than blogs. American wine writers are predominantly male (38% are female), over 50 years of age (although there are increasing numbers of writers under age 40) and very educated. In the same vein, there was considerable buzz on the Internet over the last week about whether wine writers should be certified.
iPads Could Become a Fixture at Wineries The iPad is being used by wineries to market their wines, train retailers and sommeliers and educate consumers in tasting rooms and at wine festivals and tastings. Jordan Winery recently bought iPads for all 97 employees. More than 2 million iPads have been purchased by businesses and wine apps are multiplying at a startling rate.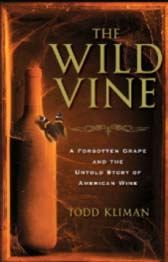 Norton Grape Back in News The book, The Wild Vine, traced the history of the Norton, a hybrid grape accidentally discovered in the 1820s by Dr. Daniel Norton. The grape was found to survive the harsh eastern New World climate and produce a divisive wine that was enjoyed by some, but disdained by others. German immigrants cultivated the Norton grape in Missouri (it is known there also as Cynthiana) and it became Missouri's official grape. Researchers at the University of Missouri in Columbia are attempting to create a Norton and vinifera hybrid that will possess the resistance that the Norton grape has to downy and powdery mildew as well as viral and other pests, and produce a more palatable wine than that resulting from the Norton grape alone. The Norton genome has not been sequenced and this may hold some valuable information about its disease resistance. View the article in Wines & Vines (December 9, 2010), and read the review of the riveting book, The Wild Vine, in the PinotFile (www.princeofpinot.com/article/943/).