Along The Pinot Trail: 2013 World of Pinot Noir
The 13th Annual World of Pinot Noir (WOPN) was held March 1-2, 2013, at The Cliffs Resort and Dolphin Bay Resort in Shell Beach California. WOPN is a non profit organization whose mission is to further the knowledge of Pinot Noir through educational seminars and tastings. All proceeds from this event go toward bringing great wines, and noted guest moderators, speakers and sommeliers from near and far, as well as supporting the Michael Bonaccorsi Endowment to fund scholarships for local viticulture and enology students at Allan Hancock College.
The event is billed as the "World of Pinot Noir," but its location in California's Central Coast and the predominance of Central Coast winery participants (about 45% of the over 150 wineries) give it a definite regional flavor. Over 1500 guests attend each year, and most attendees are hard core pinot geeks who revel in the camaraderie. (Veteran winemakers Ken Brown of Ken Brown Wines and Michael Sullivan of Benovia Winery are pictured below in the tents).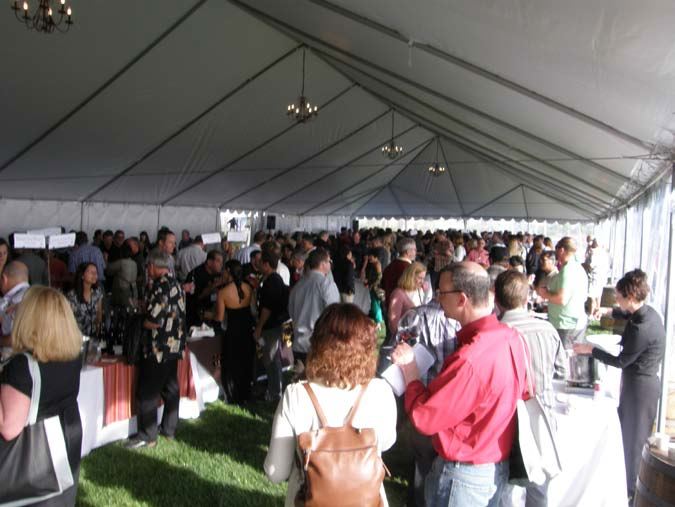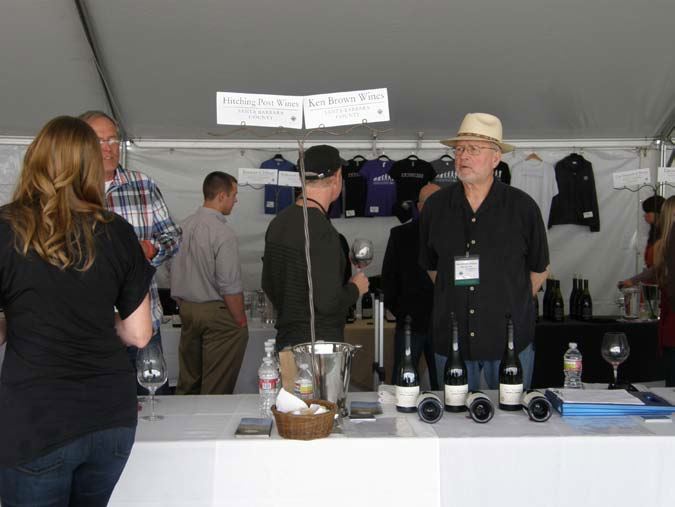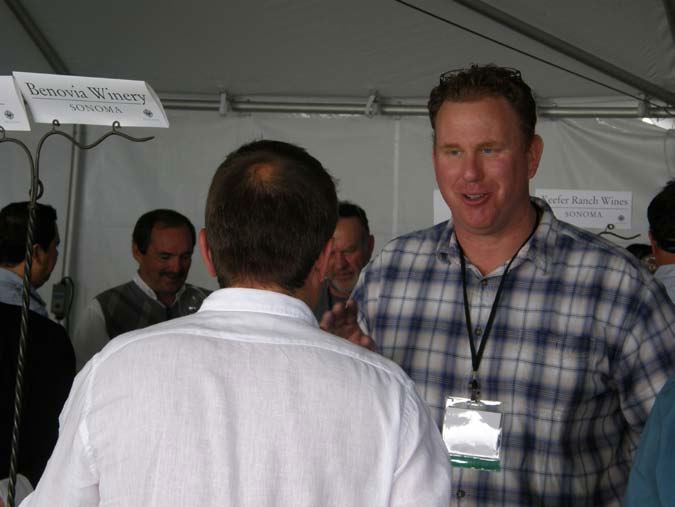 There were a number of seminars that were recorded and will be available for listening in the coming weeks at Grape Radio, www.graperadio.com, and the World of Pinot Noir website, www.wopn.com:
"Not Pinot Blanc, Not Pinot Gris - It's White Pinot Noir!" Moderator Master Sommelier Fred Dane, Panelists Gary Horner (Erath), Jim Prosser (J.K. Carriere) and Zak Miller (Domaine Carneros)
"Up Close and Personal with Kosta Browne" Moderator Master Sommelier Fred Dane, Panelists Michael Browne, Dennis Koplen and Gary Pisoni
"Pinot Noir on the Rocks - The Question of 'Minerality'" Moderator Karen MacNeil, Panelists Fintan du Fresne (Chamisal), Jason Jardine (Flowers), Mike Waller (Calera) and James Cahill (Soter Vineyards)
"Alcohol and Balance Redux, and How Vintage Comes Into Play" Moderator Karen MacNeil, Panelists Jim Clendenen (Au Bon Climat), Adam Lee (Siduri), Greg Brewer (Melville), Joe Davis (Arcadian) and Wells Guthrie (Copain)
"Terroir: the Soul of La Côte d'Or" Don Kinnan, CSS, CWE, lead instructor for the French Wine Society's Master Burgundy Certificate presents a seminar on the wines, soils, climate and history of the Côte d'Or.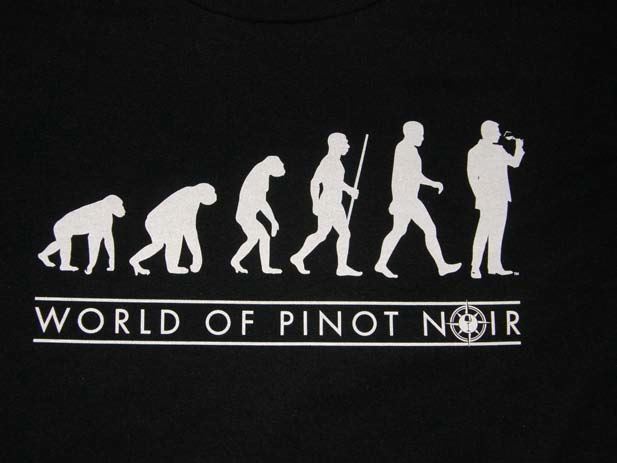 The buzz at this year's WOPN revolved around a few topics: (1) Pinot Noir Blanc - a fad that is a curiosity but certainly holds no long term interest; (2) Increasing use of some whole cluster fermentation - a trend that is highly dependent on vintage, vineyard and other factors; (3) The challenges of the 2011 vintage which was just plain cool and not in a good way - intensive work in the vineyard was required to save the vintage; (4) The challenge of adapting oak regimens to each vintage - barrels must be ordered in advance before vintage weather plays out; (5) Interest in the alcohol percentage and balance debate has faded.
I sampled many Pinot Noir wines both in the tents at Friday and Saturday's Focus Tastings by the Sea and in the media room. Most wines offered were from the challenging 2010 and 2011 vintages. Although only tasted briefly, the following wines made an impression on me (no particular order)
RN Estate Vineyard & Winery Roger Nicolas has established a winery of note that features Rhone and Bordeaux varietals grown on a ridge six miles north of Paso Robles and Pinot Noirs sourced from cooler regions of the Central Coast. The Pinot Noirs are crafted in small lots in a food-friendly style that appeals to me. Roger was offering a vertical of Fiddlestix Vineyard Sta. Rita Hills Pinot Noir, 2009, 2010 and 2011.

La Rochelle This Livermore Valley winery is doing a commendable job with Pinot Noir sources throughout California and Oregon including Soberanes, Sleepy Hollow, Rosella's, Donum Estate, Londer, Paraiso, Tondre Grapefield, Ferrington, Savoy and Deer Park vineyards.
2010 La Rochelle Donum Estate Carneros Pinot Noir
$N/A. La Rochelle is the only winery producing a vineyard-designate from this prestigious site. · Aromas of wild berries, leading to flavors of blackberries and black plums accented with spice. Nicely integrated tannins and impressive finishing power and length. Exceptional.
Paul Lato Wines I visited Paul just before WOPN and tasted some of his 2011 Pinot Noirs that have now been released, and as always, sold out. I will report on these wines and a few more that I have yet to taste in an upcoming issue. Paul's wines are all about harmony and elegance, produced from very carefully managed vineyard blocks with low yields.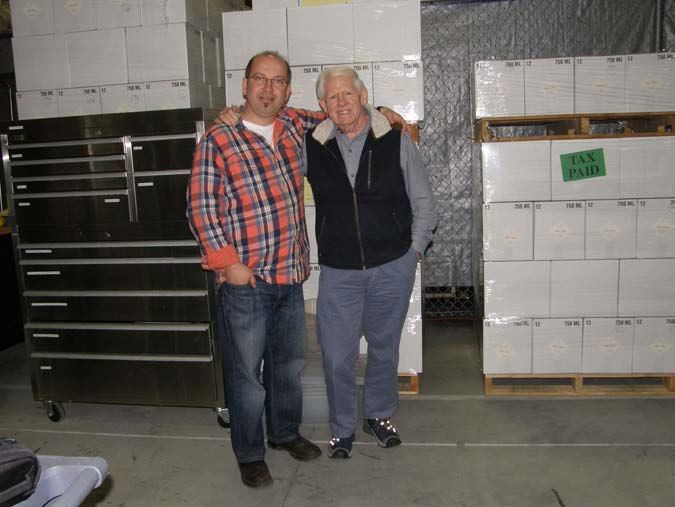 Keefer Ranch Wines A family owned and farmed vineyard and winery in the Green Valley sub appellation of the Russian River Valley. I have found the wines consistently superb from this well-known vineyard that also supplies grapes to top notch Pinot Noir producers such as Kosta Browne and Siduri.
2010 Keefer Ranch Wines Russian River Valley Pinot Noir
$42. Fourth vintage. Swan and Dijon 115. Aged 17 months in 40% new French oak barrels. · This wine really stands out for its juicy crispness and icy cherry flavor. A real charmer in every way and the best Keefer Ranch wine from this vintage that I have had. You want this one. Exceptional.
Left Coast Cellars Located in the Willamette Valley in Rickreall, Oregon, winemakers Luke McCollom and Joe Wright (pictured below) source from estate vineyards planted to Dijon, Pommard and Wädenswil Pinot Noir clones. Farming practices are organic and sustainable to encourage the vitality of the vines in the rocky, shallow soils. The estate grown Pinot Noirs are superb and the White Pinot Noir and Rosé of Pinot Noir are exceptional.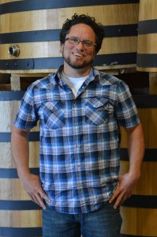 Ken Brown Wines Ken has been making wine for more than 35 years at Zaca Mesa, Byron Winery and now Ken Brown Wines. He produces small lots of Pinot Noir, Chardonnay and Syrah from top vineyards in the Sta. Rita Hills and Santa Maria Valley. Total production is 2,000 cases. What impresses me about Ken is that he offers his wines proudly at many events, and is always present to patiently answer questions, never sending a stand-in despite years of wine event participation.
2010 Ken Brown Wines Sta. Rita Hills Pinot Noir
14.5% alc., pH 3.71, TA 0.56, 298 cases, $40. From Rio Vista (78%), Rita's Crown and Rancho La Vina vineyards providing an over view of the Sta. Rita Hills AVA. 100% de-stemmed, aged 10 months in 37% new French oak barrels. · This is a very forward drinking wine that will find wide appeal. It is aromatically expressive with scents of black cherry and spice, echoed on the palate which is discreetly lush and pleasing. Beautiful integration of oak and seductively elegant. Very good.
2010 Ken Brown Wines Clos Pepe Vineyard Sta. Rita Hills Pinot Noir
14.7% alc., pH 3.57, TA 0.61, 265 cases, $50. Pommard clone. 100% de-stemmed, aged 18 months in 43% French oak barrels. · Red and black fruits are featured in this very feminine expression of this vineyard. Nicely balanced with restrained tannins. Demonstrates a wet rock aroma and a mineral-driven electric component on the palate. Very good.
Domaine Carneros The still Pinot Noir wines from this sparkling wine producer owned by the Taittinger family are hidden gems. This winery began Pinot Noir production in 1992, but in recent years winemaker Eileen Crane has been offering exceptional Pinot Noir from the estate's 138 acres of certified organic vineyards. The estate offering is a solid everyday drinker and the limited release The Famous Gate and Avant-Garde bottlings are worth exploring.
2010 Domaine Carneros La Terre Promise Carneros Pinot Noir
14.4% alc., $N/A. From the Domaine's newest estate vineyard. Organic grapes. · Moderately dark reddish-purple color in the glass. Aromas of black cherries, black raspberries and spice with a hint of stem in a good way. A savory wine with mushrooms and tobacco notes complimenting the middleweight berry and cherry flavors. Nicely balanced with supple tannins. Good (+).
Papapietro Perry A specialist in small lots of single-vineyard Pinot Noir and Zinfandel produced from the Russian River Valley, Anderson Valley, Sonoma Coast and Dry Creek Valley. One of the premier producers of Pinot Noir in California. As I was tasting through a number of wines and came upon the Papapietro Perry Pinot Noirs, it was immediately evident that these wines were a step up in quality.
2010 Papapietro Perry Campbell Ranch Sonoma Coast Pinot Noir
14.5% alc., Unreleased. · Moderate reddish-purple color in the glass. Lovely aromas of fresh strawberries, cherries and wood spice. Enchanting and flavorful, featuring spicy cherries and complimentary oak. Not big and hedonistic, but has an electric vibe. Very good.
Keller Estate Located in the Petaluma Gap region of the Sonoma Coast, this winery produces estate grown wines including Chardonnay and Pinot Noir. The 650-acre ranch was first planted to Chardonnay in 1989 and Pinot Noir in 1999. The Keller Estate label appeared in 2000 under the direction of Ana Keller. In addition, many vineyard-designated wines have been produced from the estate La Cruz Vineyard by top wineries such as Arista, La Rochelle and Zapaltas.

2010 Keller Estate El Coro Sonoma Coast Pinot Noir
14.2% alc., $52. This is the sibling wine to the Keller Estate La Cruz Vineyard Pinot Noir. The grapes are sourced from a highly elevated block on a ridgetop which is more exposed to the maritime winds. Soils are thin loamy clay with a volcanic underlay. Unfined and unfiltered. · Medium reddish-purple color in the glass. Lovely perfume of dark red cherries and berries that really draws you into the glass. This is a wine of character and nuance offering something different with each sip including deep cherry flavor with hints of savory herbs and oak. One of the most memorable wines I tasted at this event. Exceptional.
2010 Keller Estate Precioso Sonoma Coast Pinot Noir
14.3% alc., $75. A barrel selection representing the best of the estate in the vintage. · Medium reddish-purple color in the glass. Very aromatic with hi-tone scents of red berries on the vine and sandalwood. Very soft and gracious in the mouth with delicious flavors of dark red and purple berries clothed in soft tannins and offering noticeable length on the finish. Exceptional.
J Vineyards & Winery This winery has a 25 year legacy in the Russian River Valley. Known for its stellar sparkling wines, Winemaker Melissa Stackhouse and Founder and President Judy Jordan are also dedicated now to producing serious, terroir-driven Pinot Noirs from estate vineyards in the Russian River Valley and Sonoma Coast.
2010 J Vineyards Barrel 16 Russian River Valley Pinot Noir
14.5% alc., 400 cases, $N/A. · Moderately light reddish-purple color in the glass. The nose offers aromas of red fruits with a hint of espresso oak. Delicious mid palate attack of perfectly ripe black cherry fruit with a hint of spiced plum. Very impressive mid weight wine with a long and glorious finish. Very good.
More Pinot Noir. Remember that not every wine has to be exceptional to be enjoyed. New York Times wine writer and critic, Eric Asimov, notes (The World of Fine Wine Issue 39, 2013), "We need to pay greater attention to wines intended for drinking rather than to wines that will be collected."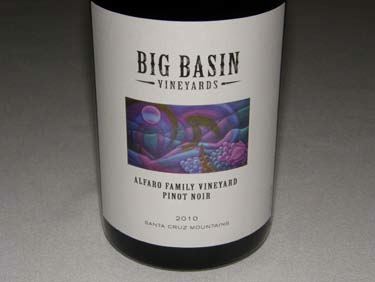 NV R2 Wine Company Black Pine California Pinot Noir
1033 cases, $26. A blend of Anderson Valley, Carneros and Sonoma Coast fruit. Winemaker is Byron Kosuge. · A very solid, value priced Pinot Noir offering good concentration of dark red and black fruits with well integrated oak and nicely managed tannins. A perfect everyday drinker. Good.
2010 La Fenêtre Bien Nacido Vineyard Santa Maria Valley Pinot Noir
13.9% alc., 375 cases, $49. Backbone is from G block, one of the own-rooted sections of the vineyard planted in 1973. The remainder is a mix of clone 115 and 777 from N and Q blocks. Aged 18 months in French oak barrels. · Medium reddishpurple color in the glass. Hi-tone aromas of fresh cherries and dried rose petals. Very soft and seamless on the palate, with a flavorful core of black cherries and spice. Very good.