Finding the Central Coast
The Central Coast AVA, established in 1985, is vast, stretching 250 miles along the California coastline from the San Francisco Bay to Santa Barbara County. It is the largest AVA in California, encompassing six counties, and averaging 25 miles in width, stretching over 4 million (or 5 million depending on the source) acres with 90,300 to 100,000 acres (again, depending on the source) planted to wine grapes. 50% of the plantings are Chardonnay. There are approximately 600 wineries, producing 15% of the state's wine production. 30 smaller sub-AVAs reside within the large Central Coast AVA.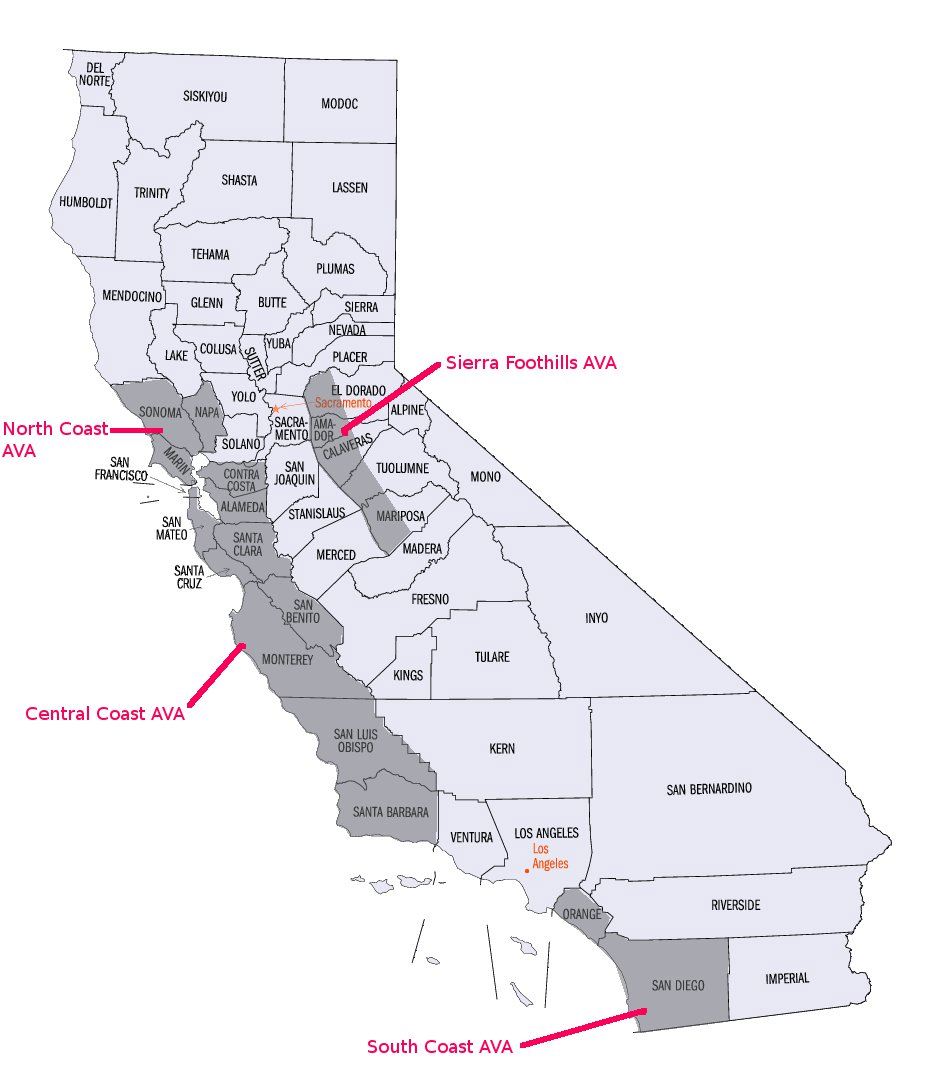 Not surprisingly, consumers are confused about the Central Coast. Andrew Adams, writing in Wines & Vines (March 19, 2013), noted that Michael Heintz, the senior marketing director for E. & J. Gallo reported, "Surveys of consumers found the term "Central Coast" often left them confused or thinking of the central coast areas nearest to where they lived." Some consumers thought Paso Robles and San Luis Obispo were in Mexico!
It might be prudent for World of Pinot Noir to change its name to Central Coast Pinot Noir Festival and limit the wines to those produced in the Central Coast AVA or wines made from grapes grown in the Central Coast AVA. The Grand Tasting venue could be divided into, for example, Santa Lucia Highlands & Monterey County, San Luis Obispo including Arroyo Grande and Edna Valley, Santa Maria Valley and Santa Rita Hills. The Pinot Noirs from each of these regions do have some regional characteristics and this could be emphasized to the attendees. I believe regional identity is a key factor in consumer wine buying decisions.
One of the challenges of the Central Coast is that it is largely agricultural and lacks the infrastructure for tourism found in popular California wine tourism appellations such as Sonoma County and Napa County. Santa Cruz Mountains does have many lodging and restaurant choices, but the wineries are spread out, many wineries are open infrequently or not at all, and the region does not condone proper signage that would make it more convenient to find winery locations. San Luis Obispo has some limited tourism infrastructure and is reasonably close to Edna Valley and Arroyo Grande. Santa Maria Valley is lacking but is only a thirty minute drive from good lodging and restaurant choices in the Santa Ynez Valley. Santa Rita Hills is reasonably close to Santa Ynez and Buellton.
After the World of Pinot Noir, I spent a morning with James Ontiveros, owner of Rancho Ontiveros Vineyard in the Santa Maria Valley and Native 9 Wines, partner in Alta Maria Winery with winemaker Paul Wilkins, and Director of Sales and Marketing at Bien Nacido Vineyard, Solomon Hills Vineyard, French Camp Vineyard and Central Coast Wine Services. He is a 9th-generation land owner whose ancestors owned the 8,900-acre Rancho Tepusquet land grant in northern Santa Barbara County. A graduate of Cal Poly San Luis Obispo, James has spent much of his life in the Central Coast.
I jumped in his car, and with his family dog on my lap, we set off to view the vineyards and wineries of the Santa Maria Valley. I learned a bit of history of the region as well. We traversed both the Eastern and Western portions of the east-west transverse valley and river lands, a huge alluvial plain cut out by the Santa Maria River. This transverse valley is responsible for the suitability of the Santa Maria Valley AVA for wine grape growing. Cool maritime influences are channeled into the wide valley, and if the Santa Maria Valley was not situated at this southerly latitude, it would be too cool to ripen grape varieties to full maturity. The combination of maritime winds and fog produces a long growing season averaging 125 days from bloom to harvest. The daytime temperature rarely exceeds 75º F and it is rare for the AVA to receive enough excessive heat to shut down the vines. The map below can be seen full size at www.santamariavalleywinecountry.com. Looking at the map, one can appreciate that there is still a vast amount of undeveloped prime vineyard land that is currently being used for cattle grazing and other agricultural pursuits.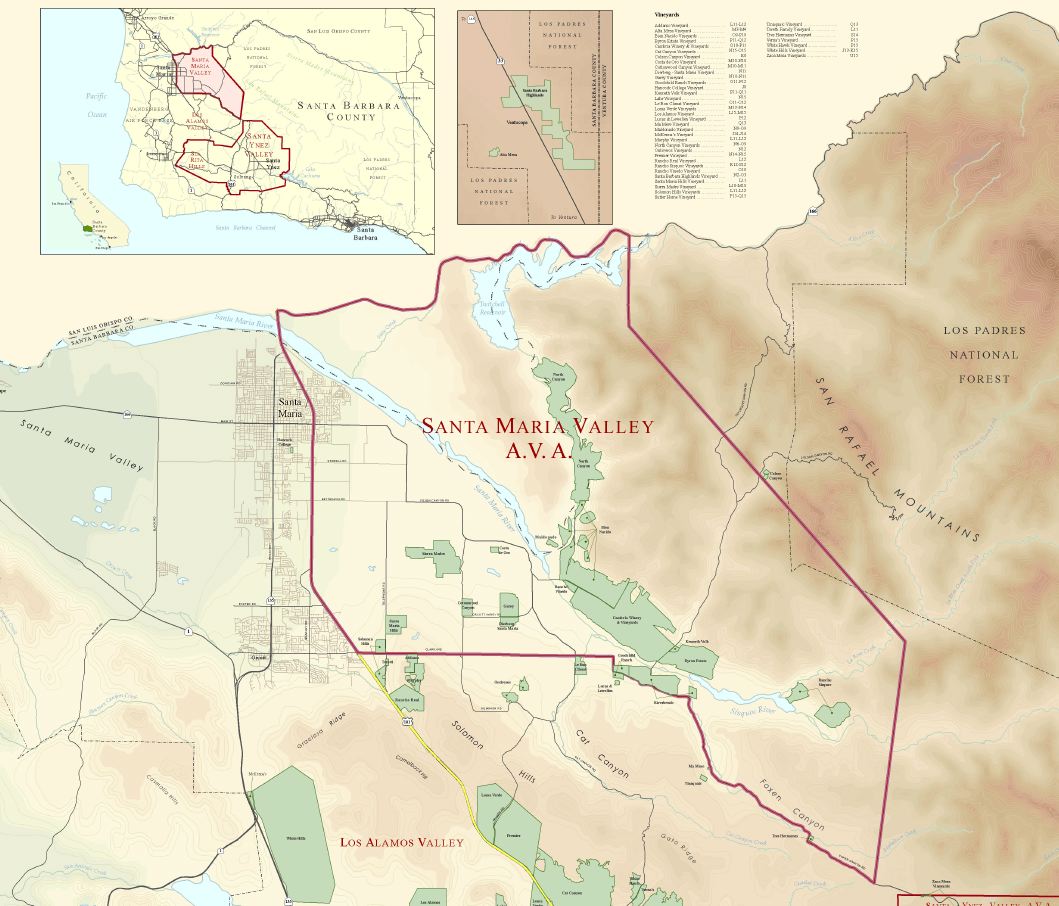 The most striking new development in the Santa Maria Valley is the widespread replacement of old vines originally planted in the early 1970s. The replacement of old vines varies from hundreds of acres at Cambria and Byron to more modest re-plantings at vineyards like Bien Nacido and Clark and Telephone. The Nielson Vineyard at Byron is the oldest commercial vineyard in Santa Barbara County and was planted in 1964, but is now being replaced with the newest rootstocks and clones, taking advantage of modern viticulture knowledge and years of winegrowing experience in the Santa Maria Valley. James pointed out how the newer plantings in the valley are being laid out with more consideration of aspect and topography. Some would decry the loss of old vines, but James responds that the much of the old vine acreage had been under performing and underwhelming. "Small blocks of old vines are interesting, but we don't need thousands of acres."
While attending Cal Poly San Luis Obispo, James met Paul Wilkins. They started the campus Vines & Wines Club modestly with only twelve members. After graduating from college, James went to work for E. & J. Gallo in Sonoma County, unaware that the Vines & Wines Club had become the most popular club on campus. He received a call from one of the club's members asking permission for a group to visit Gallo. James didn't think to ask exactly how many people would attend. On the day of the visit, two busloads of college kids showed up. 70% of the club had become girls and James was suddenly confronted with a "Girls Gone Wild" scenario.
Paul became a winemaker after college, and in 2005, he and James became partners in Alta Maria Winery & Vineyards. Alta Maria Pinot Noir is intended to be a reasonably priced "snapshot of the Santa Maria Valley." James has gradually locked up long-term sources for grapes for Alta Maria including Bien Nacido, Rancho Sisquoc, and Garey Vineyard.
James is most excited about the newest Alta Maria vineyard source. He has obtained a long term lease with an option to buy the 27-acre vineyard, Rancho Vinedo, located adjacent Bien Nacido Vineyard and possessing very similar soils (the vineyard site is visible on the map above). The vineyard was originally planted in 1972 and has been a source of grapes for Au Bon Climat. A family-run project, the vineyard has been slightly neglected and subjected to years of herbicides. James is upgrading the farming to organic, altering the pruning and trellising regimen, interplanting, and converting some of the Chardonnay back to Pinot Noir. Many years ago, Jim Clendenen and Adam Tolmach advised the vineyard owners to graft a portion of the Pinot Noir over to Chardonnay. Some of those vines are now being refocused by James to return them to Pinot Noir production, giving him 42-year-old own-rooted Pinot Noir vines. Remarkably, the vineyard was part of the Ontiveros family's original ranch, so in essence, he is "slowly taking it back." A new name for the vineyard is under consideration.
We drove to Rancho Sisquoc, the site of previous Santa Barbara County Harvest Festivals. At the eastern edge of the Santa Maria Valley, the property spans an astounding 36,000 acres of which 300 acres are planted to vineyards. This area is less windy and warmer in some parts allowing varieties such as Cabernet Sauvignon, Merlot, Syrah and Sauvignon Blanc to be successfully grown there. The Flood family, who were notable silver kings in Nevada, have owned the property since the early 1970s. James worked as a cowboy on the ranch while a student at Cal Poly San Luis Obispo. The Ranch Sisquoc winery tasting room is a real throwback to the early ranching days of the Santa Maria Valley and with the cattle headquarters adjacent, one sees cowboys and winemakers intermingling.
Our final stop was Presqu'ile Winery, located on Clark Road, on the western side of the Santa Maria Valley close to Solomon Hills and Clark & Telephone vineyards. This is a remarkable property, when completed in June 2013, will become the jewel of the Santa Maria Valley AVA. Presqu'ile ("press-KEEL") is owned by the Murphy Family who named the winery Presqu'ile, after the Creole word meaning "almost an island." The reference is to the gathering place of the Murphy family on the Gulf Coast until Hurricane Katrina ended an era. Four generations of the Murphy family have partnered in farming, forestry, oil and gas, and conservation. Today, two generations of Murphys have joined with winemaker Dieter Cronjie and vineyard manager Jim Stollberg to form the soul of Presqu'ile.
The 73 acres of certified sustainably farmed vineyards are located on a 200-acre property. The Murphys have added to the initial plantings of the previous Addamo vineyards on the site. Pinot Noir, Chardonnay, Sauvignon Blanc and a little Nebbiolo make up the vineyard composition. Beginning with the 2010 vintage, most of the Presqu'ile wines became estate grown.
James took me on a tour of the new visitor center, caves and winery built into a hillside. Although still under construction, the facility is already stunning with a tasteful modern architectural presence, and a large gravityflow winery outfitted with all the latest winemaking technology. Visitors will be taken from the caves by elevator to an entertainment venue that offers a breathtaking view of the entire Santa Maria Valley. This will undoubtedly become the first stop for visitors to the Santa Maria Valley and significantly increase the awareness among consumers of the magnificence of the wines from the Santa Maria Valley.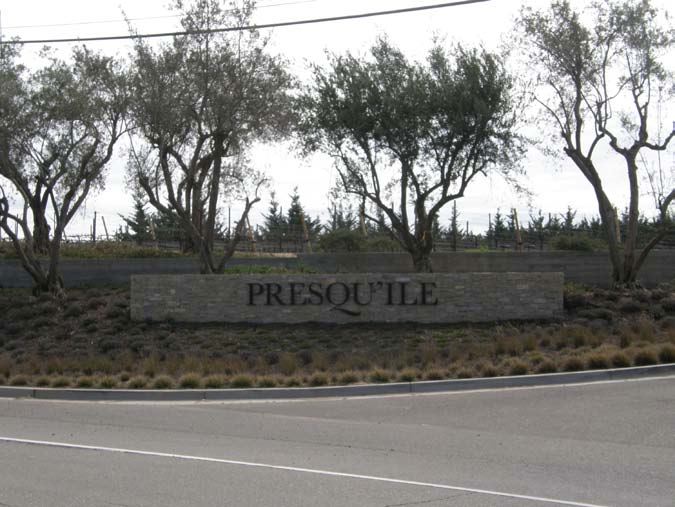 The Murphys have become partners in Alta Maria Winery & Vineyards and the Alta Maria vines will be produced at the new Presqu'ile winemaking facility. Matt Murphy (cap), Jonathan Murphy (jacket) and Dieter Cronjie (gray sweater) are pictured. Visit www.presquilewine.com and www.altammaria.com.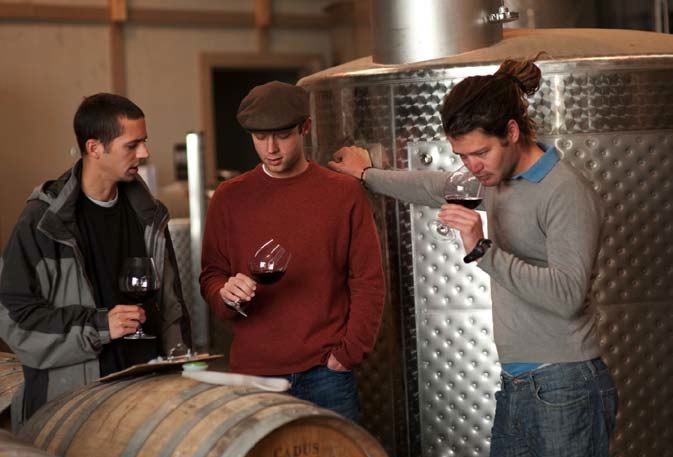 2010 Alta Maria Vineyards Santa Maria Valley Pinot Noir
14.3% alc., pH 3.69, TA 0.53, 4200 cases, $28. Aged 17 months in 33% new French oak barrels. Sixth vintage. · Moderate reddish-purple color in the glass. Nicely perfumed with aromas of cherries, berries, red plum and spice. Mid weight pleasing flavors echo the nose. The "Santa Maria" spice component is vivid and quite evident on the finish. A well-crafted wine perfect for the dinner table. Good (+).

2011 Byron Santa Maria Valley Pinot Noir
13.5% alc., pH 3.74, TA 0.50, 15, 207 cases, $29. 100% estate-owned Nielson Vineyard fruit. This wine comes from both older Pinot Noir vines planted on their own rootstock and new vines planted to high density spacing with the latest clones and rootstocks. Aged 10 months in 20% new French oak barrels. · Moderately dark reddish-purple color in the glass. Very appealing aromas of black raspberries, black plums, spice, pine and nutscented oak. Mid weight flavors of dark berries, cherries and plums with pleasing hints of cola, spice and herbal oak. A little earthy tone fills the background. This wine is noticeably lighter, fresher and crisper in this vintage. Good (+).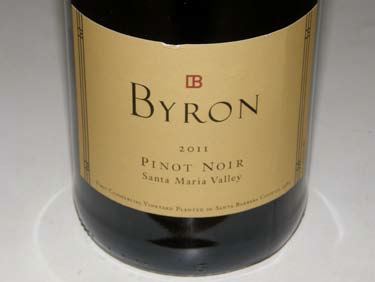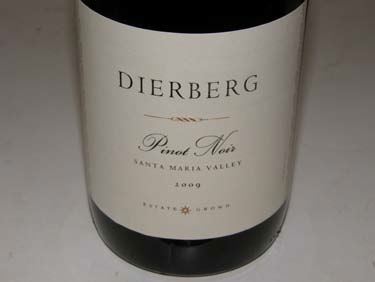 2010 Presqu'ile Winery Presqu'ile Estate Vineyard Santa Maria Valley Pinot Noir
13.46% alc., TA 0.561, $55. First 100% estate grown wine. 100% whole cluster. 60% clone 777, 40% clone 667. Aged 17 months in 35% new French oak barrels. Tasted briefly at World of Pinot Noir. · Welcome whole cluster spice and structure with a delicious cherry core, fine tannins and a very focused finish. Very good.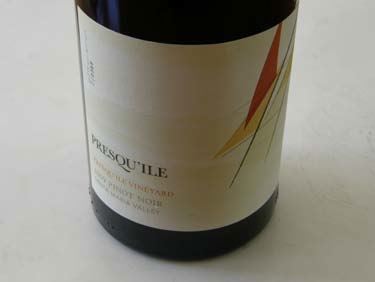 The Chardonnay Symposium: Tickets are now on sale for The Chardonnay Symposium in Santa Maria Valley July 19-21. The weekend full of events will include a Dinner Tribute to Jim Clendenen at the Historic Bien Nacido Adobe on Friday, July 19, and The Chardonnay Symposium and Grand Chardonnay Tasting at Byron Vineyard & Winery on Saturday, July 20. For tickets and information visit www.thechardonnaysymposium.com.