Cruzin' the Pinot Trail: Pinot Paradise in the Santa Cruz Mountains
There is no other wine region even remotely like the Santa Cruz Mountains. It is one of the cradles of Pinot Noir in California, but is better known for its eccentric and Bohemian residents than its viticultural heritage. The reasons for this are evident when you cruz throughly the hilly, heavily wooded landscape. Unlike every other major winegrowing region in California, wineries and vineyards are not visible from major highways and roads. Vineyard sites are often in rugged, remote areas, tucked into a nook or cranny among the heavily forested countryside or perched on a hilltop accessible only by a length and precariously narrow road. Guideposts and signage directing visitors to wineries is nonexistent and locals quickly remove even the smallest roadside placard. Roads often zigzag and traversing them is agonizingly slow. Speaking of zigzag, the low-key residents of the Santa Cruz Mountains often have more interest in the crop you can smoke than the one you can drink.
The Santa Cruz Mountains American Viticultural Appellation (AVA) was federally approved in 1981, and was one of the first AVAs to be defined by geophysical, altitudinal and climatic factors. The eastern and western boundaries are defined by elevation, namely mountainous land above 400 feet on the western side and from 400 to 800 feet on the eastern side. The squiggly outline of the Santa Cruz Mountains AVA reflects the fog line that surrounds the mountains.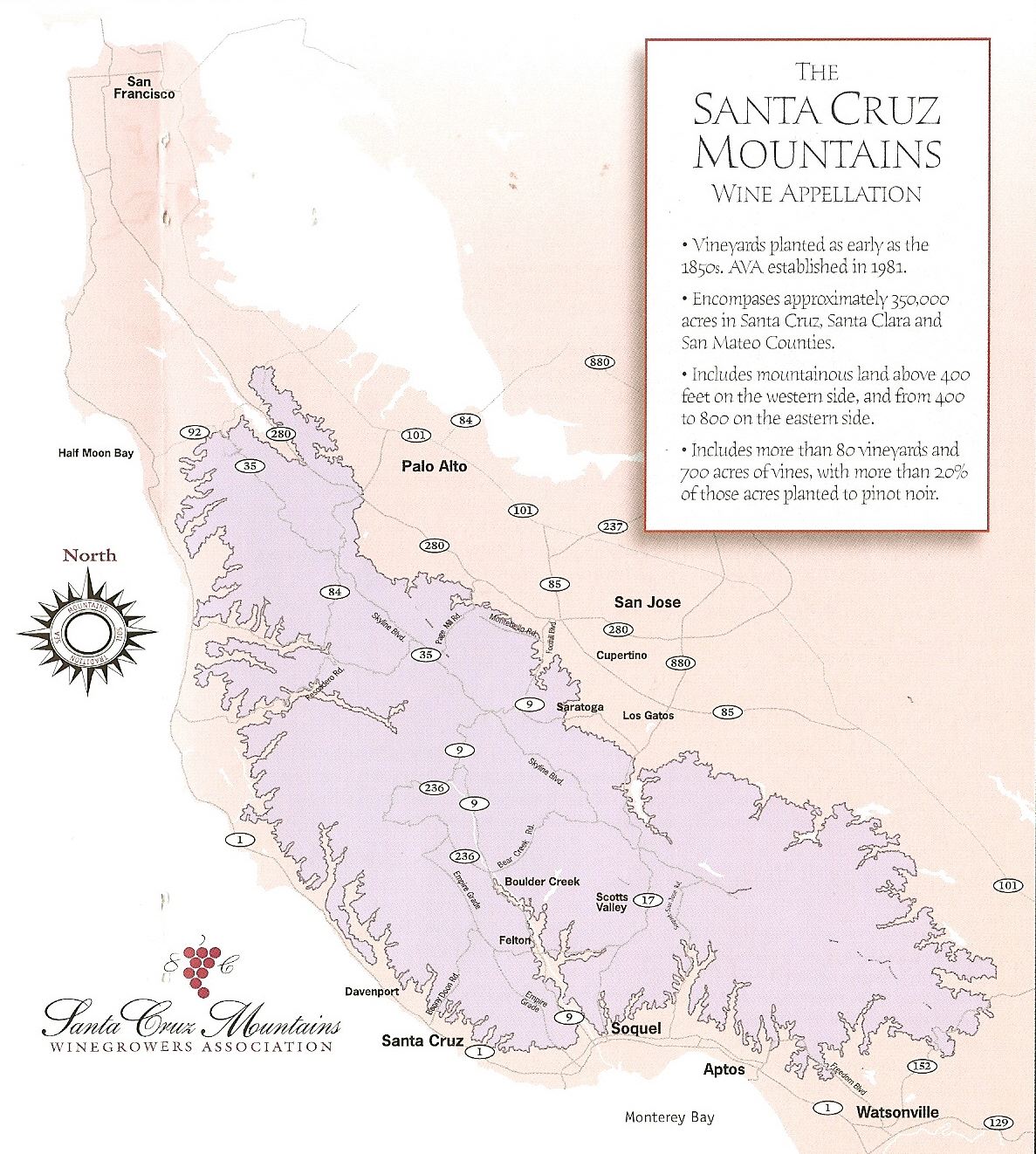 This large appellation stretches over 408,000 acres incorporating parts of three counties: Santa Cruz County to the west, Santa Clara County to the east, and San Mateo County to the north. It can easily take two hours (about 100 miles) to drive from one end of the AVA to the other. The Santa Cruz Mountains AVA is not included in the Central Coast AVA (but part of Santa Cruz County is).
There are many small family owned vineyards (over 200) and wineries (90+), and the total vineyard acreage reported by the Santa Cruz Mountains Winegrowers Association is roughly 1500 acres divided evenly among Pinot Noir, Cabernet Sauvignon, Chardonnay and other varieties such as Merlot and Zinfandel. (Exact, up-to-date figures for vineyard acreage, number of vineyards and wineries is unavailable in keeping with the laid back vibe in this region. Previous research done by me a few years ago indicated 600+ acres of Pinot Noir). A single vineyard in some California appellations have as much if not more acreage than the Santa Cruz Mountains has in its entire AVA. The largest commercial vineyards are between 40 and 60 acres. As you can imagine, wine grapes are a scarce commodity and in considerable demand.
There are a myriad of microclimates in the Santa Cruz Mountains, but wine grapes are planted in three general climates: (1) coastal vineyards are typically at lower elevations with fog burning off late in the morning, (2) high mountain and summit vineyards are above the fog, (3) valley slopes on the eastern side of the mountains along the peninsula which are warmer. The AVA has been further divided into six sub-regions according to flavor profiles. One of the six, Ben Lomond Mountain is a true sub-AVA of the Santa Cruz Mountains. The other five are Saratoga/Los Gatos, Summit Road, The Coastal Foothills (Los Ranchos), and Corralitos/Pleasant Valley. For more information visit www.appellationamerica.com/wine-review/645/Renaissance-Grape.html. An approximation of the sub-regions is illustrated below.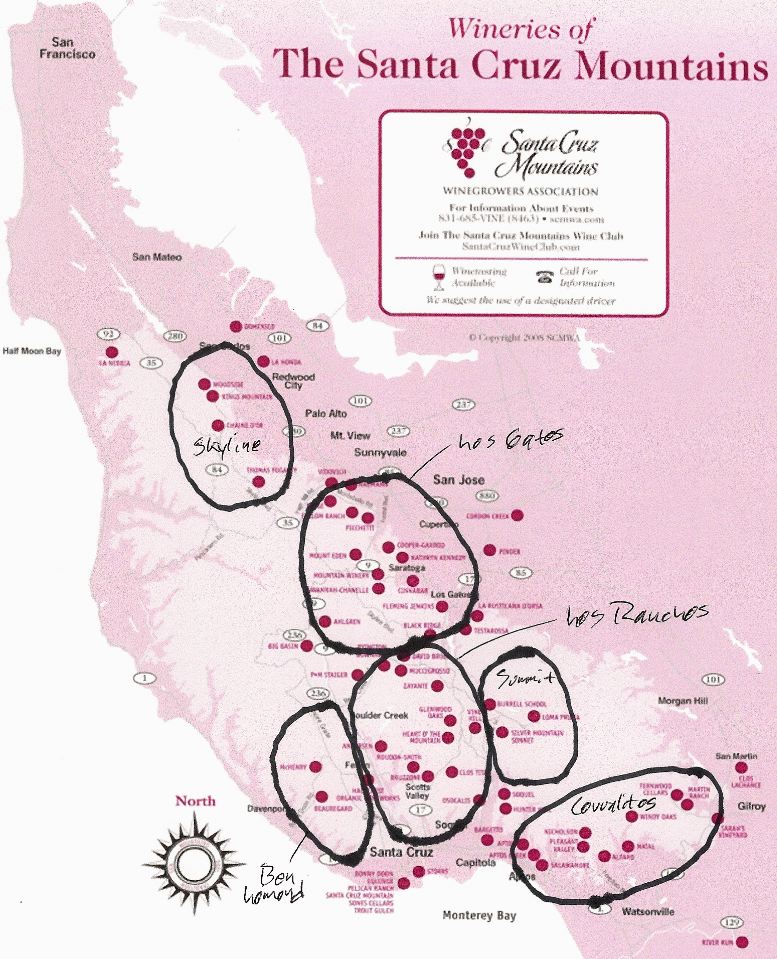 Since the Santa Cruz Mountains are relatively isolated and have no large corporate involvement, they wines have retained a charming innocence and purity, seemingly unaffected by the trends that drive the sales of large wine producers. The wines are characterized by an earthy, mineral quality, complex and intense flavors, and balanced acidity that allows them to age well. There are few vestiges of the style of Pinot Noirs of the 1970s and 1980s when many Santa Cruz Mountains Pinot Noirs were rustic, chunky and tannic, and often poorly crafted. Today, the Pinot Noirs, led by producers such as Alfaro Family Vineyards & Winery, Big Basin Vineyards, Mount Eden and Domaine Eden, Rhys Vineyards, Windy Oaks Vineyards & Winery, Thomas Fogarty Winery and Varner & Neely, are thoroughly modern in style with commendable value-to-price ratios.
A major reason for the modernization of Pinot Noir from this region is due to the widespread use of current viticultural know how. A number of experienced vineyard consultants, including Prudy Foxx and Greg Stokes, are actively assisting clients in choosing appropriate sites and aspects, planting the proper rootstocks and clones to match the sites, overseeing proper trellising, canopy management, and emphasizing sustainable vineyard practices. The result has been a notable improvement in wine quality.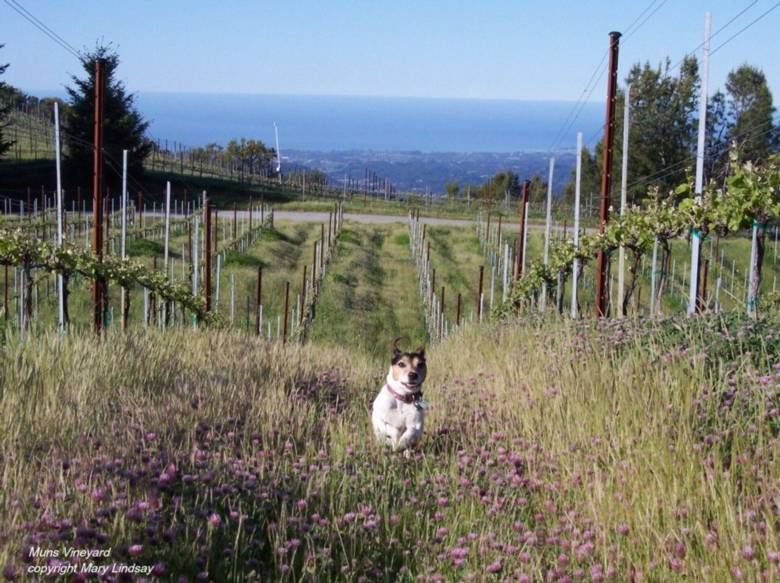 This quote from the book, Sideways, seems to be referring to Santa Cruz Mountains Pinot Noir. "It's a hard grape to grow....it's thin-skinned, temperamental, ripens early....it's not a survivor like Cabernet, which grow anywhere and thrive even when it's neglected. No, Pinot needs constant care and attention....it can only grow in these really specific, little, tucked-away corners of the world."
One of the challenges of the organizers of Pinot Paradise is to enlist more participation by Santa Cruz Mountains Winegrowers Association (SCMWA) members. There is an apparent lack of cohesiveness among winery members. Of the 80 wineries listed in the latest SCMWA brochure, only 35 participated in the Grand Cruz Tasting held on Sunday, March 24. Prominent members who were absent included Bonny Doon Vineyard, Clos de la Tech, David Bruce Winery, Loma Prieta, McHenry Vineyard, Rhys Vineyards, Salamandre Wine Cellars,Testarossa, and Windy Oaks Estate. Well-regard Pinot Noir producers Neely and Varner are not listed as members of SCMWA and did not participate.
I attended the Pinot Paradise Technical Session on "Minerality - Taste and Terroir" held at the historic Mountain Winery in Saratoga. This was originally Paul Masson's winery named La Cresta, that was completed in 1905. It was destroyed by the San Francisco earthquake a year later, but by 1907 a new winery stood in its place. Masson became quite successful until Prohibition intervened. By the time of Repeal in 1933, Masson, now a widower (he was married to noted vintner Charles Lefranc's daughter, Louise), had lost most of his fortune and in 1936 sold his winery to Martin Ray. Since then the ownership of the property has changed hands numerous times. In 1958, an amphitheater was built on the grounds and The Mountain Winery became known for its Summer Concert Series. The current owners of The Mountain Winery have dedicated themselves to protecting the natural beauty of the estate. Many events and weddings are now held at the venue. The Mountain Winery also produces Pinot Noir and Chardonnay from estate grapes under the direction of winegrower Jeffrey Patterson of Mount Eden.
The moderator of the "Minerality- Taste and Terroir" seminar was David Glancy, a wine educator and founder of the San Francisco Wine School. Panel winemakers included Duncan Meyers of Arnot-Roberts Winery, Bradley Brown of Big Basin Vineyards, Nathan Kandler of Thomas Fogarty Winery & Vineyards and Jim Schultze of Windy Oaks Estate Vineyards & Winery. Each of the panelists presented a wine intended to show minerality. It is always challenging to attempt to taste wine while a seminar is in progress, but for me, although all wines showed bright acidity, the Thomas Fogarty wine was the only wine to reveal minerality.
Josh Jensen of Calera Wine Company was scheduled to speak on minerality after the panel presentation, but illness prevented him from attending. His winemaker, Mike Waller filled in and presented three wines. Waller noted that because of the large percentage of whole cluster in Calera wines, the added potassium elevates the pH and acid must be added. The Calera wines definitely showed minerality.
2009 Calera Ryan Vineyard Mt. Harlan Pinot Noir
14.1% alc.. 2500 feet elevation. Aged 18 months in 30% new French oak barrels. · Lovely aromas of fresh cherries, rose petals and spice. Earthy, with flavors of black cherries and dark berries. The muscular, chalky tannins stand out. Good
2009 Calera Selleck Vineyard Mt. Harlan Pinot Noir
14.1% alc.. Aged 17 months in 30% new French oak barrels. · A more serious wine of tremendous interest. Aromas of cherries, blueberries, sandalwood, spice and sandstone. Delicious middleweight flavors of dark cherries and berries. Very smooth on the palate with less bitter tannins than the Ryan and more depth and length on the finish. Exceptional.
NV Calera Mt. Harlan Chardonnay
2200 feet elevation. Native yeast fermentation, aged 10 months in 30% new French oak barrels. · This wine is less about fruit and more about acidity and salinity. Flavors of lemon, white peach and roasted nuts. Impressive balance. Very good.
The Grand Cruz Tasting was held in Campbell at the Villa Regusa event center. Each year participating wineries offer a 3.0 L bottle for a silent auction to raise money to support SCMWA. In addition, a cuvée of vintages 2007 through 2011 of 36 Santa Cruz Mountains wineries was offered at auction. SCMWA president Dave Moulton of Burrell School Winery is shown holding the cuvée.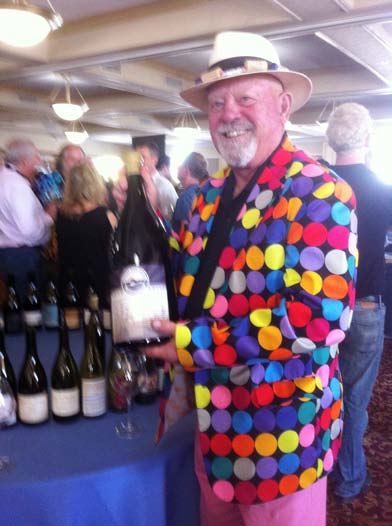 Before opening to the public, a pre-tasting was available to members of the press and trade and I was able to sample a number of wines from the 35 participating wineries. Here are the wines at the Grand Cruz Tasting that caught my fancy with brief tasting impressions.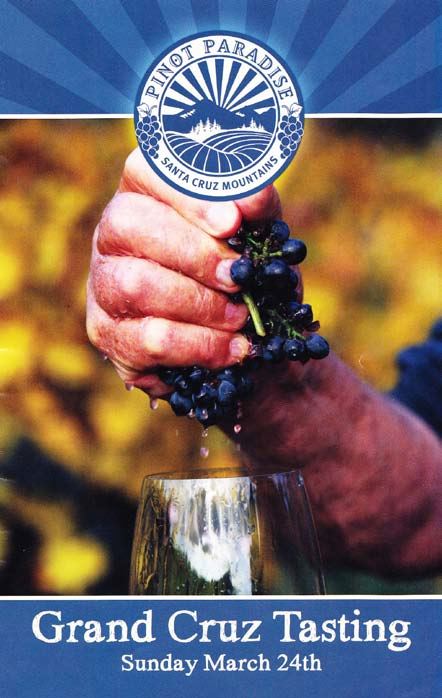 I tasted a mini-vertical of Pinot Noirs from Muns Vineyard. Ed Muns farms a 13-acre vineyard that is the highest in the Santa Cruz Mountains at 2,600 feet. Soils vary from rich loam to shale to red clay. Planting occurred from 1998 to 2005 with Dijon clones 114, 115, 667 and 777. Farming is sustainable and impeccable. 90% of production is sold to prominent producers including Beauregard Vineyards, Silver Mountain Vineyards, Sonnet, Soquel Vineyards and Thomas Fogarty. The Muns Vineyard wines were first produced in 2003 and are crafted by owner Ed Muns and winemaker Tony Craig. All the wines are 100% de-stemmed, whole berry fermented, aged in Hungarian oak barrels and are unfined and unfiltered. Common threads in the wines are red cherry fruit, bright acidity and firm tannins. Ed predicted the 2012 vintage will be terrific as there was no rain, harvest occurred on schedule, and the grape chemistries were perfect.
2010 Muns Vineyard Santa Cruz Mountains Pinot Noir Unreleased, not reviewed.
2011 Muns Vineyard Santa Cruz Mountains Pinot Noir
80 cases, $40. Released November 2012. Two versions of Muns Vineyard Pinot Noir were made in 2011: one is the usual style crafted by Tony Craig and the other (tasted here) was made by winemaker Ryan Beauregard using native yeast and aged 8 months in second use American oak barrels. · Wild and exotic on the nose featuring delicate red cherry fruit and a hint of volatile acidity. Slightly confected red cherry flavor with hi-tone acidity and soft tannins. For the adventurous. Decent.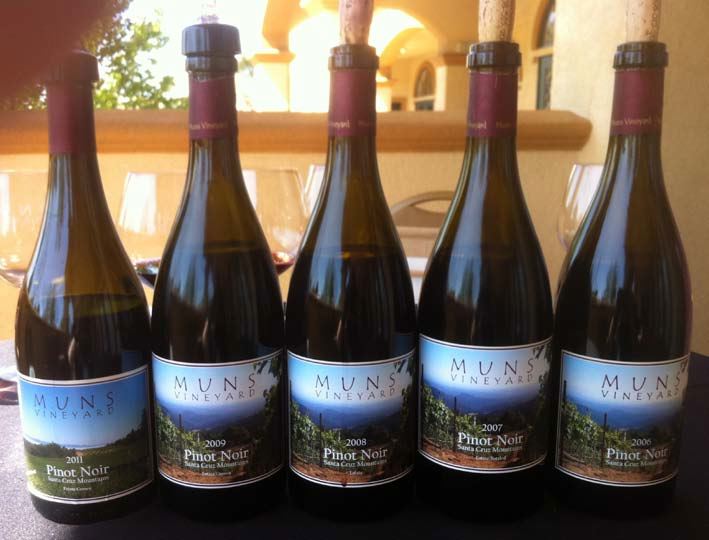 Pleasant Valley Vineyards Winemaker Craig Handley was pouring three Pinot Noirs from Lester Family Vineyards in Corralitos, about a miles from his winery. Soils are sandy. 100% de-stemmed, whole berry, fermented in small lots. Aged in 50% new and 50% 1-year-old French oak barrels.
For information on the wineries of the Santa Cruz Mountains, visit SCMWA at www.scmwa.com or phone 831-685-8463. For information on the vineyards of the Santa Cruz Mountains, visit the Viticulture Association of the Santa Cruz Mountains (VASCM) at www.vascm.org.
For extensive information on the Santa Cruz Mountains winegrowing region also visit the PinotFile at www.princeofpinot.com and enter "Santa Cruz Mountains" under the Google search feature.
Santa Cruz Mountains Passport Day will be Saturday, April 20, 2013, presented by SCMWA.
Santa Cruz Mountains Vintner's Marketplace will be held at Santana Row in San Jose, California on April 21, 2013. Similar to a farmer's market, this event allows you to sample and buy wines from the Santa Cruz Mountains. Over 20 Santa Cruz Mountains wineries will participate, including Beauregard Vineyards, Burrell School Vineyards, Muns Vineyard, Silver Mountain, Storrs Winery and Windy Oaks Estate. Admission will be free but wine tasting requires purchase of tickets. Visit www.scmwa.com for information. Oops, the event is sold out!
Santa Cruz Mountains Vintners' Festival will be June 1-2 and 8-9, 2013. The first weekend features wineries of Santa Clara and San Mateo counties and the second weekend wineries of Santa Cruz County. Tickets are now available at www.scmwa.com.
A good source of Santa Cruz Mountains wines is the wine bar and retailer, Vinocruz, located at 725 Front St., #101, in Santa Cruz. Visit www.vinocruz.com.