Part II: History of Fort Ross-Seaview Area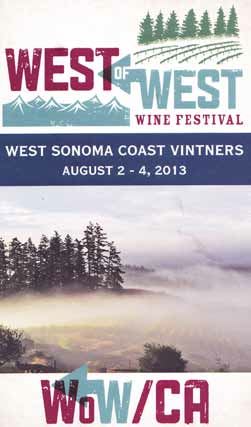 The morning seminar at this year's West of West Wine Festival (WOW) was titled, "Diamonds in the Sky, Taste the Terroir of the Fort Ross-Seaview AVA." The panel consisted of Jon Bonné of the San Francisco Chronicle, Lee Martinelli, Sr., of Martinelli Winery in Windsor, and David Hirsch of Hirsch Vineyards in Cazadero. Martinelli and Hirsch were two of the region's earliest growers and they reflected on the early history of winegrowing in the West Sonoma Coast. The following was drawn from their commentary and my research at the Sonoma County Wine Library.
The first wine grapes in Sonoma County were planted by the Russians at Fort Ross in 1817 using Peruvian grape cuttings, and some wine grapes were grown before Prohibition, but the modern era of winegrowing in the West Sonoma Coast began with Michael Bohan. I spoke with Michael's son, George, and he related the following historical information.
Bohan's family were ranchers near Fort Ross, running sheep, and raising turkeys and dairy cows, among other things, since the middle of the nineteenth century. Michael (known by his friends as "Mick") bought his grandfather's ranch in Cazadero on Bohan Dillon Road in 1946 using GI Bill money he received from serving in World War II. He grew a number of crops on his ranch that was situated on a ridge top at 1,400 feet elevation.
In 1972 (the dates 1971 and 1973 are both incorrectly mentioned in the wine literature), he developed a vineyard, initially planting 1 acre of Zinfandel (which is still thriving). When Michael enlisted in World War II, he met Mel Pedroni from Healdsburg, whose family had vineyards and the two became lifelong friends. Mel's son, Danny, managed the Gallo vineyards in Sonoma. The Pedronis help Michael with his initial vineyard plantings. At the time, the University of California at Davis viticulture experts advised against planting grapes in Cazadero hills as they believed it was too cool. Undeterred, Bohan developed more small vineyards including plantings of Chardonnay, Riesling and Pinot Noir. By 1985, Bohan's acreage had reached close to 39 acres (about 20 acres of Pinot Noir).
The first crop from Bohan Vineyard was sold to Martini & Pratti in 1978. Beginning in 1979 and through 1985-1986, the grapes were sold to Felton Empire in the Santa Cruz Mountains. Small lots of Pinot Noir and Riesling were also sold to Sea Ridge Winery. Beginning in 1986 and continuing until 2000, grapes were sold to Robert Stemmler and practically all of Stemmler Pinot Noir releases were 100% Bohan Vineyard fruit. The Riesling in the vineyard was grafted over to Merlot and performed beautifully on the site. Merlot grapes were sold to Beulieu and Fetzer, and the grapes were said to be as good as those from Napa. When the Robert Stemmler label was sold to the Racke family, and the Bohans were not longer working with Stemmler, the grapes were sent to La Crema. To this day all Bohan Vineyard grapes are sold. In the current vintage, Pinot Noir grapes are to be sold to Failla, Flowers and Kutch.
The selections of Pinot Noir planted at Bohan Vineyard are unknown. George says that back in the early 1970s when his dad started planting Pinot Noir, the norm of the time was to call a nursery and ask for "Pinot Noir," without specifying a clone or selection. Because the Pinot Noir performed so well initially on the site, the Bohans have stuck with the original selection. A number of experts have looked at the vines but they are in disagreement about its origins. George says it might be Martini.
Bohan was much respected by those who knew him and was admired for logging, running sheep and tending his vineyards well into 60s. David Hirsch said about "Mick," "He was God's gift to humanity - a regular salt of the earth individual." His son, George, entered the commodities trading business after college, but returned in 1986 when Michael was 66 years old to help out on the ranch. George left his employer on a leave of absence, but never returned, and today still lives on the ranch and manages the 35 acres of vineyards.
A number of others established plantings that included Pinot Noir either initially or eventually in the Cazadero area east of Fort Ross by the late 1970s and early 1980s as the sheep industry in the area was being phased out. This included the Schatzbergs (Precious Mountain Vineyard, beginning in the mid 1970s)), David Hirsch (Hirsch Vineyards, 1980), the Schoenfelds (Wild Hog Winery, 1981), and Tim Schmidt and Dan Wickham (Sea Ridge Winery, early 1980s). The Charles Ranch Vineyard was planted to Chardonnay with the assistance of Lee Martinelli, Sr., in 1980.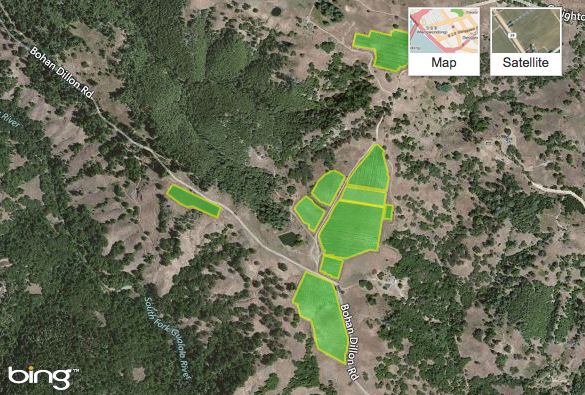 Donnie and Linden Schatzberg, former Peace Corp participants, homesteaded land for a vineyard in Cazadero in about 1970. In the mid 1970s, they planted Gewürztraminer, Riesling and some hybrids, later grafting most of it over to Pinot Noir and eventually reaching 2.3 acres of vines. Today, there are still a few Gewürztraminer canes in the vineyard. All the grapes from Precious Mountain Vineyard have been sold to Williams Selyem since 1996. Precious Mountain Vineyard is pictured above (www.everyvine.com).
David Hirsch purchased a 1,100-acre sheep ranch on a remote chain of ridge tops 900 feet above the Pacific Ocean at the end of Bohan-Dillon Road in 1978. Upon the advice of Santa Cruz Mountains winegrower friend Jim Beauregard, he decided to plant Pinot Noir. Beauregard visited Hirsch property and said, "If you plant Pinot Noir here, this will be a world-famous vineyard. Beginning in 1980, Hirsch established his first 2-acre planting of vines that he acquired from Beauregard. The planting began in earnest by 1990 and would eventually encompass 68 acres of Pinot Noir and 4 acres of Chardonnay on several ridge tops above the fog line at 1,341 feet elevation a few miles inland from the Pacific Ocean. The vineyard became world-renowned and the name, Hirsch Vineyard, quickly became synonymous with the West Sonoma Coast. (Below: aerial photo I took a few years ago and total vineyard view sourced from www.everyvine.com)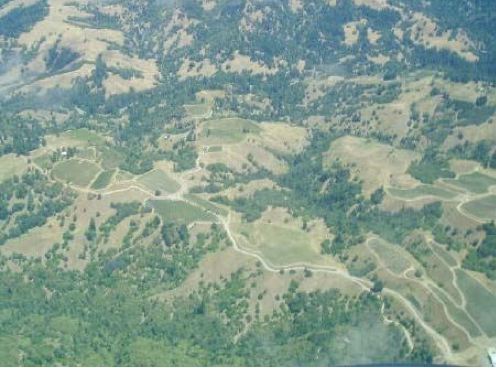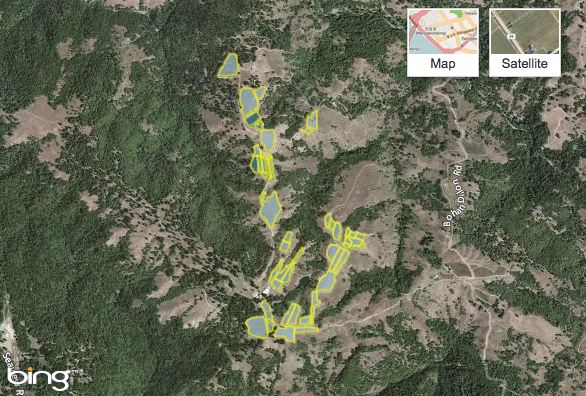 Daniel and Marion Schoenfeld settled on a property in Wild Hog Canyon 40 minutes west of Cazadero, about 3.5 miles from the coast at 1,400 feet elevation. They first planted Zinfandel and Gewürztraminer in 1981, later grafting over the Gewürztraminer to Pinot Noir. At the time they began planting, there were about 30 to 40 planted acres in the Cazadero area. Over a ten year span, the vineyard reached 5 acres in size eventually planted to Pinot Noir, Zinfandel, Petite Sirah, and Syrah. The Wild Hog Winery became bonded in 1990 and today the estate extends over 110 acres. The Wild Hog Vineyard is pictured below.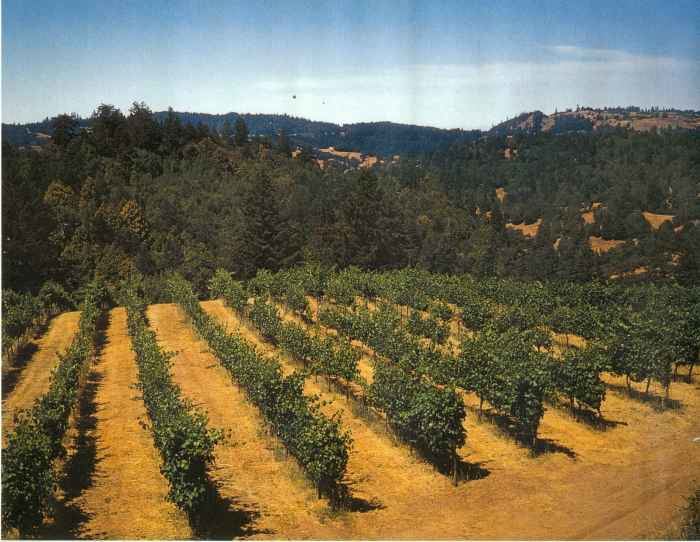 The Charles Ranch was adjacent the Bohan property on Bohan-Dillon Road and was once one of the largest sheep ranches in Sonoma County, at one point running a herd of 5,000 sheep (www.everyvine.com). It was settled by the Dillon and Charles families, settlers from Pennsylvania. The Dillons are Regina Martinelli's family (Regina is the EVP of Martinelli Winery in Windsor). The Dillon/Charles family raised sheep through six generations for over 130 years after acquiring the land during the Homestead Act in 1860. George H. Charles, a fourth generation rancher and Regina's grandfather, eventually found sheep ranching unprofitable as laws were passed favoring the preservation of coyotes who then devastated the sheep herds. George's son-in-law, Lee Martinelli, Sr., who had been visiting George at his ranch since 1958, was a successful winegrower who had taken over management of his Uncle Toni Bondi's estate in the Russian River Valley in 1973. In 1980, he suggested that George plant grapes, and with his assistance, George planted a 14- acre Chardonnay vineyard on a former sheep pasture at 977 feet elevation (Charles Vineyard). This was the second planting of wine grapes in the area after Mick Bohan. George would lease the vineyard to Lee Martinelli, Jr., in 1988.
Lee Martinelli, Sr., first met Helen Turley by happenstance on a visit to Cazadero. Her Marcassin Vineyard, planted on land purchased in 1985, was on the same ridge as David Hirsch's property. That meeting led to a long working relationship between the Martinelli family and Helen Turley and her spouse John Wetlaufer. Turley and Wetlaufer worked with the Martinellis in planting and farming their vineyards as well as making wine for the Martinelli Winery which was founded in Windsor in 1987. Together, they established Blue Slide Ridge Vineyard and Four Sisters Vineyard, both of which are on the original Charles property, and nearby Marcassin Vineyard.
Perhaps the least known wine pioneers in the West Sonoma Coast were Tim Schmidt and Dan Wickham of Sea Ridge Winery. Yet, it was the Pinot Noir they produced in the early 1980s at their rudimentary winery (the first to be located in the far Sonoma Coast) that initially brought attention to the region as possessing the potential for producing world-class Pinot Noir. Jerry D. Mead, writing in Mead on Wine ("Wines From Fort Ross?, News Herald, April 16, 1985) said, "Sea Ridge Winery....is only the vanguard for what I predict will become the most important new appellation for producing Burgundian grape varieties in the United States. With the exception of the Santa Cruz Mountains and some parts of Oregon, I can think of no region so promising for Pinot Noir, and that includes Carneros." Nearly 30 years later, Mead's proclamation has come true.
Tim Schmidt and Dan Wickham were both marine biologists working at the University of California at Berkeley Bodega Bay Marine Laboratory when they met in 1974. They began making wine at home together the following year. Schmidt was born in Santa Rosa and his love for the sea led him to pursue a bachelor's degree 9 in botany from University of California at Berkeley and a master's degree in zoology at the University of Canterbury in Christchurch, New Zealand, in 1973.
Wickham was a native of Michigan who made his first wine at age 10. After coming to California, he earned a PhD from University of California at Berkeley, studying the collapse of Dungeness crab fishing. He made a Cabernet Sauvignon in 1974 that took a gold medal in a Wine and the People competition and won praise from Andre Tschelistcheff. His winemaking experience led him to become the winemaker at Sea Ridge Winery while Schmidt became the business manager. Their spouses, Susie Avant Schmidt and Dee Hagberg Wickham also played a role in marketing the wines and managing the brand.
Schmidt and Wickham borrowed money from family members and acquired a remote 40-acre ridge top property 3 miles inland as the crow flies from Fort Ross and twelve miles west of the town of Cazadero in 1979. See pages 12, 13 and 14 for maps. The site was 1,100 feet above sea level above the fog line. The land was part of the old Seaview Ranch so the name they chose for the winery was geographically connected. Historically, a ship captain, Captain Seyveldt, homesteaded the land and in 1910 planted a pear orchard. He was murdered in 1940 for his supposed treasure which was thought to be buried on the land but was never found.
Both partners loved Burgundy wines and their backgrounds convinced them that the limestone-based shale soils and cool coastal climate of the Sonoma Coast were perfect for Burgundy varieties. Wickham told Wines & Vines (72:9, 1991) "It combined all the best aspects of soil and climate to be found in California with all the worst aspects of trying to run a business in a remote wilderness." After choosing the site, they built a 3,000- square-foot winery, doing all the construction themselves, and bonded it in 1980 for 5,000 cases. Schmidt left his job initially to run the winery while Wickham continued as a consultant for the Marine Laboratory.
Initially, they produced "Sonoma County" Pinot Noir from purchased fruit. The first crush was in 1980 with Pinot Noir grapes purchased from neighbor Michael Bohan. Wickham remarked, "One of the finest Pinots I have ever tasted." Their 1981 Sea Ridge Bohan Vineyard Sonoma County Pinot Noir ($10.50) won a Gold Medal at the 1984 Sonoma County Harvest Fair. A photo of the award, shown to me at WOW by David Hirsch: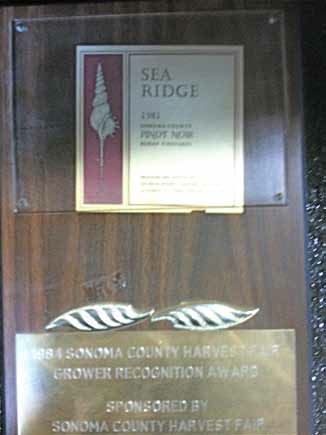 The award is a remarkable achievement in that the wine was produced in a sparse winery that had no electricity and water was very precious. The grapes were pressed using an ancient basket press from a friend's grandfather.
In 1982, Wickham found better winemaking equipment but he ended up personally handling, crushing, transporting and cleaning up a crush of over 80 tons of grapes because his partner had a broken arm (Wines & Vines, 9:72, 1991) An old generator was acquired by 1982, and electricity arrived in 1986. The Pinot Noirs were fermented in open top containers with twice daily cap punch downs and were aged in 60-gallon French oak barrels. Grapes were de-stemmed with the inclusion of 5% to 15% whole cluster.
Their 1981 Sea Ridge Sonoma County Pinot Noir ($9.75) won multiple silver and bronze awards in competitions, as did the 1982 Sonoma County Pinot Noir ($10.50). They also produced a Zinfandel from Porter-Bass Vineyard in 1982 ($8), 20 cases of sparkling wine from Mill Station Vineyard Chardonnay in 1982, a Chardonnay in 1983 from Mill Station Vineyard, and a 1984 Sauvignon Blanc. The Sauvignon Blanc grapes came from outside the region and that wine was discontinued to concentrate on Pinot Noir, Zinfandel, a Rustic Red proprietary wine (Zinfandel and Petite Sirah from Bohan Vineyard), Riesling (from Hirsch Vineyard), and several Chardonnays including bottlings from Hillcrest Vineyard near Occidental, Mill Station Vineyard near Sebastopol, and Porter-Bass Vineyard.
The 1983 Sea Ridge Sonoma County Pinot Noir ($11.50) was composed of 60% Bohan Vineyard fruit and 40% of grapes from a vineyard near Forestville. In subsequent vintages, Hirsch Vineyard also supplied a significant amount of Pinot Noir fruit. Sea Ridge Winery was the first to use the Hirsch Vineyards name on a bottle of wine, with the first single vineyard Pinot Noir produced in 1989 sourced completely from Hirsch Vineyard. A 1983 Sea Ridge "Coastal Selection" was a reserve bottling in which a small portion of the best grapes from coastal ridges were included (Summa Vineyard located near Occidental was one of the sources). By 1985, production had reached a few thousand cases.
In the Sea Ridge Winery Newsletter (1:3, Fall 1987) it was noted that after the Sonoma Coast AVA was approved in 1987, the Sea Ridge Winery future releases would bear the new appellation "Sonoma Coast" instead of Sonoma County. Also, the labels began using the term, "Table Wine," instead of alcohol percentage which was often between 12% and 13%. The owners said, "We consider wine both a wonderful, healthful beverage and food. It's not a liquor, so we do not see why we should dwell on the alcohol it contains."
Wine writers fawned over the Pinot Noirs. Dan Berger said, "The taste is silky and warm....delicate in the mouth....very Burgundian in aromas....wines well made....winery worth seeking out. Robert Parker, Jr., noted, "I was extremely impressed with the lush, delicate, silky flavors reminiscent of Domaine Dujac....spicy, intensely perfumed. Jerry Mead said, "Superior wines in every regard....very intense cherry and berry flavors, very complex and long....a Best Buy." Mead noted in 1985 (News Herald, "Wines-From Fort Ross?," April 16, 1985), "The Pinot Noirs are light in color, extraction and body, but flavorful." Tim Tesconi wrote, "The wines are to be praised for fruitiness, finesse and delicate balance." (The Press Democrat, "Sea Ridge: Prize-winning wine amidst the redwoods," March 25,1985)
The Sea Ridge label had a drawing of a marine snail called Tibia fusus drawn by a local artist. This snail is found in the Southern Pacific living burrowed in sand and uses its long spine as a funnel to extend a siphon into the water above. The gastropod feeds, like clams, by siphoning a stream of water into its body, from which it filters out tiny planktonic particles. The Sea Ridge owners chose Tibia as a mascot since they felt its delicate elegance was reflected in Sea Ridge wines.
Early on, visits to the winery were by appointment only, but a tasting room was established in 1986 that was open daily in Bodega Bay near The Tides Wharf on Highway 1. The tasting room was quite an attraction with its aquarium seascapes and led to a full write-up in The Press Democrat ("It's more than a tasting room," Bob Norberg, August 8, 1986).
At some point in the 1980s, a Pinot Noir vineyard was planted on the Sea Ridge property and named Seaview Vineyard. The cuttings for the vineyard came from Summa Vineyard that was located on a ridge top on Taylor Lane west of Occidental first planted in 1979. Writer Tim Tesconi (The Press Democrat, "Sea Ridge: Prizewinning wine amidst the redwoods," March 25,1985) described Seaview Vineyards as "8 acres of Pinot Noir surrounded by redwood groves." Reportedly, the vineyard had many challenges, including wild pigs who knocked down fences and allowed deer, rabbits and sheep to get in. Reportedly, a lack of water ultimately led to the death of the vineyard. This is curious since the region has very high annual rainfall and the Sea Ridge property had springs on it. My research did not uncover any further specifics about the Seaview Vineyard except that David Hirsch told me, "I am not sure the owners ever harvested grapes from that vineyard and the vineyard is no longer in existence." John Haeger (North American Pinot Noir, 2004) reported that Helen Turley "became involved with the declining Sea Ridge Winery," but I don't know the details.
The wines crafted during the early years of the winery were most successful. In 1988, the partners had a falling out over differing philosophies and Wickham bought out Schmidt. Wines & Vines (9:72, 1991) reported the details. Wickham retained the Sea Ridge label and stocks of Sea Ridge wine, and Schmidt held onto the Cazadero property and the Seaview Vineyards. Wickham was joined by a new partner, Dick Hagberg of Santa Rosa, and they leased a historic winery facility in Occidental that had been built in 1903 by Lee Morelli and operated as the Lemorel Winery until the 1960s. The winery, which was the oldest in West Sonoma County, was on 60 acres of vineyard land owned by Robert von Wiedlich who farmed Zinfandel and Merlot there. Wickham's first crush in the new winery was 1989 with Zinfandel supplied by Wiedlich (in the Rustic Red blend), Chardonnay from Mill Station Vineyard, and Pinot Noir from Hirsch Vineyard.
Dan and Dee Wickham were able to draw little salary from the Sea Ridge Winery operation and because of financial problems, lack of a successful marketing program, and other commitments, sold Sea Ridge Winery after 15 years, turning over the winery facility to Eric Ross Winery. The Sea Ridge Winery name was picked up by the Bronco Wine Co. who currently produce a line of California appellation varietals under that label. On the 10th anniversary of the winery, Wickham wrote the following in the Fall 1990 Sea Ridge Winery Newsletter. "Ten years ago I knew deep in my bones that the Sonoma Coast was special. The 'experts' said it was 'too cold.' After a decade of experimentation I now know the experts were wrong! I remember being stunned that very first vintage in 1980 when we got pinot noir from this supposed 'Artic' region at over 25º Brix. And they also had remarkable natural acids and deep fruit, producing balanced wines against the odds. Then 1981 became the earliest vintage ever. The result was a gold medal Pinot Noir only to be followed by 1982 with the latest vintage on record."
The story of Sea Ridge Winery exemplifies the many challenges encountered growing wine grapes and producing wine in the rugged and remote West Sonoma Coast. Nevertheless, the notoriety of Sea Ridge Winery Pinot Noir created a belief that the finest California Pinot Noir and Chardonnay might be grown along the westernmost coastal zone of the continent, and today, that belief is becoming a reality as many others pursue plantings in the West Sonoma Coast.
Some additional historical documents are reproduced on the following pages. The first is the original label from the first Sea Ridge Sonoma County Pinot Noir and a map; this is from the first brochure produced by the winery. The second page shows a map produced by Sea Ridge Winery with directions to the winery. The third page shows a vast map of much of the Russian River Valley and Sonoma Coast showing the location of Sea Ridge Winery in perspective.