Scratch Wines: Risky Business
Sabrine M. Rodems is a winemaker and owner of Scratch Wines as well as the media contact for a group of independent winemakers who have joined forces to promote their small wine brands to the trade and media under the name of "Wines of Danger." This loose affiliation of professional winemakers make wines that are anything but safe, thus the name. Some members have day jobs working for established wine brands and some do their label full time. Either way, the group of 20 vintners is emboldened with unfiltered exuberance and highly aromatic naiveté. The first media and trade tasting of "Wines of Danger" will be held August 12 at The Press Club in San Francisco. For more information, visit www.winesofdanger.com.

Sabrine is the youngest of six and growing up in Novato, which was practically a cow town in the late 1960s and 1970s, the family did everything that was free: winery tours, cheese factory tours, chicken farm tours, and plenty of camping. She says that she went on more tours by the time she was seven than most people do in their entire lives. The memories stayed with her and left quite an impression.
Sabrine has a Bachelor of Arts degree in Theater, Film and Television from the University of California at Los Angeles. After graduating in June 1992, she spent the next decade as a prop builder for stage and screen. In the late 1990s, she went back to college and was considering entering the medical field, but her sister, a family doctor, jokingly told her, "We don't need another doctor in the family, we need an enologist in the family." Sabrine felt that her sister envied her because she worked in the arts, while Sabrine envied her sister who was versed in science. Both of them grew up with a passion for food and wine, and since Sabrine wanted to pursue a career that combined art and science, she decided to transfer her pre-med course work and obtain a Master of Science degree in Viticulture and Enology from the University of California at Davis. She accomplished her goal in 2004.
Upon graduation from Davis, she joined San Saba Vineyard and was promoted to winemaker within two years. In 2008, when the Thomas Family purchased San Saba Vineyard, the Wrath label was created. She continued to craft wine for Wrath's owners Michael and Barbara Thomas, but with their blessing and support, began her own personal wine project in 2011, Scratch Wines.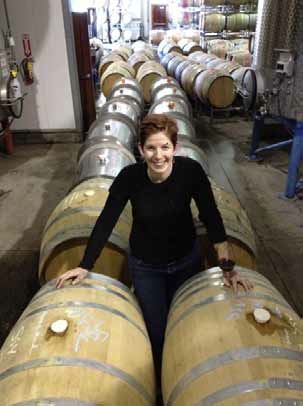 Sabrine told me, "Scratch is a brand I created to push my limits. My objective is to pick grape varieties I love and make them in styles that show them off at their best: high acid Riesling, spicy Grenache and bold Pinot Noir. I also wanted to push the boundaries of art. My brand is about art, the art of wine and the art on the label. My brother-in-law, who is a Humanities professor at University of California at San Diego by day, and whose tag is Neun, is a spray paint artist at night who does some provocative work that I was immediately drawn to for my label art. He only works in his garage, so no illegal work, but I think it is amazing."
Having tasted Riesling and Grenache from the Arroyo Seco, Sabrine was always impressed with the wines. The rocky soil of the dry river bed really lends itself to these varietals. When she tastes her Riesling and other Rieslings from here, she thinks of the river rocks. The Grenache from the Arroyo Seco is very spicy and the significant whole cluster really pushes the spice and dark fruit forward. The Pinot Noir from KW Ranch has plenty of rich fruit flavors with the addition of structure and flavor contributed by whole cluster creating a very complex glass of wine. She is also looking to produce a Cabernet Sauvignon from the Santa Cruz Mountains for the 2013 harvest.
Sabrine's philosophy can be summed up by the following. "Scratch is really a passion brand for me. I get to do what I want to do and how I want to do it. I printed the raw data on the back of my labels because I want people to understand what it means and what the style is going to be like without flowery language. I'd like to think that without being myopic, I can successfully use my experience as a barometer, and I think wine consumers will appreciate my wines and their presentation. Not to say it is not without risk. In fact, it is laden with risk. Maybe that is what I like about it." This made me think of the tagline for the Tom Cruise movie, Risky Business, "There's a time for playing it safe and a time for Risky Business."
The image on the Scratch label is a half of a girl's face with a gas mask and the wine packaging is very appealing. Scratch wines are sold through the website at www.scratchwines.com and by a few Northern California retailers (Napa Valley Wine and soon Russian River Wine Co.). Production will increase with the 2012 vintage when about 200 cases of each varietal will be available. 831-222-0620.


2011 scratch KW Ranch Santa Lucia Highlands Pinot Noir
14.2% alc., pH 3.71, TA 0.65, 35 cases, $45. Pommard 4 and 667 clones. 50% whole cluster. · Moderately dark reddish-purple color in the glass. Highly scented with aromas of darker berries, savory spices, rose petal and forest floor. Soft and enticing on the palate with a vivid array of dark red cherry and berry flavors that are well spiced and carry over with aplomb on the extended finish. The impeccable balance and drink ability is striking. Tasted later in the day from a previously opened and re-corked bottle, the wine was even more appealing. My wife was gaga over this wine and she is more picky about Pinot Noir than I. Score: 95
The 2011 scratch Ventana Vineyards Arroyo Seco Grenache (80 cases, $40) is vinified with 50% whole cluster in a Pinot Noir style that is appealing. It is a savory rendition of Grenache with herb, spice and floral aromas and flavors embellishing the core of juicy black cherry fruit. The 2011 scratch Ventana Vineyards Arroyo Seco Riesling (42 cases, $25) has a mineral-driven, lemon-lime and grilled pineapple theme with a good cut of acidity. It is bright, dry and crisp, goes down easy, and screams for oysters. Both wines are beautifully crafted.