Rating Pinot Noir is a Daunting Task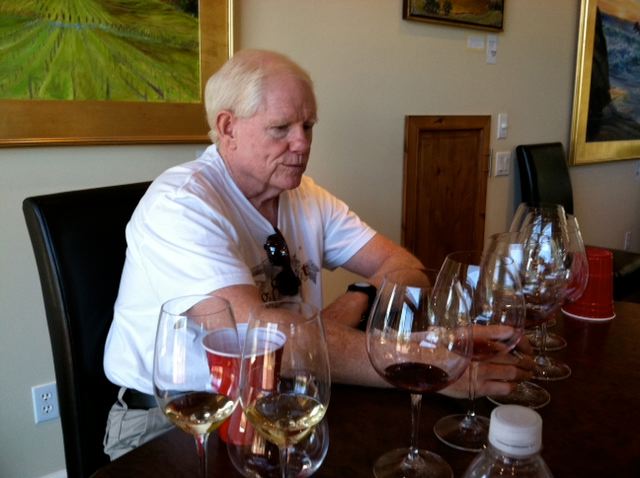 I thought that when I started rating Pinot Noir using the 100-point scale it would be a no brainer since I had been drinking Pinot Noir for years and thought I knew the great from the very good from the ordinary. I have since assumed a conciliatory stance for the following reasons.
Bottle Variation This is a well-known phenomenon experienced by vintners and wine critics. In any case of wine there always seems to be a few outliers that don't match up to the pedigree of the rest of the flock.
"Cameleonity" of Pinot Noir Pinot Noir can change in the bottle in a heartbeat, and what tasted great last week may taste like lees-infested grape water the next. So when you taste a Pinot Noir makes a huge difference.
Regional Differences Russian River Valley struts out its gobs of plush fruit, while the Santa Cruz Mountains looks to more secondary, tertiary flavors including minerality and subtle nuances.
Oak Oak is catnip for humans so many drinkers love oak-drenched Pinot Noir. Me? I abhor it, but should I denounce a wine that is oak-themed just because personally I am not a fan? I believe Pinot Noir loves to date oak, but doesn't want a serious commitment. No one knows exactly what Pinot Noir is supposed to taste like, but I don't think oak is high on the list.
Predicting the Future Can anyone honestly tell what a wine will taste like in 1, 2, 5 or 10 years? Experience has taught me to understand the potential of wines that don't excite on release but this is not exact science. Predicting the evolution of a wine is better off in the realm of fortune tellers.
Fruit is the Big Teaser Pinot Noir wines with flashy, busty fruit are hard to ignore. These wines frequently impress at tastings. Often referred to as "Parkeresque," these wines please many consumers while causing consternation among wine reviewers like myself.
Palate Differences I have often met wine drinkers who absolutely love a Pinot Noir that I abhor for various reasons. I am convinced that your palate is your patrimony and is not particularly receptive to others' dictates. In other words, I can illuminate and direct your Pinot Noir experience, but I cannot be your Pinot Noir experience.
Plenty of Good Shit Nowadays there is very little bad Pinot Noir. Rating American Pinot Noir is a frustrating exercise in splitting hairs because there are many more Pinot Noirs in the marketplace that are deserving of high scores. Be thankful and go with it.