Recent Sips of Pinot Noir
2012 AEQUOREA Seafarer San Luis Obispo County Pinot Noir
14.5% alc., $38. · Moderate reddish purple color in the glass with an unfiltered appearance. Aromas of oak-kissed cherry and spice. Nicely composed with mid weight flavors of cherry pie, raspberry and cranberry with a noticeable oak sheen. The tantalizing red fruits leave a pleasing impression on the mid palate and expand through the finish that offers some persistence. Very creamy the following day from a previously opened and re-corked bottle. Score: 89
Bohème
Bohème is project of Kurt Beitler, whose uncle is Chuck Wagner of Caymus fame. In 2000, Wagner charged Beitler with farming his Pinot Noir vineyard, Taylor Ridge, located near Occidental. This led to an epiphany about the sensational Sonoma Coast wines. The name of the winery comes from the Bohemian Highway that runs through Occidental. The bohemian spirit implies individual, artistic and virtue. Beitler grows all the vineyards from which he makes wine - about 20 acres in three different locales. His winemaking approach is traditional, except that he uses no new oak in the aging process. This produces wines with less tannin, more elegance, and no added sweetness and spice that comes with new oak exposure. Visit www.bohemewines.com.
Hirsch Vineyards
Hirsch Vineyards experienced a marvelous 2011 vintage, with a difficult spring (cold, winds and rain) evolving into a cool, clear summer. The skies were clear and dry, temperatures were consistently moderate, and the weather was equable throughout the crucial growing season and veraison. Physiological development was in harmony with fruit and sugar development. Fruit from all 60 farming blocks reached maturation at about the same time, but a shortage of harvest labor forced crews to start work around midnight initially, then as early as 7pm, and work until mid morning. The crew was working 14 hour days to pick pristine fruit and keep ahead of the rain. By October 2, all but two acres were in (a client wanted to wait out the rains for more sugar ripening) and then over 6 inches of rain fell.
David Hirsch points out the vines don't do much below 50º F and above 95º F. At the vineyard's latitude, 38 north, temperatures above 75º F drive vegetative growth and sugar ripening if the skies are clear at the expense of ripening for flavor, aroma, depth and tannin development. It is in the sweet spot of 65º F to 80º F with good sunlight that the vine expresses its full development in the vintage, and by doing so, elaborates the potential of its site. This miracle occurred in 2011.
Hirsch Vineyard lies but 2.5 miles from the San Andreas Fault on the extreme western Sonoma Coast. It consists of a single vineyard of 68 acres divided into 61 individual farming blocks. The resulting degree of fragmentation is unmatched even by the famously subdivided vineyards of the Côte de Nuits. There is a far ranging variety of soils, topography and microclimates. Each block is individually developed and farmed, harvested and vinfied separately.
2011 Hirsch Vineyards San Andreas Fault Sonoma Coast Pinot Noir
13.4% alc., pH 3.47, TA 0.59, 3,091 cases, $60. The winery's signature wine that represents the entirety of this multifaceted vineyard. This wine has fruit from 27 distinct farming blocks, more than any other wine made from the Hirsch Vineyard. Vines planted between 1980 and 2003. Clones are Pommard and Wädenswil (48%), Swan (21%), 777 (14%) and small amounts of Mt Eden and 114. 10% whole cluster inclusion. Aged 18 months in 35% new French oak barrels. Second vintage crafted by winemaker Ross Cobb. · Moderately light reddish purple color in the glass. A haunting, searching perfume of black fruits, spice box, rose petal and herbs. Mid weight flavors of plum, boysenberry and cassis that are ripe and pure framed by balanced tannins. Invigorating and accessible, with an explosive finish of uncommon length. Score: 92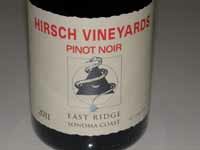 2011 Hirsch Vineyards East Ridge Sonoma Coast Pinot Noir
13.4% alc., pH 3.39, TA 0.62, 301 cases, $85. East Ridge is a distinct microsite within Hirsch Vineyard, comprising an area of 18 acres divided into 16 farming blocks. This wine is a selection of the very best barrels from five of the oldest blocks on the East Ridge. 58.3% Pommard and Wädenswil, 33.3% Mt Eden and 8.3% Swan. Vines planted between 1990 and 1998. 20% whole cluster inclusion. · Moderate reddish-purple color in the glass. Pure, clean aromas of blackberry jam, Hoison sauce, spice and damp soil. More intensity and length here, with rich flavors of earth-kissed purple and black fruits flooding the palate, complimented by a dusting of tannins and a bright spark of acidity. The wine finishes with an immensely satisfying finish that goes on and on. Terrific juice. Score: 94
2011 Hirsch Vineyards West Ridge Sonoma Coast Pinot Noir
12.8% alc., pH 3.42, TA 0.61, 195 cases, $85. West Ridge is a series of hilltop vineyard blocks along the main ridge of Hirsch Vineyard covering 28 acres and divided into 27 farming blocks. This bottling is a selection of the most exceptional barrels from three of the very best blocks on West Ridge. 50% Mt Eden, 47.5% Swan and 12.5% Pommard and Wädenswil. Vines planted between 1992 and 1995. 10% whole cluster inclusion. Aged 18 months in 25% new French oak barrels. · Moderately light reddish purple hue in the glass. Delicate, but pleasing aromas of red cherry, raspberry jam and Christmas pine. Lighter and more elegant, with a little more oak sheen overshadowing the crisp cherry and raspberry fruit. More citrus-driven acidity in this wine that offers very suave tannins and easy accessibility. A more feminine wine, but like the San Andreas and East Ridge bottlings, a very long and tantalizing finish. Score: 92
Kutch Wines
Jamie Kutch has experienced remarkable growth in 2012 with the production of the first vintage in a new Sonoma facility and the arrival of 30 new tanks including Grenier 4-ton wood tanks from France (the same as used at DRC). The 2012 growing season on the Sonoma Coast was seamless in Jamie's words. Because of the quality of the grapes, everything was fermented with 100% whole cluster (stem inclusion). The wines had a darkness of color that exceeded any previous harvest at Kutch. The wines were bottled January 27, 2014. Visit www.kutchwines.com.
Siduri
The following Siduri wines have only been in bottle 10 weeks and some are not scheduled for release until June of this year. Taking this into account, I decanted several wines and tasted all of them over an extended period. I have given a range of scoring with the consideration that several wines should improve with more time in bottle. The wines may warrant higher scores with an additional 6-12 months in bottle. All wines are bottled under screwcap.