Recent Sips of Oregon Wines: Pinot Amore´
If you relish fruit and are susceptible to seduction, put aside your inhibitions and dive into 2012 Oregon Pinot Noir. The wines, which combine marvelous fruit concentration with bright acidity, are so juicy some have even called them "slutty." Yields were down in 2012, so many of the best wines will have limited availability.
Angela Estate
Antony Beck is the proprietor of Angela Estate located in Dundee, Oregon. A resident of Lexington, Kentucky, where he has a thoroughbred farm, Beck is an emigrant from South Africa. His father founded the Graham Beck label in South Africa, and after his father's passing, Antony oversees the business operations of the 200,000-case winery. A chance meeting with Ken Wright in the late 1990s at a fundraiser led to a friendship. Wright has family in Louisville and spent two years at the University of Kentucky. Beck would eventually buy a undeveloped 34-acre property adjacent Abbott Claim Vineyard located between Anne Amie and Soter wineries and Wright's crew planted Pinot Noir there in 2006 and 2007. The planting was named Angela Estate Vineyard and Wright was retained as the winemaker for the new 4,000-case production Angela Estate label focused entirely on single vineyard Pinot Noir.
2012 Angela Estate Abbott Claim Vineyard Yamhill-Carlton Willamette Valley Pinot Noir
14.0% alc., $60. The 16-acre Abbot Claim vineyard was planted in 2001 to Pommard, 777 and 115 clones. It is part of the original John F. Abbott Donation Land Claim. Soils are marine sedimentary. · Moderately light reddish purple color in the glass. Aromas of cherries, spice and wood lead to a discreetly concentrated core of red cherries and red berries with a touch of baking spices. Exquisite balance, a tad shallow on the attack but a good sweet cherry finish. Score: 90
Antica Terra
The winery reported ideal growing conditions in 2012 producing wines that are "powerful, energetic and incredibly vivacious." They are said to closely resemble the 2008 vintage wines but have a little more complexity and verve. The two wines reviewed here were released in October 1, 2014. Also available are the 2012 Antikythera Pinot Noir ($100) and 2013 Aurata Chardonnay ($75).
2012 Antica Terra Ceras Willamette Valley Pinot Noir
14.0% alc., 600 cases, $75. · Medium reddish purple color in the glass. Aromas of dark raspberry and espresso lead to oak-kissed flavors of boysenberry and black raspberry. Very silky with soft tannins and a juicy finish. Still young and awkward with a hint of popcorn oak and a touch of heat on the finish, but has considerable potential. Score: 89-90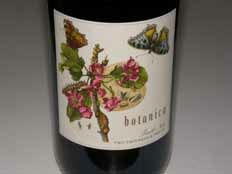 2012 Antica Terra Botanica Willamette Valley Pinot Noir
14.4% alc., 630 cases, $75. · Moderate dark reddish purple color in the glass. A noticeable step up from the Ceras bottling. Very aromatic. When the cork was pulled, aromas emerged like caged monkeys. Lovely scents of black cherry, spice, brioche and vanilla. Tasty and expressive, with flavors of black cherry, ollaliberry and plum with complimentary oak seasoning. Exquisite balance and generosity at this young age. Score: 92-93
Bethel Heights Vineyard
Coeur de Terre Vineyard
These organically farmed artisanal wines are always special. The 2012 vintage at Coeur de Terre produced very darkly colored, intensely fruity wines that are atypical for the Willamette Valley. The McMinnville AVA tends to produce intense Pinot Noir anyway, but the intensity from the Coeur de Terre Vineyard was ramped up in this vintage.The result was very luscious, hedonistically flavored wines that tended to obscure the terroir of the individual blocks. The one standout and distinctive wine was from Abby's Block. Scott Neal, proprietor and winemaker and Lisa Neal proprietor. Tasting room at the vineyard is open Thursday through Monday from 11:00 to 5:00 or other times by appointment. Visit www.cdtvineyard.com.
Cristom Vineyards
This highly lauded winery really hit the mark in 2012 with its unfiltered single vineyard Pinot Noirs.
2012 Cristom Marjorie Vineyard Eola-Amity Hills Willamette Valley Pinot Noir
13.5% alc., $58. The only original vineyard kept intact after the property was bought in 1992. The vineyard has phylloxera to the vines are gradually being replaced. This is first vintage that is not entirely from old vines, containing a single barrel of new vines.The "prettiest" vineyard wine in the Cristom lineup that is usually elegant and spicy. · Moderate reddish purple hue in the glass. Aromas of dark cherry pie filling, marzipan, brandied raisin and baker's yeast. Elegant flavors of black cherry, spice and floral nuance with a firm backing of tannin. Modest and seductive, very smooth on the palate, finishing with good persistence. Needs at least a year or two in bottle for full enjoyment. Score: 90-91
2012 Cristom Louise Vineyard Eola-Amity Hills Willamette Valley Pinot Noir
13.5% alc., $58. This vineyard was the first established by Cristom. It is densely planted at 2300 vines per acre on the lower slopes of the property. Typically the last single vineyard to be released. More concentrated and dark fruited than other estate Pinot Noirs. · Moderately light reddish purple color in the glass. Very shy nose initially, offering more pleasure over time in the glass with aromas of cherry, rose petal, underbrush and vanilla. Gorgeous core of well-spiced black cherry fruit clothed in muscular tannins. There is amazing length on the generous finish which sports a refreshing spark of acidity. Still very young and tight, lacking Pinot delicacy, but suggesting a tremendous upside potential. Score: 92-93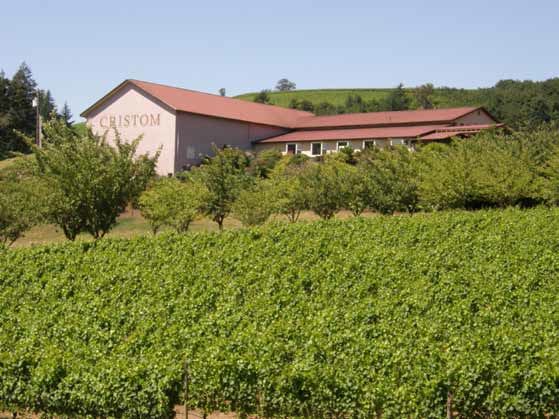 2012 Cristom Jessie Vineyard Eola-Amity Hills Willamette Valley Pinot Noir
14.0% alc., $58. One of the steepest vineyard sites in the Willamette Valley. This wine is typically deep, dark and displays a tension between the fruit and structure. · Moderate reddish purple color in the glass. Vibrant aromas of black cherry and Marionberry elevate over time in the glass. A wine that astonishes with a charge of cherry fruit that is pure and deeply flavored. The amazing spiced cherry essence caresses the palate and expands in the mouth, finishing with impressive length and a pleasing snap of acidity. This wine's impeccable balance insures long term age ability. An exquisite wine that is fresh and vivid, and aims to please even at this young age. Score: 94-95

2012 Cristom Eileen Vineyard Eola-Amity Hills Willamette Valley Pinot Noir
14.0% alc., $58. Typically the most precocious of the four estate vineyard wines and often the first wine released to the market. This vineyard extends to the crest of the property exposing the vines to the last rays of sun and the first cooling breezes from the Pacific Ocean. Volcanic soils. · Moderately dark reddish purple color in the glass. The seductive scents of dark berries, black cherries, rose petal and cardamon spice really get the juices flowing. It is challenging to adequately describe this nose since the aromas saturate the olfactory senses with so much whole cluster goodness. "Wow" might be the best descriptor. On entry, this wine delivers a charge of black raspberry fruit and exotic spices that really brings the palate to alert. This is a stunning wine with a silky texture, healthy young tannins, and a peacock finish that hangs on for at least a minute. There is some umami at work in this wine as well. Scary to think that this wine will be even better with more bottle age. Score: 96-97
Evesham Wood
All Pinot Noirs are sourced from sustainably grown grapes and non-irrigated vineyards and are bottled unfiltered.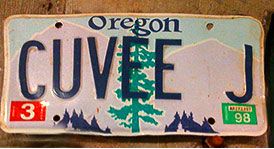 IOTA Cellars
Johanna and Don Sandberg moved from Minnesota to Portland in 1999, after a visit to Oregon to discover the feasibility of growing wine grapes and making wine in the Willamette Valley. By 2000, they had moved to wine country and partnered with relatives (Sandbergs) to buy land where Pelos Sandberg Vineyard was planted. To date, there are 11 acres of Pinot Noir planted. The vines are not irrigated and farmed using sustainable and organic practices. The first IOTA Cellars wine was produced in 2006. Grapes have also been sold to Big Table Farm, Rex Hill, EIEO & Company, Bergstrom Winery and Beaux Freres.
2012 IOTA Pelos Sandberg Vineyard Eola-Amity Hills Willamette Valley Pinot Noir
14.1% alc., 577 cases, $42. Pommard, Wädenswil, 777 and 667 clones. Aged 10 months in 3-year-air-dried French oak barrels and an additional 12 months in bottle. · Moderately dark reddish purple color in the glass. Amazingly fragrant with aromas of dark berry, cassis, plum, black cherry and espresso leaping from the glass upon opening. Mid weight + core of well ripened dark berry fruit with some smoky oak in the background. Soft tannins and a fruitfilled finish ramp up the pleasure. The wine has plenty of oak overlay, but an equal amount of luscious fruit. Score: 91
Ken Wright Cellars
An Oregon stalwart, with two 2013 Pinot Noirs from very distinguished vineyards that really deliver. Other vineyard designates for 2013: Bonnie Jean Vineyard, Bryce Vineyard, Canary Hill Vineyard, Carter Vineyard, Freedom Hill Vineyard, Guadalupe Vineyard, McCrone Vineyard, Savoya Vineyard, Shea Vineyard, and Tanager Vineyard.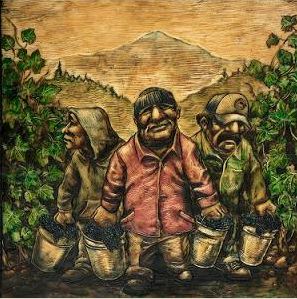 2013 Ken Wright Abbott Claim Vineyard Yamhill-Carlton Willamette Valley Pinot Noir
12.5% alc., $50. Vineyard owners Antony and Angela Beck and vineyard manager Mark Gould. · Moderately light reddish purple color in the glass. Shy initially, but explodes with time in the glass, strutting hi-tone aromas ob cherry, baking spice, rose petal and a hint of smoke. A cherry-driven wine with a hint of raspberry and spice, lively on the palate and really hanging on to the finish. This wine is crisp, juicy and has enough structure to age. Score: 92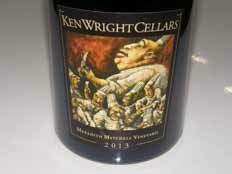 2013 Ken Wright Meredith Mitchell Vineyard McMinnville Willamette Valley Pinot Noir
12.5% alc., $50. This vineyard is planted to own-rooted Pommard first established in 1988. Soil is Yamhill - shallow silty loam over basaltic bedrock. The vineyard is owned and managed by Susan Meredith and Franck Mitchell. · Moderately light reddish purple color in the glass. Scents of cherry, forest floor and oak char are somewhat shy, but the fruit explodes on the palate. Rich raspberry and cherry flavor that attacks the mid palate with a vengeance. Accents of baking spice, earth and conifer add interest. Uncommon fruit energy that fuels an intensely flavorful finish. Rare to find a wine with such palate saturating fruit. The nose has not arrived, so give this wine at least a year in bottle. Score: 93-95
Kramer Vineyards
These are outstanding wines from a producing with a history of two generations and 30 years of Oregon winegrowing at very modest prices considering the quality. The 18-acre estate vineyard is in the northern part of the Yamhill-Carlton AVA. Soils are Willakenzie and Peavine. Average vine age is over 20 years and much of the vines are own-rooted. Pinot Noir clones consist of Pommard, Dijon 115, 667, 777, and Wädenswil. The bright acidity in the wines reviewed here really brings an appealing juiciness to the wines.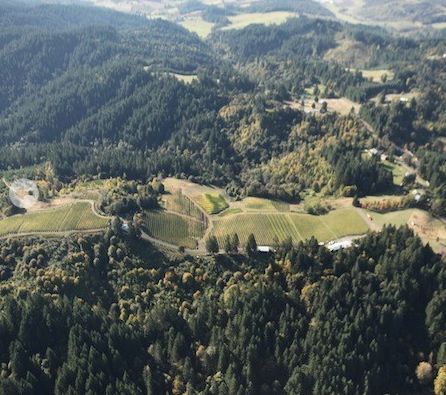 Stoller Family Estate
2011 Stoller Family Estate Reserve Dundee Hills Oregon Pinot Noir
12.5% alc., 1,300 cases, $45. A selection of best vineyard blocks and barrels in the cellar. Pommard, Wädenswil, Dijon 114, 115, 667 and 777 planted in Jory soil. Aged 10 months in 40% new and 60% neutral French oak barrels. · Moderate reddish purple hue in the glass. A very appealing nose offering aromas of cherry, spice, rose hips tea, dried herbs and a hint of oak. Very tasty core of mid weight cherry, raspberry and tea berry flavor with judicious oak in the background. Juicy and bright, with impeccable balance, finishing with a blast of iced cherry fruit that you can almost chew on. A highly enjoyable offering from a challenging vintage. Score: 92
WildAire Cellars
Proprietor and winemaker Matt Driscoll sources grapes from several Oregon AVAs and crafts his wines at Illahe Vineyards. The name WildAire, is derived from the family estate in Roanoke, Virginia. The name, "WildAire," was carved into a fireplace mantel in the remains of an old hotel on the family estate. This is my first experience with this producer and was impressed by the high quality of the winemaking.