The Eyrie Vineyards
The tasting room and winery at The Eyrie Vineyards in downtown McMinnville is a hallowed property, the birthplace of Willamette Valley Pinot Noir. When I visit, I feel a calmness like I am in a church. The walls of the tasting room are embellished with historical photos and news commemorating David Lett's accomplishments. Winemaker and proprietor Jason Lett is in charge now, and he has done a marvelous job in preserving the heritage of the winery, while continuing to refine and improve the style of wines that his father, David Lett, set forth many years ago. The wines are characterized by restraint, elegance, harmony and age ability. Winemaking changes instituted by Jason including longer fermentations and use of indigenous yeasts have made the wines more approachable upon release, but remain age worthy.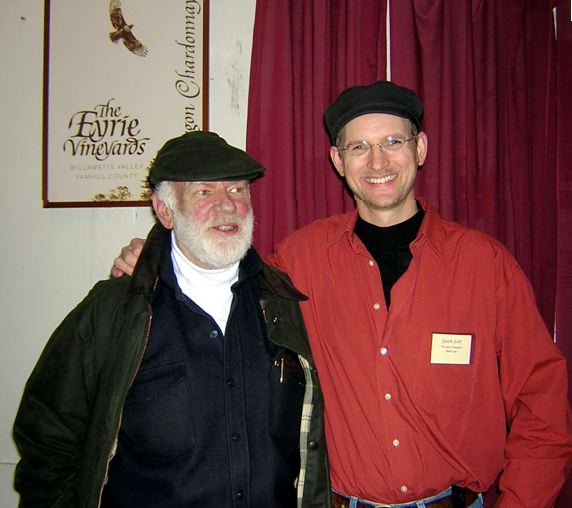 The winery produces about 17,100 cases annually, primarily from 60 acres of estate grown grapes. Varietals include Pinot Noir, Rosé of Pinot Noir, Pinot Meunier, Chardonnay, Pinot Gris, Pinot Blanc, Muscat Ottonel, Melon de Bourgogne and Chasselas Doré. There are five certified organic estate vineyards from which five single vineyard Pinot Noirs are produced. Each vineyard has been farmed organically since inception, and each vineyard contains ungrafted, pre-Phylloxera plantings that are becoming increasingly rare in the world of wine. The vineyards are not irrigated. Soils are volcanic, 10" to 30" deep on basalt cobble.
Both current releases and library wines are sold through the tasting room that is open daily. The Exploration Flight Tasting Menu offers 7 wines, including 2 limited production releases and one library vintage served from the "Elva" repurposed bottling machine ($20, waived with $75 wine purchase). Visit www.eyrievineyards.com.
A pilgrimage to The Eyrie Vineyards should be on every pinotphile's bucket list. You will find a wealth of information on The Eyrie Vineyards in the PinotFile through articles I have written over the past eight years.
The five single vineyard cuvées are produced identically with 100% de-stemming, wild yeast fermentations in small fermentation vessels, basket pressing, followed by aging one year plus in blends of cooperage of varying age including 18% new oak. The result is an exploration of the Dundee Hills, from the lowest elevation Sisters Vineyard at 220' up to the highest elevation Daphne Vineyard at 860'. Each wine reflects facets of soil, site, exposure and vine age that together capture a precise portrait of how variations in place can influence Pinot Noir.