Recently Tasted Pinot Noir & Chardonnay
Cambria Estate Winery, Santa Maria, CA
A new winemaker, Jill Russell, has taken over the reins at Cambria Estate Winery (the wines reviewed here were crafted by the previous winemaker, Denise Shurtleff). Since the winery's founding in 1986, the focus has been on single-vineyard expression from the winery's estate in the Santa Maria Valley AVA. Every wine is sustainably grown, produced and bottled at the estate. The wines pay homage to the winery's founders, Jess Jackson and Barbara Banke, who named the vineyards at Cambria after their daughters Katherine and Julia Jackson.

2015 Cambria Julia's Vineyard Santa Maria Valley Pinot Noir
13.7% alc., pH 3.61, TA 0.56, $25. Vineyard named after proprietor Julia Jackson in 1988. This well-known vineyard is sustainably farmed. Soils are fossilized seashells, shale, limestone and sand. Clones are Pommard 4, 2A, 23, 667, 115, 777 and "828." Aged 8.5 months in 100% French oak barrels, 31% new. · Moderately light garnet color in the glass. This wine performed much better when tasted a day after opening the bottle. Nicely perfumed with black cherry fruit and subtle oak notes of toast, tobacco and cardamom. Discreet in weight, with brandishing flavors of oak-kissed cherry, raspberry, spice and earth. Silky, with a good tannic frame, bright acidity, and a modest but pleasing finish. This wine is always a good choice in the value-price category. Score: 89

2015 Cambria Katherine's Vineyard Santa Maria Valley Chardonnay
14.5% alc., pH 3.46, TA 0.59, $22. This sustainably farmed vineyard was named after proprietor Katherine Jackson in 1986. Clones 76, 96 and Wente. Aged 6.5 months in 83% French oak barrels, 21% new. · Moderate golden yellow color in the glass. An appealing wine offering aromas of lemon, pineapple, peach, gravel and toasty oak. Giving in the mouth, with flavors of apple, lemon creme, white peach, pineapple and toast. Soft in texture, with agreeable acidic verve and some finishing fruit flavor. A consistently dependable wine in this price category. Score: 89
Jigar Wines, Forestville, CA
A family-owned boutique winery with a tasting room in Forestville and a production facility in Healdsburg. Winemaker is Josh Bartels.
2015 Jigar Graham Family Vineyard Vintner's Reserve Green Valley of Russian River Valley Pinot Noir
14.2% alc., 195 cases, $65. Release November 2018. · Moderately light garnet color in the glass. Leading off are aromas of black cherry, forest floor, dark bittersweet chocolate and a hint of vanilla. Boldly flavored, with a core of dark Bing cherry fruit that saturates the palate, carrying through a persistent finish. The texture is highly soothing the oak is restrained and the tannins are toned and ripe. Score: 91

2015 Jigar Peters Vineyard Russian River Valley Chardonnay
14.1% alc., 596 cases, $32. Peters Vineyard is a former Gravenstein apple orchard with Goldridge sandy loam soil. Clones 4 and Dijon 76. Aged in French oak barrels, 25% new. · The aromas of citrus, lees, wax, crushed wet gravel, nutty oak and toast arrive over time in the glass. Ripely fruited and richly stated in the mouth, with flavors of grilled lemon, pineapple, honey and caramel. Still, there is enough acidity to balance the fruit load. An underlying burnt, roasted character implied by oak is evident. Score: 89
Ken Brown Wines, Lompoc, CA
2015 Ken Brown Rita's Crown Vineyard Sta. Rita Hills Pinot Noir
14.4% alc., pH 3.59, TA 0.58, 336 cases, $60. Rita's Crown is one of the highest vineyards in the region planted at the "crown" at 600 to 950 feet elevation. The combination of shallow soils ocean winds and southern slope results in in marked intensity of fruit flavor. Blocks used are planted to 667, 777, "828," and 115. 100% de-stemmed, pre-fermentation cold soak, gentle punch downs, aged 12 months in French oak barrels, 34% new. · Moderately dark garnet color in the glass. The nose offers a mix of purple and black berry fruits along with a savory oak and vegetative bent. Plenty of swagger in a mid weight plus style offering a charge of boysenberry and blackberry fruits that are issed by spice, black olive tapenade, umami, oak and earth notes. Plenty of extract and nuance to please with juicy acidity and tame tannins. Score: 92
2015 Ken Brown Ranch La Viña Vineyard Sta. Rita Hills Pinot Noir
14.2% alc., pH 3.63, TA 0.55, $50. This 17-acre vineyard was planted in 2005 at the far western edge of the AVA where it is exposed to cool marine winds. The block for Ken Brown Wines is planted to clone 115. 100% de-stemmed, pre-fermentation cold soak, aged 11 months in French oak barrels, 30% new. · Moderate garnet color in the glass. Pleasant aromas of dark red berry, spice, underbrush, nutty oak and graham. Packed with red and dark red cherry and cranberry fruits aligned with a touch oak. Soft and lustrous in the mouth with a notably long and mellow finish. Score: 92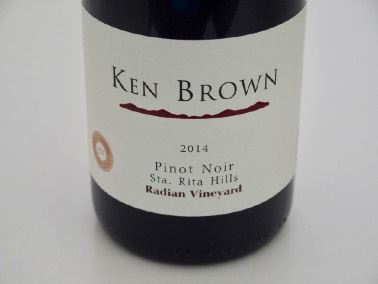 2014 Ken Brown Radian Vineyard Sta. Rita Hills Pinot Noir
14.4% alc., pH 3.64, TA 0.57, $70. This vineyard is located at the extreme western end of the Sta. Rita Hills and is one of the coolest vineyards of the entire West Coast. The vineyard's steep southern slope exposure allows for optimized ripening. Clones 115 and 667. 100% de-stemmed, pre-fermentation cold soak, gentle punch downs, aged 18 months in French oak barrels, 35% new. · Moderately dark garnet color in the glass. Very sexy nose displaying scents of dark berry, bramble, and lead pencil. Instantly appealing in a mid weight plus style, with waves of invigorating black cherry and blackberry fruits carrying through a saturating mid palate and a long finish. Everything is in place, with balanced tannins, deft oak, and a very seductive texture. This is a rich and bold expression of Pinot Noir, yet it still retains adept Pinot Noir character. Score: 93
Senses Wines, Occidental, CA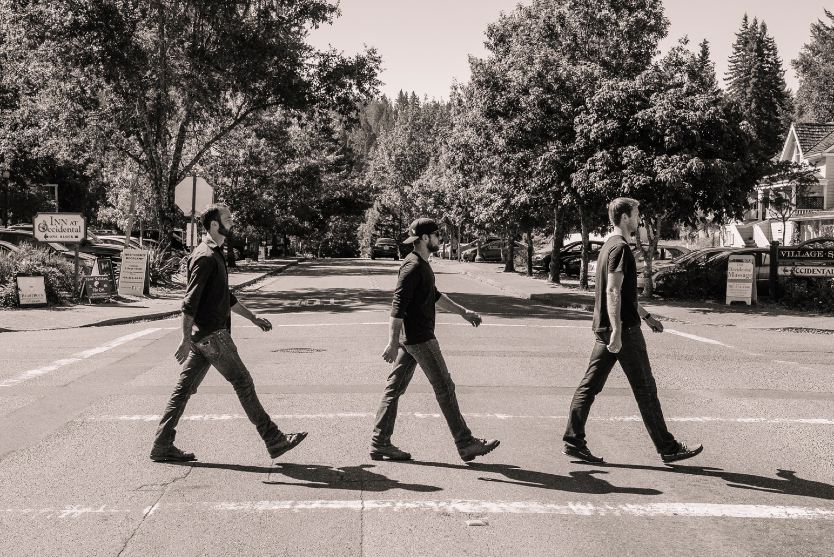 Noted winemaker Thomas Rivers Brown crafts these Pinot Noir and Chardonnay wines. If you like Rivers- Marie wines, also crafted by Thomas, you will enjoy the Senses wines.
Three childhood friends (founders Chris Streiter, Max Thieriot and Myles Lawrence-Briggs are pictured above) enlisted Thomas to craft wines from coveted vineyard sites, especially those located in the small town of Occidental where the three founders grew up. Hillcrest and B.A. Thieriot are estate vineyards. The portfolio includes single vineyard wines from seven vineyards and appellation wines from the Sonoma Coast and Russian River Valley AVAs. The vineyard locations are shown below: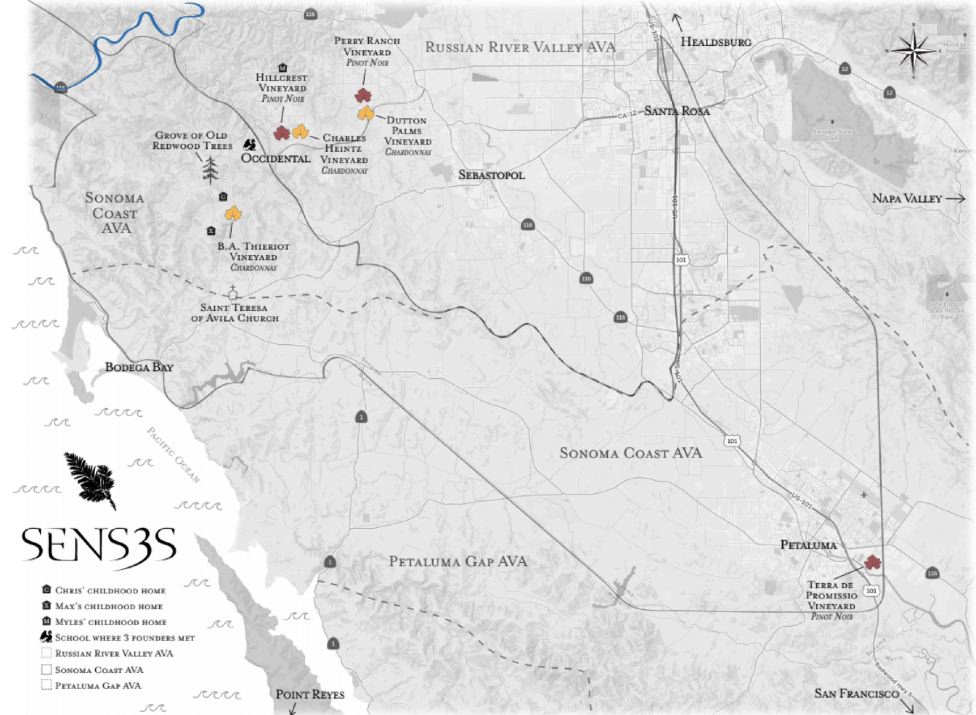 Wines are offered to the currently large active mailing list twice a year in the Spring and Fall. The wines are also placed in top restaurants across the world including the French Laundry and Le Berdardin. Visit www.senseswines.com.
Pinot Noir winemaking features whole berry fermentation, and aging in once and twice-used French oak barrels for 10 months. Chardonnay undergoes 100% malolactic fermentation and is aged in French oak barrels for 12 months.
Tongue Dancer Wines, Healdsburg, CA
Winemaker James MacPhail (formerly MacPhail Wines), currently has several projects in the works. Tongue Dancer Wines has a new "Grapewagon Pied-á-Terre tasting room at the winery in Healdsburg with all tasting reservations available through the website. He is also the winemaker for Sangiacomo Family Wines (first vintage was 2016), The Calling Wines beginning with the 2016 vintage (previously Dan Goldfield), Crescere Wines (first vintrage 2016) and 8 Hand (first vintage 2017). For more information, visit www.tonguedancerwines.com. These two wines are the remaining releases from the 2016 vintage.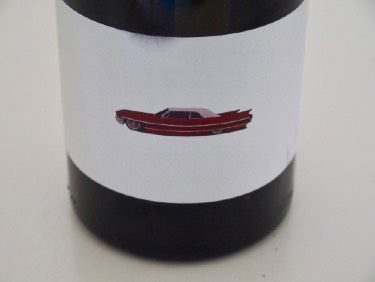 2016 Tongue Dancer "Pinot de Ville" Putnam Vineyard Sonoma Coast Pinot Noir
14.5% alc., pH 3.60, TA 0.56, 99 cases, $65. Release September 6, 2018. The third release in the "de Ville" series. The Putnam Vineyard is located 6 miles from the Pacific Ocean in the town of Annapolis and is owned and operated by Cliff and Puanani Putnam. Clones 15, 777, Pommard and a Calera selection. Harvest Brix 25.5º. Grapes sorted once in vineyard and once at winery. 100% gently de-stemmed, 5-day cold soak in open-top fermenters, native yeast primary and malolactic. Aged 17 months with weekly lees stirring for 3 months in French oak barrels, 35% new. Light polish filtration without fining at bottling. · Moderate garnet color in the glass. Enticing aromas of dark fruits, forest floor and wine cave. Bold flavors of blackberry and black raspberry with weight and presence. Adept and rounded in the mouth with soft tannins, deft oak compliment, and a cleansing, finish that leaves a resonant blackberry message. Score: 93
2016 Tongue Dancer Bacigalupi Vineyard Russian River Valley Chardonnay
14.5% alc., pH 3.38, TA 0.65, 100 cases, $50. Released September 6, 2018. Old Wente clone. Harvest Brix 23.2º. Whole cluster pressed, barrel fermented, native yeast primary fermentation, 100% malolactic fermentation, once weekly lees stirring during primary fermentation. Aged 16 months in French oak barrels, 25% new. Bottled unfined and lightly filtered. · Light golden yellow color in the glass. Demure perfume of lemon peel, pineapple, parchment and petrol. Discrete richness of flavor, offering tastes of lemon, golden apple, pineapple and sweet oak. A bright and uplifting style with redeeming acidity that veers from many typical Russian River Valley Chardonnays that display tropical fruit lushness. Score: 92
More Wines of Interest