Wine Briefs —Newsletter 12.21
ISFAR Critique 250: Importance of a Favorable Pattern of Drinking on Risk of Mortality The International Scientific Forum on Alcohol Research (ISFAR) recently reported on their critique of a scientific paper appearing in Mayo Clin Proc 2021;96:1758-1769 titled, "Alcohol Consumption Levels as Compared with Drinking Habits Predicting All-Cause Mortality and Cause-Specific Mortality in Current Drinkers." Overall, Forum reviewers agreed with the main outcomes of the study, which indicate subjects with a favorable Drinking Habit Score (DHS), that is those consuming 3 or more days/week and consuming alcohol with meals, in comparison with other drinkers had significantly lower all-cause mortality, cardiovascular (CDV) mortality, cancer mortality, and death from other causes. The authors report that for all-cause, CVD, and other cause mortality, subjects with a favorable DHS showed a U-shaped or L-shaped curve. Even the heaviest drinkers had a mortality risk the same or lower than that of abstainers. Only for cancer mortality was there an increase in risk for subjects in the higher category of alcohol intake, leading to a J-shaped curve. The authors did not report specifically on the types of beverage being consumed but the subjects were in southern Europe where typically wine is consumed with meals. We now realize the importance of the pattern of drinking. This constitutes not only the type of beverage and frequency of drinking, but also the consumption of alcohol with food and the absence of binge drinking. The pattern of drinking appears to be as important as, or even more important than, the quantity of alcohol consumed.
A Small Amount of Alcohol Each Day Lowers Risk Protects the Heart in People with CVD Those who have heart disease who imbibe a small amount of alcohol each day have a lower risk of having another heart attack, stroke, angina or early death. This very large study found that drinking just over a bottle of wine each week (105 grams of alcohol) appeared to protect people who had previously suffered a heart attack from having another attack or early death. This amount of alcohol is much less than currently recommended in the US (196 grams per week). Drinking even less alcohol, that is 8 grams a day lowers the risk of a second cardiovascular event by 27%, while drinking only 6 grams per day (a standard glass of 12% table wine is about 5 ounces or 14 grams of alcohol) found the benefit to almost double to 50% less risk.The study would indicate that those who suffer with CVD and resultant angina, stroke or heart attack, don't necessarily have to stop drinking but they should consider lowering their weekly alcohol intake.
Moderate Drinking Said to Contribute to Well-Being and Health Professor Pierre-Louis Teissedre, the chairman of the Health and Safety Commission of the International Organization of Vine and Wine and an enology researcher at the Bordeaux Institute of Vine and Wine Sciences (ISVV), said recently, "If I drink wine in moderation with a meal, it brings me pleasure, flavor, and emotion. It is an essential part of a happy lifestyle. When you are deprived of it, you feel a loss. Moderate wine consumption should be safeguarded and promoted. It contributes to our well-being and therefore to our health." David Spiegelhalter, a professor at the University of Cambridge, wrote something online a few years back but his point remains timely, "Claiming there is no 'safe' level of alcohol consumption does not seem to be an argument for abstention. There is no safe level of driving, but the government does not recommend that people avoid driving. Come to think of it, there is no safe level of living, but nobody would recommend abstention."
In-Depth Scientific Review Reveals Wine and Cheese in Moderation Can Lower Risk of Heart Disease Dr. Gabriele Riccardi, professor of endocrinology and metabolic disease at the University of Naples Federico II, published the results of an intensive review of the literature to determine the association of different foods and the incidence of cardiovascular disease (CVD). Riccardi found that the regular consumption of cheese, coffee (three cups per day), and wine led to a reduced incidence of CVD. With wine specifically, two glasses of wine per day was linked to a 32 percent decrease in CVD compared with people who abstained but drinking more than this increases the risk. He recommends moderate consumption of full-bodied red wines because they are highest in polyphenols and have important anti-inflammatory effects that can reduce the risk of CVD and diabetes. Visit: https://www.winespectator.com/articles/moderate-wine-cheese-and-coffee-consumption-linked-to-healthier-hearts
Jamie Goode Doesn't Feel Guilty About Drinking Wine - Neither Should You Jamie Goode is a highly respected wine writer from the UK who has written multiple books on wine. In his blog, Wineanorak at www.wineanorak.com, he recently approached the subject of wine drinking and the widespread message that there is no safe level of drinking. His conclusion is as follows. "The answer to misuse is not disuse, but correct use. We need to fight back against the current polarized take on drinking. Wine is a positive force when used correctly. It's healthful, it brings joy, it's culturally rich, and it lends itself to healthy modest consumption with food. Its place at the table is what makes it such a rich cultural gastronomic item: as we eat together, a glass or two of wine opens us up to each other. It relaxes us and sets us free to more fully engage with each other socially. It also serves an important psychological role: we take a sip of wine and this signifies a social time - we are off the clock - we are relaxing. We shouldn't be made to feel guilty about our drinking."
Noted Wine Writer Dan Berger Links Wine Consumption with Longevity Dan Berger, writing August 5, 2021, in the Napa Valley Register, in support of the health benefits of wine consumption in moderation. He listed the ages at death of numerous wine luminaries: Andre Tchelistcheff, 92; Napa Valley winery owner Peter Mondavi, SR., 102; Modesto winery owner Ernest Gallo, 97; Napa winery owner Robert Mondavi, 94; wine author Leon Adams, 90; British wine critic J. Michael Broadbent, 92 and so forth. Some of these men were also lifelong smokers. I like to point out that America's beloved spokesman, Will Rogers, once said, "The wine had such ill effects on Noah's health that it was all he could do to live 950 years. Just 19 years short of Methuselah. Show me a total abstainer that ever lived that long."
Extensive Article on the History of Wine and Its Arrival in Santa Barbara County Judith Dale has penned a comprehensive look at the history of wine in Santa Barbara County accompanied by many historical photographs. This is a very worthwhile 5 minute read: https://syvnews.com/lifestyles/columns/judith-dale-the-history-of-wine-and-its-arrival-in-santa-barbara-county/article_f4b395bfc84d-53eb-b0b2-c353560f896d.html
Saving Wine Grapes from Smoke Vintage 2020 was a complete loss for many wineries in the North Coast of California and the Willamette Valley of Oregon due to smoke taint from wildfires. Wildfires also threaten the 2021 harvest. I recently learned of Purfresh Wine's ozone (O3) technology used to treat grapes pre-crush to improve fermentation and wine quality as well as to remove the smoke taint. Purfresh Wine's success in saving smoke-affected grapes was recently featured in Wine Business Monthly and covered in the Napa Valley Register. The benefits of Purfresh Wine's system are purported to include removal of sulfur, pesticides, and fungicides pre-crush, reduced need for SO2 post-crush, reduction of bad bacteria and year issues (Brett), helps limit and avoid stuck fermentations, improvement in roundness, and fruit-forward palate note, increased content of health-promoting stilbenes, and removal or reduction of smoke taint molecules pre-crush. Of significant importance is that Purfresh ozone container trials show promise for smoke-affected wine grapes. Read more at www.purfreshclean.com. A related approach was reported in the publication Molecules in March 2021. The researchers from Australia looked at the mitigation of smoke taint by post-harvest ozone treatment of grapes. The study involved Merlot grapes. The ozone treatment not only gave significantly lower volatile phenol and volatile phenyl glycoside concentrations but also diminished the sensory perception of smoke taint in the finished wine. the ozone works more effectively when smoke-derived volatile phenols are in their free (aglycone) form, rather than glycosylated forms.
Got Brett? Some people like the smell of Band-Aid or sweaty saddle in their Pinot Noir but I am not a fan. Some drinkers believe Brettanomyces yeast (Brett) can add complexity to a wine but producing a wine with just a little bit of Brett is a dicey proposition. So-called "Brett," is the result of a number of compounds produced by the yeast Brettanomyces bruxellensis and it's relative Dekkera bruxulensis. Three important aromatic compounds are most important: (1) 4-ethyl phenol produces the aroma of Band-Aids, antiseptic and horse stable, 4-ethyl guaiacol has the odor of smoked bacon, spice, or cloves, and (3) isovaleric acid has the smell of sweaty animals, cheese and rancidity. Brett is almost exclusively found in red wine as a result of complicated organic chemistry enzyme processes originating from tannin substances extracted from red grape skins. Brett has become infrequent in domestic Pinot Noir because of careful barrel hygiene. Yeasts love oak barrels and grow readily in them in a warm cellar. Read more by David W. Brown in an article titled, "Understanding Brett and Its Decisive Impact on Wine" at www.pix.wine/the-drop/what-is-brett-yeast/.
Clos Pepe Vineyards and Estate Villa for Sale for $9.75 Million The vineyard, located in the Sta. Rita Hills AVA on Highway 246 in Lompoc, has produced award-winning Pinot Noir and Chardonnay for many years. Steve and Cathy Pepe and Cathy's son Wes Hagen established this estate vineyard and wine label after purchasing the property in 1994. A 15-year vineyard lease was granted to Hall Wines of Napa who marketed the Clos Pepe Vineyard Pinot Noir under their Walt label. The Pepes retained ownership of the property and lived in the villa on the property until May 2021 when the vineyard and villa were listed for sale. I consider the Clos Pepe Vineyard one of California's elite Pinot Noir vineyards.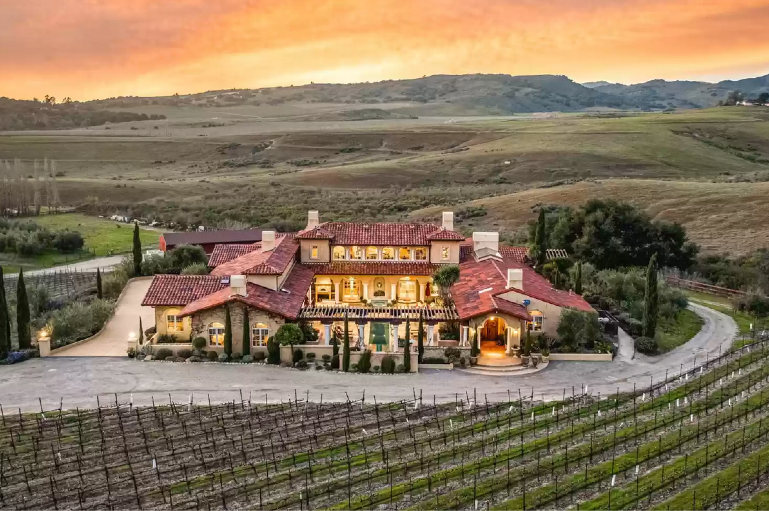 Stephen Tanzer Becomes Vinous Critic Emeritus For years in the 1980s and 1990s I subscribed to Tanzer's The New York Wine Cellar and later his International Wine Cellar publication. I acquired a wealth of knowledge about wine, particularly Burgundy and his wine journal's wine reviews led the groundwork for my reviews when I launched the PinotFile in 2002. It is said that he tasted in excess of ten thousand wines in a year and did this for over three decades. Now Tanzer is transitioning his responsibilities to the team of critics at Vinous and continues to write occasional articles. Visit www.vinous.com.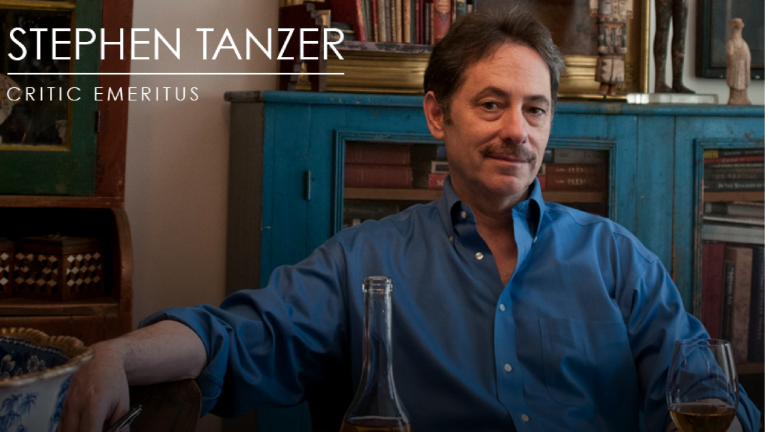 2022 International Pinot Noir Celebration (IPNC) Tickets Now Available Now in its 36th year, the 2002 IPNC is set for July 29-31, 2022, at Linfield University in McMinnville, Oregon. This year's theme is "Through Rosé Colored Glasses." The Master of Ceremonies will be rising wine star, Phillipe André. The all-inclusive weekend ticket includes intimate access to a special Sparkling Wine Session which will showcase wines from 12 of the finest Champagne and Sparkling Wine producers in the world. There will also be 70+ premium Pinot Noir producers from all corners of the globe, dozens of James Beard-worthy and award-winning chefs from the Pacific Northwest. Buy tickets now at www.ipnc.org. IPNC 2020 was canceled and IPNC 2021 was virtual so the opportunity to attend in person is extra special.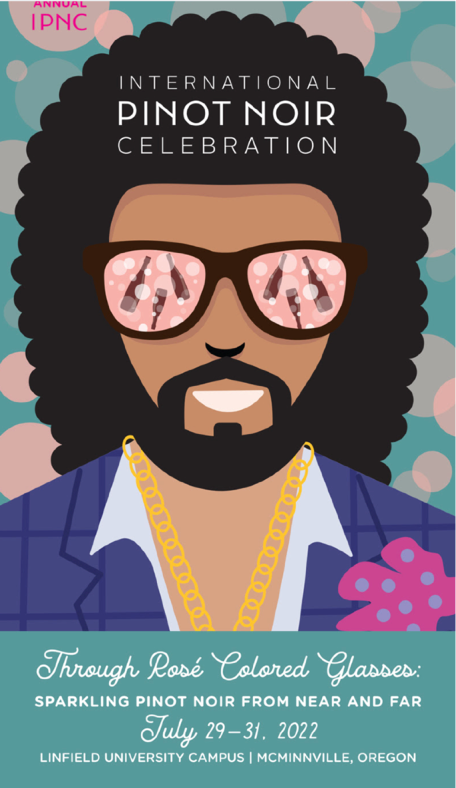 Second Annual Palm Springs Pinot Noir Fest Also known as "A Passion 4 Pinot," this event is scheduled for Saturday, January 8, 2022, at the J.W. Marriott Desert Springs Resort & Spa in Palm Desert. Some of the 60 top-tier Pinot Noir producers pouring at this event include Balletto, Beau Marchais, Blue Farm, Bucher, Clarice Wine Co., COBB Wines, Domaine Anderson, Domaine Della, Drew, FEL, Foxen, Freeman, Gary Farrell, George, Kanzler, Kosta Browne, Lynmar Estate, Maggy Hawk, Papapietro Perry, ROAR, Sangiacomo Family Vineyards, Saxon Brown, Scherrer, Small Vines, The Calling, Tongue Dancer Wines, Twomey, and Williams Selyem. For more information visit www.palmspringspinotfest.com. Tickets will go on sale September 20, 2021.
Josh Jensen Looks Back on 40 Years Laura Ness wrote an excellent article at www.sanbenito.com dated July 19, 2021, and well worth a read. Josh, the founder of Calera Wine Co. in Hollister is now retired after selling his winery to Duckhorn Wine Company in 2016. He looks back on 40 years at the helm of this winery. His colleagues in school were all certain he would fail with the Calera project but as Laura points out, he has had the last laugh.
Marc Goldberg: Another Accomplished Pinot Noir Pioneer of Less Repute Mira Advann Honeycutt wrote an article about vintner Marc Goldberg in the Napa Valley Register on June 10, 2021. He has earned a reputation for successfully growing and producing excellent Pinot Noir in the western part of the Paso Robles AVA at his Windward Vineyard. Along with his spouse, Maggie D'Ambrosia, they launched Windward Vineyard in 1988 in the cooler side of western Paso Robles' along Highway 46 West near Templeton. The famed HMR Pinot Noir vineyard is close by and indicated to Marc that the potential for Pinot Noir winegrowing lay in this region. Marc and Maggie were both former hospital administrators and Pittsburgh natives with a love for Burgundy. 15 acres of Pinot Noir were planted in 1990 with selections from the HMR Vineyard, Adelsheim (Oregon), Bien Nacido, and Sanford & Benedict. The winery's Pinot Noir is a monopole, signifying that the vineyard is controlled by and the grapes only harvested by one winery. I reviewed Windward Pinot Noirs favorably from 1999 through the 2005 vintages, but none since, and it is high time I visit again to taste the maturity of the vineyard. I have added it to my bucket list. Visit www.windwardvineyard.com.
Palos Verdes Peninsula is California's Newest AVA Pinot Noir from Southern California? You bet. After three years, Palos Verdes Peninsula became the 142nd AVA in California. The drive for AVA recognition was led by Jim York, owner of Catalina View Wines that grows Pinot Noir and Chardonnay in the seaside region. Ken Brown is the winemaker for Catalina View Wines' Palos Verdes Peninsula Pinot Noir.
Triennes Rosé: A Wine with an Exceptional Pedigree Two of the greatest names in Burgundy - Jacques Seysses, founder of Domaine Dujac, and Aubert de Villaine, co-owner of Domaine de la Romanée-Conti - are the partners behind this property in the South of France, northeast of Marseille, and about 20 miles inland from Bandol. Through the years, the pair have transformed this 46-hectare site into one of the top wine estates in Provence. Imagine that one of the most exceptional values in French rosé can boast a bloodline tracing back to the most historic and expensive wines of Burgundy. Produced mainly from Cinsault with a bit of Syrah and Grenache, it is a best seller. The 2020 vintage is priced at about $14 a bottle (12.5% alc.). Available at Woodland Hills Wine Company and other retail outlets.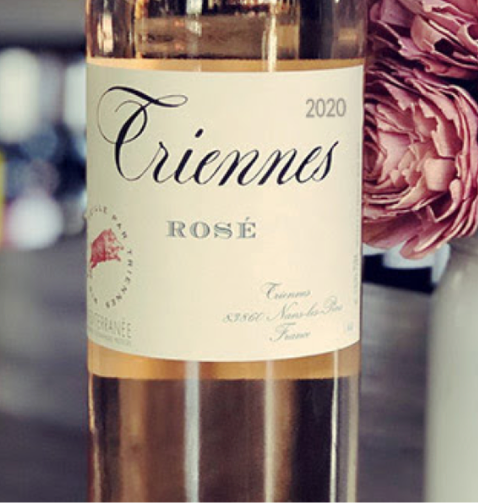 Flash! New Research on Wine & Longevity Spanish researchers at the University of Valencia in Spain reported in August at www.ciencia-e-vinho.com a study of the effects of red wine on longevity and its associated genes in human populations and Drosophila flies, in controlled conditions. Discoveries showed that the consumption of two glasses of 200 ml of red wine, one during lunch and another with dinner for two weeks, resulted in a significant increase in the expression of genes implicated in longevity in immune cells. Also, there was an increment of longevity by 12% in the flies that had consumed red wine mixed with their food, in moderate amounts, throughout their lives. The researchers concluded that moderate consumption of wine augments the expression of the key genes associated with longevity in humans.
And An Unhealthy Report A study conducted by RTI International, a nonprofit research institute, reported in August that compared with February 2020 at the start of the COVID-19 pandemic, consumption of alcoholic beverages in April and November 2020 increased by 36% and 39%. The largest increases in consumption were observed in Black people, people with children, and people with mental health problems who drink to cope. Among those with children, the largest increase in consumption occurred among women with young children (ages 0-5).
Russian River Paulée Dinner Inspired by the late November Paulée de Mersault in Burgundy, this event is a celebration of the new harvest where winemakers gather with those who share their passion for wine. The winemakers dig deep into their personal cellars to bring out amazing bottles (not just Pinot Noir). Guests are invited to do the same. 25 premier Russian River Valley wineries will be participants including The date is Friday, September 3. The location is 7394 Starr Rd, Windsor. The cost is $250. For information and tickets, go to www.russianrivervalley.org/events/paulee-dinner. Use PAULEE2021 for a discount on your ticket.