Pinot Briefs —Newsletter 7.1
Roessler Cellars New Winery Owned by brothers Roger and Richard Roessler and San Francisco restauranteur Kevin McNeely, Roessler Cellars has been crafting wines at Copain Custom Crush in Santa Rosa since 2000. Plans are now afoot to build a $6 million dollar 6,500-square-foot winery, 7,700-square-foot barrel storage facility, and 4,800-square-foot hospitality center and offices southwest of Sonoma. The winery will be located in the Petaluma Gap area alongside Pinot Noir and Chardonnay vineyards. Roessler Cellars plans to increase production to 12,000 cases over the next few years. Under the direction of winemaker Scott Shapely, Roessler Cellars currently produces sixteen different Pinot Noirs including both appellation series wines and vineyard-designates. (northbaybusinessjournal.com, August 25, 2008).

Lett Retires Known to Oregonians as "Papa Pinot," David Lett had his retirement party the day before the International Pinot Noir Celebration at the end of July. Sixty-five people were invited to a 37-year vertical tasting of every Eyrie Vineyards Reserve Pinot Noir, from the first in 1970 (Lett did not think it was worthy of the label, "Pinot Noir," so he named it "Oregon Spring Wine), to the most recent 2006 release. Lett has always held true to his own vision for Pinot Noir and his wines have been distinctly different from most others made in Oregon. According to Michael Alberty (a close friend of Lett's and owner of Story Teller Wine Company in Portland), "Through thick and thin, no matter what the critics wrote, no matter what the new trend was, David kept making Pinot Noir the way he thought best." Lett's style was never flashy and bold, rather he preferred leaner wines with good acidity that performed well at the table and aged magnificently. David's son Jason, took over management of the winery in 2005, making the 2004 vintage the last crafted by David. The winery's website is www.eyrievineyards.com
Alcina Cellars Online As you readers know, I am a fan of the recent releases from Greg Piatigorski at Alcina Cellars. Greg has now updated and expanded his website, offering online ordering of wines, expanded tasting notes with continuous updates, and useful links. There are still small amounts of the 2006 Pinot Noirs available and two 2006 Syrahs have now been released. Look for new labels displaying paintings by a talented Russian artist in coming vintages. Visit the website at www.alcinacellars.com.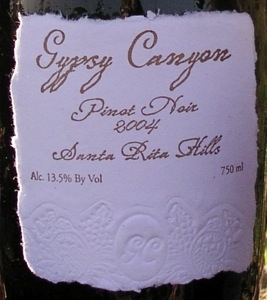 Gypsy Canyon Last Call The enthusiasm for the small amounts of Gypsy Canyon wines has created a demand exceeding production. Proprietor and winemaker Deborah Hall is still accepting a very limited number of new subscribers and a wait list is being started. Production in 2006 was only 100 cases plus 120 magnums of Santa Rita Creek Pinot Noir. In 2007, deer harvested most of the grapes and the resultant wine was declassified. Pinot Noir has now been grafted to some of the ancient Mission grape vines on the property and the Nineteenth Century Sta. Rita Hills Pinot Noir will be released in 2011 to lucky subscribers. Visit the website at www.gypsycanyon.com.
Domaine Alfred Changes Owners Domain Alfred, one of California's top producers of Pinot Noir and Chardonnay, was started by Terry Speizer in 1994. At the time, Speizer had just sold his semiconductor company and was looking for a new entrepreneurial opportunity. Now Speizer is interested in pursuing solarpowered business interests. The new owners are Crimson Wine Group, who already own Pine Ridge Winery in Napa and Archery Summit in the Willamette Valley of Oregon. Winemaker Fin du Fresne, who has been at Domaine Alfred since 2006, will continue with the winery. 24,000 cases of primarily Pinot Noir are produced.
Mendocino County Fair Wine Competition 54 wineries entered 255 wines, all crafted from Mendocino County wine grapes in the 32nd annual wine competition. Double Gold medals were awarded to 2006 Parducci Wine Cellars Anderson Valley Pinot Noir and 2006 Standish Wine Co. Mayflower Pinot Noir. Gold Medal winners included 2005 Cakebread Cellars Anderson Valley Pinot Noir and 2005 Raye's Hill Henneberg Anderson Valley Pinot Noir (a great wine!). To see the full list of 2008 medal winners, visit www.mendowine.com.