Picking Plump Pinot in Petaluma
Chris and Karen London farm 20 acres of Pinot Noir in the Chileno Valley west of the town of Petaluma on a south-facing hillside that is cool and windy. Near the Marin County - Sonoma County border, the area is uniquely influenced by fog from the Pacific Ocean which reaches inland for miles through the Petaluma Gap. The resulting hang time is prolonged with picking this year on September 27 and 29, a few weeks behind the warmer neighboring Russian River Valley vineyards.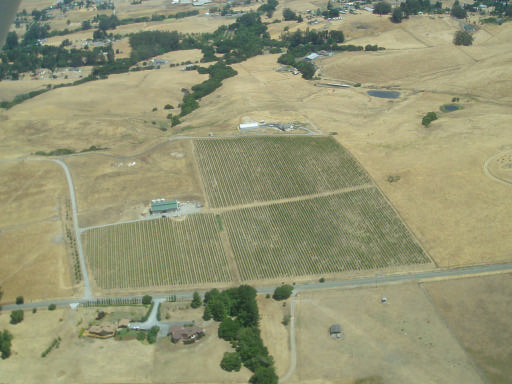 Chris is a Captain for United Airlines, flying the Airbus out of San Francisco. Karen was a former hostess for United Airlines. They both became interested in agricultural pursuits and in 1999 purchased their property on Western Road in Petaluma (above). Chris was a friend of noted Sonoma viticulturist Warren Dutton. The two had flown together frequently and Chris was in the process of assisting Warren in obtaining his instrument rating when Warren suddenly passed away from a heart attack while riding his horse in 2001. Warren had planted his first parcel and started the famed Dutton Ranch in 1964. He was a visionary in Sonoma County agriculture and one of the first to plant Pinot Noir and Chardonnay in western Sonoma County. At the time of his passing, the Dutton Ranch owned or leased over 1,000 acres of vineyards.
Both Chris and Karen have attended classes in viticulture at University of California Davis and Santa Rosa Junior College. They are among the new generation of younger winegrowers. They had been advised to grow field crops and potatoes on their property and discouraged to farm grapes because of the coolness of the site. Warren Dutton thought otherwise and provided the Londons with valuable direction as they planted their vineyard over three years from 2000 to 2002. Much of the budwood came from the famed Bien Nacido Vineyard and clones 2A, Pommard 5, Swan, Calera, 114, 667 and 777 were chosen. The vines are planted on well-drained silty clay soils with considerable underlying fossil decomposition. The cool, windy conditions are challenging, requiring extra care and attention and every vine is personally tended to throughout the season. The vines tend to be small, the clusters ripen slowly, and the skins are thick, imparting dark color to the finished Pinot Noir wines.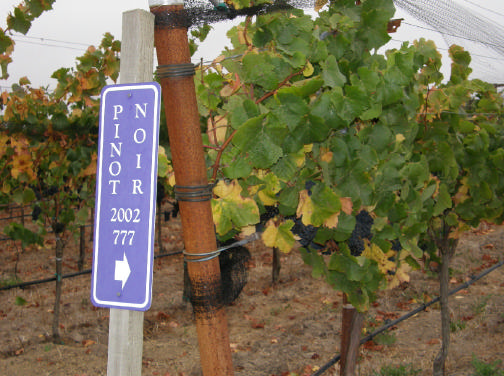 The Londons have a modern barn on the property and all of the equipment required to be selfcontained. Chris has designed and modified several types of heavy duty farming equipment including a sprayer, all of which are quite innovative and practical.
In addition to their vineyard, the Londons raise livestock on their property. They have the only two Kobe beef cattle in Northern California and Chris recently purchased more. He plans to cross breed the Kobe cattle with the Scottish Highlander breed he also raises to produce prime beef. The cattle are treated very humanely and are fed a special diet high in grain residue picked up weekly from a neighboring brewery. (In the United States the term Wagyu beef is often used synonymously with Kobe beef. The truth is that real Kobe beef can only come from Kobe, Japan - just like Champagne can only come from France. The American equivalent - Wagyu breeds - need only have one parentage of genetically pure Kobe heritage.)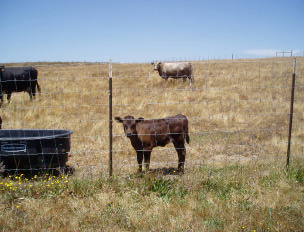 Scottish Highlander
Kobe calf (foreground)
The 2007 vintage was the third at Spring Hill Vineyard. The grapes were sold to Flowers Vineyard & Winery in Cazadero on the Sonoma Coast (destined for their Sonoma Coast bottling), and Nickel & Nickel in Napa Valley (part of a Russian River Valley blend). Next year, the Flowers allocation will be sent to Landmark, Patz & Hall, and Scherrer. An additional 5 acres is being planted for Jamie Kutch of Kutch Wines.
I was invited to lend a hand at harvest and headed north to join in the celebratory event. There is something very therapeutic about sticking your hands in bins of grapes, sampling the harvest and really getting down and dirty. The Londons make quite a team. Chris runs the forklift, loads the bins on trucks, and supervises the whole operation. Karen, who is really the chief tractor butt, drives the Polaris like a Nascar professional, shouting orders and leading the charges of pickers and directing the field grape sorters like myself. It was nine hours with few breaks, but I never enjoyed work more. I would encourage any reader with an interest in wine to try and participate in some way in harvest. Every vineyard and winery welcomes the help and a good time is had by all. The photos that follow will give you some idea of the day's action.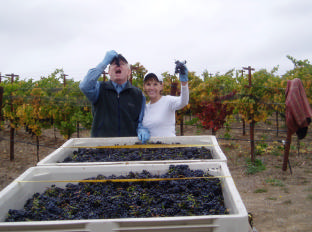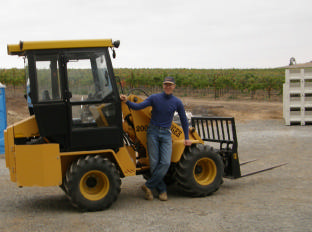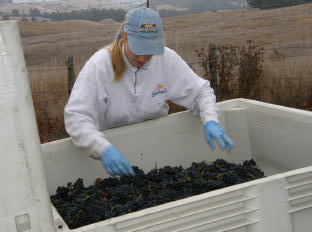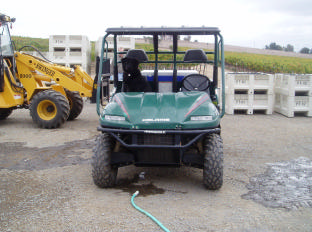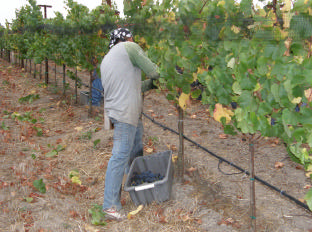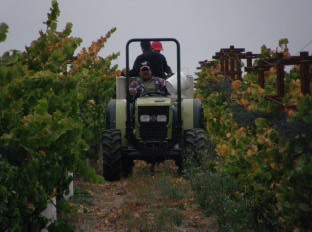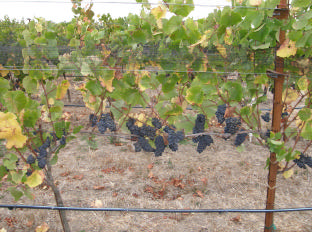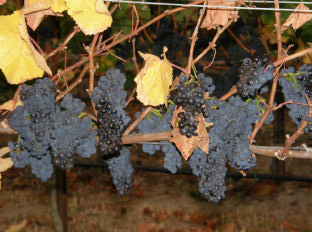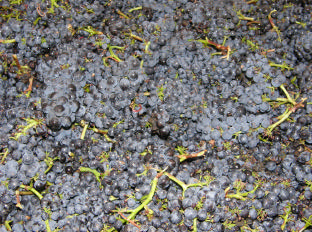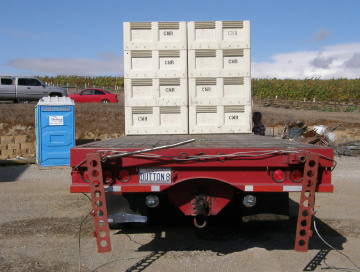 From top left clockwise: 6:00 AM; Feeling no pain; Chris; Karen; Winery Dog Likes Shotgun; Picker; Tractor Crew; Pinot in heat; Pinot Grapes; Off to Cazadero

2005 Nickel & Nickel Spring Hill Vineyard Sonoma Coast Pinot Noir
14.5% alc., $55, 321 cases. Nickel & Nickel is the sister winery to Far Niente founded in 1997 and dedicated to single-vineyard wines including Chardonnay, Cabernet, and Pinot Noir. This wine was aged 10 months in French oak (40% new, 60% once-used). · The color is dark, dark, dark ruby. The complex nose offers a dried flower potpourri, black cherry, oak and cigar box. Powered by a healthy core of dark fruits, this unique wine offers mushroom, game, forest floor and herbal overtones, It is broad-shouldered, but soft in the mouth with well-concealed tannins. Atypical for Pinot Noir, it will appeal to those who like the muscular and exotic expression of this varietal.
Nickel & Nickel Winery, Oakville, CA. 707-967-9600. The wine may be ordered on the website at www.nickelandnickel.com.